As a 14-year-old schoolgirl, I didn't know life would turn me into a travel writer and a wine enthusiast.
So I didn't appreciate Bad Dürkheim as much as I should have. When you're treated to a meal inside the world's largest wine barrel, you should at least remember what you ate and drank.
Now that I know that the barrel can theoretically hold 1.7 million litres of wine or 120 hungry people, I want to go back. And if I ever revisit that part of Germany, I will.
Some people might think there are more enticing places to spend three weeks of their life than the industrial belt around Mannheim. But a school exchange trip to Germany was my kick-start to my lifetime of wanderlust. It afflicted me with the travel bug. It excited my curiosity about new places…new people…new foods.
Once you've tackled Blutwurst—blood sausage—nothing on a plate will ever faze you again. Well, not unless it comes with eyeballs.
My German host family didn't only introduce me to gigantic wine barrels and blood sausages, they also took me to Heidelberg, one of the world's loveliest medieval university cities.
If you thrill to the idea of exploring and experiencing the world through different eyes, then you should seriously think about life as a travel writer.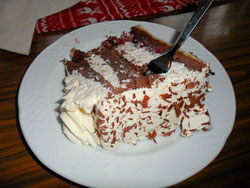 Like I say, these days that's how I make my living. Getting paid for what I do is important, of course it is…and if I had an ordinary job, I doubt I would have ever visited far-flung places such as Argentina, China, India, and New Zealand. But the very best thing about the travel writing life for me isn't the pay-checks…or the perks of staying in nice hotels and dining on the house…or playing the "how many countries have you visited?" game with colleagues.
No, it's the opportunity to have far more in-depth experiences than most folk ever get on vacation. When you're a travel writer, you learn to seek out the unusual, the offbeat, and the extraordinary. If things don't turn out as planned, so what? There's always something else to write about.
Over the years, I've written a lot about Germany—including how many naked sauna experiences I could cram into a week. I've had lunch at the clubhouse of Stuttgart football club and supper with anarchists living in a Berlin squat. I know of a bikers' tavern in the Black Forest that serves up slices of decadent Schwarzwalder Kirschtorte (Black Forest gateau) to hairy brutes on Harleys—and, because I'm a travel writer, International Living's readers know about it, too.
I have been to the small town of Mittenwald, which has more than 300 years of violin-making tradition, and you see violins hanging up to mature and dry from the balconies of local craftsmen.
I spent one Walpurgisnacht (the German equivalent of Halloween) in a village called Schierke in the Harz mountains. It's famous throughout Germany for its "witchcraft" festivities. The schoolkids get dressed up as little devils and a special steam train, the Witch-Express, gets laid on from the fairytale town of Wernigerode. Walpurgisnacht has so much history and mythology attached to it, I sold that story to three different publications.
Admittedly I have a "feel" for Germany, but you can develop that same feel for any country or region you so choose. The more you write about a place, the more an editor regards you as an expert. Which means more commissions—and more pay checks.
Get Your Free European Report Here:
Learn more about Germany and other countries in our daily postcard e-letter.
Simply enter your email address below and we'll also send you a FREE report – All the Charm and Romance of Europe…at a Price You Can Afford.
This special guide covers real estate, retirement and more in Europe and is yours free when you sign up for our postcards below.
Get Your Free Report Here