Mangoes are falling, ripe, to the ground. A light breeze flutters through the fruit-laden trees, and a yellow tanager takes flight. A couple passes me, wearing tank tops and shorts.
I'm at one of Panama City's many parks, thinking life just doesn't get much better than this. It's warm, the sun is shining, and everything around me is dripping in rainforest green.
Though July is right smack in "winter"—that is, the rainy season that hits Panama City from May through November—it's not gray and dreary. Days are mostly sunny, with afternoon showers typically lasting an hour or two. Once the rain ceases to fall, the clouds turn a fluffy white and the sky goes back to my favorite shade: an intense, forget-me-not blue.
Though winter is "low season" when it comes to hotel rates, July is a popular month to visit the beaches like Coronado, just an hour west of the city. Schools often give their students a mid-year break, anywhere from two weeks to a month. Beach resorts and restaurants do a brisk business.
It's so close, I often drive up for the day. In fact, I did just that recently, and enjoyed a full day of sunshine on an uncrowded beach. Palm trees provided plenty of shade and a pretty backdrop. And the ocean breeze kept us cool…as did our $0.50 beers from the bright and shiny El Rey supermarket.
Where else in the world could a city-lover like me enjoy almost year-round sunshine and proximity to a great beach? (The two things that make Panama City one of the greatest places on earth, as far as I'm concerned.)
Sure, there's traffic and construction…a motley collection of mile-high skyscrapers glittering along the Bay…and the general hustle and bustle one might expect in a cosmopolitan capital. But you'll also find parks and trails and rainforests. (Yes, rainforests, right in the city). Visit them, and suddenly you remember that you're in a tropical paradise: A place where winter never means snow…and where the sun really loves to show its face.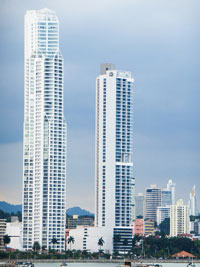 Event planners don't seem to know it's winter any more than the sun does. You'll still find a full list of events and activities to fill your social calendar right now. Recently, for example, the Ancon Theater Guild put on one of its many English language shows. Called Deep Fried Comedy, it promised lots of laughs. I bought tickets for Saturday for just $15—and I can assure you, it didn't disappoint. I also saw an award-winning Russian pianist play Chopin at the tiny Ateneo Theater in Clayton this month for just $20. It was probably the best live piano performance I'd ever seen.
What will I do next week? Who knows…there's an indigenous art festival at a local convention center (the $2 entry fee will really set me back). And on Thursday a friend's band is playing classic rock at one of the city's hippest hangouts…the cover charge is just $5.
Of course, it's easy to spend money here if you've a mind to. I enjoy sampling the best this city has to offer…from gourmet restaurants to world-class sporting events. And I often write about how thoroughly First World Panama City is. There's high-speed Internet here (and all over the country)…the infrastructure tops the region…and the international community imports the best products, technology, and more from all over the world.
But the best part of living here? When I get a little too wrapped up in the modern side of Panama City, it's incredibly easy to take a step back. To walk in the rainforest or drive to the beach on a whim. And to simply enjoy being in the tropics…the sultry warmth, the ocean breezes, the cheerful sunshine, and the smell of lightly bruised mangoes at my feet. Even in the dead of "winter".
Free Panama Report:
Learn more about Panama and other countries in our daily postcard e-letter. Simply enter your email address below and we'll send you a FREE REPORT — Panama: First World Convenience at Third World Prices. 
This special guide covers insider advice on real estate, retirement and more in Panama. It's yours free when you sign up for our IL postcards below.
Get Your Free Report Here