"The only ice we like is in our drinks," says expat Kristina Denstedt. "Winter in Canada is actually when the weather is most pleasant here on the Riviera Maya. Daytime temps are in the low and mid-80s F and there's little humidity."
"At this time of year back home in Ontario, it can be minus 4 F with a couple of feet of snow," says Kristina's husband, Greg. "We were in Playa del Carmen over 100 days last winter; it rained twice, for an hour each time. The weather is just phenomenal."
Kristina and Greg Denstedt first visited Mexico's Riviera Maya in 2002, then returned about every year for short trips to the coastal city of Playa del Carmen. A year before retirement (both were IT managers), they arranged to make it their part-time home.
"We found a nice condo and never looked back. We've rented the same place in the 'Little Italy' section of Playa for about seven years. Our landlord is from Texas, and he's very good with us. We have a standing order with him to rent his place every year. It works out well for everyone," says Greg, who notes that there are places to rent in town from $500 and up.
The Denstedts are part of a growing flock of snowbirds living the best of all worlds. In summer, they enjoy the long days and home comforts of Canada, but when temperatures fall, they take advantage of the year-round warmth of tropical locales and the invigorating, affordable pleasures of the Riviera Maya.
It's certainly more fun than spending that money on home heating bills and snowshoes.
"Our original plan was to go to Playa the first year, and then travel to other countries. Problem was, we fell in love with Playa and kept going back year after year," says Kristina. "The beach is one of the most beautiful we've seen. The blue. The warmth of the water. There are so many activities close by: charter fishing, snorkeling, diving. Just people-watching. And then there's the restaurants…we go out and eat every single day.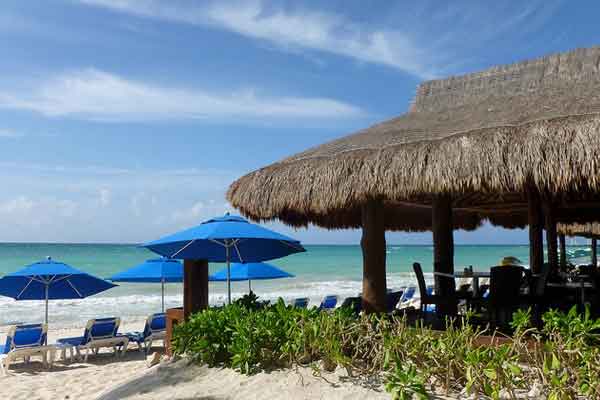 "Local restaurants and comidas, where we can save money and get different flavors and different spices, are great…the recipes have been passed down for generations," says Kristina. "Often we'll go to the markets and eat at the food stands. People love to see our facial expressions when we try the hot sauce."
Savvy snowbirds can enjoy a less expensive winter by migrating south. But better still, those who know what to look for can save big on goods and services—enough to easily cover the cost of the trip. "The cost of living here is considerably less than in Canada. Entertainment is less expensive, too," says Greg. The couple also make sure to get their teeth cleaned when they're down south. It's a very professional, English-speaking service, and, at $50, it's about half the price they pay in Canada. "We know people who take dental vacations in Playa. They save thousands of dollars," says Greg.
Greg estimates they save about 40% overall on their expenses when in Mexico, even though they eat out almost daily, as they love the food available in town. A typical lunch for them in Canada is $15 to $20; lunch in Playa, with a few drinks, is $12. Dinner is $23, versus around $60 in Canada. And their grocery bill is about half in Playa.
When winter is over back in Ontario, the Denstedts then get to make the most of the long days and home comforts of Canada. "We own a cottage and spend a lot of time there. We golf. We enjoy our grandson. Sometimes we might decide to go traveling, while the northern hemisphere is at its best. Last year we toured Italy," says Greg.
Related Articles
There are many reasons for moving to Mexico: