Back home, you are energetic and enjoy a life full of activities, friends and diversity. You want it to stay that way and you have your priorities. Nature makes you happy. After a lifetime living in cold weather, you'd like to throw away your winter coats. Health care and safety are major concerns. Starting a business entices you, but isn't it too late?
You love your delicious coffee and going to great restaurants with your friends. You seek volunteer opportunities to help people and give your life more purpose. You've realized that retirement in the U.S. anytime soon is out of the question, so you are looking for a place where you can have it all yet still be able to pay for it. If this is you, look no farther than Granada, Nicaragua.
Granada's charm envelops you immediately. Gorgeous refurbished colonial buildings with overhanging flowers and city blocks with multi-colored houses delight the eyes. With the most well-established expat community in Nicaragua, you will make friends quickly and have a hard time choosing your weekly activities. Meeting your new acquaintances for coffee; attending dinner parties; participating in book clubs; going to music concerts or art exhibits; catching a movie; taking a salsa, marimba or Spanish class; watching horse parades; boating around the isletas; hiking through coffee farm forests; going fishing and boating in Lake Colcibolca… Retirement in Granada will keep you busy.
Colonial Properties from $100,000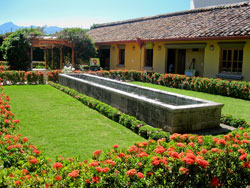 Common sense tells you to live in Granada awhile before purchasing, but the deals are so great, few people wait that long—you can buy an old colonial house to fix up for between $100,000 and $200,000. Word-of-mouth and just walking around the neighborhoods you like will provide even more economical possibilities. At the end of the day, you can find your own unique place,  a far cry from the "cookie-cutter" housing developments found all over the U.S. and Canada.
Granada's weather is warm and sunny and the markets are full of fresh, non-modified food—a real organic produce haven. No fancy injected, painted, waxed oranges here; just the best oranges you've ever eaten, and the healthiest. That goes for all the food at the local markets.
Keep Busy With Volunteer Work
Most expats live a dedicated, meaningful life in Granada. Many volunteer networks exist and you may even come up with your own idea. The lending library project, Puedo Leer (I Can Read) is always happy to accept a helping hand. Or work with the Amigos Del La Polica, an organization that helps the local police improve security for everyone. La Esperanza dedicates its work to helping children receive a better education.
Education Plus Nicaragua provides the most basic level of food, education and caring to very poor children. You can teach English, math, carpentry skills, and business management. You could even start a school that teaches new skills to the locals. The opportunities are endless.
Health Care and Business Opportunities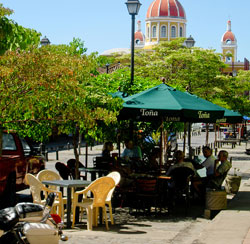 Granada is 40 minutes from Managua (Nicaragua's capital) and a two-and-a-half-hour flight from Houston or Miami. With several great clinics right in town and the Metropolitan hospital close by in Managua, you can be assured that you're in good hands as far as your health is concerned. And safety? No different than any other place you live. Take the same precautions, and you'll be fine in Nicaragua, the safest country in Central America.
Business opportunities offer even more variety. After doing a little homework, you can reinvent yourself and create the business that you always wanted, but never thought you could. The laws in Nicaragua ask very little of you as far as setting up a business. Granada is one of Nicaragua's fastest growing towns.
Finally, and probably the best reason for choosing Granada (or anywhere in Nicaragua for that matter), is you are free to be you, in a way that is not usually possible in your home country. And that's priceless. Opportunity knocks here, and it knocks hard, offering hundreds of prospects for your new life. Who thought you could start over again at 50, 60 or 70? Well, you can here! Come to Granada, set up your life the way you want to for a fraction of the cost it would be at home. Work, play or volunteer. Or just enjoy Granada. And be happy. After all, isn't that what's life all about?
Get Your Free Roving Real Estate Investor Report Now

Sign up for the FREE Roving Real Estate Investor e-letter and get a valuable report (free for a limited time) on The Exact Location of Where to Make the Most Real Estate Profits This Year (Plus 4 More Places to Build Your Fortune in Latin America and Europe).
Related Articles
The World's Best Real Estate Markets in 2012