Most mornings, I stroll over to a nearby bakery to buy half a dozen traditional panes de ripacha. These small triangular shaped breads have been made using the same recipes and stone ovens in Arequipa for over 150 years. They are only one of many traditions that have been kept alive in this bustling southern Peru city for the last few centuries.
My wife Nancy and I have called Arequipa home for the last year and have thoroughly enjoyed everything it has to offer. Spectacular Colca Canyon, twice as deep as the Grand Canyon, is only three hours away. A couple of hours in the other direction take you to the Pacific coast and several popular southern Peru beaches.
Arequipa dates back to the middle of the 16th century when a group of about 50 Spanish soldiers set up a small community in what is now known as San Lazaro. Today, you will find narrow cobble streets lined with decorative stone houses, comfortable hostels, and several craft beer pubs. It is one of several interesting neighborhoods in the historic center of this picturesque Spanish colonial city.
Although Arequipa is a city of 1 million, it seems smaller since most activity is centered around the Plaza de Armas, the spectacular main square of the Old City. The massive Basilica Cathedral stretches the length of one side of the square and endless arched columns front a variety of retail outlets and restaurants on the other three. Free music shows take place in the square almost every week. With the mountains as a backdrop, it is an impressive sight.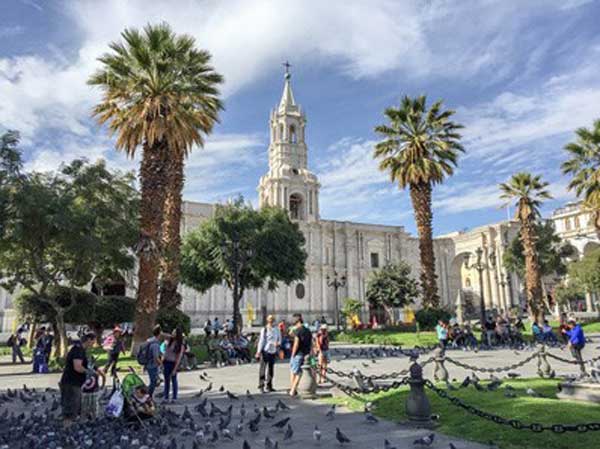 One or two blocks of bustling streets radiate out from the central square. This part of Arequipa is famous for its 200-year-old, white sillar buildings that are often intricately carved with indigenous and Spanish symbols. Tucked away in the ancient courtyards and lining the tiled streets are everything from traditional eateries to tour companies and university campuses.
With over 300 days of blue skies and sunshine every year, and next to no rainfall, the climate is hard to beat. Temperatures average in the low 70s most of the year but the nights can be cool because of the higher altitude. We really do love it here but have decided to move to the northern Peru coast for next year to see how we enjoy living on the beach.
Because I supplement my retirement pensions with online income, moving to a new location is not a problem. I can continue to work anywhere as long as I have internet.
In addition to the writing I do as International Living Peru correspondent, I am in the process of producing several dozen chemistry teaching videos for an online school. This type of work requires a background in subject-specific teaching but there are many online education jobs that do not. Many online ESL (English as a Second Language) schools, mostly located in Asia, are constantly looking for part-time English teachers.
Selling instructional videos can make you several thousand dollars per month if you find the right niche. And $15 to $20 per hour is pretty common for good online ESL schools. Other opportunities are available for online tutoring for about the same money. Working 10 to 15 hours per week covers our major expenses in this part of the world.
Here in Arequipa, we are paying about $950 per month, including utilities, for a completely furnished, three-bedroom condominium in the center of the city. Five minutes from the beach in Huanchaco, we'll only be paying $600 per month total. Other costs will remain the same so our new monthly budget will be quite a bit less. If we rented unfurnished accommodation, our costs would be halved.
Dining out is our main downfall, but we still generally don't spend more than $500 per month on food. All the great wines and Piscos, the huge variety of fresh cheeses and wonderful assortment of fresh olives that are found in Peru are also bad news for our food budget.
We've grown accustomed to being gazed down upon by the trio of towering, snow-capped volcanos that dominate Arequipa's skyline. They will soon be replaced by the rolling surf and fiery sunsets of Huanchaco Beach. After a few months, we'll discover which we prefer.

Need a Way to Fund a New, Better Life?

Join our Fund Your Life Daily e-letter today, and you'll hear from us five times a week, telling you about ways to earn income that lets you live anywhere, travel anytime… and give you the funds to make your dreams of a better life real. We'll also send you your FREE report Fund A New, Better Life With These 6 Portable Careers.
Related Articles
5 Tips For Safe and Fun Solo Travel
The Quickest Way to Make Money Online