I've always had a special love for Costa Rica. Having family there meant I grew up coming down to visit every year over Christmas vacation or in the summer. It's a place that has always been a part of me and my life. So, when I decided the career I was in wasn't for me, I left my suburban life in Pennsylvania behind and moved to Costa Rica.
When I first arrived in Costa Rica three years ago, I lived in the town of Grecia, in the country's popular Central Valley. Located about an hour from the capital of San Jose, Grecia has a mild climate and spectacular mountain views. It is known as one the cleanest cities in Latin America and boasts a beautiful red metal church. The central park is one of the nicest I have seen with plenty of benches and shade as well as a fountain and an amphitheater-like dome.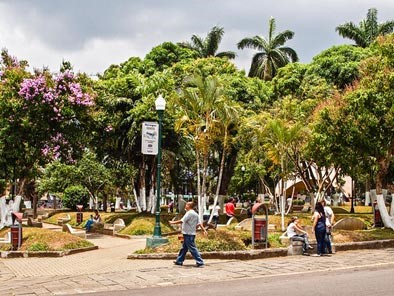 And the lifestyle here is so relaxed. People walk slowly, as if they have nowhere to be, and it's something that took me time to become accustomed to. People stop their cars in the middle of a busy street just to shout hello to a friend. But once I embraced the leisurely pace of it all, I realized the enjoyment of not having anywhere to be.
While Costa Rica isn't the cheapest Central American country to live in (clothing and electronics are expensive), some everyday aspects of life are extremely affordable. Rentals are reasonable in most parts of the country. In Grecia, I lived in a modern, two-bedroom apartment in a nice part of town and paid $300 a month. My monthly utilities came to about $20 a month. Eating out, you can easily spend less than $10 for a plate of local cuisine at the market or almost any soda (kind of like a small hole in the wall, take-out place).
Public transportation is also affordable and convenient. A three-hour bus ride from the Pacific coast to the rainforest is about $5 and you can take the ferry across to the Nicoya Peninsula for a $1.50. And a taxi ride from my apartment to central Grecia (about a five-minute ride) cost me around $2.
I work in the telecommunications industry which allows me to work from wherever home may be and there are endless opportunities for work in my field. From customer service to being a virtual assistant to teaching English online. And my work gives me the freedom to explore Costa Rica.
These days, I live in Tambor Beach, on the tip of the country's Nicoya Peninsula. I have palm trees in my front yard and enjoy my morning coffee lying in my hammock looking out over the bay. I am minutes away from some of the most beautiful beaches in the world and have the time and means to enjoy the country to the fullest. And as long as I meet my monthly quotas, I can work as much or as little as I choose.
I live well on what I earn and I have the freedom to live my life the way I want to…in a country that I love.
Get Your Free Fund Your Life Overseas Report Here:
Sign up for IL's Fund Your Life Overseas e-letter today and we'll also send you a FREE report about ways to earn money abroad. Simply enter your email in the box below and we'll send you this free report: Fund Your New Life Overseas With These 6 Portable Careers.

Get Your Free Report Here