There's nothing quite like waking up in your own little paradise—and realizing it's not a dream.
That's how my husband, Casey, and I felt in our first home abroad, Puerto Vallarta.
It was just a small place, perched on the mountainside, high above the bustling palm-lined malecón. Just big enough for the two of us, our crazy dogs, and a flop-eared Siamese cat named Tomás Cruz.
It was everything we'd dreamed it would be, and more.
And I can tell you…sitting under a rooftop palapa, enjoying a cool drink with friends, the whole Bay of Banderas spread out below…that's heaven.
My company had outsourced the IT department—and there went my job. We had some major decisions to make. So we pored over our bank statements, calculating and recalculating. And when the dust settled, we moved to Mexico.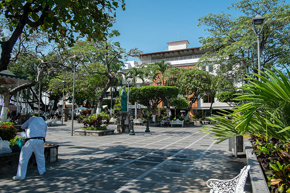 We stayed for four years before I had to return to work to replenish the back account.
Now, I'm ready to move again…but this time I'm armed with a portable income that means I can earn more than we'll ever need to live abroad.
You see, I became a copywriter and I make good money whether I work a little or a lot. I write two weekly blog posts for a technology company and clear $1,500 a month.
In fact, I have three technology clients, thanks to my own software and IT background. You see, you can be a copywriter in whatever field you want.
I don't have a boss or a set schedule. And it doesn't matter where I set up shop—the world's all connected now.
That means we can opt for the nicer things whenever we like. Like that romantic restaurant on the private beach…or the premium marble and fixtures for the guest bath…or just having the housekeeper come twice a week, instead of once…
It also means indulging our wanderlust—we love to travel—whenever and wherever we want, without pinching the bank account.
That's because copywriting is one of the most portable skills on the planet. My client won't care where I do my writing…overlooking a beach in Mexico…after snorkeling the Great Barrier Reef in Australia…at a lodge high in the cloud forest in Ecuador…
Of course, one of the greatest perks of living abroad is living well for much less than back home. So at our next stop, I won't have to write full-time. Not even to live in luxury.
Add another blog, or an email or two, and I'll cover our whole life abroad. Or I can aim even higher—a single, well-written sales letter can pull in $5,000, $10,000, or even more.
Yes, I'm happy I found copywriting, because the wide world's calling me again. We're thinking about trying Ecuador next year…or maybe Costa Rica. After that, who knows?
Maybe we'll put down roots. Maybe we'll just wander the globe. Either way, I'll keep the laptop handy…and the bank account happy.
Get Your Free Fund Your Life Overseas Report Here:
Sign up for IL's Fund Your Life Overseas e-letter today and we'll also send you a FREE report about ways to earn money abroad. Simply enter your email in the box below and we'll send you this free report: Fund Your New Life Overseas With These 6 Portable Careers.
Get Your Free Report Here