Mary and Kelley Johnson met in Houston 12 years ago. Kelley is from Louisiana, and works for a major drilling company. Mary is from Houston and most recently worked as a learning coordinator for Chevron before she "retired."
Both wanted to get out of the "rat race," and live a simpler life. It was the much lower cost of living and warm climate that attracted them to Nicaragua. They read up on the expat life there and picked San Juan del Sur as their new home. It's no surprise when you ask Mary why. "Beaches, beaches, beaches. Need I say more? I feel more alive when I am near the ocean." And with 21 beaches surrounding the bay of San Juan del Sur, Mary and Kelley are living in their dream paradise.
"One day we went with friends to Yankee Beach and found a beautiful tide pool big enough for all four of us to sit in and talk. No one else was on the beach. We were sheltered by rock formations and had such a good time. We then went walking and discovered dozens of white sand dollars—perfect for making home crafts.
"In Houston we had a very set routine: work Monday through Friday, eat out almost every evening, and watch TV. In Nicaragua, we spend our days reading and swimming in the pool. I paint and do small crafts. We love the fresh air and sunny days. We explore the beaches and headlands. We definitely spend more time outdoors here than in Houston.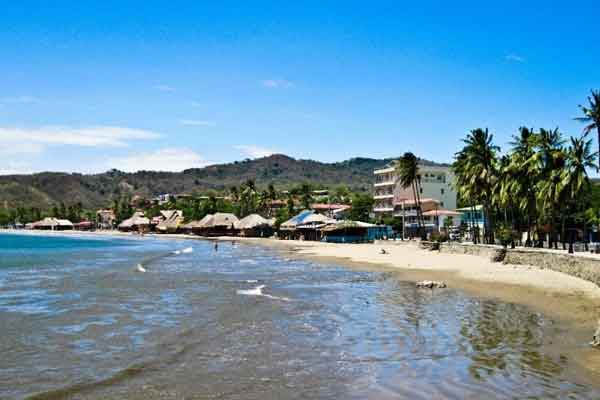 "And Nicaragua is so much more affordable. At the local market, we can buy several days' worth of produce for less than $5. In the U.S. it would have cost $25 to $30. There are fewer things to buy here and it's much easier to eat healthy in Nicaragua. Restaurants are also very affordable. A filet mignon with potatoes is less than $10 here; in Houston, we would easily pay $20 or more. Our monthly budget is $1,500, but we are able to live on $1,200 if we don't eat out too much. And also, if we stay away from the expensive "gringo" items like peanut butter, junk food like Cheetos, special cheeses, and that kind of thing," says Mary.
Mary and Kelley live in a large house that is divided into four separate apartments. They pay $600 for a one-bedroom apartment with a beautiful yard, shared barbecue pit, pool, and washing machine. Their rent includes cable and water. They pay for electricity, propane gas, and share the cost of the electricity for the pool pump.
Mary has retired and Kelley continues with his work in the U.S. He travels back and forth to Houston, which is only a three-hour flight. "When Kelley is away working, I keep myself busy with hobbies," Mary says. "I enjoy painting rocks, sand dollars, and now I'm exploring wood pieces. I recently joined a women's book club so I also read regularly. I have a network of friends and we go on random outings to shop or explore beaches. I also enjoy walking in the mornings with my friends. When Kelley is home, I still do these same things because he usually joins us. We also do more happy hours when he is here," says Mary. This arrangement works for them because Kelley has been travelling for work at least half the time they've known each other. When he is ready to quit his job, he will. They have long-term financial plans for various scenarios and will be able to choose one any time he is ready.
Mary gives some tips on living in Nicaragua. "It takes some time to adjust to living here. Life is very simple, so have a plan for how you will occupy your time once vacation mode is over. It is wise to have something to give you purpose and focus. Some of my friend's volunteer, some have jobs. I choose hobbies. Nicaragua offers a life of freedom in which you can do anything you want, but it's up to you to create the right life for yourself."
Need a Way to Fund a New, Better Life?

Join our Fund Your Life Daily e-letter today, and you'll hear from us five times a week, telling you about ways to earn income that lets you live anywhere, travel anytime… and give you the funds to make your dreams of a better life real. We'll also send you your FREE report Fund A New, Better Life With These 6 Portable Careers.
Related Articles
Nicaragua's Retiree Benefit Program Makes Retirement in Nicaragua Easy
The Logistics of Moving to Nicaragua