As a conservative investor I like to buy in places like Portugal's Algarve where there's a huge mix of markets…
North Europeans come in the summer, North Americans are increasingly coming to visit and live…Scandinavians escape their harsh winters to play golf and relax around Lagos…people come from all over Portugal, Spain, France…
Last year, despite the lockdown, I hear some property owners in the Algarve were still pulling in gross yields of 7%.
Given what was going on in the world, that's impressive…
My contact Chris rents his own villa on the Algarve each summer. As lockdowns spread rapidly around the world in 2020, Chris had most of his reservations cancel.
It took him less than a week to replace every single one with new bookings.
That shows you the kind of demand. "It's the hotels that are suffering the most," says Chris. "No one wants to go to a hotel where they have to wear masks and gloves. In an Airbnb you have control over your environment and don't have to wear protective gear. People can drive here from all over Europe…France, Germany, Spain…"
I've spoken before in RETA about how I believe the pandemic is going to massively accelerate the use and popularity of vacation rentals. As we can see on the Algarve, it's already happening…
Here's a fact: 2019 was a record-breaking year for tourism in Portugal. Twenty-four million tourists visited the country, causing a surge in demand for accommodation. It was the ninth year in a row that Portugal's tourism has increased. The Algarve alone had a record-breaking 20 million overnight stays.
I fully expect the Algarve to continue on a tear when the pent-up demand of millions of wannabe tourists meets the new work-from-anywhere surge…
In places like the beach town of Lagos, which has a chronic shortage of hotel rooms, the opportunity for real estate investors is even more pronounced.
My senior researcher, Margaret Summerfield, was there to just a few months ago to see what the fuss was all about.
She shares her thoughts below…
You Need to Pay Attention to This Algarve Beach Town
By Margaret Summerfield
On an extended stay in Portugal this winter, I traveled the Algarve. My top pick was the town of Lagos.
I spent a couple of months in Lagos and really enjoyed it. This beach town has a history that dates back more than 2,000 years. Celts, Romans, Visigoths, Moors, and Byzantines have all left their mark on Lagos. But it's best known as the launching point of Portugal's Golden Age of Discovery. Prince Henry the Navigator set sail from Lagos in 1415, with a huge fleet bound for North Africa. This was the first of many epic voyages to far-flung corners of the globe by Portuguese explorers, such as Brazil, Goa, and Macau.
Today, Lagos has all the modern conveniences and a lot of charm. Wander the streets of Old Town, and you'll come across shops and cafes, museums and art galleries. Many folks stop at the marina for coffee, a meal with friends or some evening socializing. Both in and around town, you'll find good hiking, jogging and biking trails, along some gorgeous coastline.
You should skip Lagos if you need the buzz of a big, bustling city, large shopping malls or high rise living. It's not that kind of place. But if you want a foothold in Portugal…and an excellent quality of life…then Lagos fits the bill.
Here are five reasons why you should look to Lagos.
The Beaches
The beaches around Lagos are beautiful. With cliffs, bluffs, and crags, it's a dramatic coastline where you'll find hidden coves and secret beaches. Meia Praia, a beach in the center of Lagos, is a long and glorious sweep of sand. Praia da Dona Ana is one of the most photographed beaches in the Algarve. My personal favorite is Praia do Pinhao, where waves crash up against cliffs at high tide. Low tide reveals a perfect little beach, away from the crowds.
There's a beach for everyone around Lagos, whether you're a sun-worshiper or a water sports enthusiast.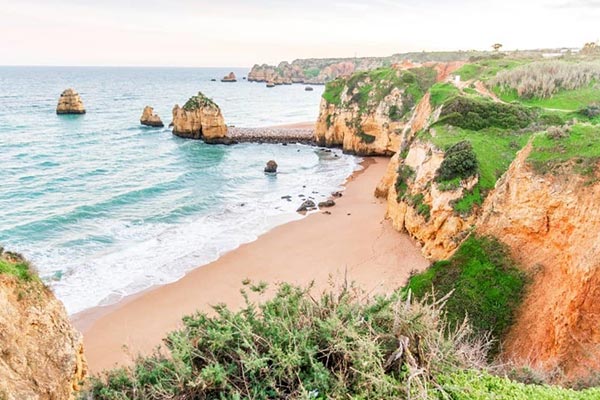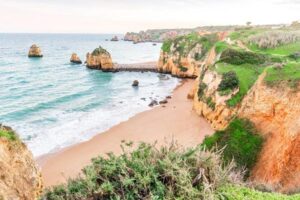 The Weather
I spent last Christmas in Lagos—much of it on the terrace, in t-shirt and shorts. The Algarve boasts hot dry summers and mild winters. It's one of the warmest places in Europe in winter. That's hugely appealing, and one reason why so many folks choose the Algarve for a second home or as a snowbird destination.
Which brings me to the next plus of Lagos…
International Destination
Lagos is becoming more popular as a tourist destination and also for second home buyers and snowbirds. Northern Europeans happily trade their cold, gloomy winters for a place in the sun. So, you'll come across folks from Sweden, the Netherlands, France, Germany, Italy, Ireland, the UK…you name it. That's very appealing when you spend time in Lagos, and helps boost rental occupancy.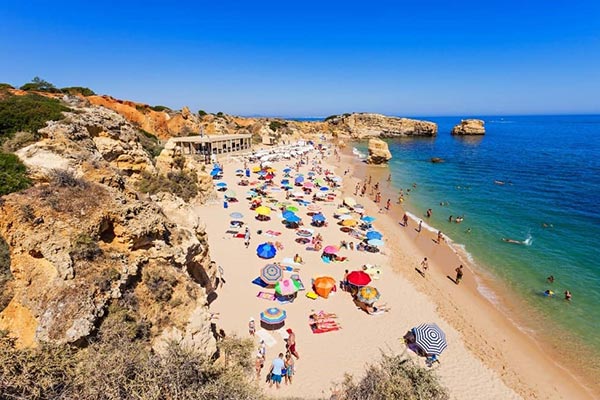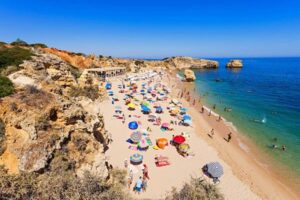 Lagos is growing in popularity among the millions of tourists who visit the Algarve each year.
Rental Potential
Some folks never want to rent their vacation home. They keep it private for family and friends. But others want their second home to earn income while they're not using it. With a lack of competition from big hotels, owners can earn up to 10% gross rental returns in Lagos.
As well as rental potential, buying the right property can deliver capital gains. Lagos is an emerging destination, not as established as other towns on the Algarve. It's seen strong growth in recent years, generating strong returns for investors. Buying a home in Lagos is easier, too, thanks to the availability of bank finance for foreigners at low rates and high LTV.
High Quality of Life and Low Cost of Living
If you love outdoor living, good food, and a relaxed pace of life, you'll love Lagos. It's a very safe, friendly, town where you can meet people, make friends, and settle in quickly. The town is big enough to keep you occupied, with its Old Town, beaches, and marina, but without big-city stress and hassle. There are quirky little stores, a second-hand English bookshop, and nice places for lunch and dinner. English is widely spoken so there's no real language barrier.
After almost 14 years in Latin America, I was pleasantly surprised at the low cost of living. From groceries at the supermarket to pastries, coffee, or ice cream, your budget stretches far.
Your Daily Dream Home
Fuerteventura, Canary Islands, Spain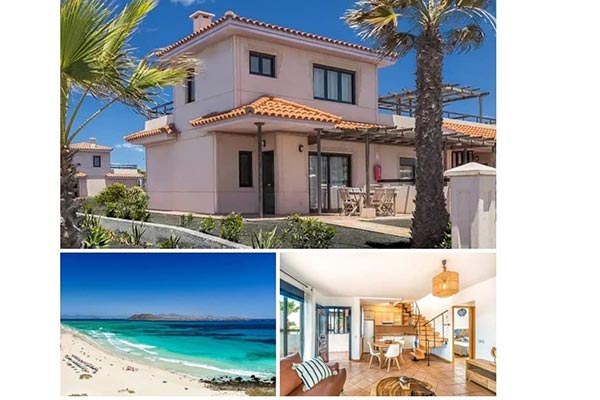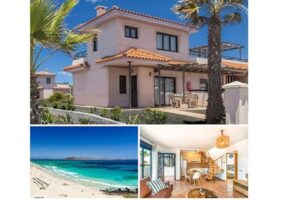 In the northern part of the Spanish Canary Island of Fuerteventura is where we'll find today's daily dream home. This bright one-bed and one-bath villa has an open-plan kitchen/living area. You also have a private terrace. And, as it's in a residential community, you have the use of a shared pool, sports courts, and large common areas. If you're after some winter sun, this is the one for you. The Canary Islands get 320 sunny days every year! The mild climate all year round is a big draw for many tourists and snowbirds. ⁠⁠
Remember, we don't make money from any listing shared here in the Your Daily Dream Home section. We have no dog in the fight. We're just sharing cool properties we've found.
I haven't visited this property or done due diligence on it. If you're interested in the listing, you should hire an attorney and do your own due diligence.
Get Your Free Real Estate Report Now
Sign up for our free daily Postcard e-letter and get a valuable free report on the The 5 Best Places to Buy Real Estate In 2023.
Related Articles
VIDEO: My Algarve Condo Renovation
French Properties With Profit Potential