You take a few steps from your front door and breathe deeply. The tangy ocean breeze stirs the coconut palms. A couple of bronzed surfers are out on the morning waves, the tropical sun reflecting off their boards.
Barefoot, you stroll along the beach, pushing your toes into the sand.
As you reach the surf club and café you admire the verdant mountains that rise behind this stunning community. Here you are in paradise where you own your beachfront home…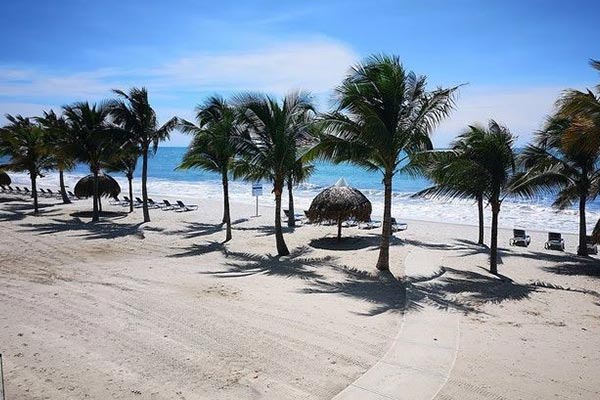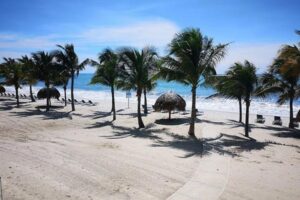 It's not just rare, it's unique…As I've been discussing this week, true, genuine beachfront like this is extremely rare anywhere in the world. Rarer still is the chance to own on a beach like this—with a major hub city just an hour's drive away—for an incredibly low price.
But it's an opportunity that's now on the table for Real Estate Trend Alert members…
RETA members will have the chance to buy in a unique beach-facing community on the Riviera Pacifica, and the closest, nicest beach to Panama City…from just $219,000.
For this you get not one but two self-contained luxury suites… These are turnkey. Fully furnished and equipped…down to the bed sheets and cutlery… Everything you or a renter will need and want.
Our exclusive RETA-only pricing is underpinned by what I'm calling the "Great Bailout," a huge drive by the Panamanian government to promote and develop tourism along the country's Pacific Riviera.
Essentially, they want more places for people to stay… They're willing to pay for it. And because of RETA's group buying power, the developer of the most spectacular master-planned community emerging from this coast has agreed to pass those savings on to us.
Our deal is right smack on Playa Caracol, the nicest, closest beach to Panama City. We've had several opportunities in this stunning master-planned community to date. RETA members are in fact already sitting on paper gains of $100,000.
In 2017, I brought members the chance to buy in The Palms at Caracol from $199,000. Last fall I came across a similar-sized condo farther back from the beach, with only a side view, listing for $299,000. I looked for more recent listings last week, but looks like no one wants to sell and I can't blame them…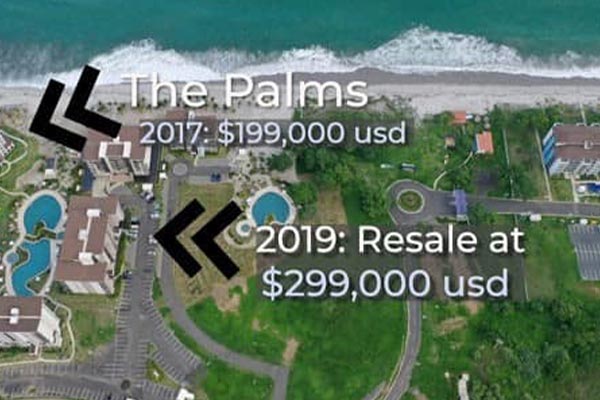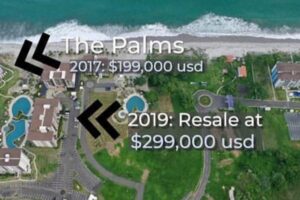 Like I say, the community here is best-in-class, sitting along nearly a mile of beachfront, master-planned, and innovatively conceived. This community is all about the beach, and you can own condos that are mere steps from the surf, and Pacific Ocean.
Beachfront luxury this close to a global city for the price available to RETA members is completely unheard of. I can't emphasize enough just how big of a deal it is to have this opportunity.
Playa Caracol is so rare and incomparable that I find the profit potential hard to quantify.
Earlier this week, we compared prices of beachfront around the world.
In Jaco, Costa Rica, you're talking $419,000 for a two-bedroom condo.
In Playa Del Carmen, Mexico, you're looking at $669,000.
And if you want beachfront on the Pacific coast of the U.S., you could be talking millions. An unremarkable two-bedroom in Coronado Shores, San Diego will set you back $2,498,000.
Our buy-in price in Playa Caracol is just $219,000. This gets us two self-contained luxury hotel suites that come equipped with everything you or a renter could want. It's entirely plug and play.
I figure around five-years after delivery we'll be looking at appreciation of $145,700…a juicy six-figure gain.
I know no other place where you can own true beachfront this close to a world-class city for a price as low as ours…
This opportunity is a true anomaly. The kind of deal you can only find when you buy ahead of a major Path of Progress.
Panama City is booming. It's truly global now, attracting wealthy and well-heeled folks from all over the world. Millions of dollars are being invested in mega infrastructure projects and you can see the results when flying west over the Panama Canal in a helicopter. (I like to get a bird's eye view of the Path of Progress.)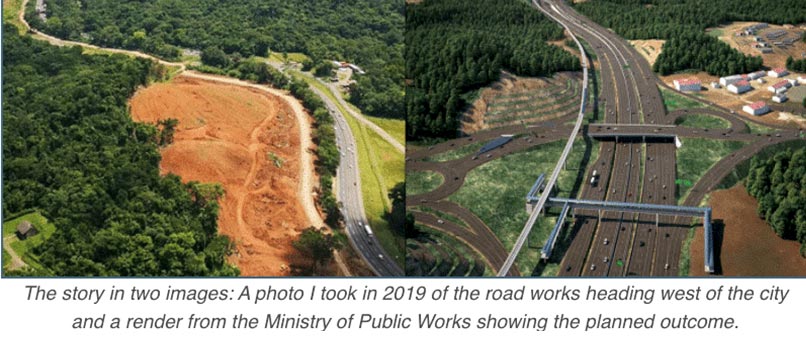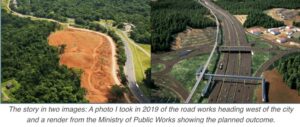 A massive highway-widening project is underway, scheduled to be delivered 2023.A contract worth $1.5 billion for a fourth bridge over the Panama Canal has been awarded. Six lanes of traffic will link the city to the beaches to the west.
And it's in this western beach area, known as the Riviera Pacifica, that you find Playa Caracol…
A lack of road access, the wrong kind of zoning, and privately owned land kept Playa Caracol off the map when the Riviera Pacifica was first developing. Instead, money poured in farther down the coast.
So, while beaches and communities farther from Panama City boomed, Playa Caracol was left a virgin paradise…a sleeping giant.
And it might have stayed under the radar longer but for an established real estate developer with a reputation for getting things done.
The developer behind the community in Playa Caracol has built some extraordinary communities around Panama City. Ocean Reef, for example, is ultra-prime real estate on man-made islands in the Bay of Panama, right in the heart of the city yet surrounded by ocean.
When he found the parcel of land for sale in Playa Caracol, there was no road, no water, no electricity. It was raw, wild, and beautiful. He got to work, putting in all the infrastructure needed, spending millions of dollars in the process. His plan was ambitious but simple: to create a best-in-class beach community and make the most of the natural beauty.
Now, his vision for Playa Caracol is taking shape…
Owners are already lounging by the swimming pools…tanning and swimming on the beach. At weekends and holidays, the pace cranks up—with 50 to 60 surfers catching waves and brightly-colored beach parasols dotting the sand.
You can hike in the Cerro Chame, the majestic mountain range behind Playa Caracol. Picnic at a waterfall or hop in a boat and take off from the beach to fish for tuna, mahi-mahi, and dorado. Playa Caracol is set to have a beachfront spa, a beachfront gym…
There's nothing else quite like it on Panama's Riviera Pacifica.
And it's here that RETA members can buy true beachfront for significantly less than you'd pay for something far inferior elsewhere…
Like I say, our RETA-only price is from $219,000. Five-years after delivery I figure we'll be sitting on a gain of $145,700.
Get Your Free Real Estate Report Now
Sign up for our free daily Postcard e-letter and get a valuable free report on the The 5 Best Places to Buy Real Estate In 2023.
Related Articles
The 10 Best Places to Invest in Real Estate
"Whats The Best Beach You've Ever Seen?"