Have a look at this crazy chart…
This is the exchange rate between the Brazilian real and the U.S. dollar since January. In three short months, the value of the real has dropped dramatically as a result of the current economic crisis. Meaning, if you're a dollar holder, you have 20% more buying power than you had three months ago…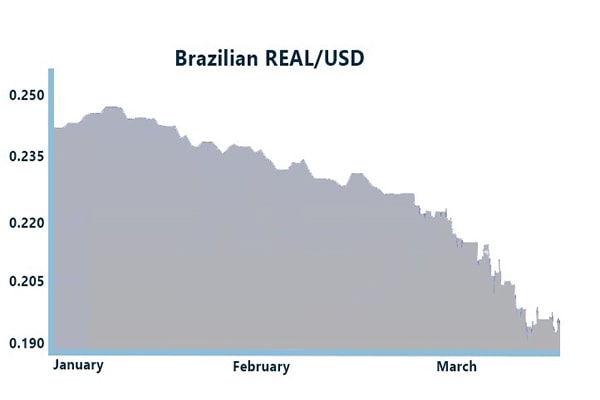 Likewise, you'll see a similar pattern with the Colombian peso…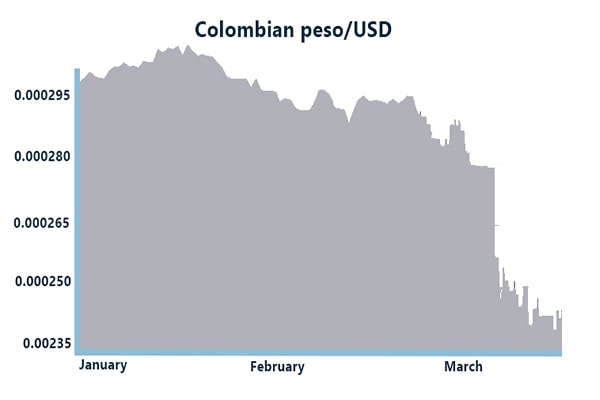 I've just stepped off the 18th green at Quivira, here in Cabo. Earlier today, word spread like wildfire that the course was set to close. I couldn't resist one last game pre-shutdown. But as it turns out, the rumor was false. Which means I can continue to indulge my one vice a bit longer.
It was beyond heavenly out there. Solitude and bliss shared only with my playing partner, the whales, woodpeckers, jackrabbits, and roadrunners. Nature is everywhere now that all but a small few of us humans have abandoned Cabo. And the weather is perfect.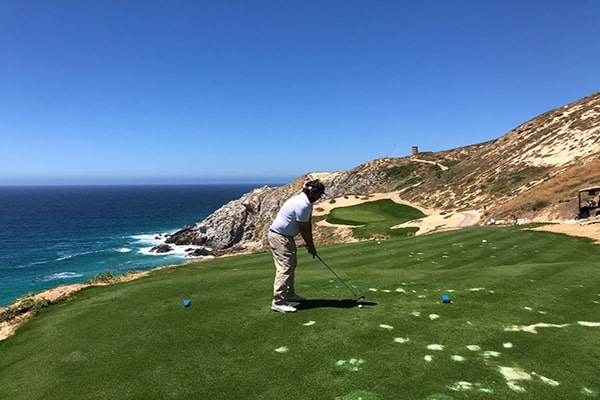 Evenings like this are a pleasant reminder that despite what the news says, the world hasn't fallen apart entirely.
Indeed, amid any crisis there are always pockets of calm. Sometimes opportunity too…
In 2008, right as the last great crisis kicked off, I was making a killing in northeast Brazil. The U.S. and Europe were gripped by fear. But in Brazil, the economy was in an upswing, and I was there to profit.
It was a defining moment for me. I learned that even in the worst of times, there was always opportunity somewhere…
Around that same period, I founded Real Estate Trend Alert. It was a way for me to share some of the amazing deals I was uncovering around the world…and a chance to club together with like-minded investors so we could leverage the best terms and access bigger and better deals.
On one deal, I managed to lock down two luxury condos in a beach community in Northeastern Brazil for 180,000 Brazilian reais each. I was able to secure each condo with a small down payment of 1% of the condo's value—the equivalent of just $736. I paid small monthly payments of 1%.
I sold, long before delivery, for a gross profit of $43,500. Another investor bought in the same community and held until 2014. When he sold, he more than doubled his investment, turning a 215,000 reais condo into a 450,000 reais condo.
Over the past 12 years, I've continued investing and finding deals in Brazil. Each twist and turn, boom and recession, created very specific opportunities for us. Fortaleza city condos…lots in a beach community…multi-unit rentals…São Paulo micro condos.
But it all began in 2008, when I started buying and flipping pre-construction condos during a booming Brazil. Today, I own a beachfront parking lot, a multi-unit apartment rental, and lots in a resort community there.
Of course, the currency drop has knocked significant value off my investments. At least on paper. But that would only matter if I were selling today. I'm not. I actually see this as another great buying moment.
And here's why…
The case for Brazil is as straightforward as ever. In macro terms, Brazil has lots of what the world's growing populations need. Food, energy, manufacturing capacity—producing everything from the basic subsistence products to more expensive luxuries, like toys or even a new electric sports car. It's an agricultural powerhouse with a young population and a growing middle class. But it's a vast and economically underperforming country. That's why we can buy real estate cheap there.
I believe Brazil will continue its long-term growth trajectory. As I have been telling RETA members for over a decade, this won't be in a straight line. You need to be able to roll with exchange rate and economic volatility—and take advantage of it when you can. I believe this crisis will be one such buying moment for Brazil…
Prices just got 20% cheaper in dollar terms. Now, thanks to this crisis, they could drop another 20%. I'm not expecting a crash. But I am expecting a sharp dip…where motivated sellers will have to accept a lot less.
In your Tuesday mailing, I told you about an upcoming buying opportunity in Europe. Yesterday, I explained how we can profit from a special bailout situation in uptrending Panama. If you missed these, you can read them here and here.
Today, I'm telling you about a third kind of opportunity…a crisis buying moment in places like Brazil and Colombia that are on long-term growth trajectories.
Like Brazil, Colombia has solid fundamentals. It's emerged from its troubled past to become a major regional player, building off its steadying political environment, market-friendly policies, rich natural resources, strengthening trade ties, and modernizing economy.
But like Brazil, its currency has tanked as big money gets pulled back into places perceived to be safer havens…like the U.S. dollar.
This means we can buy cheap in a place with big upside potential because its currency is depressed and we can make a strong bulk deal on inventory, and we now have more relative buying power as local markets dry up.
I can't travel to Colombia right now. But three of my research team are on the ground there. Every day I join them virtually to get their reports on what they are seeing. We are brainstorming ways you could make a lot of money here.
We also want to share some dreamy properties you can pick up for a lot less than you might expect.
Yesterday, one of them sent me over a real estate listing that grabbed my attention. A "million dollar home" that you could pick up for a third of the cost.
I haven't done my due diligence on this. It's not a RETA deal. But it will give you a good idea of just how far your dollars can stretch today.
Read about it below…
A "Million Dollar Home" in Colombia for $365,687
By Niall Moore
Normally Medellín, Colombia is abuzz with life…bustling open-air markets…construction on every corner…digital nomads and international workers spilling out of cafés…and football in the parks.
With an economy among the fastest growing on the continent, Medellín is one of the great success stories of Latin America. But like the rest of the world, the city is temporarily in lockdown in an attempt to quash the coronavirus threat.
There's a lot of uncertainty right now. But one thing I'm confident about is that once this is all over, the locals will be determined to get out of the city for a break.
In Medellín, that means heading out to the surrounding countryside for a weekend, renting out a finca (a large country home) and enjoying some pool time.
This is practically a tradition for Paisas (people from Medellín). And there's nowhere more popular than the region surrounding San Jerónimo and Santa Fe de Antioquia, a colonial town about an hour north of the city.
The area has lush jungle landscapes and a warm climate year-round. Because it's a lower altitude, it's warmer than Medellín, making it perfect pool weather. At an elevation of between 2,460 and 2,950 feet, daytime temperatures are usually around 90 F, hitting a comfortable 70 F at night.
It's here, just outside the town of San Jerónimo, only 20 minutes Santa Fe de Antioquia that I've come across an incredible home at a real bargain of a price.
For 1.5 billion Colombian pesos (or just $365,687 U.S.), you can pick up a three-story, five-bedroom, six-bathroom mansion in a gated community.
The home comes with a pool and 24-hour security. The entire area of the lot is 3,000 square meters (32,291.73 square feet).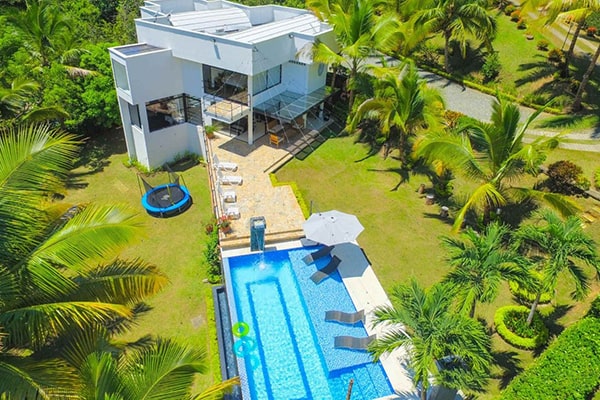 Anywhere else in the world and this would be a million dollar home. Like I say, it's only a short drive from one of the fastest growing cities in Latin America and it's in an area that's hugely popular with vacationers and weekend breakers.
Rental income here would easily cover running costs. You'll find similar homes in the San Jerónimo/Santa Fe de Antioquia area renting for about 1.2 million Colombian pesos a night ($274 U.S.).
At the moment, the drive to San Jerónimo from Medellín takes about an hour even though they're just about 20 miles apart. But part of this route will be ungraded under Colombia's $18 billion Fourth Generation (4G) road infrastructure program. The roadworks are already underway. I suspect that once the highway upgrade is complete, the drive time will be reduced significantly.
You can check out the full listing right here.
Get Your Free Real Estate Report Now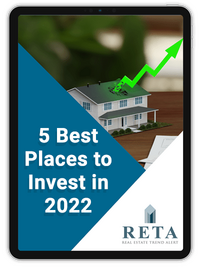 Sign up for our free daily Postcard e-letter and get a valuable free report on the The 5 Best Places to Buy Real Estate In 2022.
Related Articles
The 10 Best Places to Invest in Real Estate
Crisis Opportunity In Europe Is Coming…
Upcoming Conferences
Live Better, Spend Less, Retire Sooner
IL's Retire Overseas Bootcamp
October 21-23, 2022 in Atlanta, GA

In safe, warm, welcoming communities abroad, as little as $1,700 a month can bankroll a good life... this fall, our experts will show you where—and how.
Early Bird DISCOUNT—Save $100 When You Register by Sep. 29
Details Here IL's Retire Overseas Bootcamp
---
Registration Now Open for the Best of Europe Private Screening

In the Right Spots in Europe, You Can Retire in Style—in an Historic, Sun-Drenched Locale—for as Little as $2,300 a Month or Less—Especially Now With the Dollar and Euro at Parity for the First Time in Two Decades.
And We'll Show You How, October 1-2, During the Special All-Online Best of Europe Private Screening.
---
The Income Revolution Forum
What if You Had the Freedom to Enjoy the Good Life Anywhere in the World You Wanted to Be...and Get Paid While You're There?
We'll show you how—with hands-on guidance—you could beat inflation...secure your retirement...ditch your commute...and turn a skill you already have into a portable side income of $300, $600, even $3,000 or more a month.