Even though I live in Paris, I still look through my monthly issues of International Living carefully, keeping an eye out for intriguing spots in the world that make me think—"What if…?"
Tempting occasionally…but when it comes down to it, I still prefer the idea of retiring in France to anywhere else. Naturally, this feeling partly comes from the fact that France has been my home for nearly 14 years, so I feel comfortable here. But comfort isn't what makes me seriously consider spending my golden years here.
What does? It comes down to four things: Practicality, beauty, location, and way of life…though not necessarily in that order.
Let's talk practicality for a moment. France is a country that works well. It has one of the world's top economies, a fantastic infrastructure, and, as you may have heard, the healthcare is world-class. You have the feeling that you're being looked out for here and that the country is trying to make life (in the big picture sense, anyway) as smooth as possible for everyone.
In France, it gives me great comfort to know that between the national social security system (for which expats are eligible after five years of permanent residence) and private top-up health insurance, my healthcare is nearly 100% covered.And the small fraction that isn't covered is barely noticeable because medical costs here are so much lower than in the U.S.
Equally reassuring, I don't worry that as I grow older I'll lose health coverage if a serious illness strikes or that I'll go broke in search of wellness. In France, the more serious your illness, the more comprehensive your national healthcare coverage becomes. What's more, French doctors are well trained and many of them speak English fairly well. Most hospitals are equipped with the latest high-tech diagnostic devices.
Those things are attractive…but much of my desire to retire in France comes from love of the land itself. The physical beauty of France and the richness of its cultural offerings never fail to stir my heart and rouse my curiosity. It's my dream that retirement here would finally provide the opportunity for me to do some long-term exploring of regions outside of Paris.
On my agenda at the moment is some extended time in the stunning medieval town of Annecy in the Rhone-Alps, just a stone's throw from the Swiss border. Nestled against a crystalline green-blue lake and lightly shadowed by the Haute-Savoie mountains, the town is a wonderful place for outdoor activities: mountain hikes, boating, swimming, walks through the woods.
And when the weather gets too cold there, I'd head south for the Languedoc-Roussillon region, a less expensive version of Provence. I'd spend the mild, sunny winters village-hopping and investigating the ancient Roman ruins and former cities that are so abundant in the region. Or maybe I'll just fly to Rome itself for a few days.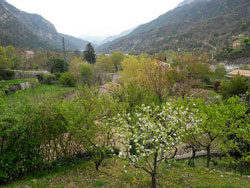 See, that's another great thing about France: its location. It's extremely easy to travel to other countries from here. Italy, Spain, Switzerland, Germany, Belgium, Ireland, England, Luxembourg are all around a 90-minute flight away…and depending on where you live in France, sometimes you can drive to another country for lunch and return in time for dinner at home.
Travel isn't greatly expensive either, especially for seniors. The French railway system (SNCF) offers a range of discounts and benefits for the 60+ crowd, as does Air France, the national airline.
As for my last point—the famous French way of life—this could very well be the glue that keeps me rooted here for retirement. France may not seem like the most low-cost place on earth, but the lifestyle makes it much more reasonable than people think. For about $2,500 per month, a couple could live a very nice life here—including rent. That's partly down to the fact that here, there's no compulsive need to fill your home and life with the latest "stuff"—not unless you're talking about fresh apples from the market or the newest local wine.
No, in France, cherishing what you already have is more important than acquiring new things. When you adopt this attitude, it makes life not only more affordable but more delightful.
Goodness…when I write it out all like this, how could I possibly look for anything more?
Get Your Free France Report Here:
Learn more about France and other countries in our daily postcard e-letter. Simply enter your email address below and we'll send you a FREE REPORT: A Taste of France: All the Ingredients for the Good Life.
This special guide covers real estate, retirement and more in France and is yours free when you sign up for our free daily IL postcards below.
Get Your Free Report Here