Your morning starts with the call of the great kiskadee, as the fresh ocean breeze stirs the outside world to life.
Your large terrace, nestled in mature tropical vegetation is ideal for birdwatching. The eurasian collared dove, the hooded oriole, and the green jay are frequent visitors…
You love the space, the light, and how easy it is to go down and relax by the pool. There's a lot to enjoy about being surrounded by lush landscaping and emerald-green fairways, even if you don't play golf.
But it's the beach where you spend much of your day. It's a desert-island type beach that few folks know about. It's the beach where you bring your laptop to the club, catch up on email, enjoy a cold drink and a sea breeze…
And it's all an easy three-minute golf-cart ride from your luxury condo…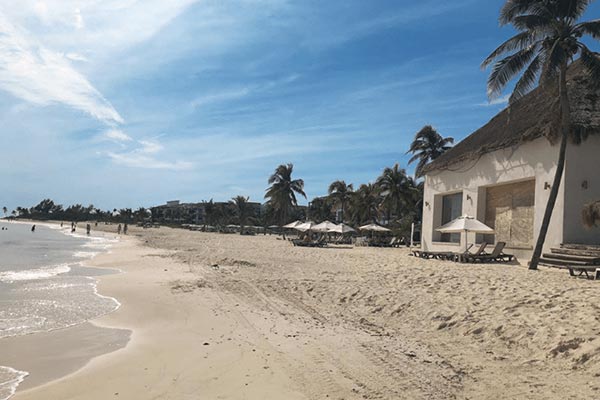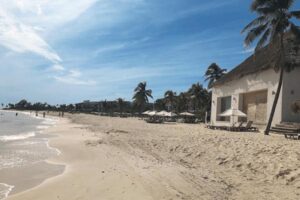 As I've been telling you in recent days, this week's RETA opportunity in Corasol in Playa del Carmen is completely different. It's like a pristine Caribbean island, with golf and a full-on adult playground.
The amenities are everything you expect in a master-planned community where homes list for well over a $1 million—you'll work out in a state-of-the-art gym, relax in the community's spa, hit the tennis or basketball courts…there are plans for dedicated yoga and meditation space and co-working space too.
Yet, we can get in here for a crazy low price.
With our RETA-only deal, we're locking down luxury two-bed condos from just $192,800…
This is a community where start prices for one-beds come close to $300,000 and go from there. A two-bed condo will cost you from $427,444 to nearly $500,000.
I figure the condos we can buy for $192,800 will be worth $300,000 three years after delivery.
This is a place so serene, so secure and tastefully master-planned, that it feels like a tranquil island.
Yet, it's right on the doorstep of downtown Playa del Carmen, a buzzing beach city and one of the trendiest destinations in the Caribbean.
Step out the entrance of Corasol, and you're right at the top of 5th Avenue, a five-mile-long pedestrian-only walkway that's at the center of the city's night life, shopping, culinary and cultural scene.
And this is important…
Playa del Carmen is among the fastest-growing cities in the world. Within the space of a few decades, it's grown from a sleepy little fishing village into an international beach-resort city.
It's a city that welcomes millions of visitors each year. Europeans come in the summer months. North Americans visit over Christmas and New Year. Well-heeled Mexicans come for Easter and national holidays. You'll hear accents from all over the world, as far afield as New Zealand and Russia.
On each visit I can't believe how busy it is…at any time of year. People on the beach during the day, swimming and sunbathing…in the shops and cafés at lunch…strolling along Fifth Avenue in the evening, heading out to dinner or a bar.
Playa's Fifth Avenue is extending…it's coming toward the gates of Corasol.
But that's where it can go no farther…
The expansion of the beach town can't touch our tranquil, island-like haven. We're protected from the transformational Path of Progress that's absorbed all available land.
That's a major benefit of owning in a top-tier, master-planned community. No one is going to be building on those immaculate fairways that surround our opportunity. It will remain, spacious and high-end.
In fact, if Playa keeps extending, it will have to take a detour around Corasol. And it will need to take a wide berth at that…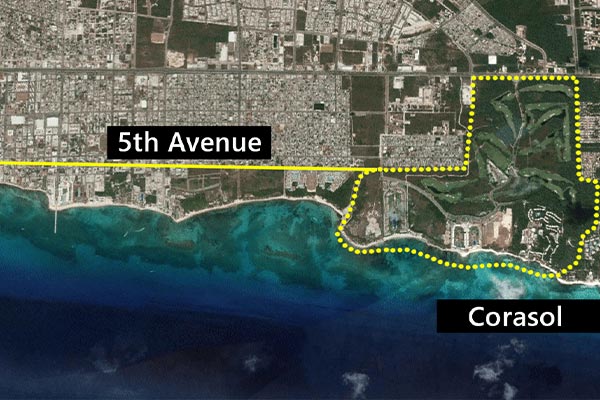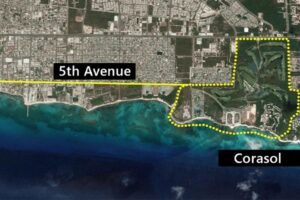 Playa's Fifth Avenue continues to grow, but at Corasol, where we have our opportunity, it can go no farther…
Corasol covers nearly 500 acres. The sheer size and the stunning landscaping and golf course are reasons why Sunrise—in the center of Corasol—is so island-like and tranquil.
And if there was land for a master-planned community like this it would cost a huge amount of money. Maybe $300 million. A cost that would be passed on and then some…
Yet here we are. Paying from just $192,800…
Look at it this way, you're buying the land, plus everything that comes with being in the highest-end master-planned community, plus your condo, plus your community areas… all from $179 per square foot.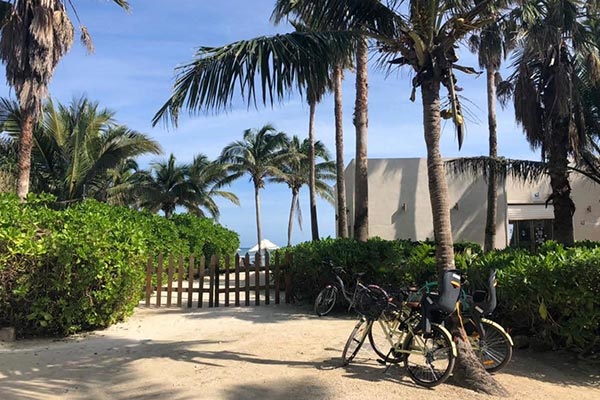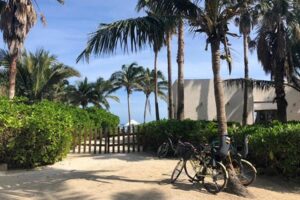 I've only recommended a handful of deals in Playa del Carmen over the years—only those which have made the grade as RETA deals—and premium location has always been the driving factor.
Last December I went to Playa to take a look at progress on Siempre Playa, a RETA deal members got in on in 2017.
To remind you, we had the opportunity to lock down condos in the heart of what I call the "Zona Dorada," or the Golden Zone in Playa.
Our price was from just $193,800. Those condos today now list at retail for $282,900. And the first owners are just moving in.
The Zona Dorada is a tiny rectangle on the city's map—just five blocks by four. The location was key. It's in the heart of the city. Close to the beach and the hustle and bustle of Fifth avenue, but away from the noise.
When I first visited the Zona Dorada it wasn't much to look at—mostly empty lots protected by signage and advertising boarding.
The site where Siempre Playa now stands was just an empty lot. Now, however, the project is almost a reality.
Like I say, when I brought members the opportunity to buy in Siempre in 2017 our members-only price was from just $193,800.
These days, units here have a retail listing of $282,900.
That's nearly $100,000 more…
In November 2016, I recommended little condos in Singular just off Fifth Avenue. Our members-only pre-release price was $148,800. Four months later, the local market was paying $180,400. That's a gain of $36,600 in a few short months. And prices continued to rise from there.
Last time I checked listings the condos RETA members could get for $143,800 were listing at $209,500…and I expect prices to climb.
That tells you everything you need to know about where Playa's real estate market is at. Demand in premium locations is sky high.
Today, the land alone for a master-planned community like Corasol would be astronomical—I reckon easily $300 million. That's if such a tract of land existed, which it doesn't.
It's one of a kind…and the only reason that we can get such a great price is because the developers we're dealing with are land-buying specialists, a family company that have a stellar track record of delivering above and beyond what they promise.
They're offering us an amazingly low price because they carved out an unbelievable deal on the land.
We might never see anything like this again…
Our RETA-only price is from just $192,800 for a stunning two-bed condo of nearly 1,100 square feet (889 internal and a particularly generous terrace of nearly 194 square feet.)
I figure three years after delivery these condos will be worth $300,000. And based on our track record in Playa, I think I am being really conservative.
I reckon you can gross annual rental yields of $24,000—a gross yield of 12.44%. You have a red-hot year-round rental pool in Playa. That's based on 120 nights at an average of $200 per night.
The Riviera Maya is seeing an enormous surge of folks seeking longer-term rentals. Playa was already a global hub of digital nomads and work-from-anywhere professionals before the pandemic set millions of people lose from the office. This is a great option to have, meaning we can rent monthly for $2,500 or so a month for two or three months at a time.
Playa del Carmen is what I call an "inherently desirable destination." The weather is pretty much perfect year-round, the beaches are stunning white-sand Caribbean, and the nightlife is superb.
It draws millions from all over the planet. And it's not just vacationers driving demand. Playa has become a destination for business travelers as well as home to thousands of expats from all over the world. It's now a thriving city drawing in entrepreneurs and international travelers from all corners.
The rental pool is diversified, so even with a dip in numbers visiting from one destination, it still brings in plenty of eager renters from elsewhere.
That translates to one of the strongest markets on the RETA beat for short-term rentals. You can rent by the night, by the week, by the month. Peak season is getting longer and longer as more tourists visit from across the globe.
That's why…on the right type of condo in the right location here…you can get fantastic rental returns.
Get Your Free Real Estate Report Now
Sign up for our free daily Postcard e-letter and get a valuable free report on the The 5 Best Places to Buy Real Estate In 2023.
Related Articles
Why You Should Pay Attention to Leverage
Gains of $107,200 in Playa del Carmen, Mexico