Though the evenings come sooner and the cold is beginning to bite, there's still enough sunlight in an Irish September to enjoy the splendor of the countryside. Summer leaves are fading to shades of brown, amber, and fiery orange. On the telegraph wires, swallows gather in preparation for their annual migration to southern Africa.
If you're considering a home in the Emerald Isle, now is a great time to buy. After years of price falls and stagnation, the property market is starting to come out of the doldrums. And for North American buyers, the currency exchange rate means that your dollars now go further than they have in a decade.
In Ireland's northwest and the Shannon Lakelands, a part of Ireland unknown to most North American visitors, bargains abound in restored farmhouses, countryside cottages, and properties with some of the most magical sea views on earth.
You'll find plenty of homes here for $50,000 to $100,000—and I do mean homes, not ramshackle ruins or farm sheds. Allow $100,000 to $175,000 and you're almost spoiled for choice.
Even traditional thatched cottages can be found for less than you might expect. When shopping in the boating town of Carrick-on-Shannon, in County Leitrim, I noticed a three-bedroom stone cottage with a thatched roof that overlooks a small lough (lake) from its front windows for $130,343. A surprise, because you don't see too many in this area.
I can't think why, but I've never written about the Foxford area of rural County Mayo before. A tranquil corner of the country, it was made for ramblers—various looped trails take you through woodlands, heath, and boglands, or up into the hills. Along with glimpses of sparrow hawks, hares, and red foxes, the landscape serves up an ancient heritage—a heritage of ring forts, megalithic tombs, Ogham stones, holy wells, and tumbledown abbeys, some of which date back thousands of years.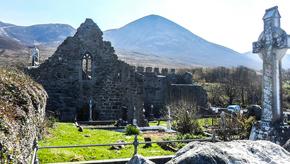 Many visitors come to cast their fishing rods into one of the county's numerous trout loughs or the Moy—Ireland's premier river for wild salmon. But though I fancy trying my own hand at salmon fishing, I'm casting a net for property in County Mayo.
Around five miles from Foxford, my first catch is a move-into cottage near Attymass village with an acre of land for $54,345. Painted pale lemon-yellow, it's small—830 square feet—but given the location, I think it's a steal. Views of the Ox Mountains, salmon leaping almost on the doorstep, and Foxford only a short drive or a bike-ride away. I really like Foxford. With a bridge spanning the Moy, it's a jolly place, with riverside walks, family butchers, traditional pubs, and tackle shops stocked with rainbow-colored fishing flies that go by curious names such as the Coolraw Killer and the Yellow Flamethrower.
My next stop is Westport, a lively Georgian heritage town on Mayo's coast. With a tree-lined Mall, brightly-painted shopfronts, and little stone bridges over the Carrowbeg River, it's one of Ireland's most attractive seaside settlements.
Prices in the Westport area started taking off last summer. For cottages similar to one I saw near Foxford, the asking price is upwards of $135,000—and they're getting scarce. Come and you'll understand why.
With a dramatic backdrop of mountains etched in shadowy blues and violets, there's something almost unworldly about the seascapes around Westport. Fringed by silver-crescent beaches, its nearby coastal villages look out onto Clew Bay. Peppered with an archipelago of hundreds of tiny islands, the bay was once controlled by the 16th-century pirate queen, Grace O'Malley.
When you can walk out to seascapes like these every day, $135,844 isn't outrageous for a whitewashed cottage on the outskirts of the Clew Bay village of Lecanvey. Although it has no sea views from its windows because of high hedges, the coast is only two minutes' walk down a lane. Go a mile along the road toward Murrisk village, and you come to a signpost for Bertra Strand—a magnificent shell-strewn beach with wading birds, rock pools, and sand that turns silver in the sunlight.
Get Your Free Real Estate Report Now


Sign up for Your Own Home Overseas free e-letter and receive a special report "The Insider's Guide to Buying Real Estate Overseas."
This special report covers the 10 things you must know before buying property overseas as well as pointing you to some of the best places in the world to buy real estate…and it's yours free when you sign up for Your Own Home Overseas e-letter below.
Get Your Free Report Here