Land in the Tulum area on the southern edge of Mexico's Riviera Maya can be a strong opportunity…as long as it's the right land. On my recent scouting trip I put boots on the ground at more than a dozen interesting communities (including some planned lot communities).
As long-time readers of Real Estate Trend Alert know, Tulum is stunning. It's home to some of the world's finest white-powder beaches…backed by palm trees that rustle in the Caribbean breezes.
You'll find the world-famous Sian Ka'an biosphere reserve, too.
It's a special place to spend time. Kayak on a white-bottomed lagoon or stroll along picture-perfect beaches to your yoga class before breakfast. Visit ancient Maya ruins or swim in a cenote. Bike or hike through a nature wonderland. Brightly colored butterflies drift on the breezes. Exotic birds fill the morning air with song. This is nature's wonderland with modern conveniences on your doorstep. A two-hour flight (plus a 90-minute drive) from the U.S. gets you here.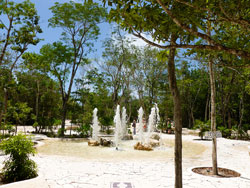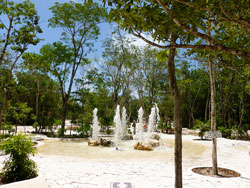 Tulum is a boom town where there is a serious shortage of housing. But just on the edge of town you'll find an interesting real estate opportunity: small lots that are selling for $39,000.
This is a high-end residential gated community in a jungle setting. Folks moving to the Tulum area with senior roles in new hotels and the tourism business will want to live here…as will expats…or those who want vacation homes. That's a very broad market.
You could build a nice little house of 1,200 square feet on one of these lots for $100,000. That's spacious when you figure you'll do most of your living outside and a home like this could include an additional 800 square feet of space on a roof terrace.
(If you don't want to build, no problem. You can just sit on your lot.)
There's a shortage of long-term rentals of this standard in Tulum right now. A home like this would rent long-term for $1,000 per month.
This is a strong opportunity because you'd be buying ahead of a surge in demand. I expect property prices and rents will increase.
Right now Tulum is a little pocket of opportunity with an unstoppable path of progress rolling down the coast from Cancun. New roads, bridges, and a government program are designed to more than triple tourist numbers. Unstoppable North American demographic trends mean that more and more baby boomers will want to live somewhere sunny, safe, affordable, convenient, and with First-World amenities south of the border.
Mexico's fast-growing new middle class is also becoming a serious driver here. Today the young and ambitious choose to stay and build a career or business here rather than move to the U.S. Many of them are being attracted to the Tulum area. They all need somewhere to live.
Permitting regulations mean that Tulum will stay special. It's attracting and will continue to attract the savvy and sophisticated. Tulum will stay "high-end boutique."
The $39,000 price is for a little lot of 2,228 square feet. You could build a home with a 1,100-square-feet footprint and up to three stories. You could have a small pool in your yard.
These aren't isolated jungle homes. These are the closest homes in a community like this to the town of Tulum. And town is getting closer. In 10 years Tulum will be all around…
Editor's Note: Ronan McMahon appears here courtesy of Pathfinder International, IL's preferred real estate advertiser.
Free Real Estate Report:
Learn more about living, investing and real estate overseas in our daily postcard e-letter. Simply enter your email address below to sign up for IL's free daily postcard e-letter and we'll also send you a FREE REPORT "International Living's Insider Guide to Buying Real Estate."

Get Your Free Report Here