Donna and Ron James were tired of the cold winters and short summers in their home town of Calgary, Canada. So, when the opportunity came in 2009 to visit Panama on vacation they were bowled over by the great climate, and it started them thinking seriously of making a permanent move there.
When they heard of a development in west Panama constructed by folks from Calgary, they decided to go back for another vacation to see it. "We met up with one of the owners who had bought a lot and built a home," says Donna. "She encouraged us to buy a lot…and in 2010 we did and the dream began to come to reality.
"With our new friend's help, we made the plans to build our home and retire here in 2015. We sold our home in Calgary in July 2014, and were in Panama a month later. The shell of our new home was completed and we were here for the final finishing. We were fortunate to have a very honest, reliable builder and the construction went smoothly. One year after the ground was dug we moved in to our home.
"The labor to build our home was very inexpensive. Also, our new home entitles us to not have to pay any property taxes for 20 years. That is a huge saving."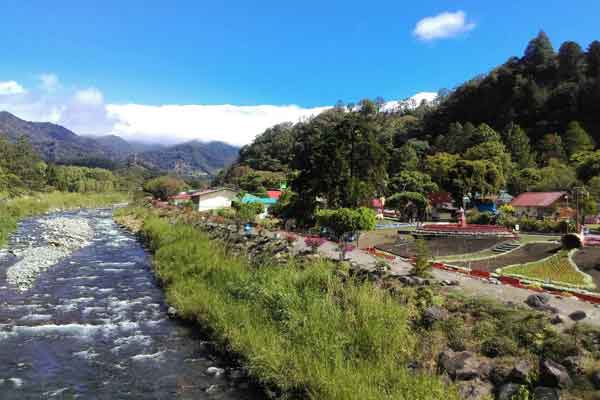 Donna and Ron live out in the country near the town of La Concepcion. "It's only a five-minute drive to get groceries, go to the big hardware store, and buy veggies at the local market," says Donna. "Most of the vegetables for Panama are grown up in the mountains near us, so the produce is very fresh. There are local restaurants and a few new upscale ones to dine at, and a new strip mall with Gelato store, a bakery, and our favorite Syabris restaurant."
The James' like to keep busy in retirement and have taken up kayaking around Chiriquí. They also love to go boogie boarding at Barqueta beach, which is less than an hour's drive from their home. Hiking around the Cerro Punta and Boquete area is another pastime of theirs.
Donna says, "A friend and I have started a Spanish reading library and an English class for the local children. We meet about three times a week and end with a game of cards or soccer in the park. I joined the garden club and have learned about native species and making tinctures from all the medicinal plants." Donna is keeping busy and active and has even signed up for a local clay tile class where she learned the craft of clay work and painting.
"There is a perfect place for everyone in Panama," says Donna. "For some it is the beach, for others it's the mountains, but we're very happy with our location and the climate. Just looking out at my garden brings a smile to my face. I dreamed of retiring and having a garden but never imagined it would be in a tropical area.
"Every morning we wake up and say, 'It's another beautiful day.' We love it here," says Donna.
Get Your Free Your Overseas Dream Home Report Now

Sign up for the FREE Your Overseas Dream Home e-letter and get a valuable report (free for a limited time) on the 15 Best Places to Invest in Real Estate in 2021.
Related Articles
Panama Real Estate: Double the Luxury for Half the Price
Looking for Beachfront Property? Check out Panama