As I write, I'm sitting at a big eight-seater dining table in my polished concrete penthouse Airbnb in Aldea Zama in Tulum.
This is my office space for the week, and where I'll be getting together with members of my team very soon.
It's the perfect tropical retreat. An ideal spot for remote working…
But it's not all Zoom calls. I'm here in Tulum for some old-fashioned boots-on-the-ground scouting. I'm here to take the pulse of one of the fastest-growing markets on my beat, to sit down with developers, meet with architects, and take pitches.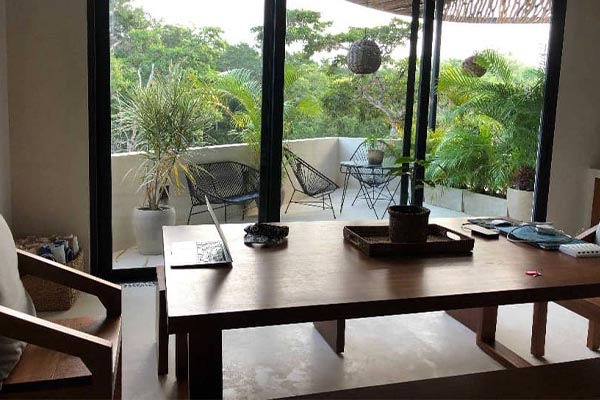 As I told you yesterday, my first few days here were spent on the beach. The pace of change there is incredible. Eco-chic beach huts have spread along the shore and you can pay $1,000 to $3,000 a night to stay in one.
I was truly blown away by the experience. Tulum has now firmly established itself as a super lux high-end destination.
But Beach Road is not a place you stay if you're taking a long-stay vacation in Tulum or indeed if you intend to get any work done. For that you come to somewhere like Aldea Zama—between the beach and the town—and find a rental.
That's if you can…
My rental manager here in Aldea Zama tells me that his team have never been busier. Other contacts in Tulum all have stories of friends who are struggling to find a rental.
There was always high demand in Tulum. But since the pandemic there's a massive new surge coming primarily from work-from-anywhere folk and vacationers seeking an escape from cities like New York and San Francisco.
These visitors are staying for weeks, even months, at a time. Some of them have no plans to return home and have already become part of the fabric of the growing expat community.
It's a trend I predicted back at the beginning of the pandemic. And in retrospect it was inevitable.
Millions of people are now free to work from wherever they want. Why not live in a Caribbean beach town with lower costs of living and better weather? Tulum has the access, the capacity, the infrastructure, and the name recognition to be the top choice. It's the ultimate Zoom Town.
Nevertheless, there's a difference between stating a prediction and seeing it unfold. The Work From Home (WFH) crowd have been arriving here en masse. And long-term rentals are getting scarce.
Even outside Tulum, in the Gran Bahia Principe resort, folks are renting long-term for $2,000 a month. The 30-something, work-from-home contingent have bolstered the market here too…
And as Tulum grows, owning real estate that is rare, discreet, and exclusive sets us up beautifully for explosive rental demand and for rapid potential for gains. The high-end fashion set that love Tulum will want your condo, and so will the growing number of folks coming longer-term.
Tulum reminds me more and more of Playa del Carmen. It's meteoric growth. It's transformation from a dusty beach town into a small city. Piece by piece it's growing.
I remember taking a tour of Tulum's gourmet supermarket, Chedraui, when it first opened about 10 years ago. Tulum was still a fledgling. But there was this giant gourmet emporium, selling French wines, European cheese, German meats.
It was a huge vote of confidence for Tulum. But it was empty. There were no shoppers. There wasn't yet a market for high-end food produce.
When I visited this week, it was packed. The car park was full…the store was full. All this during a pandemic…
Right there you could see almost the full spectrum of Tulum's inhabitants. Locals, foreigners on vacation, foreigners living there…most of them young.
And they will continue to come in droves.
This is good news for our RETA opportunities here. And, for those of us who like the less hassle nature of long-term rentals, it's a very exciting development.
In recent days I stopped by Tao Tulum, close to where I'm staying. It's where—in October 2017—RETA members could get in for prices starting from $154,500.
I bought along with members and sold my condo last year for $225,000. That $225,000 is probably a bit less than market price. As a rule, I don't mind leaving some money on the table if it means fast gains for me and a doubling or more of my cash invested.
However, looking at how the project is developing, I wish I still had a stake. It's looking amazing. A step above most of the other Aldea Zama communities. Less dense, with nice green areas, and a variety in the design that keeps it interesting.
It looks fantastic…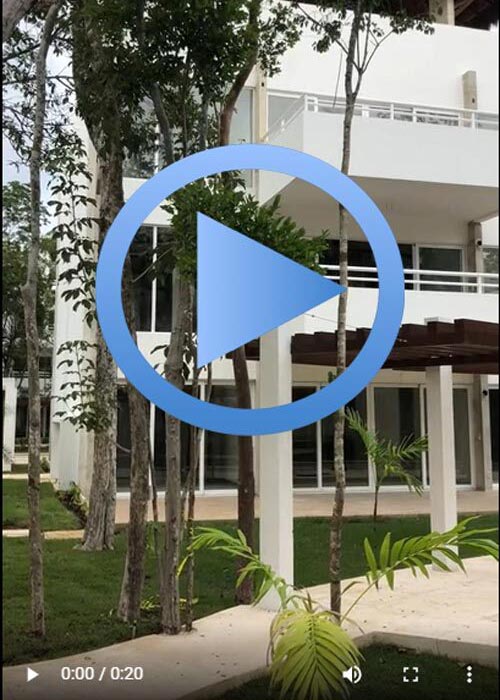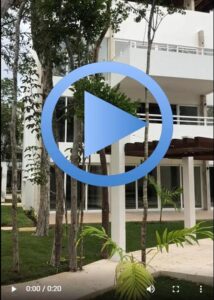 RETA members could buy premium units in Tao Tulum in 2017 from a members-only price of just $230,556. When I last checked pricelists those are now listing for $449,000.
It's not the only project in Tulum where I bought alongside RETA members. I also bought in our Edena deal—an opportunity to own spacious two-bed homes for just $149,000. Today the asking price for two-bed homes in Edena is $189,000. In fact, I've seen one broker advertising them for $199,000.
Those are some rapid paper gains…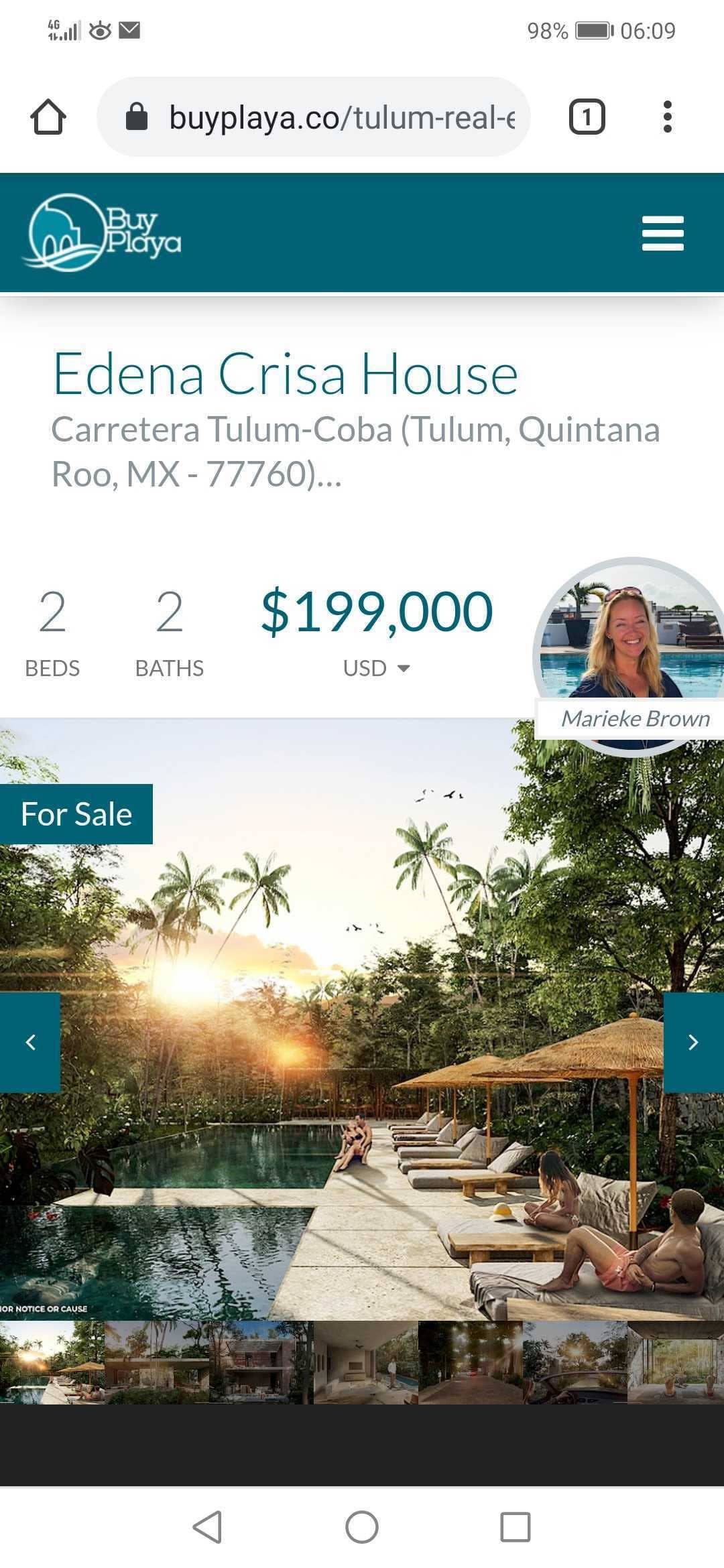 RETA members could also opt for three-bed homes in Edena ranging from $169,000 to $189,000 depending on size and aspect and these are now listing for $239,000.
Our last deal in Tulum was in Natal where RETA members could own with just $749 a month thanks to developer financing and payment terms. I figure the stunning condos we can own for $143,000 will be worth $199,000 just three years after delivery—a gain of $56,000. I think the rental potential is enormous, certainly double-digit yields. And these condos will be a stunning place to spend time yourself…(RETA members can read my full report on Natal here.)
The last condo I looked at for sale close to Natal was a two-minute drive from where we have our opportunity in Natal and had an asking price of $210,000. It was just 330 square feet. The condos we could buy range upward of 865 square feet including terrace.
This puts RETA members in an incredible position to profit from Tulum's next stage of growth. Members own the very best-in-class, in the perfect location, at a killer RETA-only low price.
Tulum has reached a whole new level. It's perfectly positioned to accommodate this new work-from-home set. And because RETA members have used the crisis and temporary halt to travel to lock in opportunities in Tulum, we're at the crest of this new wave…
And it's not over yet. This boom has legs and I plan to make the most of it. A deal I am working on right now could give RETA members the chance to buy from $169,000 in a brilliant location in Tulum.
Get Your Free Real Estate Report Now
Sign up for our free daily Postcard e-letter and get a valuable free report on the The 5 Best Places to Buy Real Estate In 2023.
Related Articles
Big Trends And Real Estate Opportunities For 2021
How I Nearly Bagged $1 Million In An Off-Market Deal
A Home For The Price Of An Espresso
Upcoming Conferences
The Only 2023 Fast Track Costa Rica Conference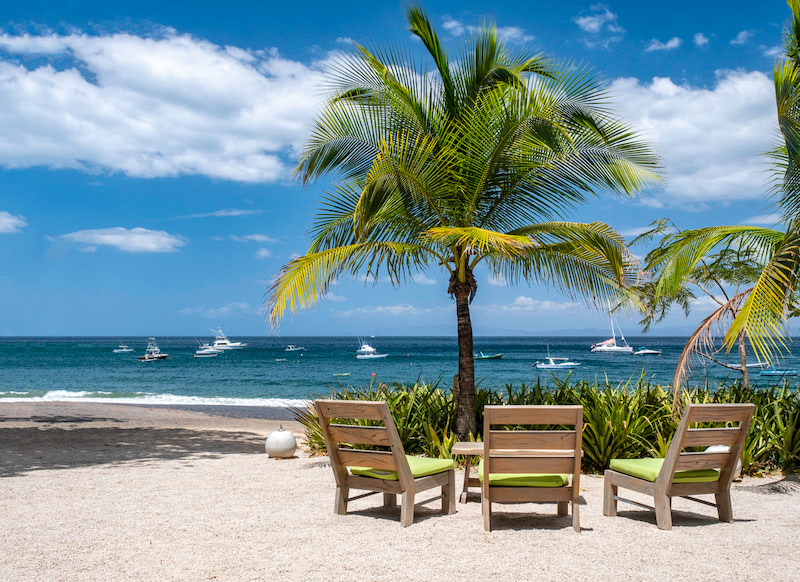 If your dream retirement involves stunning beaches… lush green mountains… a perfect year-round climate… first-rate healthcare… incredible value for money (a couple can live well on $2,109 a month—including rent!)...
Join our Costa Rica experts and expats in June and discover true Pura Vida.
REGISTER NOW, SEATS LIMITED: EARLY BIRD DISCOUNT HERE
---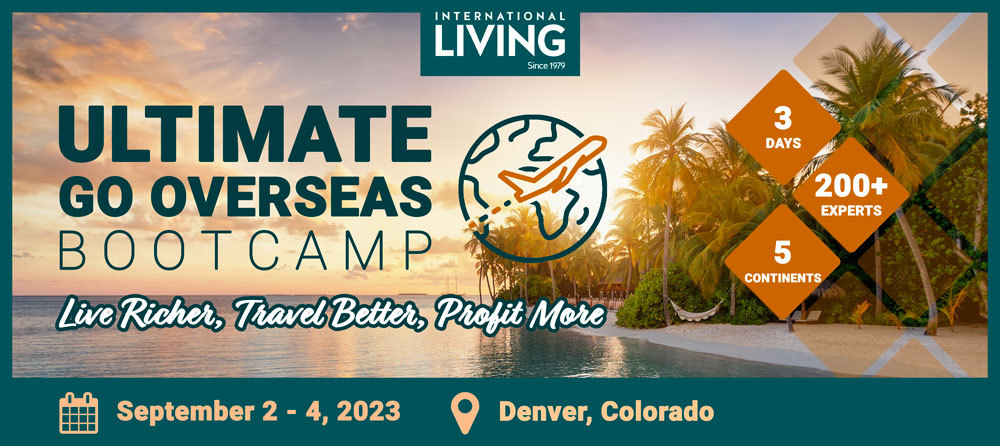 Most Popular Products