***Existing Subscribers: Click on the "User sign-in" link on the top right of this page to access your current issue as well as all the past Incomes Abroad issues***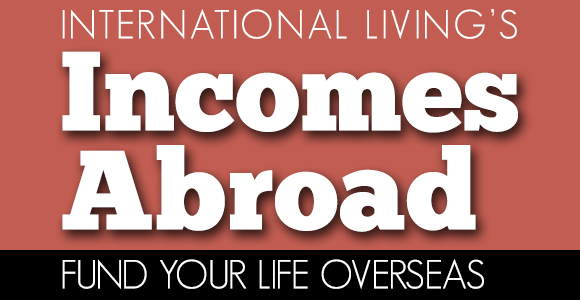 If it's time you left the stress of the rat race behind, grabbed control of your life and headed off on a brand new overseas adventure, the inspirational stories and rock-solid advice in Incomes Abroad will help you make it happen…and sooner than you think.
Incomes Abroad can help you map your route…explore your options…and show you how you could fund your life overseas…
Every month in Incomes Abroad you'll discover secrets like:
How to make your dream of a B&B overseas come true…
How to open a franchise overseas…
How to import everything from scarves to bags to guitars from countries like Ecuador…
And much more.
Incomes Abroad not only points you toward income-generating opportunities…but it draws your attention to specific communities, too, ripe with potential and waiting for somebody like you to come along. We're keeping an eye on good-value nations offering incentives for entrepreneurs, as well.
Simply click on the below button to subscribe to Incomes Abroad at the special introductory price of $47. You will get instant access to the current issue of Incomes Abroad as well the back issues.
As an added bonus, you will also receive two FREE bonus reports–Earn Anywhere: How to Jumpstart Your Entrepreneurial Spirit… and Get Paid to Do What You Love, Wherever You Want to Be and Entrepreneurs Welcome: Three Great Business-Friendly Havens that Make it Easy for You. (You can cancel your subscription at any time.)
See below for sample articles from Incomes Abroad.