Over 200 pristine cayes (islands) are scattered along Belize's coastline—each surrounded by crystal clear, turquoise seawater that teems with brilliant fish, coral, and sponges.
A favorite pastime on the cayes is to relax in a hammock, under a gently swaying coconut palm, while sipping an icy Belikin beer, or a pina colada… It's the perfect spot to relax and watch the frothy white waves wash against the Mesoamerican barrier reef… For those who live on a caye, the living reef is so close it's a visible touchstone, a reminder of its many wonders. Diving, snorkeling, fishing, kayaking, sailing, and surfing are pleasant activities in the shallow waters inside the protection of the reef…
The Caribbean seascape you see from the mainland is equally stunning. Placencia's 17 miles of golden sand beaches are perfect for long, leisurely strolls and days spent sunning or picnicking near the sea. Sailboats, cruisers, and catamarans come and go from the deeper water docks, or idle in the calm, protected waters at the tip of Placencia Village.
From Placencia it's a short drive to a host of other mainland activities such as hiking, bird-watching, and zip lining.
Belize is quintessential Caribbean but with Maya roots.
But Belize offers much more than the beauty of the Caribbean Sea and Mesoamerican reef. It's complimented by the lush, wild jungles of the Maya Mountains, with tumbling rivers, mysterious Maya ruins, and awe-inspiring rainforests. The Cayo region is rich with productive farms and the perfect spot for homesteading expats.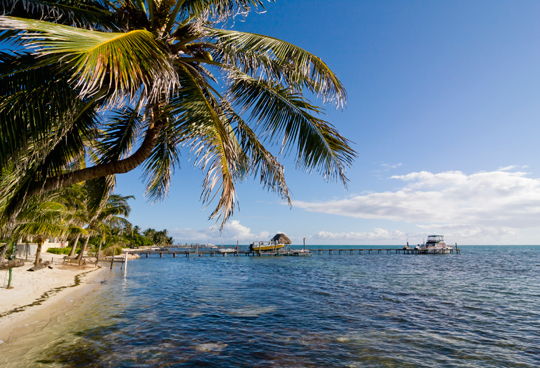 A small country barely the size of Massachusetts it's easy to travel from one part of the country to another. As one adventurous expat eloquently described his rational for moving to Belize, "I can be Jacques Cousteau in the morning—diving in the blue hole, and Indiana Jones in the afternoon—exploring a Maya cave in the jungles…"
Belize offers other advantages. As a British Commonwealth country, English is the primary language, making it easy for expats to transition. This little country is also well known for its open-arms attitude toward expats who wish to become residents, or to open a business.
Talk to expats who live in Belize and you'll hear a common theme…Belizean people are warm, helpful, and made them feel welcome.
Most expats who live in Belize today moved from the USA, Canada, Britain, and other European countries.