Affordability is often the single-most influential factor in choosing an overseas retirement destination. After all, who wants to spend their golden years counting pennies and wondering how far the next Social Security check will stretch? That's the beauty of travel, and International Living's Annual Global Retirement Index—you have the power to choose a country with a cost of living that suits your budget.

This is not a subjective list. We've sent detailed surveys to our correspondents spread out around the world to get verified, specific costs for things like groceries; rent; utilities; household help; eating out; gym membership; transport and travel; and the unexpected costs that come with living overseas.
While an affordable location can mean more pocket money for leisure activities, it can also ensure peace of mind knowing you are financially secure and can live comfortably on a modest retirement fund. Below you'll find the most affordable expat havens we've found, places where your dollars will get you further than in the U.S.
3. Cambodia (tie)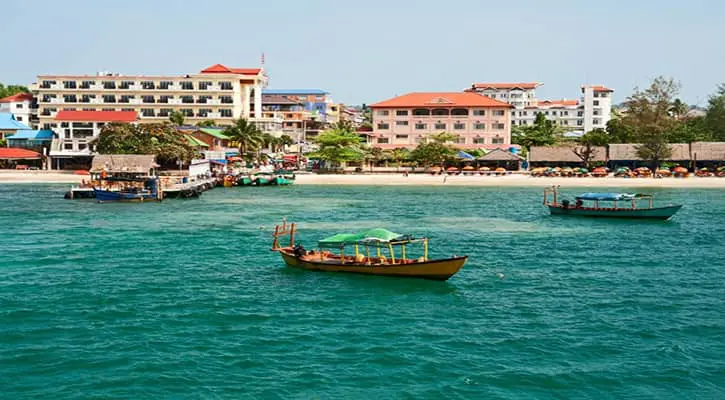 The small Southeast Asian country of Cambodia has one of the fastest-growing economies in the world. The capital city of Phnom Penh has blossomed into a bustling city full of skyscrapers, malls, and upscale restaurants. It's hardly recognizable from the ramshackle metropolis that it was just a decade or two ago. Fortunately, this city—and the rest of the country—still offers solid value for foreigners looking to live in a place with cheap beer, warm weather, friendly locals, and an active expat community."Phnom Penh is the most expensive place to live in the country, but you can still live well for a fraction of the cost that you would spend 'back home,'" says Wendy Justice, IL Southeast Asia correspondent. "Go farther afield to the small, expat-friendly cities of Battambang, Siem Reap, and Kampot, and Cambodia becomes downright cheap.
"Like in any capital city, you can live on a low budget or in luxury in Phnom Penh. Rent in the capital city remains reasonable; you can lease a one-bedroom apartment in the heart of downtown, within walking distance of restaurants, bars, and the best shopping, for less than $500 per month. Even the best apartments are affordable by international standards; few places would cost more than $1,500 per month.
"One person could budget between $800 and $1,000 per month in Phnom Penh, eating at inexpensive local restaurants or cooking at home, and indulging in minimal luxuries. You could have meals at local restaurants for less than $5 or have some local Angkor beers in a bar for about a dollar per bottle. In other localities, the cost of living will be anywhere from 10% to 25% less than in Phnom Penh," says Wendy.  
Rent in the smaller towns and cities can be a bargain. Battambang, Cambodia's arty, second-largest city, located not far from the Thai border in the northwest corner of the country, provides a good example. One-bedroom apartments start at around $225, and houses don't cost much more than that. Living here, you'd be in a classic French Colonial-era city; the downtown is dotted with art galleries, interesting architecture, and some excellent restaurants. If you venture just a short distance from town, you can explore ancient Khmer ruins. Best of all, Battambang is small enough and flat enough that you can get around quite easily on foot or by bicycle. Tuktuks (motorbike-powered rickshaws) are always available to provide rides in the city for about a dollar; longer trips are affordable, too, though you may want to bargain a bit. 
Medical care in Cambodia has improved recently, and the country now has its first JCI-accredited hospital. The Royal Phnom Penh Hospital—owned by the huge Bangkok Hospital consortium—offers full check-ups, including a physical examination, an EKG, and a full laboratory workup for only $115. Doctors in private clinics charge as little as $5 for consultations, though a visit with an English-speaking doctor will cost about $25. 
It takes at least 18 hours to fly from Cambodia to the U.S., but flights are quite reasonable. One-way tickets between Phnom Penh and San Francisco start at around $600, and you can find round-trip tickets starting at $1,041 or less. Prices are similar for travel to other coastal cities in the U.S. The country has two international airports: Phnom Penh and Siem Reap. Of these, Phnom Penh is the larger of the two airports and handles more destinations. Since there are no direct flights to the U.S. or Canada, you'll need to make at least one transfer along the way. 
Cambodia uses two currencies, but the main one you'll see is the U.S. dollar. They're dispensed at most ATMs, and outside of making small purchases at the market or buying street food, most items are priced in dollars. When making most of your purchases, use dollars; your change will be in Cambodian riel. 
Full Cost of Living in Cambodia here.
3. Bolivia (tie)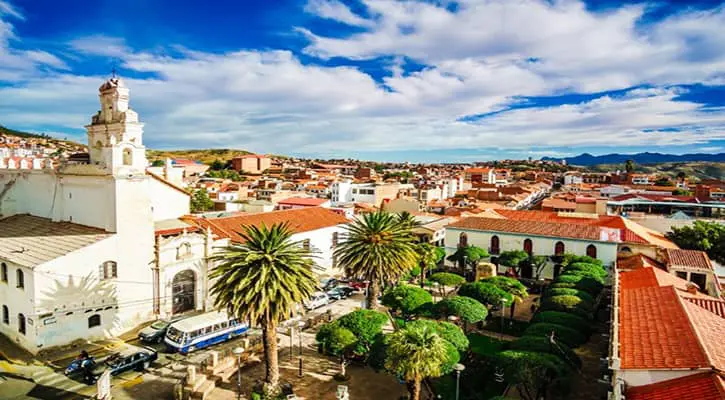 Bolivia is probably one of the most surprising expat destinations in the Index. It's not a country that's in the news much. It's not on the radar of most planning a retirement abroad. But it does offer some solid benefits for those who settle here.
This little South American haven, wedged in between Peru, Argentina, Brazil, Chile, and Paraguay is safe. The local Andean Indigenous culture is rich. The cities balance tradition and history with modern amenities and conveniences. The weather in most places expats settle is temperate for much, if not most, of the year. 
The biggest attractor for retirees is affordability. In fact, of all the countries International Living includes in its coverage, Bolivia has one of the lowest costs of living. Consider the cost of everyday, common expenses like: Rents starting at $200 for nice apartments in good neighborhoods close to everything in town; the menu del día of soup, an entrée, fruit juice, dessert, and coffee for under $2 at the no-frills neighborhood restaurants; meals at top-end restaurants, with wine, for about $30 for two; a latte or cappuccino at a trendy café for 75 cents.
Other affordable everyday expenses include: A taxi ride anywhere in town for about $1.50 (less for shorter trips); a cross-country flight for $45; a visit with a primary care doctor $15, and a specialist $30; medications at 30% U.S. prices; a healthcare plan at a private facility is $100 per month; a weeks' worth of groceries for two for $20 per week; a gardener and maid twice a week for $150 per month; and all monthly utilities for $50.
Not only are rents cheap but properties to buy are as well. A three-bedroom, two-bathroom apartment in one of the best neighborhoods in Cochabamba, close to shopping malls, parks, and restaurants, is listed at $115,000. In Tarija, there is a two-bedroom apartment listed for $85,000.
With costs like that, it's easy to see why living is so cheap in Bolivia. But why are costs so low? There are several factors at play. 
As mentioned, Bolivia isn't in the headlines much. That means it's off the radar of most tourists, even though the country does offer quite a few unique attractions. You can trek in the Andes Mountains. It's possible to explore the jungle and all its wildlife in the sizable Amazon region. And, of course, any visitors would find low costs throughout their trip, from meals out to flights within the country to hotels to tours. 
In more popular locations, the presence of tourists, as well as large expat population, tends to push prices up. Not so in Bolivia.
Fred Staff has lived in Bolivia for more than 30 years. He loves the relaxed lifestyle, the climate, the cost of living…
"What it costs to live in the U.S. boggles my mind," says Fred, who is in Cochabamba, a city of 700,000 in the foothills of the Andes. "You can live here on $700 per month, including rent."
Fred and his wife often shop at La Cancha, one of the largest outdoor markets in Latin America. "You can get incredible fruits and vegetables. Twenty tangerines for $2, for example. And we eat out a lot," says Fred, who notes that a typical meal costs about $2 to $3 at good local restaurants.
Fred says his electric bill is less than $30 a month. He pays $3 per month for gas, which is used for stoves and hot water heaters. 
Kelly Barton is also in Cochabamba. She spends about $20 per month on groceries. She owns a home but notes that rentals run about $500 per month for an unfurnished apartment in one of the fancier buildings in town. But you can easily find properties, homes, and apartments, in the $200 to $400 range. 
Marcia Bohannon is in Tarija. Cost of living was not the primary reason for her move to Bolivia—she's really into high-altitude hiking—but the lower costs are welcome. She has household help two mornings a week and a gardener for $150 per month. A full medical check—EKG, mammogram, bloodwork, and urinalysis—at a local private clinic is available for just $200. "When my friends go out for a high-end dinner, it's only $20 at most," says Marcia.
Full Cost of Living in Bolivia here.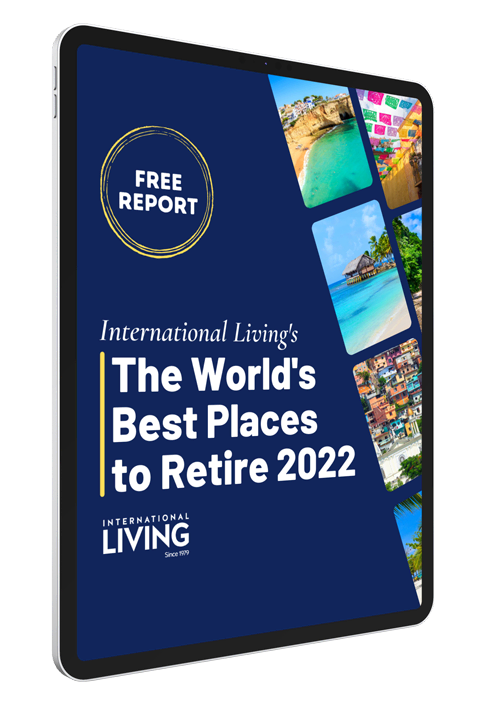 Get Your Free Report on the World's Best Places to Retire:
Learn more about the best places in the world to retire in our daily postcard e-letter.
Simply enter your email address below to sign up for our free daily postcards and we'll also send you a FREE report on The World's Top 10 Retirement Havens, plus access to over 10 more free reports. Our gift to you, on our favorite destinations.
2. Bali, Indonesia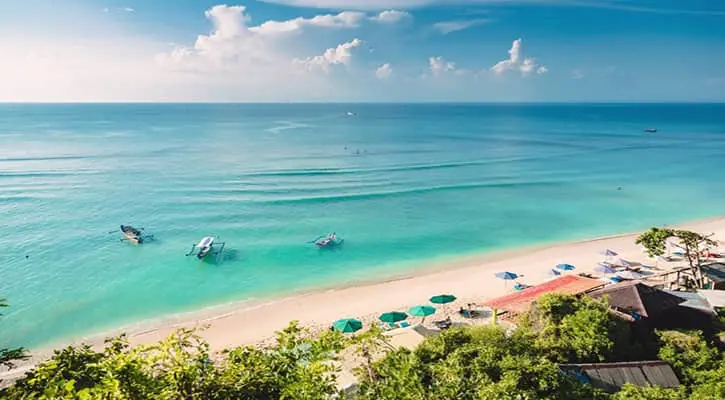 The tropical Indonesian island of Bali, also known as the "Island of the Gods," is one of the prettiest places on Earth. While only about the size of Delaware, this little paradise contains dozens of gorgeous white-and-black-sand beaches, incredible waterfalls, volcanoes, terraced rice fields, secret gardens, and primeval jungles.  
Since Bali has been a popular international vacation destination for decades, it is well suited to accommodate travelers of all budgets. Five-star restaurants rub shoulders with tiny warung, where a meal of nasi campur (mixed rice), served with meat and vegetables, costs around $1.50. Housing ranges from opulent seaside mansions to tiny huts in the countryside, and foreigners are just as likely to live at either extreme. Based here, you could live as luxuriously, or as frugally, as you choose. 
"Several couples I've met who live in the quiet, seaside communities of Sanur and Canggu say that they live comfortably on budgets of less than $1,500 per month, which includes rent for a two-bedroom house, all utilities, eating out frequently, and buying some imported foods. Some upscale towns like Seminyak and Legian are more expensive, but they're still cheap when compared to U.S. prices," says Wendy Justice, IL Southeast Asia Correspondent.
Furnished, two-bedroom houses in Sanur that include small yards and private pools range from around $450 to $800 per month, while three-bedroom apartments in desirable neighborhoods throughout the popular southern beach areas rent for $550 to $1,500 per month. Most leased properties require payment of the entire lease upfront, whether it's for six months or 20 years.
"There is a benefit to this," says Wendy. "The rent will not increase over time and you won't have to make regular payments. The initial cash outlay is steep, though, and it requires a commitment to stay. An easy alternative is to find a short-term rental through Airbnb, or work out a monthly rent agreement with a hotel, guesthouse, or homestay."  
The artist's community of Ubud, in the hilly interior, offers a high quality of life for even lower prices than the southern resorts. One-bedroom apartments start at less than $300 per month, and the town has an incredibly large selection of restaurants where you can get delicious local meals for $3 or less. 
Other options for living in Bali include the laidback small towns of Amed on the northeast coast, Candi Dasa on the eastern coast, and the towns on the far north side of the island, including Lovina, which is one of the best places in Bali to watch spectacular sunrises and the dolphins playing just offshore. All these towns offer a high quality of life for even lower prices than the southern resorts. 
"One Candi Dasa couple I talked with said that they 'live like queens and kings' for $1,200 per month," Wendy explains. "Given its small population, Candi Dasa has a surprisingly active expat scene, too, which makes it a perfect destination for those who want to be away from the more developed parts of the island but still have friends and maintain an active lifestyle."  
Bali's airport is in the centrally located city of Denpasar. For the vast majority of people living here, home is less than an hour's drive from the airport. One-way flights to Bali from San Francisco start at around $475, and from Los Angeles they cost $587. Round-trip flights from the west coast start at $800. There aren't any direct flights between Bali and the U.S., so you'll need to change planes in Taipei, Istanbul, Tokyo, Singapore, or another transportation hub along the way.  
"As for getting around, most expats who live in Bali own motorbikes or cars, though others who don't care to drive on the frequently traffic-clogged roads hire their own drivers for $25 or $30 per day to get around. Regardless of what mode of transportation you use, Bali is a small island, and getting around isn't expensive. Bemos—small vans that have been converted into little buses—ply the streets in some areas, and in-town rides generally cost a dollar or less."  
If the idea of living on a tropical island with an idyllic climate, friendly locals, a thriving expat scene, and an affordable lifestyle appeals to you, consider a trip to Bali. It's a beautiful place that has been welcoming western tourists to its sun-drenched shores for nearly a century.   
Winner: Vietnam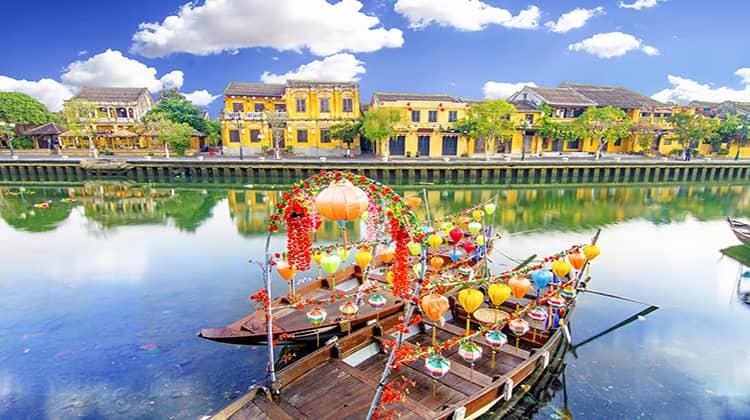 Vietnam offers welcoming locals, gorgeous scenery, a unique culture, and an astoundingly low-cost, high-quality lifestyle. Expat couples can enjoy the benefits of living in modern, comfortably furnished homes and apartments in good neighborhoods, eat meals out regularly, have a housekeeper, and indulge in plenty of travel and extras, all on a budget that will probably never exceed $1,500 per month.  
In the past year, rents have decreased from 20% to 50% throughout Vietnam. In popular expat havens such as Hoi An and Nha Trang, luxurious, one-bedroom apartments that rented for $600 per month a year ago are now available for a mere $300 per month. Rents in Hanoi and Ho Chi Minh City have decreased by around 30%, making these cities far more affordable now than even their previously modest prices.
"The rent for my modern, fully furnished three-bedroom apartment in Hanoi, which includes internet, tap water, cable TV, 24-hour security, and twice-weekly housekeeping, has dropped from $750 to $600. This decrease is typical for rentals in Vietnam's urban areas," says Wendy Justice, IL Southeast Asia correspondent.
"Though electricity costs are similar to those in the U.S., other utilities are significantly less expensive. A one-month prepaid cellphone plan through Vinaphone, for example, offers 3 GB of data and all the calls and texts that you'll likely need for about $3 per month. High-speed fiber-optic internet costs $12 per month and cable TV plans offering a good assortment of English-language stations start at a mere $7 per month. Packages including cable TV, internet, and cell plans start at $10.50 per month.
"Most rental apartments include both cable TV and high-speed internet in the rent, though, so even those would not be typical expenses in your budget; utilities are often not included with house rentals, but they add little to the total cost."
Local wages are low in this middle-income country—many entry-level jobs start out at less than $200 per month—and having a housekeeper, gardener, or other service-related help is quite affordable. Hardworking housekeepers are happy to be paid $2.50 to $3 per hour, with an annual bonus before the important Tet (Lunar New Year) holiday.  
"Unless you require a lot of imported foods, you'll pay far less for most groceries in Vietnam than you would in your home country," says Wendy. "I'll often buy fruit, vegetables, and meat at my local traditional market, where I'll pay $2 or less per shopping bag for fresh-from-the-farm food. Prices are only slightly higher at the large supermarkets that you'll find in every city in the country, and you'll have the added convenience of one-stop shopping."
Vietnamese cuisine is one of the freshest and healthiest in the world, and it's one of the things that attract so many visitors. A big bowl of the enormously popular, hearty Vietnamese phở (beef or chicken soup in a richly complex clear bone marrow broth, seasoned with fresh herbs, chilies, and sprouts), or a bánh mì (a sandwich made with meat, eggs, or pâté, served with cucumber, carrots, and fresh herbs on a French-style baguette) costs about $1.50.
A meal for two at a sit-down local restaurant generally costs less than $10 including beer or soft drinks, and even a meal at an upscale Vietnamese restaurant rarely comes to more than $25 for two people, including beverages.  
The majority people in Vietnam, expats included, drive small, gas-efficient motor scooters, so even though gasoline prices are the same or slightly higher here than in the U.S., the cost of operating a vehicle is less. If you prefer to take a bus, a ticket only costs about $0.31, though bus availability is limited in smaller towns and rural areas. Ride-hailing companies like Grab Taxi that offer fixed fares are an affordable way of getting around; they are often quite a bit less expensive than traditional metered taxis. A mile-long trip costs around $1, though you could also hail a Grab Bike motorbike for about half that price.
Entertainment is another bargain in Vietnam. Watch the latest Hollywood blockbuster at the theater for $4, or gain admission to one of the many excellent museums throughout the country for just $2 or $3. Fitness clubs will often offer promotions if you agree to purchase a six-month or annual membership; it works out to around $25 per month at most fitness centers.  
Flights on quality airlines are another affordable indulgence. One-way flights from Ho Chi Minh City to Hanoi are currently just $33; flights from Ho Chi Minh City to Singapore cost $52, and a flight from Ho Chi Minh City to San Francisco is only $439. The relatively new startup, Bamboo Airways, is beginning new routes from Vietnam direct to Los Angeles, San Francisco, and Seattle. Though prices have not yet been announced, the nonstop flights should decrease the flying time from Vietnam to the States by several hours.
"One of Vietnam's best bargains is its medical care. Same-day appointments with a specialist at an international hospital cost $20 or less, including a translator; my English-speaking dentist charges $15 for a check-up, X-rays, and cleaning. Most medications that would require a prescription in the U.S. can be purchased over the counter in Vietnam; prices tend to be about 10% of those charged in the U.S. for the exact same product," says Wendy.  
Anyone on a limited budget who wants to live well and not worry about overspending will be thrilled at how far their dollars stretch in Vietnam.  
Full Cost of Living in Vietnam here.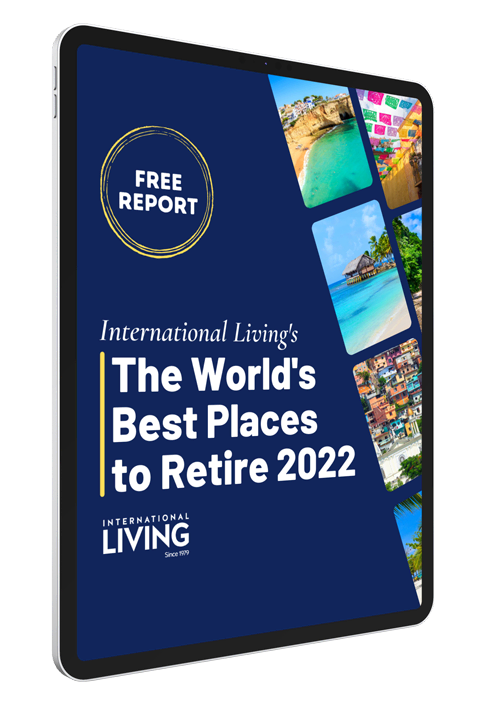 Get Your Free Report on the World's Best Places to Retire:
Learn more about the best places in the world to retire in our daily postcard e-letter.
Simply enter your email address below to sign up for our free daily postcards and we'll also send you a FREE report on The World's Top 10 Retirement Havens, plus access to over 10 more free reports. Our gift to you, on our favorite destinations.
Related Articles
The World's Best Places To Retire In 2022
Your Overseas Retirement Calculator
Upcoming Conferences
Make 2023 Your Best Year Yet. Discover Panama with International Living

Panama has it all: beaches, mountains, a world-class capital city, top-notch, low-cost healthcare and the "World's Best Retirement Program" that makes the already low cost of living even more affordable.
Join us for International Living's Fast Track Panama Conference to see all that Panama offers. There's no better place to be and no better way to make 2023 your best year.
Most Popular Products