Cartagena, Colombia - Best Things to Do, Safety and Cost of Living Budget
Cartagena is one of Colombia's most popular tourist destinations thanks to its interesting history, excellent cuisine, and amazing shopping. Located on the Caribbean coast only 256 miles from the Panama Canal, Cartagena is a major seaport for both commercial shipping and vacationers on cruise ships. More than 3,000 ships pass through this port each year, and Cartagena sees nearly 112,000 tourists a year from cruise ships alone.
The residential population of about 1 million people, Cartagena is the fifth largest city in Colombia, and the second largest in the coastal region. At 221 square miles, it is just slightly smaller than Chicago.
The city is a UNESCO World Heritage Site. While it gained its independence from Spain on November 11, 1811, Cartagena still retains much of the original, colonial architecture. As you walk through the old city you'll find narrow, cobble-stoned streets, old churches, museums, and restaurants and shops housed in colonial buildings, making you feel like you've stepped back in time.
Oozing history and romance, Cartagena's center is surrounded by the historic city wall, with the Clock Tower (Torre del Reloj) overlooking the main entrance. Sections of the wall have steps that let you walk along the top. Many residents like to stroll along the wall, warmed by ocean breezes, to take in the breath-taking views and listen to the waves crashing close by.
Shopping is exceptional in Cartagena. Upscale boutiques, local artisanal shops, and sidewalk vendors provide a variety of options for every budget. Emeralds are an especially popular item.
Hotels, condos, apartments, and AirBnB and Flipkey rentals are available year-round but fill up quickly during Christmas, the New Year, and Easter holidays.
Retire in Cartagena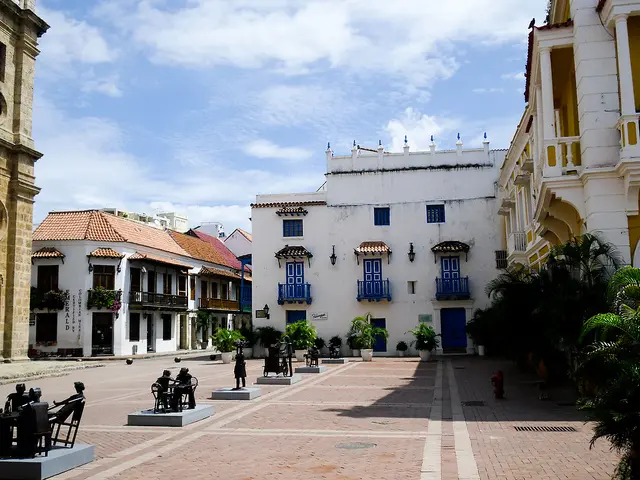 Many retirees want to continue to lead an active, vital life. This is easy to do in Cartagena. Due to the influence of the tourism industry there are lots of recreational activities, including boating, swimming, bicycle riding around the city, and playing golf. The area is home to TPC at Karibana, a Jack Nicklaus designed 18-hole golf course, that is perfectly situated next to the ocean.
Culturally Cartagena is known for its International Music Festival held in January, the International Film Festival held in March and the Jazz Festival in December. The various museums and art galleries regularly offer film screenings, rotating art exhibits, and permanent collections by local artists.
Besides all the tourist attractions, Cartagena has all the comforts for daily life. Grocery store chains, pharmacies, banks, real estate offices, shopping malls, and medical care are easily accessible.
Most expats will choose to live in either the high-rise apartments that face Cartagena Bay in the neighborhood of Bocagrande (big mouth) or the slightly more laidback and residential neighborhood of Manga. Both areas have great views, are pedestrian friendly, and are secure.
Lifestyle in Cartagena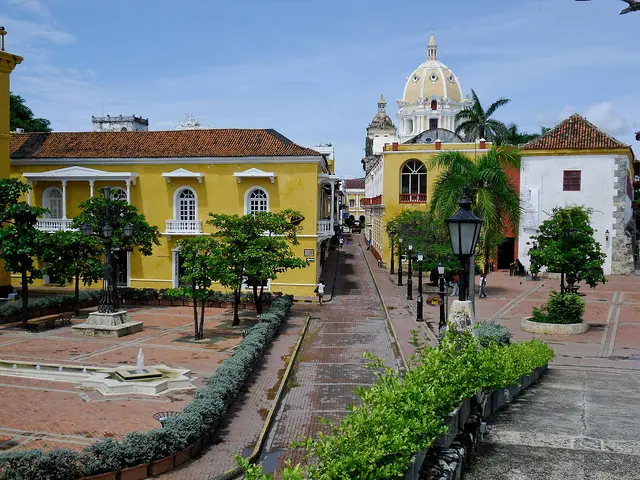 Cartagena has a warm, tropical climate. Daytime temperatures average in the upper 80s F with 90% humidity. This means that shorts, sandals, sundresses, and wide-brimmed hats are the usual uniform.  The region has only two seasons, rainy and dry. Rainy season usually lasts from May through November, while December through April is dry season with intense sun, so sunscreen is a must in this city. Fortunately, due to the proximity to the equator, Cartagena is not effected by hurricanes.
In terms of accessibility, the Rafael Nuñez International airport is only 15 minutes outside of the center of the city. It is the fourth busiest airport in Colombia and has direct flights to and from Miami, Fort Lauderdale and New York, making for easy travel back and forth to the U.S.
Getting around the city is easy too, thanks to the various options for public transportation. Buses, taxis, and even horse drawn carriages will get you anywhere you need to go in the city, so owning a car is not necessary.  The vast majority of the city is flat and at sea level, so walking is a viable and healthy option of transportation as well.
Cost of Living in Cartagena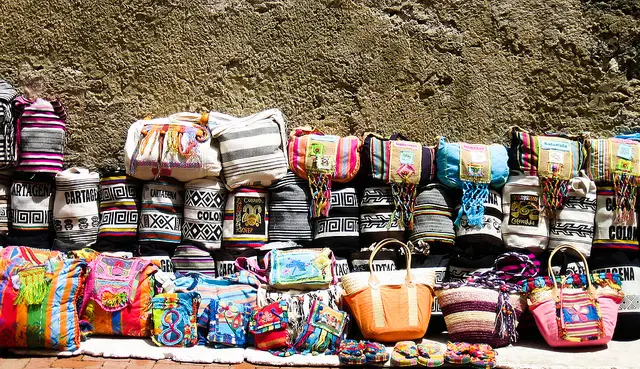 Like most areas of the world, the cost of living in Cartagena depends on the type of lifestyle you want.  Whether you prefer to cook your own meals with food bought at the local markets, or dine out several times a week; live on the beach in a penthouse apartment, or a small garden-style inland home, you can tailor your lifestyle to your budget.
Cartagena is less expensive than comparable U.S. oceanfront cities. On average, living expenses are 60% lower than in Miami, Fort Lauderdale, or San Diego. For those wanting to get away from the cold of the Northeast or Midwest, Cartagena's average cost of living is 65% lower than Chicago and 75% lower than Boston.
Below is an example of a monthly budget for a couple living in Cartagena:
| | |
| --- | --- |
| Expense | U.S. $ |
| Rent (three-bedroom, two-bathroom apartment) | $600 – $1,000 |
| Electricity (depends on use of air conditioning) | $60 |
| Water & sewer | $25 |
| Gas | $10 |
| Telephone (land and cell) | $30 |
| Internet | $15 |
| Groceries | $300 |
| Transportation (buses & taxis) | $45 |
| Entertainment (evenings out, etc.) | $200 |
| Healthcare (public basic) | $80 |
| Maid service (once per week) | $50 |
| Clothing & personal care | $200 |
| Monthly total | $1,615 – $2,015 |
10 Best Things to Do in Cartagena, Colombia
By Di Minardi
Whether you spend your Colombian vacation trekking through the Amazon rainforest, exploring the vibrant city of Medellin, weathering the chilly gray skies of Bogota, or maybe even doing all three, ending your trip in Cartagena is the perfect way to relax and recharge before heading back home again.
Cartagena is known around the world for its colorful walled city, extensive fortifications, authentic food, and stunning white-sand beaches. Now you can discover all of this and more with our guide to the top 10 things to do in Cartagena.
1. Swim at Playa Blanca
If you've ever dreamed of visiting a Caribbean beach, you're in luck because they're so easy to reach from Cartagena. The Muelle de la Bodeguita marina (located right outside of the walled city) sells both boat and bus tickets to nearby Playa Blanca. Simply choose your preferred method of transportation and then settle in for a quick one-hour trip. Soon, you'll find yourself eating, drinking, swimming, and relaxing on the white-sand beaches of paradise.
2. Snorkel or Dive in the Rosario Islands
If you're scuba certified, diving in Rosario and San Bernardo Corals National Natural Park is one of Cartagena's highlights. The park spans more than 450 square miles of islands and coral reefs and most dive trips to it include transport, two dives, knowledgeable guides, and a lunch break on the beach. If you've never gone scuba diving before but still want to explore this unique underwater park, you can also book snorkeling trips with the diving companies or even spend a few days finally getting that open water scuba certification you've been dreaming of.
3. Indulge in Seafood and Colombian Sweets 
One specialty every traveler should try in Cartagena is ceviche, a cold dish in which seafood like fish, shrimp, calamari, and octopus is cooked in acidic lemon juices rather than heat. Acclaimed chef and TV personality Anthony Bourdain recommended La Cevicheria as one of the best restaurants to try it on his visit to the city. After you eat, make sure to save some room for dessert from the Portal de las Dulces. The colorful marketplace is lined with stands selling delicious Colombian treats like obleas (wafer sandwiches), cocadas (coconut candy), and much, much more.
4. Dance All Night in the Salsa Clubs
Watch a few YouTube videos to learn the basic salsa dancing steps before you travel to Cartagena because you'll definitely put the knowledge to good use. Salsa clubs dot the city and everyone is welcome to join in on the fun. Some of the hottest spots to dance the night away are Cafe Havana and Donde Fidel, both of which serve up plenty of cervezas to help you feel a little less self-conscious about your two left feet.
5. Explore the Walled City
Did you know that Cartagena was named a UNESCO World Heritage Site in 1984? One of the reasons it was inscribed was because "The port of Cartagena—together with Havana and San Juan, Puerto Rico—was an essential link in the route to the West Indies and thus an important chapter in the history of world exploration." The walled city was a melting pot of cultures and its winding streets tell the story of hundreds of years of history through churches, shops, and quiet shaded corners just begging to be discovered on a long, aimless walk through the city.
6. Go Island Hopping
Vogue claims that Colombia's Rosario Islands were practically made for Instagram, and they just might be right. Even if you can't afford to rent out your own private island, many of the islands like Isla Grande and Isla Marina offer accommodation to help you relax and get away from it all in a truly idyllic setting. Sure, WiFi, running water, and electricity may all be in short supply but the sounds of the waves crashing against your doorstep every morning just might make up for the inconvenience.
7. Take a Mud Bath
The Totumo Mud Volcano is a popular destination for vacationers in Cartagena who want to leave the beaches behind and try something new. To go, ask your hostel or hotel to set up a half-day trip with one of the many tour companies in the city who are more than happy to whisk you away to bathe in the slippery mud. Afterward, jump in the nearby lake to wash off (after snapping a few mud-covered photos, of course) and return home with smooth skin and a unique experience checked off your bucket list.
8. Visit the Churches
Three out of every four Colombians identify as Catholic so you can find beautiful churches in every corner of the country. Some of the most notable churches in Cartagena are the Sanctuary of St. Peter Claver, built in 1580 and home to the remains of its holy namesake, the Convento de la Popa, located on the highest point in the city, the Cathedral of Cartagena, and the restored Convento de Santo Domingo.
9. Check out a Few Museums
First, visit the Museo Historico de Cartagena de Indias—ominously located in the old Palace of the Inquisition—to learn more about both the good and the bad in this city's history. Afterward, lighten things up with a trip to the Museo del Oro Zenu to marvel at gold and silver artifacts from pre-Colombian cultures and then complete your education at the Choco Museo to learn how Colombia creates and exports its famous chocolate (and sample a few pieces of the sweet treat as well).
10. Shop 'til you Drop at the Markets

Browse the stalls overflowing with fish, meat, fresh veggies, and more at Mercado de Bazurto and then round out your Cartagena trip with one final stop at Las Bovedas market. It may be housed in a former jail, but Las Bovedas has been transformed into the perfect place to stock up on colorful Colombian souvenirs for friends and family back home before you board your plane and wave one final goodbye to this Caribbean paradise.
Is Cartagena Safe?
By Michelle Thompson
Thirty years ago, Cartagena and many other cities in Colombia had a reputation for violence and crime due to drug cartels and resistance movements across the country. However, things have changed a lot since then. Foreigners often imagine Colombia as unsafe. In fact, many stereotypes about this beautiful country continue on popular shows like Narcos. Most Colombians will tell you they are not accurate.
Despite these unfortunate misconceptions, the reality is that Cartagena is one of Colombia's safest regions—one that has seen a decrease in crime over the years. Local and national governments have made significant investments in Cartagena's most popular neighborhoods. They've done this to encourage tourism and support the local economy, which strongly relies on national and international visitors.
Ensuring visitors' and residents' safety and improving infrastructure like public transportation and roads have become a priority. Indeed, due to an increase in tourism over the last decade, Cartagena has become a popular destination for Colombians, expats, and tourists alike. Its bustling city streets are usually filled with people, food stands, and buskers. Understandably, this can open you up to petty theft or pickpocketing.
Areas to Avoid and Crime Rates
Petty crime such as theft and pickpocketing continue to happen in parts of the city and at night. The wealthiest part of the city seems to have the highest robbery rate. This includes neighborhoods where expats often live. In addition, catcalling can happen to women walking alone. That said, I personally have never experienced this, and I frequently use apps like Uber and Didi to move around within the city rather than walk from place to place.
Homicide rates have steadily declined since 2014 when the city saw 29 deaths per 100,000 to 22 in 2018. Statistically speaking, Cartagena has the fourth lowest rate in the country, surpassed only by Bogota, Bucaramanga, and Santa Marta. In addition, kidnapping rates have dropped dramatically in the last 20 years (by 92%).
While Cartagena is certainly not one of the most dangerous cities in Colombia, there are things you should consider in terms of ensuring safety if you plan to live here. Choosing the right neighborhood is crucial. Here are some of the neighborhoods you should try to avoid, and some of the best and safest areas.
Two of the city's least safe neighborhoods are La Magdalena and La Popa. La Magdalena is known by residents as being rougher than the rest of the city. In fact, there isn't much for you to do there at all because it's mostly a residential neighborhood. La Popa is a busy neighborhood where visitors can fall victim to thieves, pickpockets, and bag snatchers if they're not vigilant and attentive. This is especially true at night. It is best to avoid this area and stick to day visits if you absolutely need to go.
Best and Safest Neighborhoods
Expats tend to live in neighborhoods like the Walled City, Bocagrande, and Getsemani. I've noticed that these areas have a much higher presence of police officers, are better lit, and have easy access to taxis and Ubers.
Gestemani is Cartagena's hippest neighborhood, and has plenty of restaurants, bars, and coffee shops to visit. It is quite safe during the day, however, make sure to travel with others when visiting this area at night. Some streets can get lonely or even a bit unsafe once cafes and restaurants close.
The Walled City, also called El Centro, is generally safe, however as is the case with most Colombian cities, you should avoid wearing flashy jewelry and walking around with your cell phone out, or leaving your bags unattended. Pickpockets have been known to target foreigners in this area. That said, the neighborhood is stunning and very popular with expats and visitors. Consider that you will often be asked to purchase things by pushy street vendors. Remember, they are an integral part of the local economy which largely survives on tourism. That said, you will need to get comfortable with saying "no gracias!".
Bocagrande is Cartagena's most popular beachside strip and although it gets busy and sees many tourist traps, it is undeniably beautiful and one of the city's safest neighborhoods. This area is full of seaside skyscrapers and is known as an expat neighborhood. Along with El Laguito, it's also one of the most expensive and safest areas of the city. The vibe is very laid-back, but keep your eyes open regardless.
Other popular and safe neighborhoods in the city include San Diego, Manga, Crespo, and Castillogrande. While these are walking distance to the more touristy areas, they see less petty crime because fewer tourists are living or visiting there.
Tips for Staying Safe
Don't walk around with your phone in your hand. If you absolutely need to use your phone while on the street, use your earphones, keep it in your pocket, or step into an indoor public area to check it.
Showing confidence and looking like you know where you're going will go a long way. Plan your trips before leaving your house, and don't doddle or stare as you try to read the street signs.
Remove expensive jewelry or watches and avoid wearing overtly flashy clothing which could make you a target. I try to wear a light jacket with zipper pockets rather than carry a purse or backpack.
Choose a place to live with 24-hour security and a doorman. Introduce yourself and learn their name. You'll be thankful if you ever need to ask them for help.
If someone mugs you, it's best not to resist or fight back. It's not worth risking physical harm. To that end, carry your money or valuables in more than one pocket and carry a digital image of your passport rather than the original, in case you lose it.
Never accept a drink from a stranger or leave your glass unattended while out at the bar. Drink spiking for the purpose of robbing expats and tourists happens in many countries, including Colombia.
Living Like Royalty in Cartagena, Colombia
by Marcela De Vivo
First thing this morning, I stepped out of my apartment building and crossed the street to meet my personal trainer at the beach. After I finished my 20-minute routine, I rounded out my workout with a refreshing swim in the ocean. By the time I got back to the apartment, our live-in cook had prepared a delicious, healthy breakfast of patacon con queso (fried plantain and cheese).
This is the start of a typical day for me, and all possible because I live in the beautiful city of Cartagena, Colombia. Here, an average person can live like a king, enjoying privileges reserved for the rich and famous in the U.S.
I can't begin to describe how helpful it has been for me to go from juggling a job, three kids, and a house, to having a couple of maids helping me with healthy meals, laundry, and more. The average cost of a live-in maid is just $250/month.
In my own time I booted up the computer in my home office, to begin the work of the day (but I wasn't too busy to take a break when the manicurist arrived for my weekly mani-pedi).
Thanks to the internet, I was able to structure my business to work remotely. Some days I'll grab my laptop and take a short trip to the historic Old Town. Sitting at La Brioche in the plaza, sipping coffee while I work, is an enjoyable change of pace. I love people-watching and taking in the antics of the happy, merry-go-lucky Colombian people as they go about their day.
One of the major benefits of an online business is that all of my clients are based in the U.S. and pay me in U.S dollars. In the last 12 months, the strength of the dollar has doubled, meaning, if you earn in dollars, the cost of living is about 50% what it used to be in Colombia.
Inexpensive labor, beautiful scenery, and low cost of living are just some of the reasons why I'm enamored with the Cartagena lifestyle. One of my favorite hobbies is scuba diving. Here, you can jump on a high-speed boat for under $30 and within 30 minutes, arrive at one of the most beautiful beaches on earth. The reefs are stunning, and wonderful for both snorkeling and scuba diving. It's one of my favorite weekend plans, hitting the islands with a group of friends.
In just one year, I've had a complete physical and emotional makeover as a result of my lifestyle in Cartagena. Not only do I look great, I feel amazing and have more energy than I've had in a decade. It's an incredible, magical city which I highly recommend to anyone.