Salento, Colombia
by Nancy Kiernan
Salento is a quaint pueblo (town) in Colombia's Andes mountain coffee region. With a population of only 8,000, the town covers just 12 by 10 blocks. Like many Colombian pueblos, life centers around the main square—Plaza de Bolívar. Our Lady of Carmen church is the main focal point and towers over the palm trees, flowering plants, rustic benches, and of course, the statue of Simón Bolívar. On weekends the plaza becomes a marketplace filled with food stalls, souvenir vendors, and pop-up restaurants. Walk a few blocks from Plaza Bolívar and you'll be out in the countryside, surrounded by coffee fields, rolling green hills, cattle ranches, and distant mountains.
Salento is one of the towns that make up Colombia's eje cafetero (coffee triangle). Sitting at 6,200 feet above sea level, the area has perfect conditions for growing some of the world's best coffee beans. Coffee farming and ranching were, and still are, Salento's mainstay. Today, descendants of the town's original settlers still harvest crops and raise dairy cows.
In the last 10 to 15 years the tourism industry has begun to blossom. Salento attracts scores of Colombians and foreign travelers who want to enjoy the richness of its traditional charm. Strolling through Salento's downtown, you might think you've been transported back to the late 19th century. Many of the town's original homes remain. White-walled houses and shops in Salento have vibrantly painted doors and windows in eye-catching shades of cobalt, tangerine, and turquoise.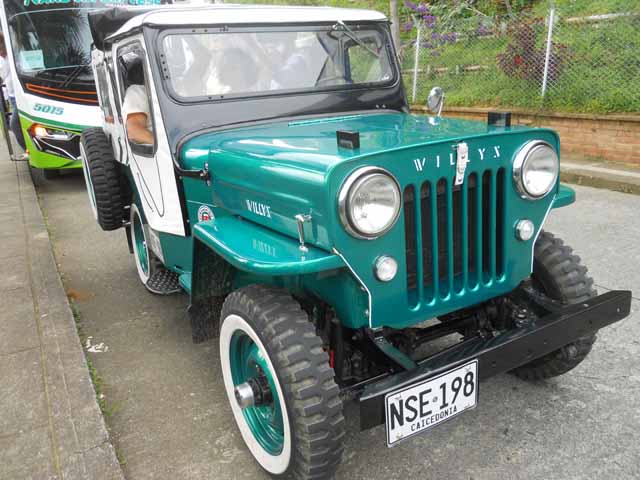 Calle Real, Salento's main tourist drag, contains a host of cafés, restaurants, and shops. While a few of the shops sell mass-produced items aimed at tourists, others offer an ever-changing selection of handmade crafts. Although tourism-related businesses occupy many of Calle Real's buildings, a few general stores, farm supply shops, billiard halls, and bars add to the mix.
Salento does not have taxis. But don't worry, because you can walk pretty much everywhere you need to go. Along one side of Plaza Bolivar is a line of Willy Jeeps (Salento's version of a taxi) if you'd rather ride. Bus tickets to other cities in the coffee triangle are downright cheap. A ticket to Armenia costs $1.80 and you can go to Pereira for around $3.
Retire in Salento, Colombia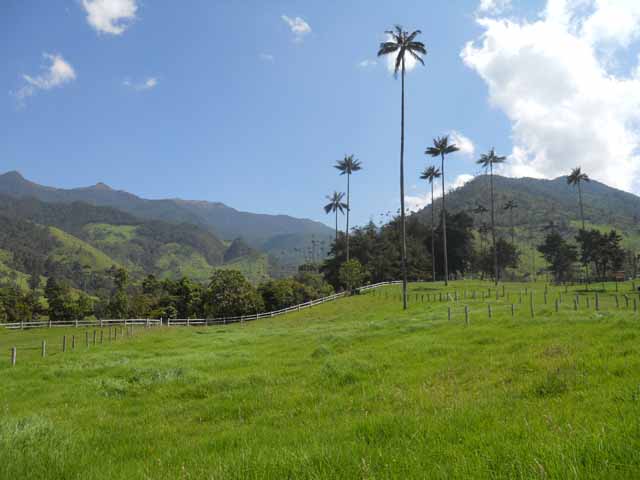 History defines Salento, but tourism is playing a bigger role in making it a charming place to retire. The townspeople are a mix of Salento-born natives and transplants from other Colombian regions. In recent years a growing number of expats have joined the ranks, most starting businesses such as hostels and restaurants that support the tourism industry.
Healthcare is always an important factor for retirees. Salento has a small clinic, but it's not equipped to handle serious illnesses or injuries. For everyday illnesses such as colds and flu, residents turn to pharmacists. Colombia's pharmacists can diagnose and prescribe medication for many common illnesses, and even give injections.
For serious conditions, residents typically go to Armenia, Quindío's capital, located 45 minutes south of Salento. Armenia has seven medical institutions, including the University of Quindío's San Juan de Dios Hospital. San Juan de Dios offers inpatient and outpatient services in gynecology, cardiology, internal medicine, neurology, radiology, and orthopedics, to name a few. The hospital has 240 beds, an intensive care unit, and five operating rooms.
Since the town is so small, there are no "best neighborhoods" for retirees. Every area is suitable depending on what lifestyle you want. Living in the center of the town offers easy walking access to all your daily needs. Banking, groceries in small stores, cafés for your daily "cup of joe", and restaurants to enjoy a relaxed meal are within minutes of your home. A little further out into the countryside and you will be surrounded by spectacular mountain views, green coffee fields, and peaceful quiet.
There isn't a lot to do in Salento. But that is kind of the point of living here. It's a place to come to reconnect with nature. Somewhere to take long hikes and indulge in lots of food. Hiking and horseback riding are excellent ways to enjoy the beautiful surroundings while keeping fit at the same time.
Retiring to Salento might be the perfect opportunity to devote time to photography, painting, or writing. The stunning scenery and serene surroundings are terrific backdrops for your artistic expression.
Lifestyle in Salento, Colombia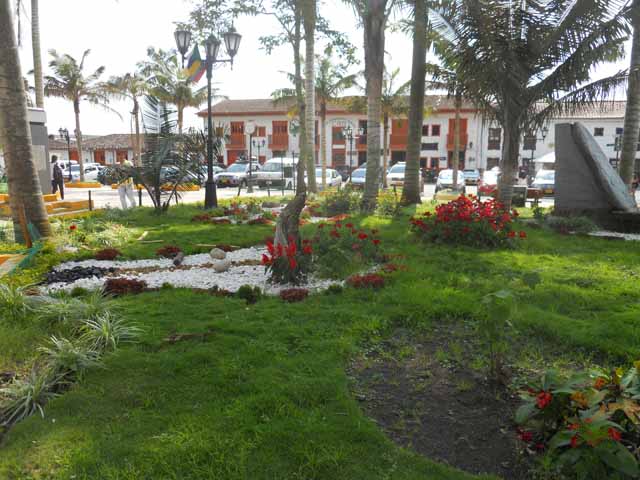 Salento has a mild climate, with highs in the 70s F and lows in the mid-50s F year-round. A sweater or light jacket is all you need to be comfortable. The town receives around 80 inches of rain per year, with the most rainfall occurring in April/May, and October/November. During these two rainy seasons, coffee fields fill with workers harvesting bright red coffee beans. Roosters crow in the early morning hours to help you greet the day. The town has a decidedly relaxed feel.
The Cocora Valley is Salento's top attraction. Part of Los Nevados Natural National Park, it encompasses 225 square miles of mountains, valleys, and rain forests. You can take one of the Willy jeeps from Plaza Bolívar for the 15-minute drive to the valley where you can explore on foot or horseback. If you choose the latter, you can join a horse-riding tour at the mouth of the valley for under $20.
The valley is one of the park's most visited attractions, due in part to its most famous inhabitant, the wax palm, Colombia's national tree, which grow to reach a height of 150 feet, and some even make it to 200 feet tall. Hiking in the area lets you get up close and personal with these majestic trees. One of the most popular trails leads to a rainforest, which is home to sloths, parrots, pumas, and spectacled bears.
If you want to do more than just see the trees, stop by Donde Juan B's restaurant. It is renowned for its delicious trout, Salento´s most celebrated food. Sourced from local rivers, the trout has a golden color and mild flavor that is quite similar to salmon. The restaurant frequently has a tree-planting ceremony with an official botanist of the region. The ceremony says, "when you plant a tree you leave part of your heart from your country in Colombia and put a part of Colombia in your heart."
When you live in Salento, you always have opportunities to celebrate and explore what defines the Coffee Triangle—coffee. One of the best ways to dive into the coffee culture is to take a coffee plantation tour. Finca Don Eduardo offers tours in English. That's because this coffee farm, located within walking distance of Plaza Bolívar, is owned by a British expat. And for a truly unique coffee adventure, you can take a two-hour hike out to Coffee Reserve Sacha Mama, an extremely unique farm, where plants grow naturally to their full splendor.
For a small town, Salento has a surprising number of varied restaurant options in addition to local Colombian fare. The expat-owned Brunch de Salento serves a selection of American favorites, including hamburgers, pancakes, Philly cheesesteak sandwiches, and to-die-for peanut butter brownies. La Eliana Restaurant serves sandwiches, gourmet pizzas, Indian curry dishes, and vegetarian plates. The restaurant also offers Italian-style coffees, Chilean and Spanish wines, and imported beers.
Cost of Living in Salento, Colombia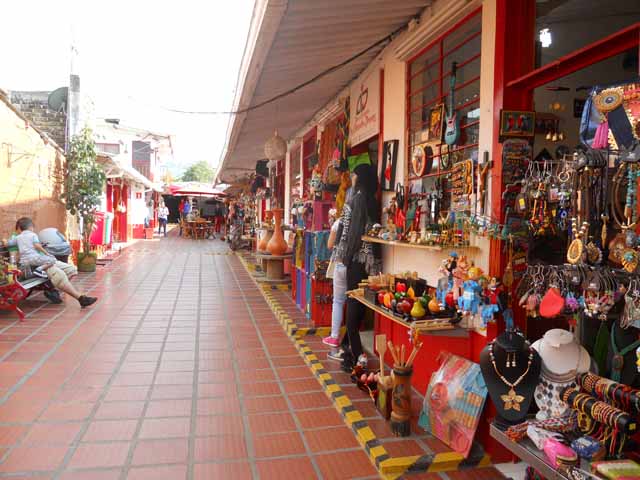 There are no high-rise apartment complexes in Salento. This may be a welcomed change from living in larger cities. Single-story homes and two or three-story apartment buildings are the norm. Since Salento is in the countryside, the selection of grocery stores and shops are pretty limited. As with most places in the world, your cost of living will depend on the lifestyle you want to have.
Below is a moderate sample budget for a couple living in Salento:
| | |
| --- | --- |
| Expense | U.S. Dollar |
| Rent (two-bedroom/ two-bath small house) | $300 – $550 |
| Electricity | $25 |
| Water & sewer | $20 |
| Gas | $10 |
| Telephone (land & cell) | $30 |
| Internet | $10 |
| Groceries | $200 |
| Transportation (buses & taxis) | $40 |
| Entertainment (dining out, movies, etc.) | $150 |
| Health plan (public basic) | $70 |
| Maid service (once per week) | $50 |
| Clothing and personal care | $125 |
| Total | $1,030 – $1,280 |