Colombia: The Strikingly Beautiful Country With Something for Everyone
Lush green coffee plantations along the Andes Mountains, sparkling crystal beaches, and Sierra Nevada de Santa Marta—the 18,700 foot, snow-capped mountain which is only 26 miles from the Caribbean Coast.
The country is the second most bio-diverse in the world. Located in the north of South America, it has coastline on both the Caribbean Sea and the Pacific Ocean, borders the Darien jungle to its west, and the Amazon to its east. With 1,889 species of birds, Colombia is home to 20% of all species on earth. Tucked away in the eastern part of the country is Caño Cristales, the river dubbed a "liquid rainbow." This river of five colors is one of the country's many natural gems.
All this gorgeous scenery is a backdrop to one of the best things about Colombia–its warm, accepting people. Happy to share their country with foreigners, the Colombians will welcome you into their communities with music, dancing, interesting local food, and of course festivals. Nearly every city and town has a festival to celebrate some aspect of Colombian life.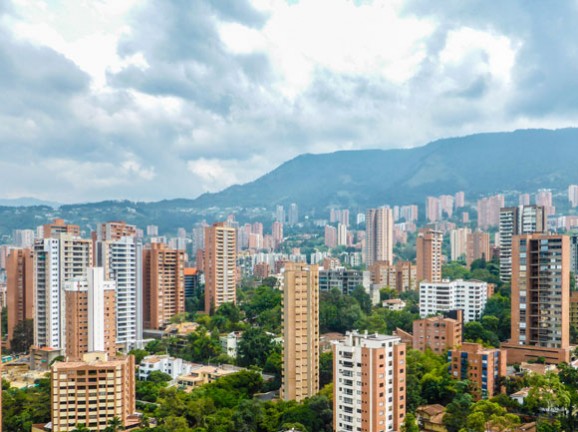 Medellín, Colombia's second largest city, hosts Feria de las Flores (flower festival) in August, followed by the International Jazz Festival in September. And every December they present the most spectacular display of Christmas lights in the world.
Life in Colombia varies from laidback, relaxing beach living in the coastal town of Taganga, to the culture-rich capital city of Bogotá, filled with theaters, churches, and the Gold Museum, which houses the world's largest collection of Pre-Columbian gold artifacts. Trendy nightlife, upscale shopping, and an array of imaginative restaurants can be found in both Bogotá and Medellín, as well as several other large cities. Many cities in Colombia offer a first-world lifestyle for significantly less than the cost of living in the U.S.
Healthcare in Colombia is top-notch. América Economía, Latin America's premier financial publication, reported in 2015 that 22 Colombian hospitals ranked as being in its top 43 in all of Latin America.
The people of Colombia and its government have worked hard to overcome the former, harsh reputation of the country. More than two decades have passed since the infamous days of Pablo Escobar and much of the country is now vibrant and thriving. Multinational companies in the technology, mining, banking, and healthcare sectors have a major presence in Colombia.
Getting from one area of the country to the other is rather easy. Bus travel is inexpensive. However, due to the mountainous area around most of the country, journey times can be long. On the positive side, you can spend the hours soaking in all the magnificent scenery. Many airlines provide services between major cities. Domestic flights are reasonably priced and make for much shorter transit, allowing you to spend more time exploring your destinations.
Colombia is steadily growing as a popular retirement haven. Expats report being happier and healthier and their cost of living is a lot lower than it was back home. When Wendy and Darren Howarter decided to move to Colombia, their friends and family thought they were crazy. Two years on, they have an "incredible life that we love" in Medellín.
"We bought our very own Medellín apartment with a pool, gym, and Turkish spa, in a great neighborhood," Wendy says. "With two bedrooms, two-and-a-half bathrooms and an enormous balcony, it cost less than $135,000. The same apartment in a similarly sized city, such as Chicago, would have cost at least twice as much. It's great to be able to enjoy a bottle of wine with our new friends—expats and locals—on our balcony, or better yet, poolside."
Find Out More From Our Colombia Correspondent