Guide to Villa de Leyva, Colombia - Cost of living Budget and Lifestyle Info
By Michelle Thompson
Villa de Leyva is a stark contrast to the big city life of Bogota, with its thriving country landscapes and slow pace. Like Barichara, this colonial town has preserved much of its rural charm and Spanish settler-style construction. This is in part because it remains off the beaten track. Villa de Leyva is located in the Ricaurte province of Boyaca. The region has two important ecosystems: the Andean forest and the paramos. Both areas have a dry climate with unique vegetation, much of which is protected by the Iguaque Flora and Fauna Sanctuary. The town also has an unobstructed view of astronomical events, making it an ideal place to stargaze.
As if star gazing and nature walks weren't enough, Villa de Leyva has several impressive architectural showpieces. It also hosts a good deal of cultural events and celebrations throughout the year. These events blend culture, family fun, and the outdoors which sets the tone for an in-demand destination. Villa de Leyva has more than 190 restaurants to choose from and the main square, Plaza del Carmen, preserved an important part of the history of Boyaca.
Historically, the town was known as the granary of Colombia, producing wheat and olive oil. Today, it produces sublime tomatoes and onions. There is a vibrant farmer's market near the town center with a great selection of meats, fruits, vegetables, herbs, and flowers. Many of the town residents also maintain grand gardens in their yards. In recent years, Villa de Leyva has also become known as one of Colombia's best wine producers.
Are you interested in retiring abroad? Yes | Not Sure Yet
Along with some of the surrounding towns, Villa de Leyva residents and business owners rely largely on the tourist industry. Many of the colonial buildings have been converted into museums, restaurants, and hotels. Their signature white walls and Andalusian-style terracotta rooftops are surrounded by charming cobblestone streets, narrow alleys, and hidden walking paths. As well, there is a multitude of options for nature walks and hikes in and around the town. Visitors also love to take day trips to nearby towns, Sutamarchan and Raquira. There, they can find souvenirs such as hand-made objects and textiles, or relax at a dreamy caf
é
.
Retire in Villa de Leyva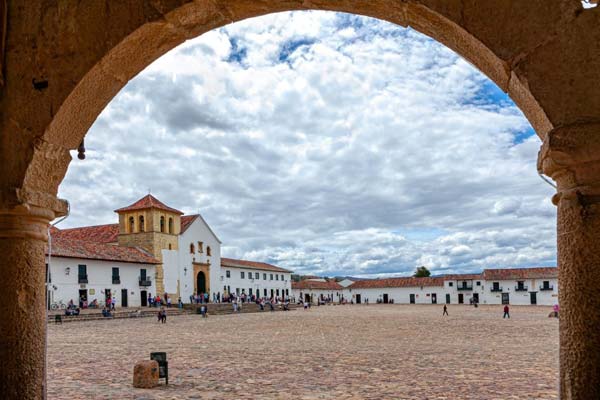 Villa de Leyva is a quaint town of 16,984 with a local economy that relies mostly on tourism and agriculture. As with most places in Colombia, residents primarily speak Spanish, although you can find a handful of tour guides and business owners who speak English. To be more competitive in the global market, many Colombian schools have been teaching English, French, and German across the country. However, it is a good idea to learn Spanish if you plan to live here long term, especially if you plan to socialize. One of the places you can take lessons is at the Get On Institute.
Villa de Leyva and its surrounding towns have a respectable expat population. A substantial number of visitors also pass through, especially on the weekends and during festivals. The nearby town of Raquira is just 21 miles from Villa de Leyva. It has a vibrant artisan marketplace and several charming restaurants to choose from. The slower pace of life on weekdays means you can relax, enjoy the fresh air, walk around and discover the sites.
The town and surrounding areas have a well-developed bus system that can take you from one municipality to the other, or larger cities like Bogota and Tunja. Taxis are also available to take you around if you opt not to own a car here. Residents of Colombia have a basic universal health care system that permanent residents and citizens can take advantage of. In addition, there are several private insurance plans you can choose from to top up your benefits and access more specialized medical care.
There are three health care facilities in and around Villa de Leyva, including Nuevo hospital villa de Leiva, Nuevo hospital San Francisco which has two sites, and Centro de Salud Villa de Leyva. For specialized treatment, you may need to go to the nearby city of Tunja, which is only a one-hour drive away. In addition to the small stores and markets around town, there are a few places where shoppers can find amenities such as art supplies, clothing, and home decorations. This includes Centro Comercial La Villa Plaza, Del la Tierrita Plaza, and Centro Comercial El Atico Villa de Leyva. For harder-to-find purchases, many of the locals drive to Tunja where they can find several shopping centers.
The climate in Villa de Leyva is generally mild and temperate, staying cool and dry throughout most of the year. The town is 7,050 feet above sea level, and nestled between the mountains of the Altiplano Cundiboyacense, a high plateau in the Eastern Andes mountains. On average, the high temperatures stay around 70 Fahrenheit, though at night it gets cooler. The warmest months in the year are between June and September, as well as December and January.
Lifestyle in Villa de Leyva
Residents of Villa de Leyva have a rich cultural life. There are frequent classical and jazz music concerts in town. There are also several annual festivals. For example, in January, locals participate in star gazing at the Astronomical Festival. In June, the town hosts its annual anniversary where residents and visitors can enjoy traditional boyacense dancing, food, and music. There are also several religious festivities throughout the year, such as the town's slightly over-the-top Easter celebration and virgin del carmen day. In August, Villa de Leyva hosts its popular  Kite Festival, and on  December 7th the town puts on colorful fireworks to celebrate the Day of the Little Candles.
You can get to know most local business owners and residents when you visit the farmer's market and artisan shops in the center town area. There, you'll discover charming cafés and restaurants with live music. Foodies will love a visit to La Maria Bistro, one of the best Italian restaurants in town. Its relaxing atmosphere, friendly staff, and delicious Colombian twist on traditional Pizza are a hit with locals. For something a bit higher-end, try El Rincon Gourmet de la Villa. This piano bar serves up quality meat cuts and a solid wine selection in a romantic atmosphere of live music. There are several other cafés to enjoy, such as Tienda Indigena which prepares and sells Colombia's famous coca tea. The tea has many health benefits and can be purchased in their gift shop.
Villa de Leyva is located about 105 miles from Bogota, which is convenient if you need to catch an international flight. The town has an impressive infrastructure of typical and international restaurants, hotels, and excellent roads. That said, its best quality is the natural landscape that surrounds it. You can take a daily nature walk on some of the countryside roads where you'll witness beautiful views and have a chance to discover a handful of quirky museums such as the Casa Terracotta.
There are many other activities to do, such as horse riding, meditating, or watching the bull fights. The town has inspired painters, poets, and writers by providing peace and quiet and unforgettable natural beauty.
Cost of Living in Villa de Leyva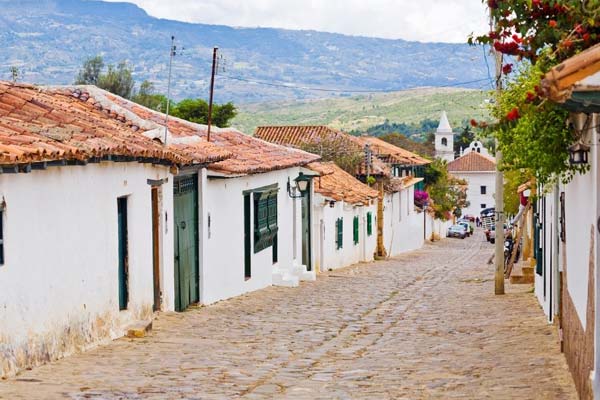 You should expect to pay around $350 or more for an unfurnished, two-bedroom apartment near the city center. Add another $70 for utilities, including electricity, gas, and water. You may need to pay more if you plan on purchasing a heating unit, although most Colombians just double up on blankets when the temperature drops. Expect to pay another $50 for a cell phone and WIFI package, $400 for groceries, and about $300 for dining out and entertainment. Of course, if you're dining out often, you might not need to buy so many groceries.
Several of the restaurants in Villa de Leyva offer meals on a budget of about $4.10 a person. For a mid to high-range restaurant, you should expect to pay around $25 to $30 for two people. Transportation in Villa de Leyva is very affordable. For less than a dollar, you can take the local bus, or you can purchase a monthly pass for about $35 a person. Taxis start at $1.80 and increase by $1.80 for every 0.6 mile. Ubers are difficult to find in town, but nearby Tunja does have drivers and the price will be less expensive than a taxi. If you plan on adding a private health insurance plan, the average cost will be between $80 and $140, depending on your age and health concerns.
The following are estimates based on two people living in a two-bedroom apartment in the city center of Villa de Leyva:
| | |
| --- | --- |
|  Rent (three-bedroom apartment) |  $350 |
|  Utilities (Gas, electric, water) |  $70 |
|  Internet/Telephone/Cell phones (X 2)/Cable Package) |  $50 |
|  Clothing and Miscellaneous |  $250 |
|  Groceries |  $400 |
|  Transportation: Mass transit/Tank of gas |  $80 |
|  Dining and Entertainment |  $300 |
| Total: | $1,500 |
Things to Do in Villa de Leyva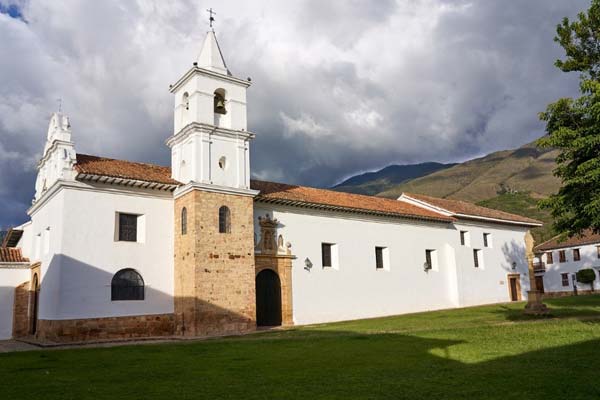 Aside from all of the activities, shops, restaurants, and walking trails you have at your disposal, you'll find easy access to some of Colombia's most impressive natural reserves and historic monuments. There is no shortage of things to do in Villa de Leyva. Here are just a few of some of the most interesting things to see and do:
Visit the Iguaque Reserve
The Iguaque Flora and Fauna Sanctuary is made up of stunning paramos and lagoons. Lake Iguaque is one of the best spots in the sprawling sanctuary and is located northeast of Villa de Leyva. The paramos are a rare ecosystem with ferns, lichens, puyas, and frailejones which are native to Colombia and typically grow in cooler temperatures. In the paramos, the average temperature is 53.6F so make sure to bring a jacket.
In Muisca mythology, the human race was created at Iguaque Lake. The site is considered a sacred place for Indigenous communities in the region. Nearby, you can also find ancient Muisca rock art with interesting patterns and symbols drawn on. They tell ancient stories and legends about the people who lived on the land before Spanish settlers arrived. The region is also an important source of water for the towns. To hike the Iguaque reserve, start from the entrance just outside of town and walk until you reach the lake. The hike can be challenging if you're not wearing the right footwear, but the rocky trails are relatively easy when you arrange for a guided tour.
Insider Tips: The weather in the paramo is unpredictable during the rainy seasons (April/May and October/November). Bring a jacket for cool weather and hiking boots for the rocky terrain and slippery ground. Weekdays are much quieter and more peaceful on the trails. 
Sample High-Quality Chocolate
There is only one thing better than having a delicious dinner in Villa de Leyva and watching the kites and fireworks fly, and that's sampling chocolate. Colombia has some of the finest chocolate in the world and is one of the largest global producers of cacao. While the Eje Cafetero region usually gets all of the attention for its coffee production, Santander is known for its cacao farmers.
I recommend starting your chocolate journey at the Museo del Chocolate. There, you'll find mouth-watering exhibits, a chocolateria, and a souvenir shop where you can purchase some of the finest chocolates in Colombia. After visiting the Museo del Chocolate, take a moment to enjoy a cup of hot chocolate at Chef Cacao. This café has all types of chocolate available to try and is lavishly decorated with pink hanging vines and fairy lights. Next, take a short walk to Bean to Bar and choose from a large variety of artisanal chocolates made with sea salt, lemon, orange, spicy peppers, or lulo, one of Colombia's native fruits.
Take a Wine Tour
Colombia isn't as well known for its wine as Italy or California, but there are a few wineries worth seeing and they happen to be in Villa de Leyva. The biodiversity and the tropical climate mean winemakers face challenges with insects and seasonal growing, which makes the plants more delicate. However, two of the best wineries in Colombia are Viñedo Ain Karim and Viñedo Umana Dajud.
The Viñedo Ain Karim winery has won several prizes in international competitions for its wines. They offer guided tours which you should book in advance. The winery has an impressive wine cellar, and the guides explain the production process and walk around with you on the grounds. The wine is produced within an eight-month period which is unusual but necessary due to the climate. This stresses the grapes but still produces a high-quality product. The Viñedo Umaña Dajud describes its wines as full-bodied, intense, and representing the region's unique character. This winery also has a large wine cellar with optimal conditions for production and preservation. You can also arrange for a wine tour or tasting.
Take a Stroll Through the Town Centre
The main town square in Villa de Leyva is a large open space surrounded by panoramic mountains and cobblestone streets. The main structure in the square is the church, Iglesia de Nuestra Señora del Rosario. It features a Castilian-style tower which is inspired by the Isabelline Gothic architectural style. Inside the church, the decor is relatively simple, but the building lights up at night when the sun goes down, adding to the visual experience. The church is still used by local residents and is a popular site for weddings.
Carmen square also has a fountain structure in the center, which residents once used for water. The plaza is one of the biggest in Colombia and will make you feel like you've gone back in time. The square preserves much of the town's history and is central to the town's community and social life. A short three-minute walk away you can find the El Carmen church and two colonial heritage museums, the Museo Antonio Ricaurte and the Museo Antonio Nariño. Both museums mainly focus on the colonial history of the region. These Spanish-style buildings also provide great photographic opportunities.
Go to Little Hell
Before Spanish settlers arrived, Villa de Leyva was inhabited by the Muisca and the Chibcha. There are several monuments and landmarks in the region that represent the history of Indigenous people. El Infiernito is one of the more important sites. An archeological-astronomical site similar to Stonehenge, it has 100 carved stones shaped like phallus and symbolizing fertility. The site is located on the outskirts of Villa de Leyva and is only a 10-minute drive away. The stone monuments are meant to act as an ancient agricultural calendar. The Muisca would use them to measure the shadows and decide when to plant seeds.
El Infiernito also several burial mounds located not far from the stones. The site was named Little Hell by the Spanish settlers who saw these ancient practices as evil pagan rituals. About a 2km walk away, the Monquira Ruins remain unprotected against the natural elements. Not much remains of the original Spanish settlement in the area which was moved twice and eventually remained where the town is located today. Yet, the stone structures of the 16th-century church are still standing. When I visited, a local tour guide mentioned that the original structure was built as a temple by Spanish settlers near the Muisca's place of worship. The settlers were forced to move their settlement further to avoid conflict.
Insider tip: Don't touch the Monquira structure. Not much has been done over the years to protect, preserve, or promote the site to visitors. In fact, it's located right next to an elementary school and has a sign warning of the danger of falling rocks.
Featured Image Copyright: ©iStock/Laura Olejua