By Michelle Thompson
Bogotá has a colonial history of Spanish conquistadors who conquered the indigenous Muisca during the 16th century and left an undeniable imprint on the region's culture. In 1819, Colombia gained independence from Spain and named Bogotá as its capital. At the time, the region was known for its salt mines, gold working, and agriculture. Today, the city has become a popular locale for foreign investors and international businesses.
Sitting at 8,660 feet above sea level, Bogotá is the largest city in Colombia and third largest in the Americas. With a population of 8.8 million people, its majestic mountains are visible from most neighborhoods in the city. For the expat with a taste for urban life, this is a world-class destination with a mix of the modern and the traditional. The climate is similar year-round, with highs of 68 F to 70 F during the day and nighttime lows of 50 F. Because Bogotá is at a high altitude, new arrivals sometimes need a few days to adjust and may feel dizzy or tired at first. Bogotá has an oceanic climate. The rainiest months are in April, May, September, October, and November.
While the city is generally safe, you should take precautions when moving around. Arrange transportation in advance using regulated yellow cabs, especially when arriving or leaving from the airport. Within the city, use an app like Uber or Tapsi and avoid unregulated taxis.
Retire in Bogotá, Colombia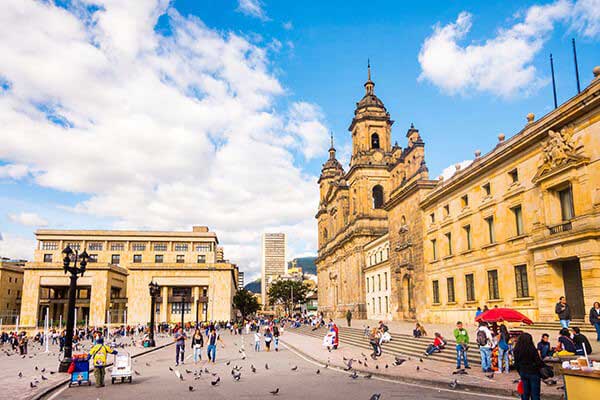 While many retirees crave the quiet countryside, others want to experience vibrant big city life or live by the ocean. Colombia offers all three and more. The question is, which one fits your personality? If you're a city dweller, you may want to consider Bogotá as your final destination.
Bogotá is a melting pot of Colombian and global cultures. The capital city got a bad rap in the 1980s and 1990s, but over the past few decades it's transformed itself into a modern global hub with plenty of opportunities for business and entertainment.
Bogotá's safest neighborhoods are north of the city in Zona T, Chico Norte, Zona Rosa, Rosales, Parque 93, and Usaquen. Areas where citizens should be vigilant include La Candelaria and Monserrate. The South of Bogotá should be avoided. That said, some of the city's most charming neighborhoods such as Chapinero and El Salitre shouldn't be overlooked.
As with any big city, it's important to know how to network in Bogotá. There are a few expat associations, including Toastmasters International, The American Society of Bogotá, and the American Women's Club of Bogotá worth looking into. These non-profit organizations organize weekly group activities in English.
Colombia offers retirees a chance to live a comfortable lifestyle they might otherwise not be able to afford in their home country. The low cost of living is probably the most compelling reason for coming. The Spanish spoken in Bogotá is neutral and clear, but the accent can vary from region to region.
Obtaining a mortgage can be complicated if you don't have credit in Colombia or an established permanent residence. If you manage to meet the requirements, the cost will be on average 40% less than in the U.S. If you have the funds to purchase a home outright, the process is much more straightforward.
As a permanent resident of Colombia, you will be taxed according to your income level, ranging from 0% to 39%. In addition, Colombia has good healthcare options and Bogotá has several clinics and hospitals, many with bilingual doctors. As a non-Colombian, you are eligible for medical coverage through the Entidades Promotoras de Salud (EPS) public program. You can also opt to get Medicina Prepagada through a private company. Health care is not lacking in Colombia. In fact, they say it rivals medical care in the U.S.
The city has several shopping centers. Unicentro is a modern mall with many western retail shops located north of the city. Gran Estación is located near the El Dorado airport and features a cinema. La Zona T north of Chapinero has upscale malls like Centro Andino, Atlantis Plaza, and El Retiro.
Lifestyle in Bogotá, Colombia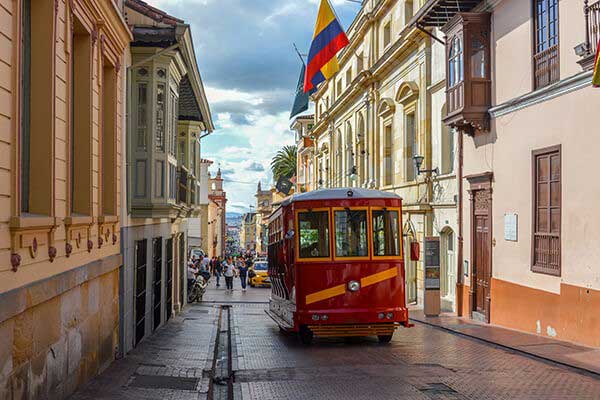 If living green is important to you, consider that Bogotá is recognized as one of the greenest cities in the world. In fact, it's been hailed as an inspiration to cities like NYC and London as they work towards sustainability. Citizens are encouraged to forgo their cars and use the Transmilenio or a bicycle to reduce the environmental impact of emissions. While Bogotá's number one source of energy comes from hydroelectric plants, the government has been looking into renewable sources of energy like solar, geothermal, and wind. To reduce traffic, the city restricts the use of cars for half of the week with the Poco Y Placa program. A certain number of plates are not allowed on the roads during rush hour.
Colombia is one of the world's most biodiverse nations. In Bogotá, it's not uncommon to see beautiful, colorful birds stop by your window, making it an ideal spot for bird watching. The mountainous landscape is ideal for sightseeing, mountain biking, and hiking. If you're lucky enough to find a home with a terrace facing the mountains, you won't be disappointed with the view. Colombia is also well known for its coffee culture. The city of Bogotá has many cafes with some of the finest coffee you'll ever taste. Make sure to ask for a tinto.
Colombians love their street food, from arepas to empanadas, to tamales and ajiaco. If your taste buds are less adventurous, there are chains like Crepes and Waffles, El Corral, and Jeno's Pizza.
If you're planning to live in Bogotá, you'll need to learn Spanish. That said, there are many opportunities to teach English in the city and many Spanish schools are at your disposal. You should keep in mind that like many other large cities, Bogotá has some areas experiencing poverty, and some of the busier streets may have homeless people or panhandlers. There is also heavy traffic on the main streets and the occasional petty theft of cell phones. Avoid bringing attention to yourself by forgoing flashy jewelry or clothing, or walking around with your cell phone out taking pictures.
Cost of Living in Bogotá, Colombia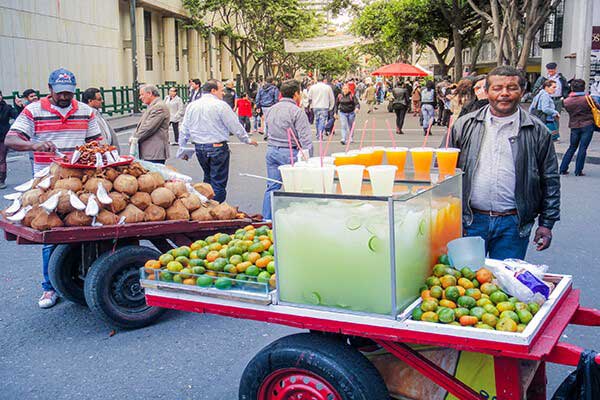 One of benefits of Bogotá is that restaurant food is so cheap that it almost doesn't make sense to cook at home. The cost of a lunch with soup, beverage, and main course will run you around $2.10 to $3.15. A few of the high-end restaurants geared towards tourists may be more expensive, costing between $11.80 to $15.75 per person for a dinner. Groceries for one person will cost an average of $150 per month.
For a furnished, one-bedroom apartment, expect to pay around $500 to $525 per month. If you're more adventurous, you might find some excellent accommodation closer to downtown for $350 to $400. On average, utilities will cost you around $70 a month, and internet service will cost you around $30 a month. Basic cable TV service is between $10 to $30 a month.
Transportation is extremely affordable in Bogotá. Your best options are to use Uber for $2.10 to $4.20, a yellow taxi for $5.25 to $9.10, or the Transmilenio bus for $0.60. When using a bus, you should be cautious not to travel to areas of unrest and stick to major or touristy areas of the city. You can also hire private transportation.
The cost of health insurance varies according to age but a basic MP plan through Sura will cost around $85 to $100 per month, depending on your age.
Below is a Monthly Budget Breakdown for Bogotá, Colombia:
| | |
| --- | --- |
| Utility | U.S. $ |
| Rent (one bedroom) | $500 |
| Utilities (gas, electric, water) | $70 |
| Internet, telephone | $40 |
| Cable TV service | $20 |
| Clothing and miscellaneous | $100 |
| Groceries and transportation | $200 |
| Heath insurance | $100 |
| Cleaning service and driver | $100 |
| Entertainment | $75 |
| Monthly total: | $1,205 |
Things to Do in Bogotá, Colombia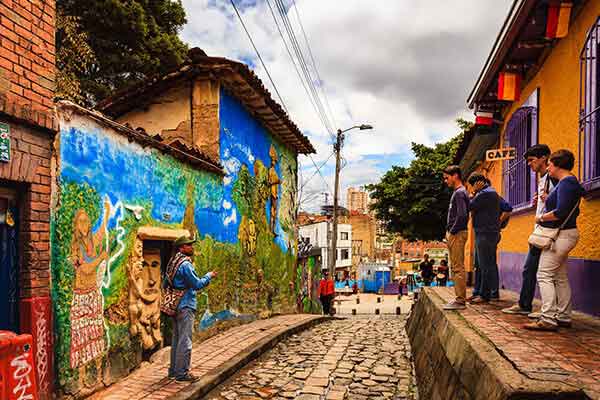 Bogotá is teeming with art galleries and museums. You'll find many theatres and music events, including the National Symphony Orchestra of Colombia and the Cristóbal Colón Theater. Aside from these attractions, you can easily get around the city by bike or on foot. There are countless activities and places to take in. Here are a few of the most popular:
Go Cycling or Hiking
Bogotá has Latin America's largest network of bicycle routes. On Sunday, some of the main roads are closed for the Ciclovia between 7 a.m. and 2 p.m. Bogotános can run, bicycle, inline skate, or just watch from the sidelines. Residents can rent a bike or do a guided bike tour of Bogotá's Ciclorutas with a tour operator or bike rental shop.
Bogotá offers a few options for hikers, although it is recommended to stick to regular paths and hike as a group. The Quebrada La Viejas trail is limited to the public but is monitored by local police during the hours of 7 a.m. and 9 a.m. from Monday to Saturday. The ecological hike covers the wetlands of the Sabana and is best enjoyed through a guided tour. La Chorrera falls is an hour outside of Bogotá and at over 1,935 feet high, is the highest waterfall in Colombia. It's a three-hour hike.
Take in the Street Art and Festivals
Bogotá has amazing street graffiti and tours are available in La Candelaria where you'll stop by Parque de los Periodistas. The urban art tells the story of the city's socio-political scene. Other walking tours are available including the Hero's Tour which focuses on local and national history. Street festivals are also common. Pre-pandemic, Avenida Septima closed weekly for street performers, live music, and crafts. The city has Rock al Parque, an open-air rock music festival, the Bogotá Film Festival, and the Ibero-American Theater Festival, the biggest theater festival in the world.
San Diego is a great neighborhood to visit if you're interested in seeing museums and experiencing Monserrate. There, you can find the National Museum, the Museum of Modern Art, and the Botero Museum. The Planetario Distrital (planetarium) is also nearby. Climbing Monserrate will leave you breathless, if not for the view at the top, then for the steps you'll need to climb to get there. Trust me it's worth the effort. And you can also choose to take a cable car up and down.
Visit Some of the Hippest Neighborhoods
Discover the city by visiting some of the trendiest neighborhoods in the city. Chapinero combines residential and business areas with hundreds of options for shopping, dining, and sightseeing. Zona G features several high-end gourmet restaurants with a broad range of cuisines, like Astrid y Gaston and La Hamburgueseria. Further north is Parque el Virrey with a charming creek and green space.
El Salitre has several venues for sports and outdoor activities. They include the football stadium, Olympic Water Complex, and city venues for watching or playing tennis, basketball, bowling, and other sports. Simon Bolivar Park is home to outdoor concerts and festivals as well as walking, jogging, biking, and paddle-boating. There are more museums and a botanical garden. The neighborhood is middle class to upper middle class and has good services, residential areas, and infrastructure.
La Candelaria is one of the most historic areas of the city including La Catedral, Plaza de Bolivar, Palacio de Nariño, and Luis Arango Library. With is many museums such as El Museo del Oro (Gold Museum), Emerald Museum and market, and the Colonial Art Museum. The neighborhood has some of the oldest churches in the city and a few art galleries worth visiting. If you enjoy farm-to-table food, Prudencia is one of the best in the city. I don't recommend living in this neighborhood or staying late at night. As a foreigner you will likely stand out and could be targeted for petty theft.
Insider tip: Bring a portable heater and a good blanket. The nights can get chilly.  
Featured Image Copyright: ©holgs/iStock