By Michelle Thompson
Bogotá has a colonial history of Spanish conquistadors who conquered the indigenous Muisca during the 16th century and left an undeniable imprint on the region's culture. In 1819, Colombia gained independence from Spain and named Bogotá as its capital. At the time, the region was known for its salt mines, gold working, and agriculture. Today, the city has become a popular locale for foreign investors and international businesses.
Sitting at 8,660 feet above sea level, Bogotá is the largest city in Colombia and third largest in the Americas. With a population of 8.8 million people, its majestic mountains are visible from most neighborhoods in the city. For the expat with a taste for urban life, this is a world-class destination with a mix of the modern and the traditional. The climate is similar year-round, with highs of 68 F to 70 F during the day and nighttime lows of 50 F. Because Bogotá is at a high altitude, new arrivals sometimes need a few days to adjust and may feel dizzy or tired at first. Bogotá has an oceanic climate. The rainiest months are in April, May, September, October, and November.
While the city is generally safe, you should take precautions when moving around. Arrange transportation in advance using regulated yellow cabs, especially when arriving or leaving from the airport. Within the city, use an app like Uber or Tapsi and avoid unregulated taxis.
Retire in Bogotá, Colombia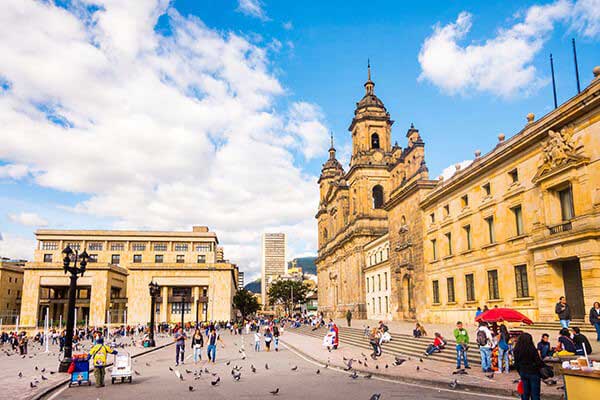 While many retirees crave the quiet countryside, others want to experience vibrant big city life or live by the ocean. Colombia offers all three and more. The question is, which one fits your personality? If you're a city dweller, you may want to consider Bogotá as your final destination.
Bogotá is a melting pot of Colombian and global cultures. The capital city got a bad rap in the 1980s and 1990s, but over the past few decades it's transformed itself into a modern global hub with plenty of opportunities for business and entertainment.
Bogotá's safest neighborhoods are north of the city in Zona T, Chico Norte, Zona Rosa, Rosales, Parque 93, and Usaquen. Areas where citizens should be vigilant include La Candelaria and Monserrate. The South of Bogotá should be avoided. That said, some of the city's most charming neighborhoods such as Chapinero and El Salitre shouldn't be overlooked.
As with any big city, it's important to know how to network in Bogotá. There are a few expat associations, including Toastmasters International, The American Society of Bogotá, and the American Women's Club of Bogotá worth looking into. These non-profit organizations organize weekly group activities in English.
Colombia offers retirees a chance to live a comfortable lifestyle they might otherwise not be able to afford in their home country. The low cost of living is probably the most compelling reason for coming. The Spanish spoken in Bogotá is neutral and clear, but the accent can vary from region to region.
Obtaining a mortgage can be complicated if you don't have credit in Colombia or an established permanent residence. If you manage to meet the requirements, the cost will be on average 40% less than in the U.S. If you have the funds to purchase a home outright, the process is much more straightforward.
As a permanent resident of Colombia, you will be taxed according to your income level, ranging from 0% to 39%. In addition, Colombia has good healthcare options and Bogotá has several clinics and hospitals, many with bilingual doctors. As a non-Colombian, you are eligible for medical coverage through the Entidades Promotoras de Salud (EPS) public program. You can also opt to get Medicina Prepagada through a private company. Health care is not lacking in Colombia. In fact, they say it rivals medical care in the U.S.
The city has several shopping centers. Unicentro is a modern mall with many western retail shops located north of the city. Gran Estación is located near the El Dorado airport and features a cinema. La Zona T north of Chapinero has upscale malls like Centro Andino, Atlantis Plaza, and El Retiro.
Lifestyle in Bogotá, Colombia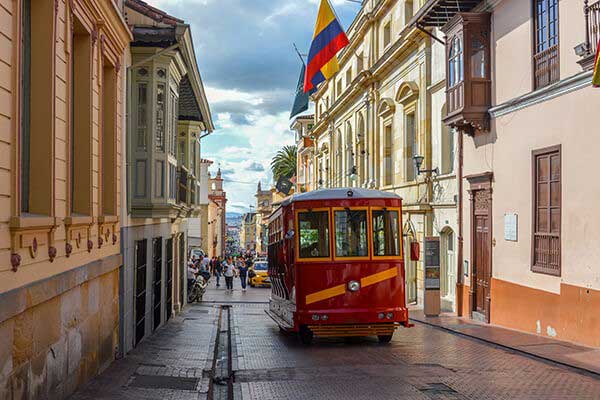 If living green is important to you, consider that Bogotá is recognized as one of the greenest cities in the world. In fact, it's been hailed as an inspiration to cities like NYC and London as they work towards sustainability. Citizens are encouraged to forgo their cars and use the Transmilenio or a bicycle to reduce the environmental impact of emissions. While Bogotá's number one source of energy comes from hydroelectric plants, the government has been looking into renewable sources of energy like solar, geothermal, and wind. To reduce traffic, the city restricts the use of cars for half of the week with the Poco Y Placa program. A certain number of plates are not allowed on the roads during rush hour.
Colombia is one of the world's most biodiverse nations. In Bogotá, it's not uncommon to see beautiful, colorful birds stop by your window, making it an ideal spot for bird watching. The mountainous landscape is ideal for sightseeing, mountain biking, and hiking. If you're lucky enough to find a home with a terrace facing the mountains, you won't be disappointed with the view. Colombia is also well known for its coffee culture. The city of Bogotá has many cafes with some of the finest coffee you'll ever taste. Make sure to ask for a tinto.
Colombians love their street food, from arepas to empanadas, to tamales and ajiaco. If your taste buds are less adventurous, there are chains like Crepes and Waffles, El Corral, and Jeno's Pizza.
If you're planning to live in Bogotá, you'll need to learn Spanish. That said, there are many opportunities to teach English in the city and many Spanish schools are at your disposal. You should keep in mind that like many other large cities, Bogotá has some areas experiencing poverty, and some of the busier streets may have homeless people or panhandlers. There is also heavy traffic on the main streets and the occasional petty theft of cell phones. Avoid bringing attention to yourself by forgoing flashy jewelry or clothing, or walking around with your cell phone out taking pictures.
Cost of Living in Bogotá, Colombia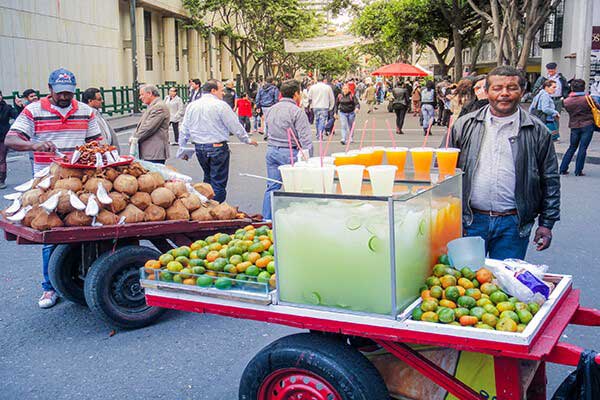 One of benefits of Bogotá is that restaurant food is so cheap that it almost doesn't make sense to cook at home. The cost of a lunch with soup, beverage, and main course will run you around $2.10 to $3.15. A few of the high-end restaurants geared towards tourists may be more expensive, costing between $11.80 to $15.75 per person for a dinner. Groceries for one person will cost an average of $150 per month.
For a furnished, one-bedroom apartment, expect to pay around $500 to $525 per month. If you're more adventurous, you might find some excellent accommodation closer to downtown for $350 to $400. On average, utilities will cost you around $70 a month, and internet service will cost you around $30 a month. Basic cable TV service is between $10 to $30 a month.
Transportation is extremely affordable in Bogotá. Your best options are to use Uber for $2.10 to $4.20, a yellow taxi for $5.25 to $9.10, or the Transmilenio bus for $0.60. When using a bus, you should be cautious not to travel to areas of unrest and stick to major or touristy areas of the city. You can also hire private transportation.
The cost of health insurance varies according to age but a basic MP plan through Sura will cost around $85 to $100 per month, depending on your age.
Below is a Monthly Budget Breakdown for Bogotá, Colombia:
| | |
| --- | --- |
| Utility | U.S. $ |
| Rent (one bedroom) | $500 |
| Utilities (gas, electric, water) | $70 |
| Internet, telephone | $40 |
| Cable TV service | $20 |
| Clothing and miscellaneous | $100 |
| Groceries and transportation | $200 |
| Heath insurance | $100 |
| Cleaning service and driver | $100 |
| Entertainment | $75 |
| Monthly total: | $1,205 |
Things to Do in Bogotá, Colombia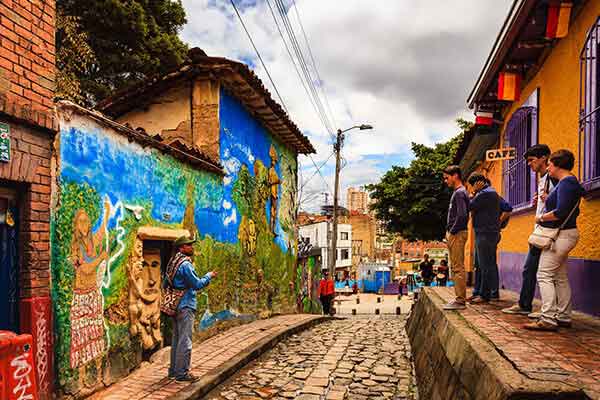 Bogotá is teeming with art galleries and museums. You'll find many theatres and music events, including the National Symphony Orchestra of Colombia and the Cristóbal Colón Theater. Aside from these attractions, you can easily get around the city by bike or on foot. There are countless activities and places to take in. Here are a few of the most popular:
Go Cycling or Hiking
Bogotá has Latin America's largest network of bicycle routes. On Sunday, some of the main roads are closed for the Ciclovia between 7 a.m. and 2 p.m. Bogotános can run, bicycle, inline skate, or just watch from the sidelines. Residents can rent a bike or do a guided bike tour of Bogotá's Ciclorutas with a tour operator or bike rental shop.
Bogotá offers a few options for hikers, although it is recommended to stick to regular paths and hike as a group. The Quebrada La Viejas trail is limited to the public but is monitored by local police during the hours of 7 a.m. and 9 a.m. from Monday to Saturday. The ecological hike covers the wetlands of the Sabana and is best enjoyed through a guided tour. La Chorrera falls is an hour outside of Bogotá and at over 1,935 feet high, is the highest waterfall in Colombia. It's a three-hour hike.
Take in the Street Art and Festivals
Bogotá has amazing street graffiti and tours are available in La Candelaria where you'll stop by Parque de los Periodistas. The urban art tells the story of the city's socio-political scene. Other walking tours are available including the Hero's Tour which focuses on local and national history. Street festivals are also common. Pre-pandemic, Avenida Septima closed weekly for street performers, live music, and crafts. The city has Rock al Parque, an open-air rock music festival, the Bogotá Film Festival, and the Ibero-American Theater Festival, the biggest theater festival in the world.
San Diego is a great neighborhood to visit if you're interested in seeing museums and experiencing Monserrate. There, you can find the National Museum, the Museum of Modern Art, and the Botero Museum. The Planetario Distrital (planetarium) is also nearby. Climbing Monserrate will leave you breathless, if not for the view at the top, then for the steps you'll need to climb to get there. Trust me it's worth the effort. And you can also choose to take a cable car up and down.
Visit Some of the Hippest Neighborhoods
Discover the city by visiting some of the trendiest neighborhoods in the city. Chapinero combines residential and business areas with hundreds of options for shopping, dining, and sightseeing. Zona G features several high-end gourmet restaurants with a broad range of cuisines, like Astrid y Gaston and La Hamburgueseria. Further north is Parque el Virrey with a charming creek and green space.
El Salitre has several venues for sports and outdoor activities. They include the football stadium, Olympic Water Complex, and city venues for watching or playing tennis, basketball, bowling, and other sports. Simon Bolivar Park is home to outdoor concerts and festivals as well as walking, jogging, biking, and paddle-boating. There are more museums and a botanical garden. The neighborhood is middle class to upper middle class and has good services, residential areas, and infrastructure.
La Candelaria is one of the most historic areas of the city including La Catedral, Plaza de Bolivar, Palacio de Nariño, and Luis Arango Library. With is many museums such as El Museo del Oro (Gold Museum), Emerald Museum and market, and the Colonial Art Museum. The neighborhood has some of the oldest churches in the city and a few art galleries worth visiting. If you enjoy farm-to-table food, Prudencia is one of the best in the city. I don't recommend living in this neighborhood or staying late at night. As a foreigner you will likely stand out and could be targeted for petty theft.
Insider tip: Bring a portable heater and a good blanket. The nights can get chilly.
Barrios of Bogotá: The Best Places to Live as an Expat
By Michelle Thompson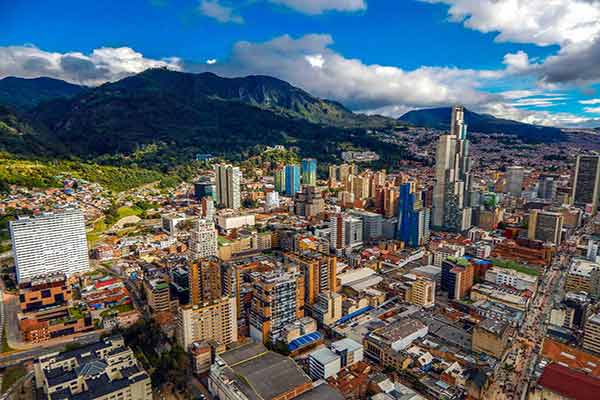 Are you considering a move to Bogotá, Colombia? While city life can be chaotic and overwhelming, if you enjoy a busy and active lifestyle and want to have instant access to Colombia's best restaurants and museums, Bogotá is a great option.
There's an unspoken reality that most expats prefer to live in the same neighborhoods. When choosing a neighborhood to live in, it's important to know which are safe and ideally located, and how much it'll cost you on average. In Colombia's capital city, most neighborhoods have both a historic and hipster vibe. Bogotá combines the modern and the traditional. There is always something to do here and a large expat community to connect with. The city's colonial architecture, vibrant history, and amenities offer a metropolitan lifestyle, yet it is just below the Andean mountains, and you can visit the beautiful Cerro Monserrate whenever you like.
The barrios (neighborhoods) mentioned below each offer something different. Most of the locals say they hardly ever need to leave because everything is there at their disposal. One thing to remember is that if you choose to drive, you'll need to get used to traffic.
Estratos (Social Stratums)
Bogotá is organized by a system of social stratification which is partly based on class division. Bogotános claim this is to help make utility bills like electricity and water more affordable. The "estratos" are categories of housing areas that determine how much you pay for utilities. There are six estratos, from the least expensive (estrato 1) to the most expensive (estrato 6). Estrato 6 has the highest cost for water and electricity. It also has more expensive houses and represents the richest parts of the city.
"Estrato" means social stratum and describes the social status of the people living there. I've included them here, but don't let these stratifications stop you from exploring or considering other areas like Parkway, Mazuren, and Santa Barbara, which can have affordable housing and great Colombian neighbors.
Here is a breakdown of some of Bogotá's best neighborhoods to live in as an expat.
Chapinero
Estratos 4 to 6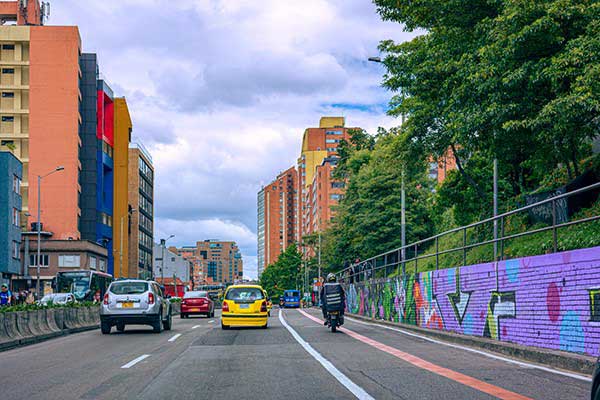 Chapinero is split into two parts: Chapinero Alto and Chapinero Central. One of Chapinero's charms is the English architecture with clay rooftops. This barrio is popular with young professionals and is a hub for entertainment and dining. It also has many residential streets that make it a great spot for home buyers. I recommend paying a visit to Mercado Paloquemao. It's a must-see for anyone who loves to cook—with its large selection of fresh vegetables and fruits, it will keep you mesmerized for hours.
Chapinero Alto is probably the best option for expats and retirees. It has charming bakeries and microbreweries. Located between Carreras (Avenues) 1 and 7 where the roads begin to slope into the mountains, and between Calles (Streets) 40 and 70, north of Parque Nacional, this area is within walking distance of Zona G. If you're looking for adventure, Zona G has several affordable restaurants and trendy bars. As a renter, you can find reasonably priced apartment buildings with access to public transportation, supermarkets, and gyms.
Worthy of mention is Chapinero Centro. This area is more popular with students and younger expats because of how central it is. It's a short walk from Bogotá's National Park and not far from the downtown area and historic Candelaria. If you venture here, beware of Avenida Caracas during the night, it's not safe to walk after dark. Compared to other parts of the city, Chapinero Centro has higher rents on average, but they're not as high as Rosales, Parque 93, and Chico.
Average rent:
| | |
| --- | --- |
| Rent a one-bedroom apartment | $365 to $520 USD |
| Rent a two-bedroom apartment | $520 to $650 USD |
Quinta Camacho
Estrato 4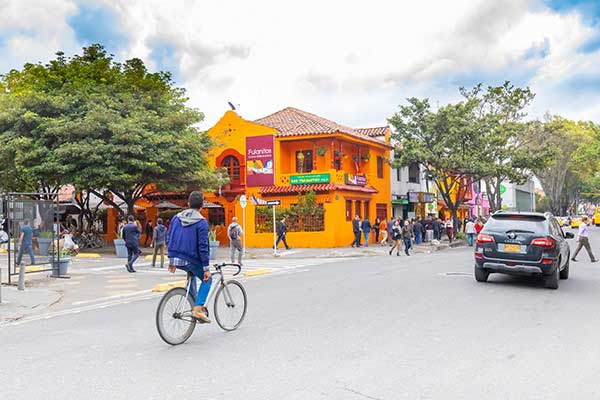 This is one of the most charming neighborhoods in Bogotá and my personal favorite. Just north of Chapinero and walking distance from El Nogal and Zona G, it's ideally located and very walkable. It offers mostly two-story, traditional, Colombian houses, and the streets are relatively quiet compared to the rest of the city. There are also many cafés, boutique shops, restaurants, and several pubs. You'll have access to many of the city's best upscale restaurants and can find a good balance between residential areas and entertainment venues. Many families live here due to how safe it is, and you'll even find several apartment buildings are conjuntos cerrados (gated communities) with playgrounds.
I chose Quinta Camacho as my home because of its charm and hidden gems. It's only steps away from the other expat favorites but offers more reasonable accommodation, especially along Calle 8. You can walk around the area and find new restaurants with global dishes to try. Several cafés and the Libreria Wilborada bookstore offer outdoor seating for some afternoon reading. The baristas are skilled and many of the businesses serve fair trade coffee and work with former conflict regions of Colombia.
Technically this barrio is part of Chapinero, but I thought it was worth highlighting. It's a hidden gem.
Average rent:
| | |
| --- | --- |
| Rent a one-bedroom apartment | $365 to $520 |
| Rent a two-bedroom apartment | $520 to $650 |
Rosales and El Nogal
Estratos 4 to 6
Admittedly, this is one of the more expensive parts of the city. The neighborhood has excellent green areas and parks and is within walking distance from several shopping centers including Andino, Altantis, and Retiro. There, you'll find cinemas and trendy restaurants and pubs. If you like a buzzing neighborhood with lots of activities, you can walk to Zona T near Calle 82 where you'll find several quality restaurants and cafés to enjoy. The area is known for its high-end shopping and dining options.
Rosales is very close to Chapinero Alto.  Most apartment buildings will have security guards and many of the foreign embassies are located nearby which means the streets will be clean and well maintained. You'll be very close to Chico and Parque 93, making it easy for you to join expat events and meet others. You can walk to Parque Virrey for some fresh air and will be a 20-minute walk to Quinta Camacho. El Nogal is located between Calles 76 and 83 and has a more traditional vibe. It's technically part of Chapinero and hosts several offices and international companies. You're likely to pay more for rent here but the neighborhood has amazing views, and the architecture is impressive.
Rosales and El Nogal are closer to the mountainous area of the city which means your apartment or home will be colder at night than in other parts of the city. Consider renting or buying a home with a fireplace because Colombia doesn't have built-in heating systems. It can also be a steep walk uphill depending on the street you choose. Anything past Calle 7 will require some exercise if you don't have a car. Rosales is also pricier than Chapinero. It's popular with families, working professionals, and people who want fast access to Bogotá's business center near Calle 72. If you drive or are willing to hire transportation, this neighborhood is a great place to live.
Average rent:
| | |
| --- | --- |
| Rent a one-bedroom apartment | $495 to $650 |
| Rent a two-bedroom apartment | $520 to $1,300 |
Parque 93 and Chico Norte
Estratos 5 and 6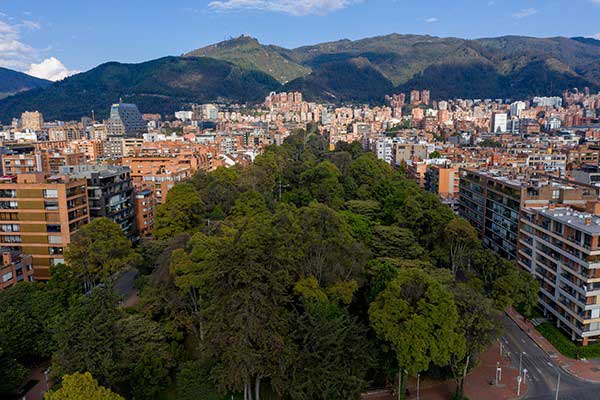 Parque 93 and Chico Norte are located north of the city, near Carrera 7. The areas sit between Calles 90 and 100 and are very popular with expats. In fact, most of the expats I've met here have made these neighborhoods their home. The neighborhoods are next to each other and have many large apartment buildings. They feature modern and high-end amenities. You can easily walk around and will see several embassies. This is one of the safest neighborhoods in the city. Chico has been described as having a North American vibe. The streets are well kept and there is lots of green space.
Parque 93 often features pop-up markets and festivals during the weekends. It's more expensive than other barrios and less residential, although ideal for people who want easy access to Bogotá's Calle 100, the business hub of the city. Many expats work there, and the cost of living is similar to Zona T and El Nogal. It is a 15-minute walk away from public transit (Virrey station) where you can go down the Carrera 7 by bus. That said, most people tend to drive or use a taxi or Uber. If you have a higher budget, this barrio should suit your needs. There are many nearby parks including Parque el Virrey and Parque el Chico. There are also some excellent restaurants and cafés nearby, and plenty of places to go shopping.
Average rent:
| | |
| --- | --- |
| Rent a one-bedroom apartment | $650 to $910 |
| Rent a two-bedroom apartment | $650 to $1,300 |
Usaquen
Estratos 4 and 5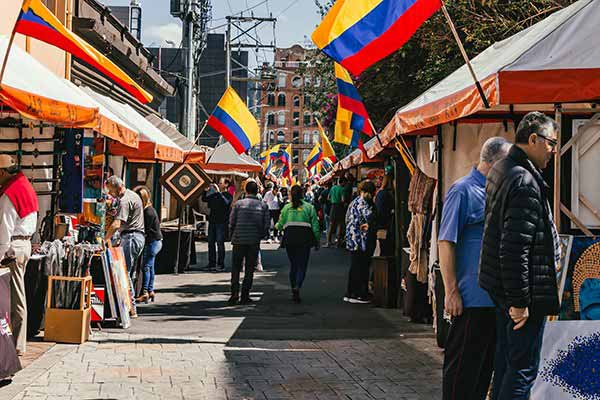 Usaquen is located between Calles 106 and 116 and mostly centers along Carrera 7, which locals call La Septima. The neighborhood has great restaurants and shops. Usaquen is known for its colonial-style buildings, and you can find several high-end apartment buildings. The area is quiet and a great place to find tranquility and relaxation. Housing prices are more affordable than in Chico, Chapinero Alto, and Rosales. This area has the feel of a village because it used to be one before it was annexed by the city. Every Sunday, you can enjoy the charming flea market and find hand-made arts and crafts, and artisanal items to purchase. The Hacienda Santa Barbara shopping mall has a supermarket and cinema. The neighborhood is ideal for families or people looking for large living spaces or houses.
Remember that the more you walk up the mountain, the less safe the area will feel. Try to stay off the street after dark. Near La Septima (Calle 7) you'll have good access to public transit and will find new housing developments. The cost of living will be a bit higher there. If you drive, you'll encounter a lot of traffic, and it could take you a while to reach the south of the city.
Average rent:
| | |
| --- | --- |
| Rent a one-bedroom apartment | $390 to $780 |
| Rent a two-bedroom apartment | $650 to $1,822 |
La Macarena
Estratos 2 to 4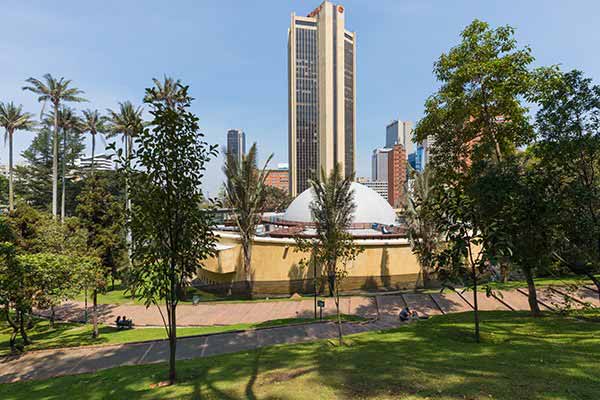 If you're brave enough to go off the beaten path and consider other parts of the city, you'll love the historical buildings and artsy neighborhood of La Macarena. Like the other neighborhoods, it has some great restaurants and cafés. It's also walking distance to La Candelaria and San Diego, which feature many of the important historical sites, museums, and art galleries in the city. If you're on a budget, this neighborhood will offer affordable rental options.
La Macarena is far from the other neighborhoods popular with expats, which means you'll need to take a bus, Uber, or taxi up Calle 7 to visit Calle 70 to Calle 116, where much of the action is. That said, this neighborhood offers a different vibe than the others. The area has many cultural activities for you to discover, from modern galleries, to the National Museum, to the planetarium at Independence Park. You'll also see the Moorish-style Santamaría bullring which is frequently used for concerts. If you enjoy the dining scene, this neighborhood offers international cuisine, including pizzerias and delicious Peruvian restaurants.
You should exercise caution when walking on the streets of La Macarena, especially at night. You'll be walking distance to La Perseverancia, which isn't all that safe. La Macarena is in the heart of Bogotá and has a lot to offer but there have been stories about muggings and thefts. If you choose this barrio as your home, you should be a savvy city dweller and experienced traveler.
Average rent:
| | |
| --- | --- |
| Rent a one-bedroom apartment | $195 to $520 |
| Rent a two-bedroom apartment | $390 to $650 |
*Be aware of your surroundings and always keep your valuables away from sight, including your phone. When you need to check your GPS, go into an indoor area to be safe. Never walk alone at night.
Cedritos
Estratos 3 and 4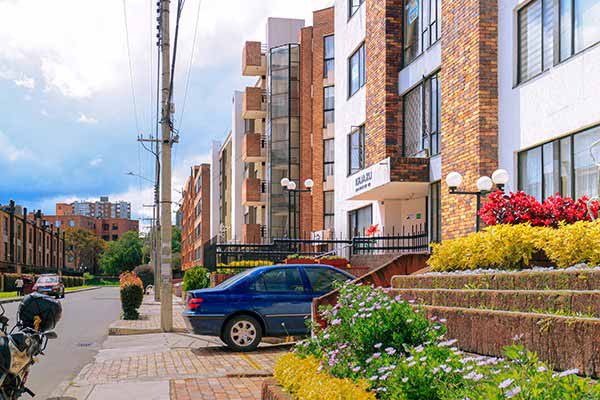 The neighborhood of Cedritos is located between Calles 134 and 156. This is the most north you can get before leaving the city. This neighborhood is very residential and has several rental buildings with amenities like gyms, pools, guest parking, and shared common areas. You'll find the rental costs are much lower here. This neighborhood is suburban, green, and family friendly. It is safe to walk around, and you can access other parts of the city by using the local bus system. Cedritos is ideal if you're looking for affordable and modern housing and don't need to commute to the city often.
This barrio won't have many activities for you to do. You will need to plan visits to other neighborhoods on your weekends, such as nearby Usaquen. You'll find a commercial zone along Calle 140 for your shopping needs. The buses are crowded, and a better option might be ordering an Uber or a Taxi, or even cycling.
Average rent:
| | |
| --- | --- |
| Rent a one-bedroom apartment | $260 to $390 |
| Rent a two-bedroom apartment | $285 to $495 |
The Suburbs
Estratos 5 and 6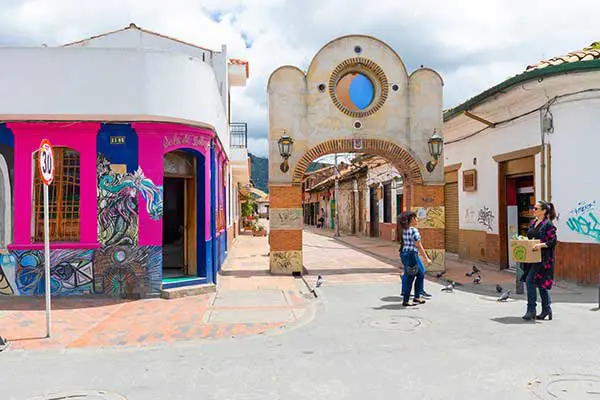 While there are plenty of houses for sale in the neighborhoods we explored, many expats choose to buy a home outside of the city. Towns north of Bogotá like Chia, Cajica, and La Calera are good options for finding peace and quiet.
Chia offers suburban living outside of the city limits, with plenty of green spaces and a good supermarket. The region is rich with pre-Columbian Indigenous history, as well as cultural and historic sites such as the Marroquin Castle, built in 1898. Prices vary greatly in Chia according to your needs, with property prices ranging anywhere between $100,000 and $800,000. At the time of writing, a three-bedroom home in Chia was listed at around $105,000.
The town of Cajica borders the towns of Zipaquira, Sopo, and Chia. Its main economy is agriculture, but many Bogotános enjoy vacationing there in villas. Cajica has several high-end restaurants, and you can visit the Central Square and enjoy the local Colombian architecture. On average, a three- or four-bedroom house will cost between $300,000 and $450,000.
La Calera is a nearby town in the Guavio Province. It's a popular weekend destination for restaurant connoisseurs and is only 11 miles from Bogotá. There you can visit the Hummingbird Observatory, hike the San Rafael reservoir, or enjoy the view of Cerro Tunjaque. On average, a four- to five-bedroom home will cost you between $300,000 and $500,000.
As you can see, house prices vary depending on your needs. There are also a few options for renting. If you choose to live in any of these towns, you will likely require a car. Before making a decision, you should consider doing some research on some of the local real estate websites, including Remax Colombia or Ren-A-House Colombia.
Expert Tips
Neighborhoods to avoid include Kennedy, Bosa, San Cristobal, and Ciudad Bolivar. The further you stray away from the neighborhoods mentioned in this article, the more vigilant you should be about your safety. The reality is that there is some petty theft, and you should avoid walking at night or wearing flashy jewelry. The intersections of Avenida Boyaca and Calle 80, Carrera 10 and Calle 6, and Avenida 45 and Calle 170 are the most dangerous areas in the city.
The city is extremely bike friendly with many of the streets and sidewalks having a dedicated bike lane. There are also several well-developed bike paths to discover. Some of the major streets, including Carerra 7, will close every Sunday to allow Bogotános to ride their bikes.
Many of the rental buildings in Bogotá have administrative fees to cover costs for repairs, a doorman, or security person. Make sure to ask about this extra fee before signing any agreement. Renters and home buyers can search the listings on Fincaraiz or Metrocuadrado. You will probably need a guarantor (fiador) or a down payment to secure an apartment.
If you plan to work or study in the city you may want to choose to live nearby your office or school. There is a well-located Spanish language center near Calle 75 and Carerra 10 run by Universidad Sergio Arboleda.
I can't stress the importance of learning Spanish enough. Although many expats have told me they never bothered to learn because they socialize and work with other expats, if you want the full Bogotáno experience, you should make an effort to learn the language and interact with Colombians. People here don't typically speak English, and this includes shop owners and restaurant servers.
Once you've decided on the type of housing you want and which neighborhood you'd like to live in, consider reaching out to a rental agency for help in negotiating and arranging the details. Rental agreements can seem overly complicated when it comes to paperwork, and everything will be written in Spanish.
Bogotá uses a road numbering system and is mostly organized as a grid. The calles run from south to north, and the carreras run east to west. This helps find addresses and get around the city. Every address will have the nearest cross street. For example, if you live near the intersection of Calle 65 and Carerra 7 in building #29, your address will be Calle 65, #7-29. Once you understand the system, it's easy to find your way around.
Featured Image Copyright: ©holgs/iStock