You'll Enjoy a Low Cost of Living in Colombia
One of the main benefits of living in Colombia is the low cost of living. And what's more, it's a low cost of living in a country that offers many of the first-world amenities and infrastructure that you'd expect in a much more expensive location.
In other words, Colombia's a good value from the perspective of an expat or second home buyer.
Real estate prices will differ depending on the city and neighborhood in which you choose to live. In major cities, such as Medellín and Bogotá, home and apartment prices often rival those you'd find in North American cities. For instance, an American expat living in Medellín's upscale El Poblado neighborhood pays about $1,250 a month to rent a three-bedroom high-rise apartment. But in a small town, like Líbano, you can rent a four-bedroom, four-bathroom house for about $350 a month. The same goes for buying property. While you can pay $1 million or more for a large two-story, El Poblado home, a comparable home in cities such as Manizales or Pereira will cost $250,000 to $300,000.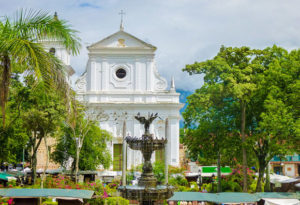 Colombia uses a tiered, estrato (stratum) system to determine the cost of utilities, including electricity, natural gas, water, and telephone and internet service. The system assigns an estrato number to neighborhoods based on the average income of its residents. Lower estrato neighborhoods pay lower rates than higher estrato neighborhoods. For example, if you live in an "estrato 2" neighborhood, you will pay much lower rates than folks living in an "estrato 6" neighborhood will. The system applies subsidies to lower estrato residents. So, when looking for a home to buy or rent, choosing a mid- to low-level estrato can lead to a big monthly savings.
Since your cost of living will depend on the city and neighborhood in which you choose to live, we´ve given you a range that covers city, country, mountains, and ocean. The estimates are for middle-of-the-road living. Of course, if you want you can find penthouse apartments, luxury homes on the ocean, eat fine dining every night, or have hired services to cook, clean and chauffer every day. The beauty of Colombia is that you can find a lifestyle to fit your budget.
Here is a sample budget for a couple:
| | |
| --- | --- |
| Utility | U.S. $ |
| Rent (two-bedroom, two-bathroom) | $325 – $1,300 |
| Electricity (no heat, but air on the coast) | $35 – $100 |
| Water & sewer | $15 – $30 |
| Gas (cooking & heating water) | $10 – $20 |
| Trash pickup | $5 – $20 |
| Internet (20megs) | $15 – $20 |
| Phone – landline (no long distance) | $15 – $20 |
| Cable TV (basic package) | $10 – $30 |
| Cellphone (post-play basic plan) | $15 – $30 |
| Maid service (once per week) | $40 – $60 |
| Health plan (basic public plan) | $40 – $80 |
| Medications (copay for mid-tier) | $10 – $25 |
| Transportation (bus, taxi, Uber, Metro) | $40 – $75 |
| Groceries (mix of local & imported – no alcohol) | $250 – $400 |
| Dining out (2/week) | $100 – $300 |
| Movies/theater/concert (1/week) | $20 – $60 |
| Clothing (basic local brands) | $60 – $100 |
| Miscellaneous (personal care, hairdresser, manicure) | $25 – $50 |
| Monthly total: | $1,030 – $2,720 |