Ambergris Caye, Belize
Ambergris Caye is Belize's most popular tourist and expat haven. It is commonly referred to as the "Isla Bonita", this term of endearment becoming popular after 1987 when Madonna released a song about the island. Stunning turquoise seascapes surround this Caribbean island. Looking out to sea you're greeted by quintessential Caribbean scenes. Frothy white waves break on the offshore Mesoamerican barrier reef, a home to exotic, colorful sea creatures, coral, and sponges.If white sands and aquamarine waters are what you're seeking on an island paradise, then look no further. Divers, snorkelers, fishermen, and sailors won't be disappointed with Ambergris Caye.
Ambergris Caye was first inhabited by the Maya as early as 200 B.C. It was the Maya who dug a canal on the north side of the Mexican peninsula, creating the island of Ambergris Caye. The caye is 25 miles long, making it the largest "island" of the some 200 that lie off the coast of Belize.
More tourists and expats flock to Ambergris than any other region of Belize. Beyond its natural beauty and outdoor activities, this island offers Belize's most sophisticated lifestyle. Combining a casual beach life with upscale amenities, it's no wonder Ambergris has become so popular. The increase in tourism, infrastructure, and amenities has led to a cost of living that's high-end for Belize, and real estate prices have been on an upswing since 2010.
San Pedro Town is the island's only town. This is where you'll find plenty of action. The island itself has grown significantly since 2010. Recent estimates suggest there are at least 20,000 current residents.
Golf carts are still the preferred mode of transportation for expats. They provide a means to travel from home to a wide variety of grocery stores, trendy restaurants, nightclubs, coffee houses, and friendly mom-and-pop stores. Some residents still prefer to get around on a bicycle, on foot, or by taxi. Many of the island's once sandy main streets have been paved, making travel much easier during the rainy season.
Ambergris Caye has come a long way from its roots as a humble fishing village. Development has progressed at a dizzying pace in the 21st century. These days Ambergris is known as a hustle and bustle tourism center with a myriad of activities, and its fair share of traffic…
Retire in Ambergris Caye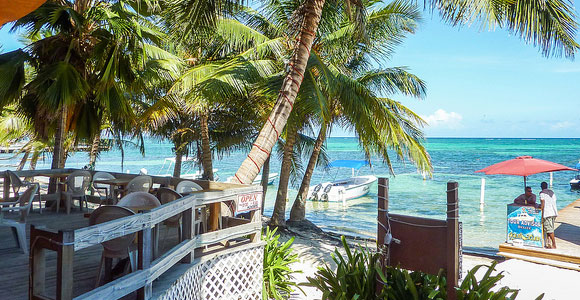 Ambergris Caye is the most frequently visited area of Belize. Tourists and expats alike flock to this lively Caribbean island for the quintessential turquoise seascapes, diverse outdoor activities, nightlife options, and active social life. In 2013 and 2014 Ambergris Caye won back-to-back Trip Advisor members awards as the "best island" in the world to visit. As a result, an increasing number of tourists have been visiting the island, while more and more expats are choosing to retire here.
Given that everything must be transported to the island, and that this is the country's main tourism center, the cost of living is higher on the island than in most other districts of Belize. The benefit of living on Ambergris Caye is that you'll find more activities, amenities, and luxuries available on this little island than anywhere else in the country.
The island boasts free live music and festivals—many of which are on the beach—a sophisticated wine and cheese bar, several espresso cafés, yoga studios, and many fine restaurants and beach cafés. And it only takes 20 minutes to fly to the mainland for a change of scenery.
When you retire on Ambergris Caye your lifestyle can be simple and relaxed or active and engaged—it's up to you. Some expats prefer to chill out, socialize with friends, play games, and volunteer or get involved in church activities. Others buy or start a business to fund their luxury life in paradise, or simply because they are happiest when they are busy.
A growing number of retired expats on the Caye are becoming focused on their health. They spend time biking, beach walking or running, swimming, or meeting friends at a local fitness center to work out or take a yoga class.
No matter where you retire in Belize, if you are over 45 you can apply for Belize's Qualified Retirement Program (QRP). QRP retirees qualify for a number of benefits, such as bringing in their personal goods into the country duty free, as well as a car, boat, or airplane (during their first year in Belize).
If you're willing to pay a slight premium, Ambergris Caye delivers an island lifestyle with more of the comforts of home than anywhere else in Belize. The rents can be higher on this popular island than in some other areas of Belize, but there is a fairly broad price range to pick from. And if you can afford to buy a condo or home, your monthly costs will be quite a bit lower long-term.
Many expats have retired to Ambergris Caye and adore it. Tamara and Ron Sniffin moved to Ambergris Caye in the hope of simplifying and improving the quality of their lives. Having spent so much time in Belize over the years, the decision of where to move was easy for Tamara—San Pedro, the main town on the small island of Ambergris Caye.
"Daily things are a pleasure…like riding my bike to work or driving my golf cart—the main mode of transportation here," says Tamara. "You're always outside in the sun and the sea breeze."
Lifestyle in Ambergris Caye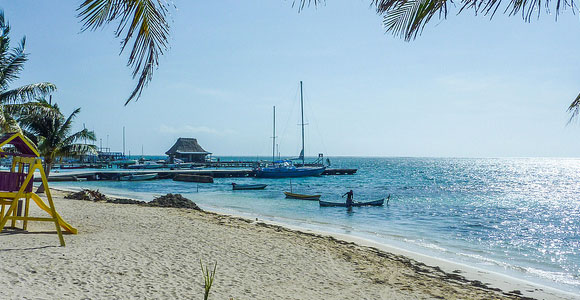 Ambergris Caye is best known for its ocean sports during the day and for partying at night. There are plenty of activities to keep you entertained on this island. But for expats who live on the island, there is much more to do.
Ambergris Caye is home to San Pedro, a bustling town that now has paved streets downtown and leading north towards the major tourist resorts. The side streets are mainly made of sand, so the island still retains its historic fishing village charm.
During the last five years this fishing village has transitioned into a 21th-century tourist mecca. You can still buy fresh fish from a local fishmonger on the beach. But now it's also possible to surf the web with a MiFi token, or to make a Skype call to family back in North America or Europe.
Due to its popularity, the traffic tends to get frenetic on the island during holidays and in the high season. And yet it's still normal to encounter nature every day. Head out of town just a few miles and you'll glimpse egrets, blue herons, and even roseate spoonbills.
With the Caribbean to the east and the San Pedro Lagoon to the west, the natural beauty of Ambergris is just one of the many draws for property buyers from North and South America, Europe, and Asia. Additional attractions include the island's live music, festivals and nightlife, sports, shopping, and restaurants. This is also a stable community where it's easy to get to know your Belizean and expat neighbors.
Although many tourists assume Ambergris Caye is a party town where expats sit at bars all day long, sipping pina coladas, there are plenty of health oriented options on the island. You'll find several health clubs, a large number of masseuses, three yoga studios, a trained Pilates instructor, and other healthy activities. And many expats are actively involved in a church, or volunteer activities.
Getting to Ambergris is easy because both of Belize's domestic airlines—Tropic Air and Maya Island Air—have hourly flights to the island. It takes only 20 minutes to fly from the mainland to San Pedro. Or you can take a water taxi for about a third of the price. It takes 90 minutes to travel from the mainland to San Pedro, but it's hard to beat the view.
You will also find sizeable supermarkets, hardware stores, art galleries, coffee shops, and more, making the lifestyle on Ambergris Caye comfortable and convenient.
Cost of Living in Ambergris Caye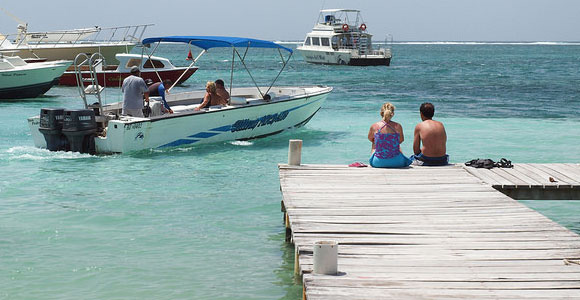 The cost of living on the island of Ambergris Caye is higher than you will pay in most other regions of Belize, except for the mainland beach villages of Placencia and Hopkins. But you can still live for quite a bit less than many parts of the U.S. International Living Belize Correspondent, Ann Kuffner, moved from the San Francisco Bay Area to Ambergris Caye in 2008. She and her husband note that their cost of living is a third of what it was when they lived in the U.S.
A couple can live on $2,000 a month, including rent, on the island if they live a simple lifestyle. As with everywhere else, their cost of living will also depend upon their lifestyle choices. Some expats who own a home on the island spend less than $1,500 per month. Other expats, who rent a two-bedroom condo on the beach, eat out at high-end restaurants, entertain regularly, and keep their AC on most of the time, can easily spend $3,000 per month.
Here is a sample budget for a couple living on Ambergris Caye:

| | |
| --- | --- |
| Expense | U.S. $ |
| Rent (one-bedroom, two bathroom condo) | $850 |
| Electricity | $250 |
| Water | $35 |
| Cellphone | $50 |
| Internet and landline (use a SMART MiFi) | $35 |
| Cable TV | $24 |
| Transportation | $50 |
| Gym memberships | $100 |
| Monthly food | $600 |
| Monthly total | $1,994 |