Travel in Belize Simple and Straightforward
Belize is a diverse little nation, which makes travel in Belize simple and straightforward. Belize's interior hides Mayan ruins, tall waterfalls, rain forests, and rivers you can explore. Down near Sittee Point is a jaguar preserve where you can venture into the jungle in search of the elusive cats.
Birdwatching in Belize's interior is a treat, too. You'll be able to spot parrots, toucans, flycatchers, and herons in their natural environment.
No longer a secret to the adventurous traveler, Belize is most famous for its virtually unspoiled coast. Just off the shores of its beautiful beaches is a 176-mile barrier reef, the largest coral reef in the Western Hemisphere, and second only to Australia's Great Barrier Reef. Belize's reef has long been a mecca for skilled divers, snorkelers, and fishermen.
Plunge Into History When You Travel to Ambergris Caye
Some archeologists believe that the Mayans dug a small channel through a long, narrow island near the world's second longest barrier reef about 1,500 years ago. Today, the 36-mile-long island is known as Ambergris Caye, which the Mayas unwittingly separated from what is now Mexico.
Ambergris is a paradise for anyone who loves to fish, sunbathe, birdwatch, scuba dive, snorkel, sail, watch manatees, or socialize with other sun lovers on what's been described as a Cape Cod with palm trees.
Professional divers and avid snorkelers know that the waters of Ambergris Caye are among the best in the world, but unlike some other sites, Ambergris is accessible to amateurs and professionals alike. The water temperature averages about 84 F in August, September, and October, and it's only three or four degrees cooler in other months of the year.
The Hol Chan Marine Reserve (website: www.holchanbelize.org) is a virtual paradise for divers and snorkelers. It's a 3-square-mile protected area off the southern tip of Ambergris, about four miles southeast of San Pedro. Most of the reserve is a cut through the barrier reef that's little more than 25 yards wide and 30 feet deep. In Mayan, Hol Chan means "little channel."
A strict rule against fishing means that you'll be able to see groupers, nurse sharks, rays, spadefish, eels, and dozens of other sea creatures go about their daily lives. And, since removing coral has also been prohibited in Hol Chan, you can see long bright stretches of these exotic living formations. An unforgettable part of Hol Chan for every Belize traveler who visits is Shark Ray Alley, where nurse sharks and stingrays have developed a great tolerance for divers and snorkelers who feed them underwater.
With a sure supply of food, many nurse sharks in Hol Chan grow to six feet in length, and the stingrays often have wingspans of four feet. If you're like most visitors, you'll stay in the boat when you see the sharks and rays circle about. But when your guide, or someone who's been there before, dives out in the midst of them, your sense of adventure is likely to take over…well, maybe.
Travel in Corozal: Where the Past and Present Mingle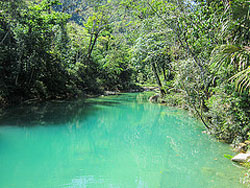 The mainland of Corozal is an ancient part of Belize, but in recent years it's been upstaged by San Pedro on the coast and Placencia to the south as magnets for Americans and other bargain seekers. Today that's changing, as more and more expats discover the thrill of exploring the land of the Mayans.
Corozal Town resembles a Mexican village where almost everyone speaks English, at least as a second language. Located just south of the Mexican border on the beautiful Bay of Chetumal (which locals call Corozal Bay), the town has fewer than 10,000 residents, but it offers countless opportunities to explore a fascinating culture that continues to influence Belize to this day.
The mainland of Corozal has preserved its Mayan heritage while also welcoming the culture of newcomers. Corozal Town sprang up in the mid-1800s as a refuge for Mayans and Mestizos who were fleeing civil strife in Mexico. Long before that, however, the Corozal area was part of the Mayan empire that stretched from eastern Mexico, through what are now Belize and Guatemala, and into parts of Honduras and El Salvador.
The town itself was built on the foundations of a Mayan ceremonial center, now called Santa Rita, that many archeologists date to 1800 B.C. That's about 500 years before King Tut (Tutankhamen) was born in Egypt. Today you can see remnants of Santa Rita just by looking around Corozal Town. Many of the old buildings here were constructed of stones pillaged from the ruins. Or you can go to the outskirts of town and visit the only Santa Rita site that has been excavated. It consists of a ceremonial center, two burial chambers, and several other rooms.
At Cerros, just across the bay from Corozal Town, you can get a close-up look at 2,400-year-old temples, ball courts, and a canal system that modern engineers marvel at. Ball courts? That's right, the Mayans played a ritual game of ball, which many anthropologists believe may have ended in death for the losing team–a custom you may want to mention to football fans when you get back home.
Traveling Adventures in Cayo
Cave tubing was devised several decades ago in Belize, where it's now popular to use an inner tube to float down streams that meander through dozens of beautiful caves. Tubing is especially popular because it can be enjoyed by people of nearly all ages.
In Belize you can enjoy breathtaking sights such as underground waterfalls and a huge array of glittering formations resembling a crystal cathedral. Anyone who experiences this unusual adventure understands immediately why the ancient Mayas likened these cave systems to spiritual centers.
Hotels can usually arrange for many other adventures in Cayo such as horseback riding, birdwatching, kayaking, canoeing, mountain biking, camping, and visiting Mayan ruins.
Guided kayaking and canoeing tours are exciting ways to spend the day and also see the sights. When you paddle down the Mopan River, you can look up and watch the parrots and cormorants, or look down and watch the iguanas scurry along the banks.
Some of the best sights in Cayo are on hotel grounds themselves. The San Ignacio Resort Hotel is famous in the area for its Green Iguana Conservation Project where iguanas are hatched, reared, and then released into the wild. The program aims to repopulate the area with this particularly colorful species of reptile. To help out, visitors can "adopt an iguana." At the Lodge at Chaa Creek you can visit one of Belize's several butterfly farms.
Getting Around When You Travel in Belize
Though many of Belize's roads are in a state of constant disrepair, the country is surprisingly easy to get around in, thanks to reasonably priced airlines, improvements in the bus system, and speedy water taxis. Reasonable domestic airfares can be a big advantage, given the poor quality of roads.
An alternative that more expats are turning to is the intercity bus system. From a bus, you can see the beautiful countryside, and the fare is a small fraction of what you'd pay on an airline. Water taxis are another alternative way to travel around in Belize, especially in Stann Creek, San Pedro, and Corozal. Water taxis ferry passengers between most major coastal cities in Belize and between Belize and Mexico. Fares aren't quite as low as they are on intercity buses, but they're still bargains.