When Dean Barrow was running for prime minister, he was quick to address the problem of inadequate healthcare in many parts of Belize.  Now that Barrow is in office, his government has planned several initiatives to solve the problem, especially improvements at the country's best known medical facility, the Karl Heusner Memorial Hospital in Belize City.
Belizeans acknowledge, however, that it will take many years before the country's healthcare system is on the same level with medical treatment in the neighboring countries of Mexico and Guatemala.
If you're considering a visit or a move to Belize, rest assured that most minor ailments can be treated quickly—and cheaply—at doctor's offices and clinics that can be found in all but a few remote areas. People who suffer from serious conditions can be taken to private clinics such as Belize Medical Associates or Belize Healthcare Partners. Both of these facilities offer excellent services and costs are still very reasonable. Belize does have a number of public hospitals but most expats prefer to use the private clinics.
But since all these facilities lack the quality care of hospitals in the U.S. and neighboring countries, some many expats leave Belize for more complicated types of medical treatment. Many American retirees, for instance, return home for a few days whenever they want to take advantage of Medicare. Some expats also go to Chetumal and Merida, just north of the border in the Mexican state of Yucatán, and to Guatemala City and Antigua in Guatemala.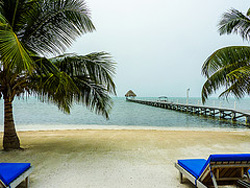 Expats in Belize also have the option of returning to the U.S. for healthcare and, in cases of emergency, to rely on evacuation coverage provided by an international health insurance policy. Evacuation coverage is particularly important because an ambulance flight can easily cost $15,000. If you're prone to health problems, you should consider this option. Information on medical services is available from the U.S. Embassy in Belmopan, Tel +(1)501-227-7161, though the embassy staff doesn't recommend doctors.
Officials do, however, urge Americans with existing medical problems to carry a letter from their physician that describes the condition and lists medications, including the generic name of drugs prescribed for the problem. To avoid the possibility of problems with customs officials, always keep medications carried abroad in their original containers that are clearly labeled. It's also important to complete the information page in your passport with the name, address, and telephone number of the person to contact in the event of an emergency.
Pharmacies in Belize are well stocked, and prices for medicines seem comparable to what you'd pay back home. Healthcare in Belize in general is extremely affordable–a few dollars for a visit to a doctor's office and about $15 a day for a hospital stay.