Where is Merida?
By Don Murray
Near the northern coast of Mexico's Yucatan Peninsula, about 22 miles south of the Gulf of Mexico, lies the regal colonial city of Merida. This beautiful, vibrant city of some one million people offers culture, sports, modern infrastructure, world-class affordable medical care, and handy access to the Gulf of Mexico. It's easy to understand why Merida has long been a favorite of expats. It is also among the most historically significant cities in all of Mexico.
Capital of the state of Yucatan, Merida's ancient roots go back to, what was formerly, the Maya city of Tho´, also known as Ichkaanziho´. And it is Merida's rich history and current indigenous influences, mixed with a modern lifestyle, up-to-date infrastructure, and a reduced cost of living that has attracted large numbers of expats.
Appreciation for Merida, its rich cultural heritage and gorgeous architecture, often comes from understanding its painful history. Merida endured a significant amount of trauma before emerging as it has.
Though bravely battling against an overwhelming Spanish force of Conquistadors armed with broadswords, various gunpowder weapons, and shielded with metallic armor, Tho´s Maya warriors were outmatched against their invaders. With only wooden clubs, cotton padding on their bodies, and using crude spears and flint-tipped arrows, the fierce Maya men fought and died trying to repel the invaders. They eventually lost the protracted battle and the city of Tho´ fell to the Conquistadors in 1540 and was renamed Merida after a favored city in Spain.
But the fighting continued for another two centuries as the Maya resented being invaded and enslaved. In fact, not only did the Spanish want to extract all the wealth from Mexico and its people, but they were also under orders of the catholic church to destroy sacred Maya temples and build catholic churches to convert the indigenous people to Catholicism.
Grand temples as well as shrines and other Maya structures were deconstructed using enslaved Maya labor. The Conquistadors then ordered that the enormous carved stones were to be used to construct Catholic churches and other public buildings and some large residences that still stand today in Merida's central historic district. The Maya carvings on the stones are clearly visible. These architectural shrines to ancient history provide a breathtaking backdrop to the city.
Merida is believed, by many historians, to be the oldest continually occupied city in the Americas. It is a stunningly beautiful city, its rich history on display through its architecture and the strong indigenous influence of its people.
The delicious regional food competes with the architecture for your attention and one cannot look at any building in the large historic district without being forced to feel something about the way that this city and all colonial cities came to be.
Retire in Merida
While no city has it all, Merida comes pretty close. For expats leaving the first world comforts of the USA, Merida will provide an easy transition when compared to many other options.
First, high speed internet is readily available throughout most of the city and offered by several providers. Coming and going from Merida is a snap with freeways and highways connecting to the Riviera Maya on the Caribbean coast as well as connecting to a good highway system throughout Mexico. And of course, there is a modern International Airport which makes airline travel readily accessible.
Shopping is an essential part of life as we all need food, clothing, and having a good wine in the refrigerator is always a good thing. Merida offers a plethora of shopping options from large open markets to small shops, strip malls, street vendors, and big box stores. It's all here.
Mexico offers an easily obtainable retirement visa, providing for quick, permanent residency for those meeting the simple qualifications. The straight-forward process begins at the Mexican consulate in your home state. There, the consulate officer will verify your income based on the documents you provide, review a nominal number of other documents and your completed application. After a short interview, if approved, you'll likely depart with your permanent residency visa affixed to the inside of your passport.
All legal residents over the age of 60 qualify for a discount card from INAPAM (Instituto Nacional para las Personas Adultas Mayores) facilitating discounts on a wide variety of goods and services.
Public transportation is available throughout the city by utilizing a combination of taxis, buses, and small vans called colectivos. Prices are geared toward the local population and are more than reasonable—cheap in fact. Bus and colectivo fares run from 25 cents to 60 cents.
Medical care is some of the best in the world with many doctors speaking English and modern hospitals to provide for any surgery needs. And it's affordable by participating in one of two national health care programs; either Seguro Popular or the IMSS program. In fact, it is cheap enough to simply pay for routine doctor visits and prescriptions out-of-pocket with hardly a bump to your budget. Nearly all medications can be purchased directly from the pharmacy without a prescription (narcotics and strong antibiotics are obvious exceptions) and cost only a fraction of prices north of the border.
Merida has a significant population of expats. Both the U.S. and Canada are well represented as well as many countries from Europe and Asia. Facebook hosts a number of expat groups for Merida.
Lifestyle in Merida
Those who live in Merida enjoy warm weather year around. In fact, the one complaint that could be made about the weather is that it can get hot…really hot. Some summer days can hover above 95 degrees Fahrenheit so air conditioning in homes and cars is common as are small plunge pools for your home.
Merida is a city chocked full of culture. There are seven institutions of higher learning to include traditional universities, colleges, and technical schools. There are eight or ten museums displaying a variety of items to include traditional and indigenous items.
Often called the White City for the number of colonial structures, all painted white, Merida is a city that loves its art and artists. Hosting around seven or eight active galleries, Merida even has one entire street devoted to original sculptures, the Paseo de Montejo. Each year, the city installs one new original piece from a local artist along with an additional piece from an artist from another country.
Merida is home to the Yucatan Symphony Orchestra. Music lovers can enjoy traditional classical performances along with Jazz and Opera performed at one of the six active theaters.
Expats seeking books in English will be thrilled with the Merida English Library. Not only a resource for thousands of English books, the library also serves as a hub for expats to mix and mingle and often assists with the organization of meetings and functions.
And speaking of language, the Spanish spoken in Merida and the rest of the Yucatan Peninsula, is different from the Spanish spoken in the rest of Mexico. Yucatan Spanish retains a heavy Maya influence, both in the sound and rhythm of speech, as well as the definition of some words and phrases. As the Yucatan Peninsula is separated from the rest of Mexico, the normal blending and melding of a language, without such isolation, has not occurred as it has throughout the rest of Mexico.
Cost of Living in Merida
Like all of Mexico, Merida offers a reduced cost of living when compared to most places, north of the border. This is explained by low labor costs as well as reduced cost for materials and essentials. Due to the low wages, the market will simply not bear the sort of profits normally built into goods and services, north of the border.
Whether you rent or buy, housing costs are affordable for almost every budget. The singular exception may be related to purchasing and restoring one of the many colonial homes available for restoration. While their prices are very reasonable, the cost of the refurbishment may quickly reduce your bank account. That said, many expats have enjoyed taking on that challenge with great results.
Below is an example of a monthly budget for a couple living in Merida:
| | |
| --- | --- |
| Rent three-bedroom apartment (Downtown) | $550 to $850 |
| Utilities (Electricity, Water, Gas) | $60 |
| Internet High Speed DSL Unlimited | $24 to $30 |
| Food/Groceries | $350 |
| Transportation | $100 |
| Entertainment | $250 |
| Medical | $100 |
| Total | $1,434 to $1,740 |
Mérida, Mexico: A City that Will Capture Your Heart
By Johanne Sauve
I have never been much of a city person. As a true-blue Aquarian I am much happier near water. Despite this, the city of Mérida, Mexico captured my heart and imagination.
Colonial Mérida, in the Yucatán province, is a stimulating city that prides itself on offering an enjoyable experience to residents and visitors alike. This very affordable city has many bargains and is teeming with culture and music.
Centennial Park is home to a free zoo where you can take a stroll and visit well cared for animals. One of my favorite treats is riding the train that skirts the zoo. At just five cents, who could resist such a temptation? Taxis in Mérida run between $1 and $3 per trip, but I find Mérida a very walkable city.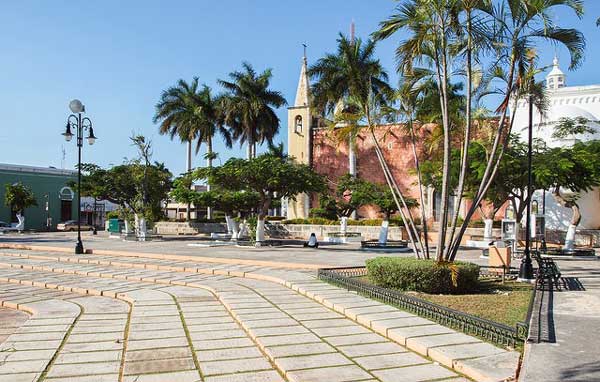 Mérida is graced with continuous blue skies and as much heat as you wish. Come prepared with your summer clothes and you won't be disappointed. Buses and collectivos (shared taxi-vans) are ready to take you anywhere if you are willing to travel like a local. You can also choose to hop on an air-conditioned tour van that will whisk you to many famous ruins and cenotes nearby. I recommend Uxmal, a grandiose piece of Maya history. It is not as crowded as some of the other renowned sites. Progresso, on the Gulf of Mexico, is only 40 minutes away—an easy trip for those like me who need to reconnect with the water.
A vast array of fresh tropical fruits and veggies can be purchased for just a few dollars. To savor hot corn tortillas, head to one of the many open air markets where about 2 pounds' worth will leave you less than $1 poorer. Need a haircut? Many small salons offer men's and women's cuts for about $3.
There are dozens of local restaurants, such as Las Vigas, where you can enjoy a wholesome meal for about $2.80. One of my favorite Maya restaurants, ChayaMaya, serves fresh local fare and you can watch Maya women preparing fresh corn tortillas for your dinner.
A few blocks further along, I discovered the very lively bar La Negrita. It is a favorite hangout for the young local crowd on the weekends and famous for live Cuban music nightly. Imagine oversized drinks, no minimum, no entrance fee, and plenty of yummy free tapas called botanos. Within the city center there is free outdoor entertainment every night of the week.
There is a discreet police presence in Mérida, making the area very safe for locals and visitors alike. I always found them to be friendly and engaged in their community. The city is family friendly and I feel safe strolling at night. Passing strangers smile and greet you with a heartfelt "buenas noches."
One of my favorite past times is "people watching." Just pick a bench in a busy park and observe the bustle around you. Often, residents stopped and introduced themselves to welcome me to their country. Yucatecans young and old are cheerful and friendly, and their joyful spirit is contagious.
Mérida is a fabulous urban environment that even someone who doesn't take easily to cities can be at home in.
A note from our Roving Latin American Correspondent
Mérida, Mexico – The Colonial Gem on the Yucatán Peninsula
by Jason Holland
On the western side of the Yucatán Peninsula is Mérida. This Mexican town of one million hosts the third largest Spanish colonial quarter in the world. And the historic centro is full of centuries-old homes, churches, and public buildings, as well as charming plazas, parks, and squares.
Retirees and other expats "discovered" Mérida in the late 1980s and every year more and more North Americans and Europeans make the move, many of them renovating colonial buildings, turning them into private homes, B&Bs, restaurants, art galleries, and boutiques. The historic structures are known for high ceilings, tropical hardwood finishes, vividly colored tile floors and interior courtyards.
In this video tour, IL Editor, Jason Holland offers a look at the historic centro of Mérida, the city's main market, and more.