Bacalar, Mexico
Written by Don Murray
Mexico's Caribbean Coast on the Yucatan Peninsula, and its famed Riviera Maya, have become the most popular vacation spots in the entire Caribbean basin. Boasting the well-known destinations of Cancun, Puerto Morelos, Playa del Carmen, Akumal, and Tulum, this area is a vacationer's paradise (serving over 5 million visitors per year) and home to an increasing number of expats. But if the crowds associated with a huge resort area are not your cup of tea, the small village of Bacalar, two-plus hours south of Tulum, may be the quiet, lakefront retreat you've been looking for.
Primarily patronized by Mexican locals, the lakeside village of Bacalar is in the process of being discovered as a destination without the glitz, without the traffic, and without the high-rise resorts and the all-inclusive hustle that has become synonymous with the Riviera Maya. Bacalar's vibe is decidedly different.
Sitting on the shore of Laguna Bacalar (Lake Bacalar), the village exudes an authentic charm with its small, town square surrounded by family-owned businesses. Spend a little time there and you might find yourself imagining you're in the Mexican version of Mayberry from the old television series.
Bacalar is a small, totally Mexican village where English is rarely spoken or heard and the U.S. dollar is not accepted. The area oozes charm, supported by a wonderful ice cream store just off the town square. The lakeside resorts remind me of the summer camps of my youth, where kids paddled canoes in sparkling freshwater lakes. Traffic is minimal and crowds are, for now, non-existent (holidays are exceptions). But small and authentically Mexican does not mean totally isolated. In less than 40 minutes, you can be in Chetumal, the sparkling-clean state capital of Quintana Roo with ample shopping, direct access to the Caribbean via the Bay of Chetumal, and good medical care.
Bacalar and the entire Caribbean coast are located on the Yucatan Peninsula. This concentrated region of ample resources, excellent medical care, reliable infrastructure, and plentiful entertainment easily supports a full and economical lifestyle for the many expats who live there. Surrounded on three sides by salt water, (the Caribbean Sea on the east and the Gulf of Mexico to the north and west) this region may be best known for the Riviera Maya and the numerous Maya ruins and cenotes (fresh water sinkholes) throughout the interior.
Travel down the Caribbean Coast (along highway 307) two-and-a-half hours south of Tulum, to find the tiny village of Bacalar, resting on the calm shores of the beautiful lake of the same name. Take the well-marked turn from the main highway and in less than 10 minutes, you will catch your first glimpse of this famous lake.
Laguna Bacalar is one of the country's most prominent lakes and has long been a favorite of Mexican nationals. Bacalar is about 12 miles inland from the Caribbean Coast and for those not knowing what to expect, Laguna Bacalar (The Lake of Seven Colors) is a doppelganger for the Caribbean Sea. This freshwater lake exactly mimics its spectacular shades of greens and blues. With the exception of several extremely deep sinkholes, which feed fresh water into the lake from an exhaustive underground river system, the rest of the lake is only about four to six feet deep making it possible to wade far into the center of the lake. Watch out for boats, however.
The village of Bacalar is small with a population of some 12,000. Founded in pre-Columbian times by the Mayas, Bacalar was an important coastal trading center for the area. Bacalar fell to Spain's conquistadors, back in 1543. The Spanish built a fort in the center of town to defend against the frequent pirate attacks. It wasn't until 1902 that Mexico succeeded in reclaiming this area. The still-standing remnants of the old Spanish fort remain, in remarkably good condition. The fort is open to visitors, and holds a museum within.
Retire in Bacalar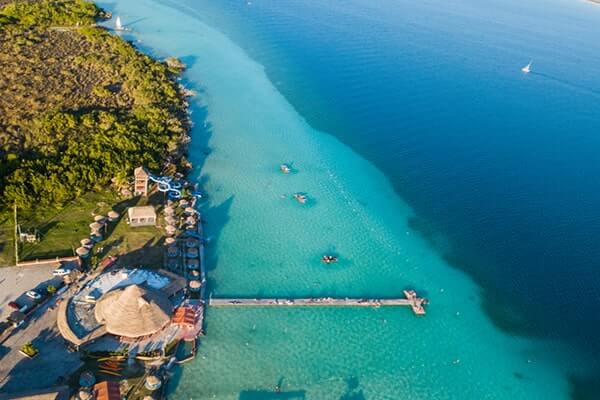 Mexico has a couple of simple, straightforward visas for retirees; the first is a Temporary Resident Visa and the second is a Permanent Resident Visa. Both permit full-time residency in Mexico but there are some significant differences such as income requirements, employment legalities, and automobile importation.
Visitors spending less than 180 days in Mexico need only possess a valid passport. No visa required. That allows all those snowbirds to make repeat, annual visits without worrying about a visa, as long as they do not exceed the 180-day limit. If you wish to remain longer than 180 days, you must apply for a visa.
Begin your visa quest at the Mexican Consulate in your home state or any Mexican Consulate in the States. There, the consulate officer will review your completed application, verify your income based on the documents you provide, review a nominal number of other documents, and your completed application. After a short interview, if approved, you'll likely depart with your residency visa affixed to the inside of your passport.
You will complete your residency requirements, once you enter Mexico, by making an appointment with the immigration service and obtaining your residency card.
All legal residents over the age of 60 qualify for a discount card from INAPAM (Instituto Nacional para las Personas Adultas Mayores) facilitating discounts on a wide variety of goods and services.
Medical Care in Bacalar
Bacalar has three small hospitals to include Centro de Salud in the center of town. This small center is for minor to moderate medical needs but has no surgery capabilities or imaging equipment. The Community Hospital and Hospital Integral both offer more services however for major medical needs, there are several larger hospitals in Chetumal about 40 minutes away. Most local pharmacies are open 24/7 and, like all pharmacies in Mexico, do not require prescriptions for most medications. Costs for care will run about one-third the cost of care north of the border with even greater savings available on medications.
Lifestyle in Bacalar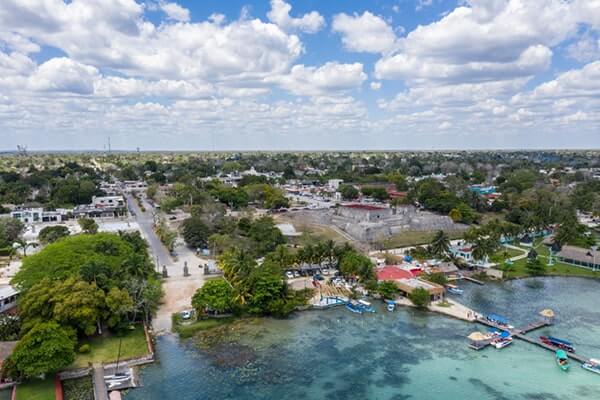 Life in Bacalar is a quiet life. There are 10 or 12 good restaurants, including an Italian place in the central area, operated by an Italian family. You can have your breakfast served, café style, on the sidewalk of the town square or enjoy a lakeside experience at several options along the shore. For more excitement, make the short drive to Chetumal where your authentic Mexican experience will continue.
If I lived in Bacalar, I would want to own a small boat. The stunning colors of the lake and the calm waters are simply too much to resist. And if I wanted to experience the salty, warm water of the Caribbean, Chetumal is close and the Bay of Chetumal is a fisherman's dream. Village life is not for everyone. As I happen to live in a tiny Maya village, I know the key is to be close enough to larger towns and cities to facilitate shopping, dining, and medical care. Bacalar meets the criteria; small, quiet, charming, and beautiful while also being close to all the other stuff available in large cities.
Things to Do in Bacalar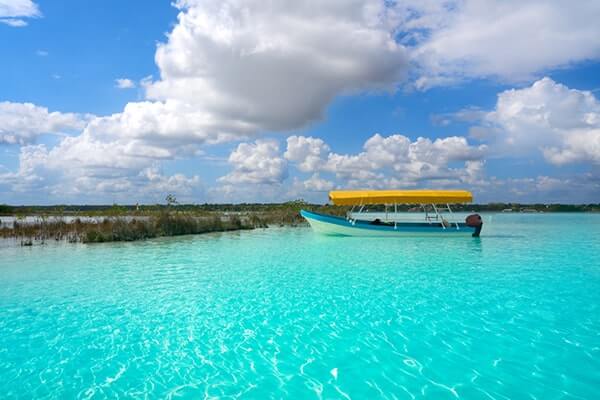 A life in Bacalar will certainly include interaction with the lifestyle available to a lakeside community. That means swimming, boating, fishing, and generally lounging around. There are no sandy beaches, however. Remember, Bacalar is a lake so the shoreline can be either rocky or earthen. If you want a sandy beach, drive southeast to Chetumal or further north up the Caribbean Coast.
Being so close to Belize makes it easy to visit. Nearby Chetumal sits on the border with Belize, about 40 minutes south. The border crossing is easy and is often crowded with Belizean citizens coming into Mexico to shop. Belize offers many options for sightseeing and shopping but remember to take typical travel precautions with our valuables, as you would anywhere.
You should absolutely visit Ambergris Caye, Belize. From Chetumal, you can catch a ferry that will deliver you to this tropical paradise in about two-and-a-half hours at a cost of around $50 to $60 dollars depending on the exchange rate.
Cost of Living in Bacalar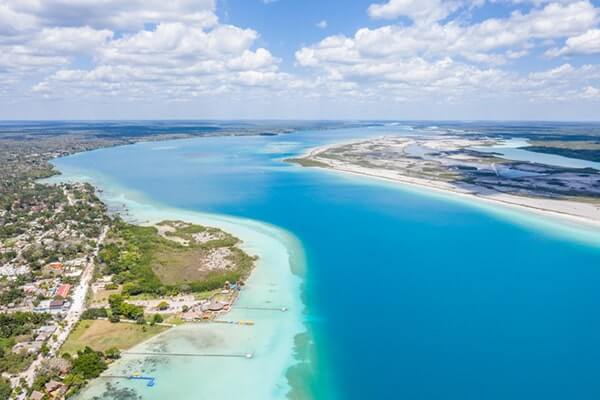 The economy of Bacalar is geared toward small-scale tourism. Compared to the nearby Caribbean, the costs are far less. And the cost of living is a fraction of what it takes to live anywhere in North America making retirement in Bacalar, and all of Mexico, an attractive option.
For now, finding long-term rentals can take some time, as most rentals are set up for short-term vacation stays and/or winter snowbird visitors. The short-term rentals may not have kitchens or only tiny kitchens. Like most places in Mexico, finding a place to live is a boots-on-the ground endeavor. You must be there and make contact with the people in the area to find what is available. A proven strategy is to take a small, short-term place for a month or two until you can familiarize yourself with the area and the market.
Properties listed for sale may be available for long-term lease but you have to ask. Vacation rentals, offered for short term, may be receptive to a long-term lease. The one thing to keep in mind is that most available properties, aside from Airbnb rentals, will not be listed on the internet. That said, here is an estimate of costs for a couple.
The restaurants are very reasonable, where a $25 dinner for two with a drink is standard. A $5 Mexican dish is very easily obtained just about everywhere.
Here is a sample monthly budget for a couple living in Bacalar:
| | |
| --- | --- |
| Expenses | Cost $USD |
| Rent (two-bedroom) | $450 to $650 |
| Utilities | $60 |
| Groceries | $325 |
| Entertainment | $250 |
| Housekeeping | $100 |
| Medical | $150 |
| Transportation (car, gas, insurance) | $100 |
| Transportation (public) | $45 |
| Total | $1,480 to $1,680 |
"Healing Mud"—and More—at Mexico's Multicolored Lake
By Bel Woodhouse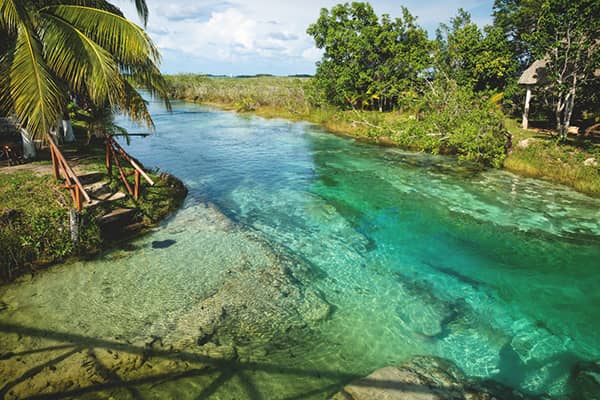 Becoming a Mexican resident has given me the time and freedom to travel to those little-discovered destinations tourists don't usually hear about. Forget your Cancúns or Playa del Carmens for the moment—both are beautiful places for a base—but Mexico, and especially the Riviera Maya region of the Yucatán Peninsula, offers so much more.There's a special satisfaction in getting to know the hidden spots that the locals keep to themselves.
Bacalar, near the Belize border in south-eastern Mexico, is one of those rare gems. A small town with a laidback eco vibe overlooking its greatest treasure: La Laguna de Bacalar—the Lake of Seven Colors.
Though I've been to many destinations in the Riviera Maya region, the waters here are magnificent, and like nothing I've seen before. Nature's color palette is awash with blue hues. The lake ranges from crystalline, almost-white sky blue to deep vibrant turquoise and aquamarines in the shallower areas. The colors transition through to deep cobalt and indigo at the deepest points, where underground freshwater cenotes feed into the lake.
Sailing the 25-mile-long lake is breathtaking and it's well worth spending the morning or day on the water. You can hire your own catamaran or go with a local boat captain on a tour (I'll admit it, that's what I did) to learn about its formation and history.
Formed 3.7 billion years ago, the lake is one of only a few places on earth to form stromatolites—knobbly outcrops of rock that, at their most exuberant, are almost a type of freshwater coral. These formations are created by billions of benign bacteria, which have been converting carbon dioxide into oxygen since the first big extinction, and building these fantasy rock gardens in the process.
The pristine white sand that fringes the lake, infused with sulfur, is credited with all sorts of healing powers, although that seems to be a universal claim wherever there's any sort of interesting mud and a captive market. I will say that slathering it on made my skin feel smooth as a baby's. The lake is associated with the name Akal Ki—Mayan for "fountain of vital energy" and also "lake of sweet water" so there is some historic basis for the healing claims.
Bacalar is Mayan for 'fountain of vital energy'.
Bacalar town itself is worth exploring. Like most Mexican towns, it's built around a central square in a basic grid, so finding your way around is easy. Everything is within walking distance, only a few blocks from most shorefront accommodation.
The other way to go is taxi. For 20 pesos (about $1) they'll take you anywhere around town. Taxi drivers are friendly and happy to show you around, and a mini tour of the town for a few dollars will help you get your bearings. The Fortress de San Félipe, built in 1729 after the town was sacked by pirates, is a fun site to visit.
Another added bonus is that accommodation is cheap. I stayed right on the lake at a boutique hotel for $50 per night, and when I say right on the waterfront, I mean it. You can walk down steps right into the lake or jump off the dock to cool off from the afternoon Mexican heat. Luxury options are available too, like your own villa built right out on the water with its own private dock. Exploring town, I enjoyed an abundance of colorful street art with a common theme: eco-friendly living. Shadowed by huge trees forming a cool canopy as you stroll along, the main shorefront avenue, Avenida Costera, is the perfect example. The walk showcases local artists' work in large murals running the length of it.
Adding to this eco-friendly atmosphere is an abundance of garden dining options. Surrounded by huge fig trees, you can lounge lakeside, enjoying your meals with spectacular views in a number of restaurants. One of the most popular places, El Manati just off town square, offers a delicious huge organic breakfast for around $3. It had me waddling out the door and not needing to eat for the rest of the day.
Bacalar is very vegan- and vegetarian-friendly, while also offering most international cuisines. The best Italian I've had in years was one block from the town square. A feast of two starters, two mains, and wine cost only $40. That's about a half to a third of what I would normally expect to pay.
If you're after something a little more hands-on, the town square has street food stands to grab authentic Mexican cuisine for a couple of dollars. Always fresh and delicious, a meal of hot tacos on one of the benches in the square, under the shade of the huge trees, is not to be sniffed at. In fact, at the right time of a sultry Mexican evening, with a cold beer and plenty of paper towels (tacos can get messy), it's as atmospheric as al fresco dining gets. Not bad for under $4.