Overview of Cancun, Mexico: Video Tour and Expat Lifestyle Information
Cancun, the northern anchor of Mexico's Riviera Maya, has long been a favored destination for those seeking a suntan and a hangover. In fact, with over 5 million visitors each year, Cancun is the most popular vacation destination in the Caribbean. Combined with the growing communities of Puerto Morelos, Playa del Carmen, Akumal, and Tulum to the south, the Riviera Maya may well be a top competitor for the best vacation destination on the planet.
With dozens of sprawling, all-inclusive resorts standing watch over miles of sparkling sugar-sand beaches, swaying palms and the warm, turquoise water of the Caribbean Sea, along with a vibrant night life, Cancun could easily define the ideal tropical retreat. With temperatures anchored in the mid-80s F for most of the year (some summer days breach 90 F), and plentiful sunshine, a casual lifestyle and amazing food, what's not to like?
Cancun is served by a modern, bustling international airport. It's location on the Yucatan Peninsula offers flights back to the States in less than two hours. And for those hesitating to make a move south of the border, Cancun eases you into the
expat
life as English is a common second language, thanks to the active tourist trade.
Cancun also offers over 750 restaurants, plentiful shopping outlets, seven hospitals providing excellent and economical care, and a vibe that alternates between relaxation and party time. It's no surprise that Cancun has also collected a fair number of expats who claim Cancun as their adopted home.
Retiring in Cancun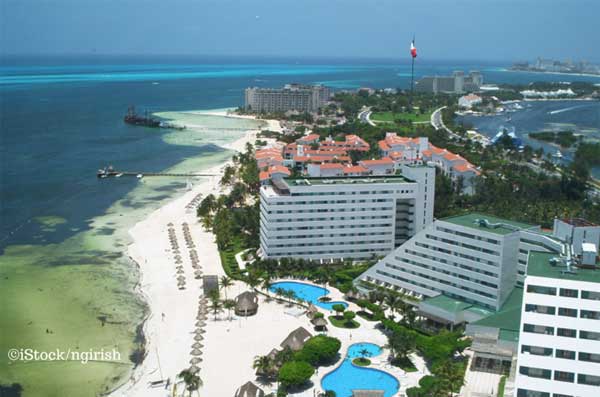 If your vision of retirement is a small, walkable village where you're awakened by the sounds of roosters crowing and dogs barking…a place where bicycles and pushcarts out-number cars and trucks, Cancun is not where you want to retire.
With approximately 1 millon residents and a mega-fleet of taxis and buses flooding the streets, Cancun is a large city with all the conveniences, as well as a few inconveniences, like traffic.
Hospitals offer first-class medical care at reasonable prices and expat residents can qualify for Mexico's health insurance plan called Seguro Popular. Nearly all medications can be purchased directly from the pharmacy without a prescription (narcotics and strong antibiotics are obvious exceptions) and cost only a fraction of prices north of the border. Living in Cancun is "almost" a First World experience. With the large network of buses and taxis, one can easily live in the city without owning a car. Power outtages are rare and internet is fast, stable, and inexpensive, the roads are paved and crime is generally low.
Shopping is a pleasure with a mixture of small, family-owned shops, open markets, and modern glitzy shopping malls that compare to any, north of the border. And you'll find Sam's Club, Costco, and Walmart for those who enjoy those outlets.
The expat community connects through several Facebook groups and hosts weekly get-togethers at various bars around town.
Cancun is a city of contrasts. Along the plush Hotel Zone with it's sprawling all-inclusive resorts, you will also find a couple of ancient Maya ruins tucked in between towering glass and concrete. The Maya influence is seen throughout the area with these tiny indigenous, hard working, and humble people employed in all areas of the city.
Lifestyle in Cancun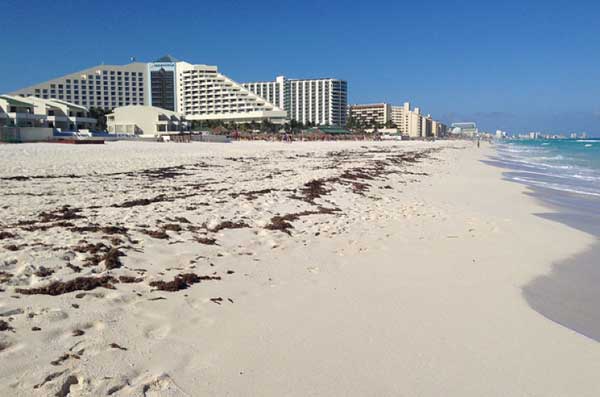 Forget about a "rocking chair" retirement in Cancun. With the world's second-largest reef system just offshore, and running south, into and beyond Belize, water-based recreational opportunities are boundless. Fishing, diving, boating, snorkeling, swimming, and even surfing and wakeboarding are all available. Or, you can simply park yourself on a warm patch of sand with a cooler of cold drinks and enjoy the feel of sand between your toes. There isn't a wrong way to enjoy the Caribbean experience and Cancun offers every option.
On days when the beach isn't an option, take in the Maya Museum in the Hotel Zone or visit one of several archeological ruins within the city, all accessible by public bus. Several modern theater complexes show first-run films, many in English or with English subtitles. A few even offer servers who will deliver your movie snacks directly to your seat. Expat residents can be heard saying, "Cancun isn't really Mexico, but you can quickly get to Mexico from here."
Cancun was intentionally built back in the 70s when it was only a small village sitting on a narrow strip of mangroves, infested by crocodiles. But what it did have was stunning, white-sand beaches and warm Caribbean water. Now, it is internationally known, catering to tourists from across the globe, many from the U.S. and Canada. With such a heavy influx of American tourists, the city displays many signs in English and Spanish and a few in Mayan. But drive a few miles into the state of Yucatan, away from the tourist areas and you'll quickly discover Mexico, the real Mexico where English is a foreign language and you best speak Spanish to make yourself understood.
The ability to live in total comfort, with electricity and high-speed internet, supermarkets, and car washes while also having the ability to hit the road and see a bit of Mexico is a bonus.
Cost of Living in Cancun, Mexico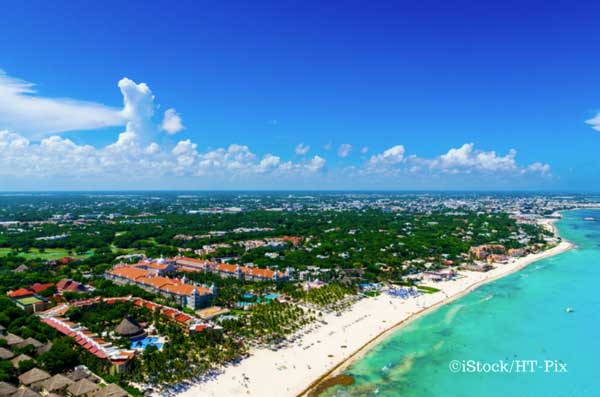 In general, Mexico offers a significantly reduced cost of living when compared to the U.S., and Cancun falls in line with that expectation. However, when comparing the cost of living in Cancun to places north of the border, it's tough. It's tough because Cancun is a modern city on the Caribbean Sea and that profile is not available anywhere in the U.S. Any comparison will be an apples to oranges thing. That said, a life in Cancun is affordable and provides excellent value for the money.
The one area where you won't find silly-cheap costs are in housing. And even then, housing expenses with beach frontage or an ocean view are very reasonable.
You should expect to pay above average rent in Cancun in relation to other areas of Mexico. To buy a 1,200-square-foot home, you'll spend about $125,000 and rent for a two-bedroom apartment will run about $1,200 to $1,800 a month. Homes and condos near the beach can run 30% to 50% more.
Electricity bills are delivered every other month and two month's of service is generally less than $60. My high-speed, fiber optic internet comes bundled with our local telephone service (which we never use) and we pay a fixed rate of $21. A local beer will cost about $2, and an inexpensive meal will set you back $4. A nice dinner for two in a mid-range restaurant will cost about $23.
Here's an example of a monthly budget for a couple living in Cancun:
| Expense | $USD |
| --- | --- |
| Housing | $1,000 |
| Utilities | $55 |
| Groceries | $350 |
| Entertainment | $250 |
| Housekeeping | $100 |
| Medical | $150 |
| Total | $1,975 to $2,040 |
5 Things I Wish I'd Known Before Moving to Cancún
By Don Murray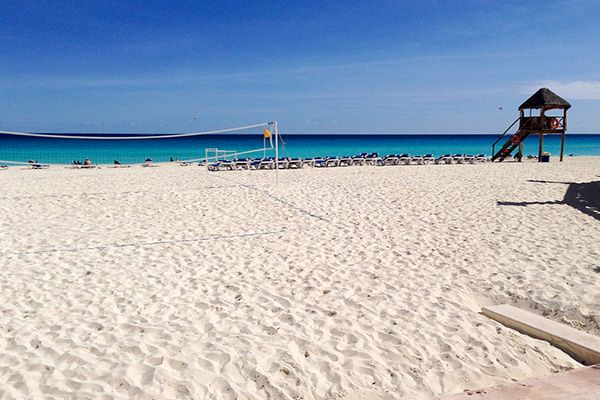 For four years, Diane and I lived in a beautiful Cancún condo, only steps from the sparkling white sand and the warm jade waters of the Caribbean Sea. It was a great place; two completely furnished levels with a private roof deck and a killer view in all directions. Two large bedrooms with private baths, a modern kitchen, laundry room, and a large living room provided a very comfortable space. The condo had private beach access and a freshwater pool. And while it was at the upper end of our budget, it was worth it…mostly.
The city of Cancún offered almost everything one could want from any city. Shopping of all kinds, over 750 restaurants, modern and affordable medical care, movie theaters, tropical weather, and ready access to the rest of the world through a large, international airport.
We arrived in Cancún after having lived, for two years, in another popular expat stronghold in South America. And while we enjoyed Cancún and love Mexico, I wish we had known a few things before making the decision to live on the beach in the Caribbean's most popular vacation destination.
I wish I had known that living steps from the beach would quickly damage or destroy all manner of electronic devices from laptops to microwave ovens. The moist, salty air invades everything and corrosion is inevitable.
My beautiful Jeep began to show the signs of rust and no amount of washing or waxing would stop its progress. We have two very nice cameras; both required periodic factory maintenance. Microwave ovens lasted about six months and a new laptop had a lifespan of about a year. Metal door hinges wept rusty tears and locks would regularly freeze up, making keys useless without the regular application of a spray lubricant. We bought that stuff by the case.
Those living off the beach, a mile or two inland, had much better luck with corrosion issues.
I wish I had known more about beaches from the beginning.
Not all beaches are equal, even though they may look identical from the shore. Drop offs, sub-surface rip currents, and wave patterns may vary greatly in a short stretch of 50 yards, for example. Some stretches of beach can permit calm and safe bathing while only a short distance away, danger awaits. It takes time to learn a particular stretch of beach and just when you get things figured out, a storm will change everything.
I wish I had known how important it was to get good grades in Spanish.
As a young student, I did not pay much attention and was satisfied with a minimal effort. Big mistake! I've been living in a Spanish-speaking country for more than seven years and I now consider myself functional but not fluent. Perhaps a stronger academic base would have assisted. Oh sure, I've taken several types of classes and I speak Spanish every day, but it's sometimes frustrating.
Start early and stick with it.
I wish I had known the amount of courage required to drive a car in heavy traffic, each vehicle filled with a Latino man determined to prove his machismo. Very few women drive in Mexico. Courtesy exists in all parts of the Mexican culture…except driving, and Cancún traffic will test even the most patient and skilled drivers.
While driving, courtesy has been replaced by contests and conflicts. Intersections often become an impromptu game of "chicken". Rude gestures replace a friendly wave and split-second reactions, to avoid a collision, are the norm. But I still drive every day. In fact, I have learned to survive by driving like a local.
Finally, I wish I had known how accepting the Mexican people would be of me, as a U.S. citizen. If I had, I would not have spent one minute worrying. As the relationship between the U.S. and Mexico has been strained in recent years, I feared some adverse reactions to us but it's almost as if the opposite is true.
The Mexican people understand that international politics is the work of politicians, not the people of that country, and for that I am extremely grateful.
Knowing these things would not have changed our decision to live in Cancún, but it would have adjusted our expectations and reduced a bit of frustration along the way.
The Top 5 Things I Love About Cancún
By Don Murray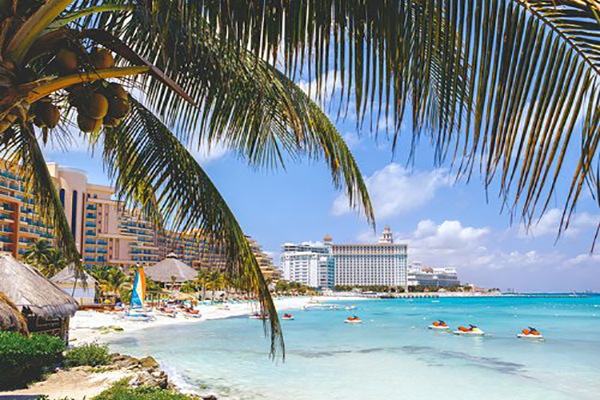 Breathtaking Beaches
First, let's deal with the obvious, stunning sugar-sand beaches and warm aquamarine waters are the norm for this stretch of the Caribbean Coast. Cancún sits at the top of the famed Riviera Maya. Stretching south from Cancún to Tulum about two hours south, this length of beach is world famous for its resorts, sparkling white beaches, and warm tropical waters.
Solid Infrastructure
Cancún has a very strong and stable infrastructure. Roads are good, the power grid is stable, and internet is fast and inexpensive at about $35 monthly for fiber-optic service. Because the single economic driver for the area is tourism, a solid infrastructure is crucial for ongoing growth.
Admittedly, traffic in Cancún can be a hassle, but the enormous and efficient public transportation system of buses, taxis, and small vans (known as colectivos) scurry throughout the city, economically delivering their passengers, with no need to drive yourself.
Food
Cancún has a wonderful and varied selection of dining options. Some 750 restaurants offer all manner of items from across the globe including authentic Italian, Japanese, Chinese, Brazilian steakhouses, U.S. steakhouses, and even famous fast-food brands. Naturally, there is an abundant supply of national and regional offerings as well as plenty of fresh seafood.
If you enjoy cooking at home, the markets contain all you could possibly want from this part of the world. Plus, your favorite brands from back home can be found in the imported food section of large supermarkets.
Shopping
Having spent significant time in much of Mexico, Central America, South America, and Asia where finding things you need or want can be a problem, Cancún offers welcome relief. Whether it is a part for your car, a major appliance, or a specialty food item, you can almost always find it (or something very close) in Cancún.
Several glitzy shopping malls compete with a couple of large open markets and thousands of tiny tiendas (mom-and-pop stores) offering all manner of goods.
Excellent Healthcare
Seven major hospitals can handle every medical emergency (as well as scheduled procedures), with costs about one-third of those in the U.S. Dental care is some of the best in the world, again with costs about one-third of what you would expect to pay north of the border.
Legal residents may choose to participate in one of two public health options (currently under revision) which typically cost only a few hundred dollars per year. In fact, routine care is so inexpensive that many expats simply pay out-of-pocket. A recent visit to an ophthalmologist to treat a serious eye infection, in the outpatient section of a modern hospital, cost about $8, including medication. Many doctors still do house calls.
The one comment that is regularly heard among expats is that the level of medical care and service is extraordinary. Doctors do not rush. They actually care more about providing the needed care than time limits and billings set by some insurance company. The difference is remarkable.