Isla Mujeres, Mexico - An Essential Guide to this Yucatan Island
If your thoughts of retirement include a
Caribbean island
with warm tropical waters, ample sunshine, easy access, and an affordable full lifestyle, perhaps Isla Mujeres is what you seek. Or maybe you're looking for a winter escape from the cold and snow. In either case, Isla Mujeres is worth a long, hard look.
The tiny tropical island of Isla Mujeres (Isle of Women), located just off the coast of eastern Mexico´s Yucatan Peninsula, has rightly earned its reputation as a popular expat destination and a world-class vacation retreat. And tiny is an accurate description, at only 4 miles long and a bit more than one-half-mile wide.
Not a naturally beachy island, with a rocky coast and some heavy surf on the east side, the west and north sides of the island have some nice sandy beaches aided by the hauling of sand from the mainland. The west side also offers some spectacular nighttime views of the Cancun skyline, only about eight miles away.
Any island called the Island of Women has to have an interesting history and Isla Mujeres does not disappoint. Originally inhabited by the Mayas, dating back over 1,400 years, it was considered a sacred place. The Maya Goddess Ixchel, Goddess of fertility, was honored here with a temple and other structures, but she may not have been the only Goddess honored here. The Mayas also used the island for the production of sea salt which was used as local currency as well as for trading up and down the mainland coast.
When the Spanish arrived in the 16th century, they noted the temple and other structures with many stone carvings osf Ixchel and other women and named the island, Isla Mujeres.
Pirates took a liking to Isla Mujeres, using the shallow lagoon to hide from bad weather and their enemies. So, on one tiny island and in the shallow, nearby waters, one can see evidence of ancient Mayas, Spanish Conquistadors, and pirates. It's quite a place and while artifacts may be found, it is illegal to remove them.
Isla Mujeres is the permanent home to about 13,500 residents including several hundred expats, most coming from the U.S. and Canada. As the weather turns cold, north of the border, Isla's population swells to accommodate a large flock of seasonal snowbirds.
Getting to Isla Mujeres, from Cancun is easy. Ferries run about every 30 minutes from several terminals in Cancun. New arrivals at the Cancun International Airport can catch a taxi to one of the ferry terminals. Roundtrip fare to the island and back is just under $20 and takes about 30 minutes, each way.
Retire in Isla Mujeres, Mexico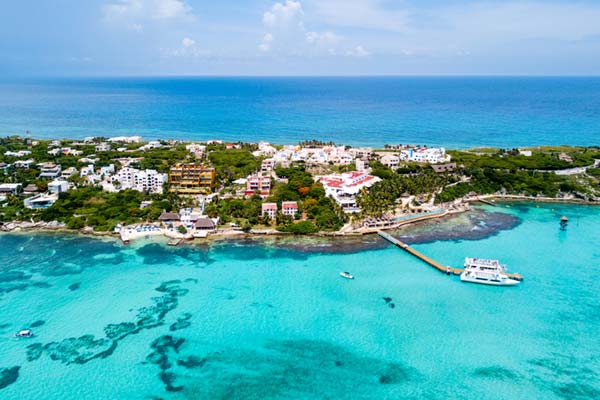 I've never met a sad person on an island. Islands are overflowing with happy people who love their environment and Isla Mujeres is a good example of a happy island. People from across the globe gather on the beaches, in Isla's bars, restaurants, and beach clubs to have fun and enjoy life. Making friends is easy on Isla Mujeres. In fact, as an expat who has made their new life on the island, you will likely make many friends who are snowbirds, those spending the winter months on the island, year after year. You will look forward to their seasonal returns.
Mexico has a couple of simple, straightforward visas for retirees; the first is a Temporary Resident Visa and the second is a Permanent Resident Visa. Both permit full-time residency in Mexico but there are some significant differences such as income requirements, employment legalities, and automobile importation.
Visitors spending less than 180 days in Mexico need only possess a valid passport. No visa required. That allows all those snowbirds to make repeat, annual visits without worrying about a visa, as long as they do not exceed the 180-day limit. If you wish to remain longer than 180 days, you must apply for a visa.
Isla Mujeres survives and thrives because of tourism. It is a bustling tourist center and while Spanish is the official and predominant language, you will find many restaurant servers and other service personnel who speak a bit of English. But don't expect it and remember you are a guest in Mexico. Knowing a little Spanish will make your time on Isla Mujeres even more comfortable.
The Mexican peso is the official currency but U.S. dollars are accepted almost everywhere. ATM machines are scattered liberally across the island but the best advice is to utilize an ATM machine located at a bank, for security purposes. Many expats choose to have their monthly income deposited in their stateside banks and access funds through local ATM machines, which dispense pesos.
The primary transportation on Isla Mujeres is provided by golf carts…bumper to bumper golf carts with cart rental business seemingly available every few feet. Golf carts are everywhere. And it makes sense. They take up less space on the roadway, they are economical on gas, and the speed is safely restricted. They are also easier to park on narrow streets and lanes. Motor scooters are the second most popular form of transportation along with a huge fleet of compact taxis. Traffic and parking challenges can be frustrating on this tiny island.
Medical care on Isla Mujeres is provided by a network of practitioners as well as a new community hospital. The care is good but for more advanced needs, a short ferry ride to Cancun will allow access to seven major hospitals with all specialties covered. Residents may choose to participate in one of two national health care plans (now under revision) or pay cash at the time of service. A regular appointment with a physician will cost from $12 to $20. Most medications are available over-the-counter, without prescriptions, and the price for meds averages about one third (or less) the cost north of the border.
Lifestyle in Isla Mujeres, Mexico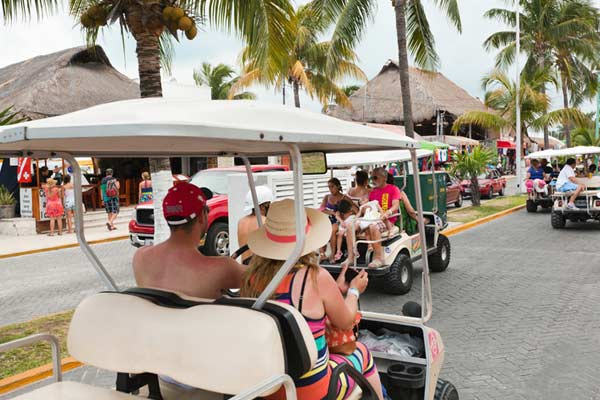 The relaxed island lifestyle is clearly evident on Isla Mujeres where daily attire can often be nothing more than beach ware and sandals and daily activities largely consist of socializing with friends on one of the beaches or enjoying each other's company in one of the many bars or restaurants.
Isla is home to a number of beach clubs. The concept of a beach club is not universally consistent, however. On Isla Mujeres, beach clubs are essentially restaurants and bars situated directly on a beach. Most have fresh water swimming pools and provide unlimited use of the facilities, often at no charge provided you agree to buy some food and drinks. Tables and chairs, hammocks, padded and covered beach loungers are normally available to make your day at the beach as comfortable as possible. It is a great way to spend a day. Servers are ready to deliver your cold beer, Bloody Mary or giant Margarita along with a full menu of food items. Some beach clubs do charge a nominal entry fee, especially during the busy season.
Two excellent beach clubs are Captain Dulche and Zema. Both had free admission during the slow season and both offered a great menu, cold beer, and excellent cocktails. The service is excellent, the pools are perfect and beach access is more than adequate. I like the long pier at Captain Dulche. You can walk 50 yards or more out into the Caribbean before climbing down into the warm water.
The central area of the island is made for your entertainment with more bars and restaurants than can be counted. I honestly don't know the number of restaurants on the island but the number is in the dozens and all the bases are covered when it comes to menu types. Maybe there is a bad one but I haven´t found it yet. You can easily find the freshest seafood as well as chicken and pasta dishes. Burgers, traditional Italian, Mexican, Cuban, and even Chinese and pizza are available. I´ve enjoyed great breakfasts, as well. Forgo the traditional U.S. breakfast choices and try huevos rancheros or chilaquiles.
During the high season (winter up north), live bands are in many locations and even in the summer months, bands are often playing on weekends, catering to the crowds from the mainland.
There is one special place, though, that provides a particularly noteworthy item. Villa la Bella, a perfect, oceanside B&B with a small public bar wins the prize for the best Cadillac Margarita, ever.
Cadillac Margarita at Villa la Bella
4 oz of 1800 Añejo tequila
Fresh squeezed lime juice
1 oz of Cointreau
2 oz of Grand Marnier
They get $295 pesos for one (about $15 U.S.) and their limit is two per person. One should be more than enough reason to call a taxi for most folks.
Living, fulltime, in a popular vacation destination can be as wonderful as it sounds. You live where other people pay significant dollars to vacation. The hardest part may be believing your life isn´t a dream.
Cost of Living in Isla Mujeres, Mexico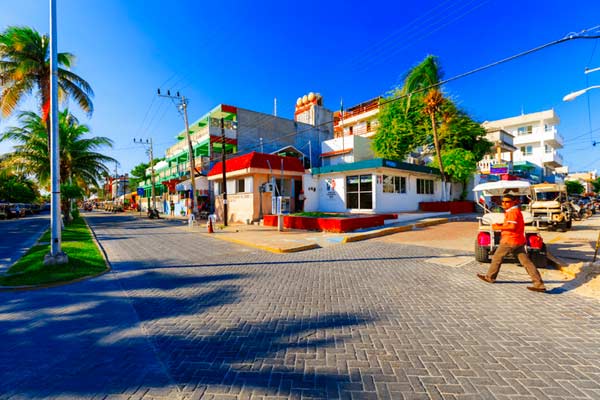 The island has dozens of small family-owned convenience stores and two modern supermarkets. Prices are naturally a bit higher than on the mainland due to the added cost of transportation.
Life on Isla Mujeres can be very affordable. I recently visited the home of retired expat, John Pasnau and wife, Valerie. The home was about 800-square-foot and had two bedrooms, a modern bathroom, small sitting area/living room, and a very functional kitchen. It is furnished and air-conditioned and has a small fenced yard. John and Valerie pay $800 dollars monthly including all utilities.
"A bottle of local beer, Indio, is only 20 pesos everywhere. That's about one dollar. And I can buy a whole chicken for 60 pesos or about $3.30. A large bottle of Coke is 12 pesos (65 cents) and a big loaf of bread is 14 pesos (75 cents)", says John.
There is a wide variety of home types on Isla Mujeres. Within the same neighborhood, you can find traditional Maya structures with stone foundations, stick walls and thatched roofs mixed with modern, low-rise condos whose height is restricted to three levels and can be purchased from around $145,000 to over $500,000.
A newly constructed one-bedroom, one-bathroom home in a nice neighborhood goes for $158,000. This would be great for a retired couple or maybe as a rental property. There is even enough land to build another unit on the property.
If condo life is more your style, $265,000 will buy a beautiful two-bedroom, two-bathroom unit in the fashionable Loma Bonita property. The outdoor terrace is the perfect place to catch the offshore breeze and the ocean view while air conditioning ensures total climate control. Modern kitchen and appliances and upgraded furnishings make this a great deal for the couple wanting a Caribbean retreat and ready access to the best restaurants on the island.
Like all other places on the planet, cost of living is dependent on lifestyle. I learned of one person who lives on Isla entirely on a Social Security check of $1,700 a month. His apartment is small and he pays $325 dollars a month. He lives a very comfortable life and puts $300 in his bank account each month so he can fly home to see his kids and grandkids a couple of times per year.
A couple can live in grand style on Isla Mujeres for between $2,000 to $3,000 monthly, all in.
| | |
| --- | --- |
| Item | $USD |
| Rent-(two-bedroom one-bathroom) | $850 |
| Electricity | $175 |
| Groceries | $300 |
| Entertainment/Restaurants | $150 |
| Cell Phones and Internet | $85 |
| Transportation-Taxis | $150 |
| Weekly Housekeeper | $100 |
| Total | $1,810 |
 Featured Image Copyright: ©iStock/SimonDannhauer
Written By Don Murray
Things to Do in Isla Mujeres, Mexico
By Noreen Kompanik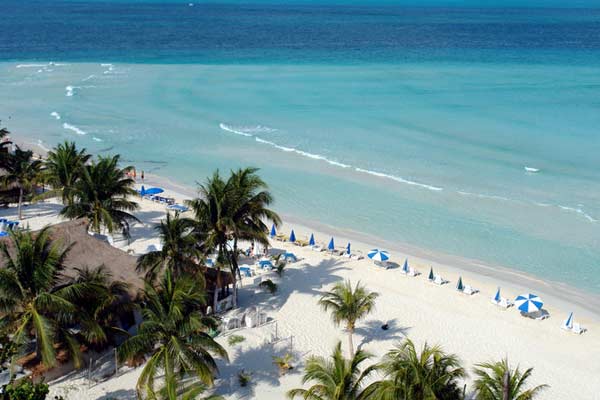 Here are my 10 favorite ways to enjoy this enchanting Mexican Caribbean isle:
1. Rent a Golf Cart
Transportation on the island is primarily by golf cart and scooter. Rentals are available from multiple companies just steps from the ferry terminal. Guests have a choice of two- or four-seat carts with an option of half- or full-day rentals.
They're easy to drive, and it's almost impossible to get lost–after all, it is an island. And it's a fun and ideal way to explore all the many treasures of this delightful paradise.
2. Explore Maya History
In pre-Columbian times the island was sacred to Ixchel, the revered Maya goddess of the moon, fertility, childbirth, and medicine and wife of the Sun. Maya women canoed to the island on yearly pilgrimages seeking her help, wisdom, and blessings.
A statue honoring Ixchel is located at the entrance to Punta Sur. Sitting over 60-feet above sea level, Punta Sur is where the rising sun first touches Mexican soil. Views are absolutely incredible, with Maya ruins of the goddess fortress visible at its southernmost point.
3. Bask on a Caribbean Beach
Isla Mujeres beaches are some of the most beautiful in all of Mexico. Playa Norte is a picture-perfect, palm-fringed beach with white powdery sand leading to crystal-clear waters. There's virtually no current here, so swimmers can wade out a distance and still only be waist-deep.
Beach chairs and umbrellas are available for a very reasonable rental fee. And if you're lucky enough to snag one of the beach hammocks, enjoy your sway in paradise.
4. Discover Island Art and Architecture
You know you're in the Caribbean when you see the painter's palette of colors on the historic houses throughout the island. From turquoise, hot pinks, bright yellows, and lime greens, you'll find vibrant hues everywhere on Isla Mujeres. Even the local town cemetery sports a colorful entrance.
Wall murals throughout the isle reflect the fascinating Maya and Yucatán history, and many depict a myriad of sea life creations and other unique aspects of island life.
5. Dive or Snorkel to an Underwater Museum
One of the most unique attractions of the island is the Cancún Underwater Museum of Art (MUSA) located just offshore from Isla Mujeres.
Accessed by dive or snorkel boats and glass-bottomed vessels, the museum features over 500 fascinating statues on the shallow seafloor. These artifacts were created to promote healthy coral life in the area. This innovative project was designed to counteract the effects of climate change on our oceans and reef systems. It's one of the most ambitious underwater art attractions in the world, and a not-to-be-missed experience.
6. Zipline Over Paradise
There's something amazing about flying over the Caribbean Sea, especially when you're not in an airplane. Garrafon Park's adventurous zip line begins at the top of a 42-foot tower built at the highest part of the park. Flyers are launched from over 100-feet above sea level and pass over cliffs, crashing waves, and multi-hued ocean waters.
It's exhilarating and incredibly picturesque (for those who can manage to keep their eyes open). Of note, however, is that participants must be at least 13 years old to zipline here.
7. Swim with Whale Sharks
If you've never done it, you have to. That is, swim with the whale sharks in the Mexican Caribbean. Don't worry, as these big fish are not maneaters. From June to September, snorkelers can take to these plankton-rich waters with these gentle giants of the deep. Known to reach up to 40 feet in length, whale sharks are a big draw here.
During this whale shark migration, you can get up close and personal with hundreds of these enormous slow-moving sea creatures, each with their own unique spots and stripes. It's an incredible experience watching a shark open its five-foot-wide mouth while feeding.
8. Visit a Turtle Sanctuary
For thousands of years the beaches of Isla Mujeres have been a nesting ground for turtles. Totugranja (Turtle Farm) is a government-sponsored hatchery started in the 1980s by a local fisherman for these endangered sea turtles.
For a small fee marine specialists will gladly conduct a guided tour of this vital turtle sanctuary. From May through October the farm invites visitors to participate in the release ceremony where hundreds of small turtles are tenderly and safely transported to the water's edge, thereby increasing their chances of survival. The farm also sports a small aquarium where big kids and little kids alike love viewing the nurse sharks and manta rays.
9. Shopping on the Island
I admit it. I'm not typically a shopper. But I couldn't resist the colorful boutique shops of Isla Mujeres, drawing me like a moth to a flame.
Only four by six blocks, the colorful town center is a shopper's paradise–compact, walkable, and easy to navigate. Filled with a multitude of delightfully colorful and unique craft, jewelry, and artisan shops, the district offers silver jewelry at much more reasonable prices than in Cancún or Riviera Maya. Bartering is acceptable and expected.
10. Indulge in Local Island Cuisine
For a small island, Isla Mujeres is a foodie paradise. Dining with a view always makes the experience even more memorable. One of the delights of this island is that we were able to do just that.
Mar-Bella Rawbar and Grill is a thatch-roofed palapa (thatched stand) restaurant located directly on the beach with picturesque ocean views, swaying palms, and even a wooden pier. Sailboats glided past while we enjoyed tropical drinks and voraciously devoured a Yucatán specialty–green ceviche with homemade chips.
Conclusion
Though our family loves everything about Mexico, there's something special about Isla Mujeres. Its rocky cliffs, crashing waves, and multi-hued azure waters are truly captivating. The people are friendly, easygoing, and welcoming.
All this and more makes it easy to fall under Isla's magical spell, beguiling visitors and beckoning them to return again and again.