Real Estate & Property Information for the Riviera Maya
Mexico's Riviera Maya has it all: miles of virgin, white-sand Caribbean beaches…turquoise waters teeming with turtles and colorful fish…the second-largest tropical reef system in the world…Mayan ruins…fun cultural events…great restaurants…and natural wildlife and water parks. As a place to spend time, there aren't many places that rival this stretch of Mexican Caribbean coast, which runs from south of Cancún all the way to the hip and cool destination of Tulúm.
As a place to spend your real estate dollars, and buy Caribbean real estate, the Riviera Maya beats out all the competition, too. Real estate on the Riviera Maya can be had for a fraction of the price you'd pay in other Caribbean locales. Your choice of Riviera Maya real estate is endless, too, with comfortable and affordable condos, luxurious villas, and everything in between on offer. Here's what you need to know about buying property on the Riviera Maya.
Where to Buy Riviera Maya Real Estate
The Riviera Maya extends along 75 miles of Caribbean coast, so there are a lot of options for places to buy real estate at surprisingly affordable prices. However, there are three main locations that we particularly love for Riviera Maya real estate at great prices. Those three places are Playa del Carmen, Akumal, and Tulúm. Here's why.
Playa del Carmen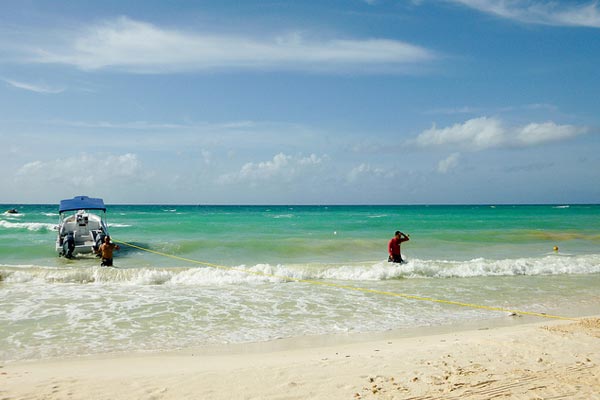 First major stop on the highway after Cancún international airport: the rapidly growing city of Playa del Carmen.
Playa del Carmen (often just shortened to "Playa" by locals and visitors) is a buzzing, vibrant, Caribbean city that's growing all the time and throwing off its humble origins. Just three decades ago, Playa del Carmen was a little fishing village of packed-sand streets and a few guesthouses. Most visitors arrived only to catch a ferry to the nearby island of Cozumel. But that's all changed, thanks to the new highway built in the early 1990s. It linked Cancun with Playa del Carmen and Tulúm—and has prompted major growth all along the coast.
Now, the packed-sand roads have been paved. Cool, high-end stores, eateries, and boutique hotels have opened up. In the 1990s, Playa quickly became one of the fastest growing cities in the Americas. Today, it's a hip beach city.
You'll find all you need for a full and happy life in Playa del Carmen: modern conveniences like hospitals, big-box stores, galleries, Cirque du Soleil shows, and an endless choice of foods and cuisine from all over the world. You can live here easily full- or part-time base. It's a quick 50-minute drive to Cancun, so if you need to fly for business or to visit loved ones, the airport is close by. Those Caribbean beaches that were once only home to fishing boats? They're still as gorgeous as they ever were, except now, in addition to the fishing boats, you'll also find pleasure boats, jet skis, and funky bars on the shore.
One last thing about Playa del Carmen: If you're looking for a Caribbean home or condo, right in the heart of the action, you'll have some great choices in Playa del Carmen.
Playa del Carmen real estate is surprising affordable, especially compared to other bustling Caribbean cities. Here's a sample of what real estate will cost you right now in Playa del Carmen:
– A one-bedroom condo for $175,000: In the heart of Playa's downtown, a 753-square-foot one-bedroom condo is available. It comes fully fitted with porcelain floor tiles, air-con, an Italian-design kitchen with quartz counter-tops, refrigerator, electric stove, microwave, washer, dryer, and a separate laundry room. Communal amenities include a swimming pool, fitness center, elevator, underground parking, and Wi-Fi Internet. Best of all, you're just a short walk to beaches, nightlife, and 5th Avenue, Playa's lively pedestrianized thoroughfare.
– A two-bedroom villa in a prestigious community for $249,000: A two-bedroom villa lists, at time of writing, for $249,000. It's located in a well-known gated community, which includes a golf course and hotels, and comes with three full bathrooms, one half-bathroom, and views from the patio to the golf course. A clubhouse is close by, as well as four swimming pools (including a children's pool), tennis courts, and a bar. The villa is decorated in a colorful Mexican style.
– A two-bedroom condo, in a luxury golf resort with swim-up pool, for $389,000. A massive garden-level condo, of over 2,000 square feet in size, lists for under $400,000. This is a high-end, luxe condo with two full master bedrooms with en-suite bathrooms and walk-through closets, a modern kitchen, open dining area, and living room along with both master suites. All rooms have a view to pools and the 18-hole golf course. On site, there is a full-service beach club, restaurants, snack bar, pool, gym and paddle courts. Additionally, one of the bedrooms has a "lock-off" feature, meaning you can rent it separately and make some money on your condo while using the other side of the condo.
Akumal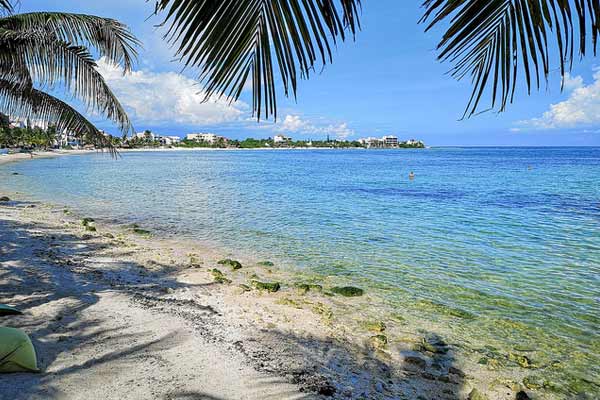 The Caribbean doesn't get much more charming than Akumal. Unlike Playa del Carmen, which is a busy, high-energy city, Akumal is still a relatively small outpost on the Caribbean Sea, with a local town (or pueblo) on one side of the highway and a world-famous beach on the other.
Akumal's beach is the jewel in the crown of the location, home to wildlife, snorkeling, and quirkly little bars and restaurants serving seafood fresh off the boat. "Akumal" means "Place of the Turtles" in the Maya language and the moniker is certainly fitting. Tourists stream to Akumal in the hopes of snorkeling with the endangered sea turtles, who favor the water. Tropical fish, reef life, and massive rays are all a feature, too. You'll also find plenty of cenotes nearby—natural swimming holes that are common and notable about this part of the world.
Akumal is growing in popularity year by year, but land and homes are limited in availability on the beach side. Still, there's a chance to pick up some stunning Riviera Maya real estate here, owning a Caribbean pad for a fraction of the price you might expect.
Here's just a selection of the Riviera Maya property available in Akumal at the time of writing:
– Two-bedroom condos in a desirable gated community for $182,798. Less than a 10-minute drive from Akumal beach is where you'll find two-bedroom condos, recently built, that are extremely livable. The gated community has 24-hour security and restricted access. Walk past the tropical gardens and you'll come to one mile of pristine beach frontage where you can enjoy the private Beach Club.
These two-bedroom condos also come with access to a 500-foot pool, private parking, jacuzzi, games area, children's playground, gym, and concierge service.
– Two-bedroom oceanfront condo for $315,000. An older condo, built in 1998, lists for $315,000. Located on the shore of one of the prettiest stretches of coast in Akumal, Halfmoon Bay, the 1,000-square-foot condo comes with two bedrooms, two bathrooms, a fully equipped kitchen with breakfast bar, and spacious living area. You can enjoy the ocean views from a deckchair on the terrace or take a walk to restaurants, stores, cafes, or a dive shop. Appliances and air con are included in the price.
Tulúm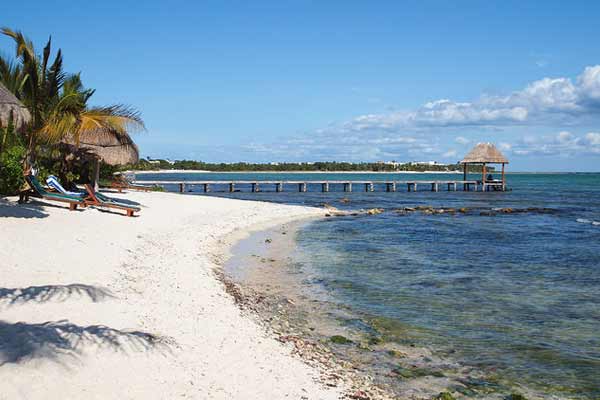 When International Living founder Bill Bonner visited Tulúm in 1981, he described it as "an exotic, offbeat, beautiful, and very inexpensive place to stay." He described a low-key, hippy-chic beach destination for a "new crop of flower children" who listened to The Grateful Dead on the radio, stayed in cabins on the beach, and swam naked in the surf.
Today, there are fewer naked swimmers, but that hippy-chic vibe has not only survived but prospered, transforming Tulúm into a destination for a new breed of travelers looking to slow down, relax, and recharge their spiritual batteries. Today, you'll see trendy people doing yoga and meditation on the beach; lines of trendsetters and followers waiting to get in to fashionably rustic restaurants; and people paying $500 to $1,000 a night to stay in one of the beach cabins.
Then, of course, there are the Mayan ruins, among the most famous on this coast. Add those to the chilled-out atmosphere, incredible eateries, and the exceptional white-sand beaches, flanked by palm trees, and you have the recipe for a seriously desirable Caribbean destination.
Surprisingly, though Tulúm's cachet is increasing all the time with celebrities seeking a sun spot that nourishes the soul, Tulúm still offers some extremely affordable Riviera Maya real estate.
Take these Riviera Maya property listings that were available at time of writing:
– A five-acre lot a short drive or cycle from the beach for $100,000. If you'd rather build your own dream home than buy into someone else's, there are good land deals to be had in Tulúm. One recent deal is a five-acre lot in an eco-chic community for $100,000. The lot is located close to dense tropical jungle, so you can watch spider monkeys playing in the trees, massive butterflies and colorful birds such as toucans flying around, foxes and even jaguars if you're lucky.
– A compact, one-bedroom condo for $159,900. In Tulúm, the living is outdoors, so if you're comfortable with a smaller space, $159,900 could get you a 580-square-foot, one-bedroom condo in Tulúm town. This newer community features 24-hour security, a pool, bar, cafe, reading room, gym, spa and yoga studio, and even a pet care center with spa!
– Two-bedroom, 2,045-square-foot penthouse with rooftop solarium for $300,000. Located in one Tulúm's most noted communities, this penthouse is well located to enjoy the best of everything that Tulúm has to offer: the beach, the ruins, and the expanding town. In addition to two spacious bedrooms (with built-in closets and two full bathrooms), the penthouse also has an indoor and outdoor kitchen area, shaded palapas on the terrace, a Jacuzzi outside, and air conditioning throughout the property. Additionally, though the community is in the heart of a jungle landscape, world-class, high-speed Internet comes with the penthouse.
What You Need to Know About Buying Real Estate on the Riviera Maya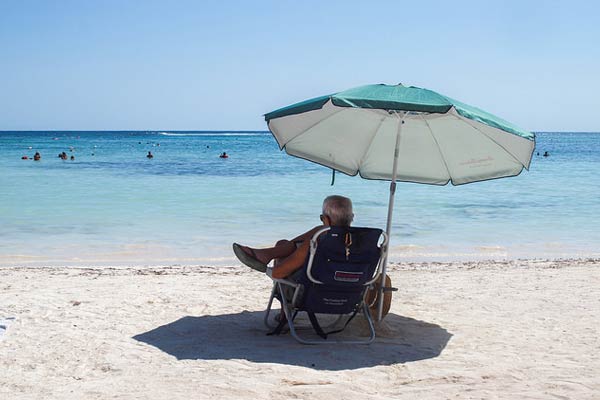 Buying Riviera Maya real estate can be easier and more affordable than you might have imagined; a slice of Caribbean paradise could be yours for a fraction of what you'd pay for a smaller pad back home.
Still, there are a couple of things you should keep in mind if you're considering buying on the Riviera Maya.
Title Issues – Make Sure You Can Own That Beachfront Property
The right piece of beachfront land may sound like a great buy. But be careful that you can actually own it. Most countries overseas have a section of the beach related to the high-water mark where you cannot legally own a property.
In Mexico, all residential property located within 100 kilometers from any border, or 50 kilometers from any coastline, will need to be acquired through the use of a Fideicomiso, also known as a Real Estate Bank Trust.
The fideicomiso creates a trust agreement for the benefit of the foreign buyer, and the bank takes on a fiduciary obligation to the owner. The owner retains all the benefits of ownership and has the legal right to lease the property, sell the property, and will the property to their heirs.
The one-time cost for establishing a trust as of 2015 was $1,990.00 (this quote includes one annual bank fee payment in advance). There is also an annual bank fee for the maintenance of the trust. The annual fee is based upon a percentage of the value of the home—$500 to $550 approximately.
There is little consistency with regard to what banks charge for this fee, so it is a good idea to shop around. A home in the $200,000 range will have a yearly fee of approximately $550 per year. Trusts are currently 50-year documents and they can be renewed at the end of the 50-year term for an additional 50 years. There is no limit to the number of times the trust can be renewed. The renewal fee is currently approximately $900.
Additionally, in Mexico, if land was formerly ejido (indigenous-owned) land, tread carefully. This can be a potential landmine, as someone may be able to lay claim to your property in the future. Ejido land can be titled but it's a complicated process and your attorney will have to do extra checks to make sure that the title is clear, and everything was done correctly.
Once you have these issues checked out, you can start enjoying your Riviera Maya real estate…and your holding costs will be low. Though property taxes vary by municipalities, on a $265,000 Riviera Maya home, you can expect to pay about $200 per year in property taxes.
Condo fees vary from community to community but are generally much lower than what you would pay at home.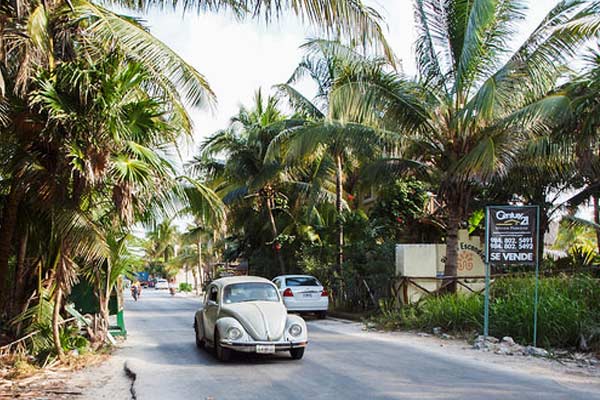 There are some great real estate bargains to be had on the Riviera Maya—but they get even better when you follow the expert's recommendations.
Ronan McMahon, who is director of Pathfinder, International Living's preferred real estate advertiser, has identified some strong moneymaking opportunities on the Riviera Maya for members of his Real Estate Trend Alert group.
In Playa del Carmen, in 2013, he recommended rentable condos from $136,500. As of October 2018, one of those condos could list for $230,000. Additionally, an owner could conservatively gross $20,000 in rental income a year.
In late 2016, he recommended one-bed condos in an up-and-coming neighborhood for as little as $143,800. As of September 2018, the local market was paying $209,500. That's a quick gain of $65,700 for RETA members.
In April 2017, members of his Real Estate Trend Alert group locked down Playa condos from $193,800. Less than three months later, the developer opened up these condos to friends and family. Their price was $255,000 to $290,000. One of those condos could rent for $30,000 to $40,000 a year or more.
It's not just in Playa where members of that group have seen success. Ronan recommended condos in Tulúm in October 2017 with pricing from as little as $154,500. In January 2018, the developer had his retail launch, and those members that paid $154,500 were already looking at paper gains of more than $70,000. One of those condos, when delivered, will have high rental appeal. Similar condos rent for $35,000 gross a year. That's how profitable the right real estate deal on the Riviera Maya can be.