It's a dramatic sight. Condo buildings hug the shoreline, towering above the yellow-sand beach, and brilliant blue Pacific. The foothills of the Sierra Madre Mountains loom above, the hillsides covered in white and brick buildings where it's not lush jungle. Thanks to the curve of the vast Bay of Banderas, one of the world's largest, you can see development far down the coast.
Set on Mexico's central Pacific coast, Puerto Vallarta first gained fame in the 1960s, when it served as the setting for the classic film, Night of the Iguana, starring Elizabeth Taylor and Richard Burton. In the decades since then this once quiet fishing village has grown exponentially into the world-class and world-famous vacation destination it is today, attracting travelers from around the world, as well as a large contingent of retirees and other expats—most from the U.S. and Canada. The heart of PV is the Zona Romantica, also known as Old Town. It's a pedestrian friendly zone of narrow streets and historic buildings mixed in with modern construction. Here you can find shops, bakeries, cafes, restaurants, condo buildings, and more within a stone's throw of the water.
The outskirts of the town are modern, with large shopping malls, big box, stores, marinas, and large housing developments, including the showpiece Nuevo Vallarta residential and resort complex.
Retire in Puerto Vallarta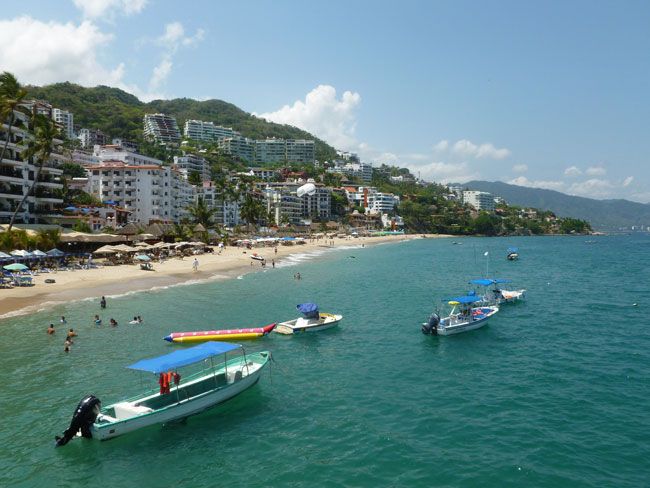 A big attraction for many retirees is that it's never cold in Puerto Vallarta. Granted it can get quite warm and humid, especially in summer time, with the height in August and September. But in North American winter and early spring—December to April roughly—it's very comfortable with low humidity—temps in the lower 80s F. That's when many "snowbirds," especially from Canada and the northern United States, fill PV and it can be hard to get a restaurant reservation.
Among these part-timers, many rent. There are one or two-bedroom condos within walking distance of the beach and the entertainment district, Zona Romantica, starting at $600 to $700.
Of course, there are plenty of full-time expats in Puerto Vallarta as well. Many of them buy property. Condos within walking distance of the beach (condos are the most popular and common housing option) start at around $109,000 and include amenities like 24-hour security and a community pool.
Living in Puerto Vallarta is convenient for retirees. You can find any convenience you might need. You have a large international airport with plenty of direct flights from multiple cities in Canada and the U.S. That makes it easy to make trips back to your hometown or to welcome visitors to your new home.
The medical care is top notch, with several world-class private hospitals and clinics, including specialist care. Doctor visits are generally about $40. For many full-time retirees in PV who become residents, they take advantage of Mexico's public healthcare system and pay a small premium for quality care. There is low cost dental care as well–even major dental work is a fraction of the cost in the U.S. and Canada.
Plus, local shops offer any item you need, including many imported products you'll recognize from home.
Lifestyle in Puerto Vallarta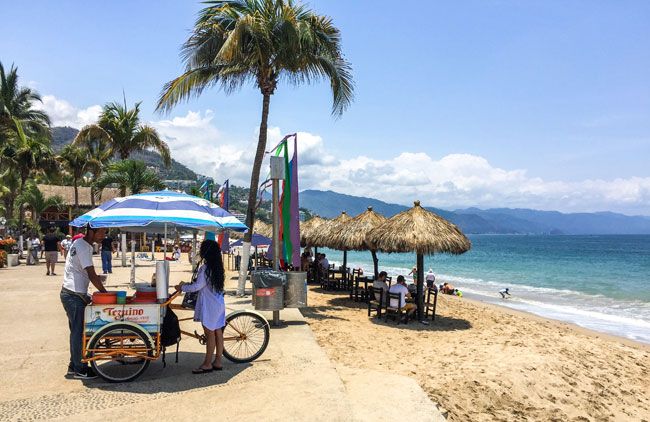 There's always something going on in Puerto Vallarta. As a tourism destination, there are plenty of entertainment options, as well as great dining and other activities.
You'll find plenty of bars and restaurants with an ocean view on the malecon, a miles-long boardwalk. They offer any cuisine you might think of: Italian, sushi, Argentinian, pub grub, fresh seafood, Mexican (from every region of the country), and much more. There are casual places and fine dining options there, and in the popular Zona Romantica district too. You eat well in Puerto Vallarta.
A favorite activity of expats and vacationers alike is to enjoy a meal on Los Muertos beach, which has several eateries right on the sand. You can enjoy breakfast, brunch, lunch, or dinner…or sunset drinks overlooking the Pacific.
There are also plenty of options for live music and more, including a new theater and piano bar called Incanto, a new venue in town. There, and at other establishments, you can see jazz, classical, rock, acoustic guitar, and many other genres. And ticket prices are much lower than you'd find in the U.S. or Europe, even though this is professional level entertainment.
If you come to live in Puerto Vallarta it helps to like the beach. It's a hub of activity, especially in the winter months. Beach umbrellas and loungers for rent line the beachfront and there are plenty of places to order a cold drink—the waiters come to you. You can go parasailing or just lounge and watch the water.
The expat community is very active, with plenty of get-togethers, dinner parties, beach days, brunches, and more. Expats are also active in volunteering in the local community and hosting fundraisers for charities.
Of course, a lot of the fun in this seaside town is on the water. If you're a boater, you can find a slip at the marina on the north edge of town, near the airport, or in Nuevo Vallarta, a planned community and resort area about 30 minutes north of the town center. The Bay of Banderas is a great place for a day out sailing. You can go sport fishing or whale watching. Many expats with boats head to small seaside villages up the coast…places like Yelapa, where you can anchor offshore and wander in to enjoy lunch and a relaxing day on an uncrowded beach
Cost of Living in Puerto Vallarta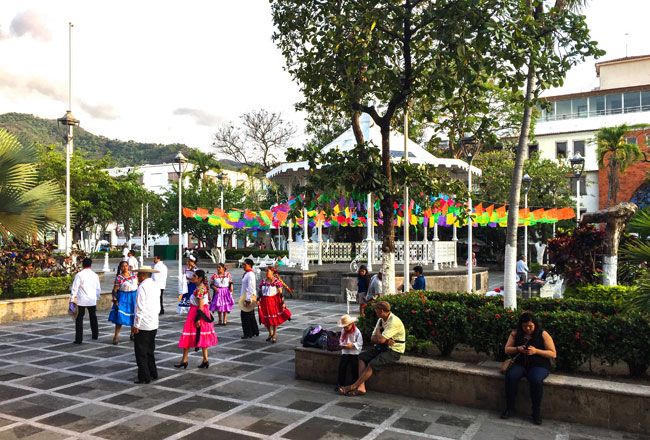 Mexico in general offers a lower cost of living and even though Puerto Vallarta is a tourist spot, it does as well. You can live well for less in this beautiful seaside town. A typical retired couple should budget under $3,000 for a month's expenses—all in.
Here's an example of a monthly budget and typical prices for a couple living in Puerto Vallarta:
| | |
| --- | --- |
|  Expense |  U.S. $ |
| Rent (two-bedroom apartment) | $900 |
|  Electricity |  $150 |
|  Gas & Water |  $30 |
|  Cell Phones (2) |  $40 |
|  Groceries & Household Items |  $300 |
|  Insurance |  $100 |
|  Internet |  $60 |
|  Streaming Media Accounts |  $45 |
|  Property Tax |  $44 |
|  Dining Out |  $300 |
|  Taxis, Buses |  $80 |
|  Total |  $2,049 |