Guide to Puerto Vallarta, Mexico: Cost of Living, Safety and Things to Do
It's a dramatic sight. Condo buildings hug the shoreline, towering above the yellow-sand beach, and brilliant blue Pacific. The foothills of the Sierra Madre Mountains loom above, the hillsides covered in white and brick buildings where it's not lush jungle. Thanks to the curve of the vast Bay of Banderas, one of the world's largest, you can see development far down the coast.
Set on Mexico's central Pacific coast, Puerto Vallarta first gained fame in the 1960s, when it served as the setting for the classic film, Night of the Iguana, starring Elizabeth Taylor and Richard Burton. In the decades since then this once quiet fishing village has grown exponentially into the world-class and world-famous vacation destination it is today, attracting travelers from around the world, as well as a large contingent of retirees and other expats—most from the U.S. and Canada. The heart of PV is the Zona Romantica, also known as Old Town. It's a pedestrian friendly zone of narrow streets and historic buildings mixed in with modern construction. Here you can find shops, bakeries, cafes, restaurants, condo buildings, and more within a stone's throw of the water.
The outskirts of the town are modern, with large shopping malls, big box, stores, marinas, and large housing developments, including the showpiece Nuevo Vallarta residential and resort complex.
Get Your Free Mexico Report Here:
Learn more about Mexico and other countries in our daily postcard e-letter. Simply enter your email address below and we'll send you a free special report - Why Millions of Americans Are Moving to Mexico.
This special guide covers real estate, retirement and more in Mexico and is yours free when you sign up for our postcards below.
Retire in Puerto Vallarta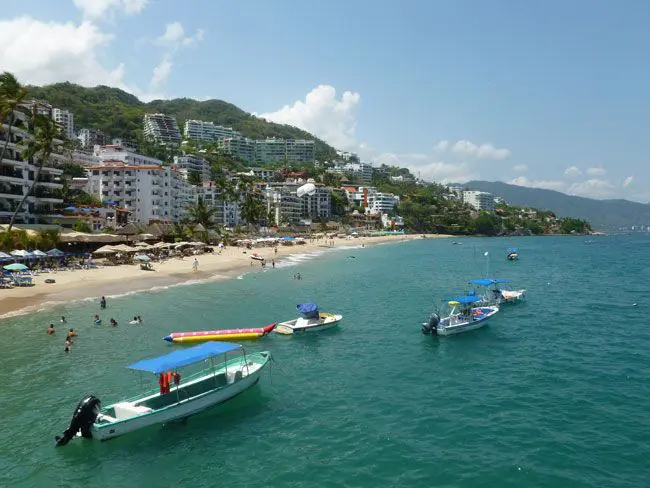 A big attraction for many retirees is that it's never cold in Puerto Vallarta. Granted it can get quite warm and humid, especially in summer time, with the height in August and September. But in North American winter and early spring—December to April roughly—it's very comfortable with low humidity—temps in the lower 80s F. That's when many "snowbirds," especially from Canada and the northern United States, fill PV and it can be hard to get a restaurant reservation.
Among these part-timers, many rent. There are one or two-bedroom condos within walking distance of the beach and the entertainment district, Zona Romantica, starting at $600 to $700.
Of course, there are plenty of full-time expats in Puerto Vallarta as well. Many of them buy property. Condos within walking distance of the beach (condos are the most popular and common housing option) start at around $109,000 and include amenities like 24-hour security and a community pool.
Living in Puerto Vallarta is convenient for retirees. You can find any convenience you might need. You have a large international airport with plenty of direct flights from multiple cities in Canada and the U.S. That makes it easy to make trips back to your hometown or to welcome visitors to your new home.
The medical care is top notch, with several world-class private hospitals and clinics, including specialist care. Doctor visits are generally about $40. For many full-time retirees in PV who become residents, they take advantage of Mexico's public healthcare system and pay a small premium for quality care. There is low cost dental care as well–even major dental work is a fraction of the cost in the U.S. and Canada.
Plus, local shops offer any item you need, including many imported products you'll recognize from home.

Lifestyle in Puerto Vallarta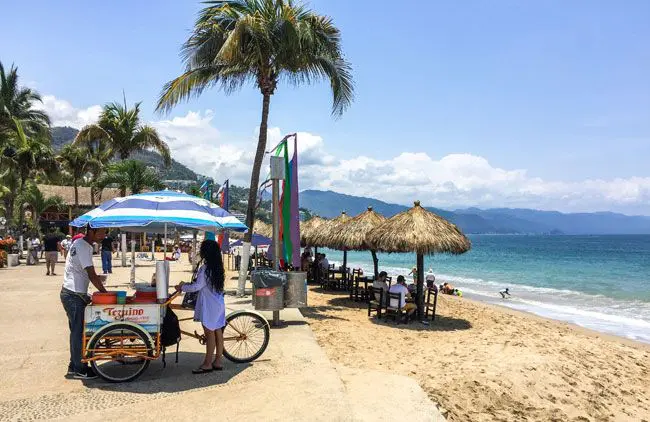 There's always something going on in Puerto Vallarta. As a tourism destination, there are plenty of entertainment options, as well as great dining and other activities.
You'll find plenty of bars and restaurants with an ocean view on the malecon, a miles-long boardwalk. They offer any cuisine you might think of: Italian, sushi, Argentinian, pub grub, fresh seafood, Mexican (from every region of the country), and much more. There are casual places and fine dining options there, and in the popular Zona Romantica district too. You eat well in Puerto Vallarta.
A favorite activity of expats and vacationers alike is to enjoy a meal on Los Muertos beach, which has several eateries right on the sand. You can enjoy breakfast, brunch, lunch, or dinner…or sunset drinks overlooking the Pacific.
There are also plenty of options for live music and more, including a new theater and piano bar called Incanto, a new venue in town. There, and at other establishments, you can see jazz, classical, rock, acoustic guitar, and many other genres. And ticket prices are much lower than you'd find in the U.S. or Europe, even though this is professional level entertainment.
If you come to live in Puerto Vallarta it helps to like the beach. It's a hub of activity, especially in the winter months. Beach umbrellas and loungers for rent line the beachfront and there are plenty of places to order a cold drink—the waiters come to you. You can go parasailing or just lounge and watch the water.
The expat community is very active, with plenty of get-togethers, dinner parties, beach days, brunches, and more. Expats are also active in volunteering in the local community and hosting fundraisers for charities.
Of course, a lot of the fun in this seaside town is on the water. If you're a boater, you can find a slip at the marina on the north edge of town, near the airport, or in Nuevo Vallarta, a planned community and resort area about 30 minutes north of the town center. The Bay of Banderas is a great place for a day out sailing. You can go sport fishing or whale watching. Many expats with boats head to small seaside villages up the coast…places like Yelapa, where you can anchor offshore and wander in to enjoy lunch and a relaxing day on an uncrowded beach

Cost of Living in Puerto Vallarta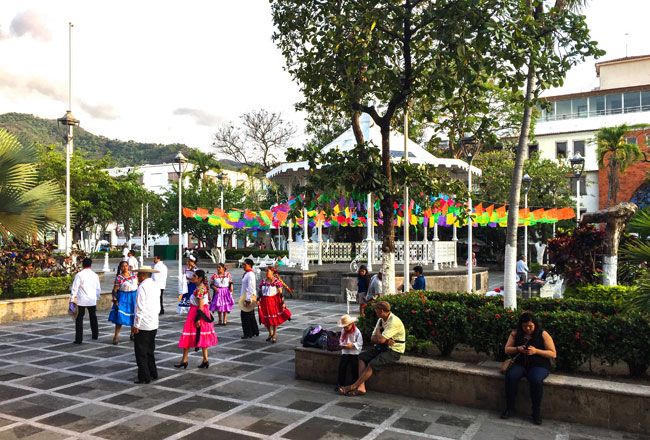 Mexico in general offers a lower cost of living and even though Puerto Vallarta is a tourist spot, it does as well. You can live well for less in this beautiful seaside town. A typical retired couple should budget under $3,000 for a month's expenses—all in.
Here's an example of a monthly budget and typical prices for a couple living in Puerto Vallarta:
| | |
| --- | --- |
| Expense |  U.S. $ |
| Rent (two-bedroom apartment) | $900 |
| Electricity |  $150 |
| Gas & Water |  $30 |
| Cell Phones (2) |  $40 |
| Groceries & Household Items |  $300 |
| Insurance |  $100 |
| Internet |  $60 |
| Streaming Media Accounts |  $45 |
| Property Tax |  $44 |
| Dining Out |  $300 |
| Taxis, Buses |  $80 |
| Total: |  $2,049 |
Get Your Free Mexico Report Here:
Learn more about Mexico and other countries in our daily postcard e-letter. Simply enter your email address below and we'll send you a free special report - Why Millions of Americans Are Moving to Mexico.
This special guide covers real estate, retirement and more in Mexico and is yours free when you sign up for our postcards below.
Things to Do in Puerto Vallarta
By Jason Holland
Seventy years ago Puerto Vallarta was a sleepy seaside village on Mexico's central Pacific coast. Then in the 1950s, 1960s, and 1970s Hollywood and the international jet-set, and then mainstream tourists, discovered its charms and it grew into one of the world's best-loved beach destinations.
Picture jungle covered hills dotted with condos and homes cascading down to the coast. A pedestrian friendly, frenetic centro and condo towers lining the sand. A busy beach lined with beach chairs, with plenty of restaurants and bars offering cold drinks and snacks. A world-class dining and nightlife scene.
The current population is about 250,000 in the metro area. And a good number of those folks are full-time or part-time expats, mostly from the U.S. and Canada. Many visited Puerto Vallarta on vacation and decided that the lifestyle suited them.
With all the benefits afforded to those living in Puerto Vallarta, it's no surprise. It's not all vacation fun. There are also plenty of features that make it comfortable for long-term living.
There's a major international airport with plenty of direct flights north. There are high quality hospitals and clinics. Big box stores and traditional markets make shopping easy. Modern conveniences like high-speed internet, and cell phone service are reliable. The weather is warm year-round, although for some the heat and humidity of summer can be stifling. And, like the rest of Mexico, the cost of living is low.
January to April is "high season" in Puerto Vallarta, when many snowbirds flock here to escape the winter weather back in the U.S. This is also when P.V. has the coolest weather (averaging in the mid-80s F) and the least humidity. The bump in population is quite noticeable, so make those restaurant reservations early.
1. The Beach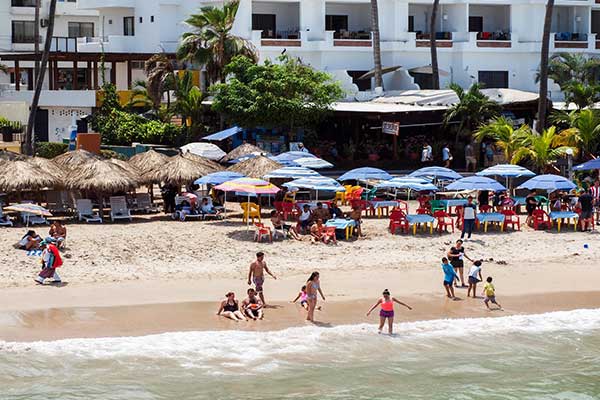 Set on the Bahia de Banderas, which stretches 62 miles from end to end, Puerto Vallarta has many beaches to choose from. Perhaps the most famous is Playa Los Muertos, which is right in the heart of the town. It can be crowded, with the sand lined with restaurants and bars, many of which rent chairs and umbrellas (or offer them free if you order food and drink). This is an active beach with vendors strolling by selling crafts and grilled shrimp. If you want to parasail there is plenty of that, too.
To the north of the main city are the quieter Playa de Oro and Playa los Tules which is known for its sea turtle rescue station, which helps protect nests and get baby turtles safely to sea. There are also some large resorts here.
For a bit of adventure, you can take a water taxi tour 40 minutes south to Yelapa, which is a small fishing village turned day trip spot, with a pristine beach and a few restaurants.
2. Dining Out and Nightlife

As a vacation destination which is popular with visitors from around the world, there is no shortage of restaurants with every type of cuisine. Everything from street corner taco stands to gourmet fine dining is available. For expats, dining out with friends is a popular activity any night of the week. Often the evening starts with sunset happy hour drinks on the water, or up on the hill with a view.
If you want a water view try a place on the malecon, a miles-long seaside promenade in the heart of town. You can even find restaurants with tables right on the sand, especially in Playa Los Muertos.  Other go-to dining districts include the Zona Romantica, also known as Emiliano Zapata. You'll even find craft microbreweries in this area. Meals for two, including wine and dessert, rarely go above $40.
3. Entertainment and Cultural Events

© diegograndi/iStock.com
Gypsy jazz, classic rock, singer-songwriter, mariachi, salsa, blues, opera, classical…any type of live music you can think of…is probably playing in one of Puerto Vallarta's venues, which include theaters, piano bars, restaurants, and bars. There are also theaters, karaoke, open mic nights, and dance clubs.
Entertainers could be locals or brought in by venue owners from North America and Europe. These are professional performers that put on a show. One place to check out is Incanto, which has a full calendar of music and other live performances; they even do a bingo night with a funny host.
Although Puerto Vallarta, being such a tourism hotspot, does have many foreign influences, it's still very much a Mexican town. So you can expect big parades and other public celebrations throughout the year.
Dia de Muertos (Day of the Dead) is traditionally a time for Mexican families to honor their deceased loved ones, taking place on Nov. 1 and 2. But it has turned into kind of a party, with locals and expats alike painting their faces as catrins or catrinas (skeletons) and hitting the town.
Other major holidays include Mexican independence day on Sept. 16 and the pilgrimages and parades celebrating Puerto Vallarta's patron saint, the Virgin of Guadalupe, in the first part of December.
The municipal government puts on frequent performances of folkloric dancing and music at the amphitheater downtown, on the malecon. And you also have music festivals, art festivals, gourmet food festivals, and more at various spots in and around town.
4. Watersports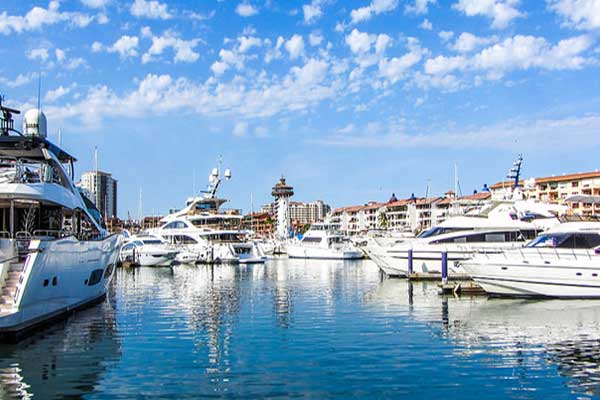 A favorite activity amongst tourists and expats alike is a day out on the water. The vast Bahia de Banderas provides the ultimate setting for boating.
Some expats have their own boat at the large, full-service marina to the north of town, near the airport. You can also hire a charter or join a tour. There are sunset sails, trips up and down the coast to unspoiled beaches you can only get to by boat, and stops for lunch at small fishing villages. From December to March, you can hope to catch a glimpse of migrating humpback whales. Of course, you can also go fishing and hope to catch marlin, sailfish, and tuna
For surfers the towns of Sayulita and San Francisco (popularly known as San Pancho) about a one-hour drive to the north, offer world-class waves. When the water is calm standup paddle boarding is the go-to. 
The Takeaway
For fun in the sun, you can't beat Puerto Vallarta. There is no shortage of things to do whether you're in the water, at the beach, or in town. And with so many activities and free or low cost entertainment, you can indulge whenever you want.

Is Puerto Vallarta Safe?
By Jason Holland
With more than 3 million visitors in 2017, Puerto Vallarta is one of Mexico's most popular beach destinations. The growth of this city on the Bay of Banderas on the Pacific coast has been significant in recent years as far as hotels, condos, resorts, restaurants, shops, and other tourist development, as has the population of residents who've come in search of sought-after tourism industry jobs.
The current population is approximately 250,000. And the town's expat population swells during winter, which is when snowbirds arrive. During Semana Santa (Easter week) and between Christmas and New Year's Mexicans from all over the country come in great numbers as well.
It's a far cry from the small fishing village that first drew Elizabeth Taylor and Richard Burton here for the classic film Night of the Iguana. But it's still a fun place to be with beautiful beaches, warm weather year-round, and great entertainment.
Crime in Puerto Vallarta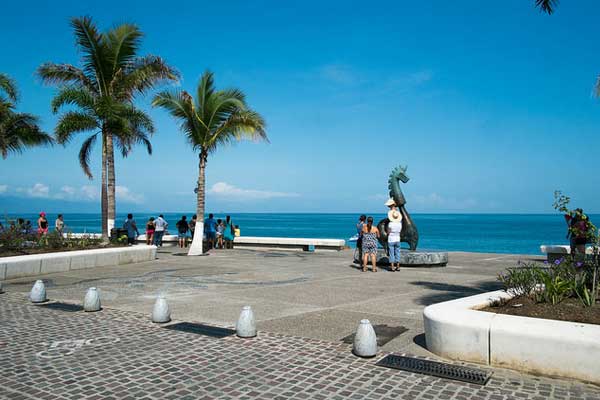 With any city of this size there is crime. But thankfully, Puerto Vallarta continues to be one of the safest and friendliest cities in Mexico for international visitors, national tourists, and expats alike. Part of that is the result of a heavy police and military presence. In short, the government knows that this area brings in a lot of tourist dollars and wants to keep it secure.
Evening strolls along the waterfront malecon, restaurant-hopping in Old Town, and late night bar hopping—no problem, although as you would in any city, you should keep aware of your surroundings and take care not to imbibe too much lest you get lost on the way home.
In general though, few tourists or expats are victims of crime, especially considering how many there are in town. And there is a low level of violent crime.
What you will find here is petty crime…crimes of opportunity. It's something you see in tourist spots all over the world.
Take care not to leave a purse on a table when you go to the bathroom. Don't leave valuables on your towel at the beach when you head out for a swim. Be sure to not leave valuables in your car either. And use the safe in your hotel room or get one if you live in a condo or home to store cash, jewelry, passports, and other important items.
Is it Safe to Walk Around Puerto Vallarta?
One thing I am always cautious of in Puerto Vallarta, and all over Mexico and Latin America, is paying attention while walking around. Sidewalks aren't always well-maintained, with holes or loose tiles. And construction zones aren't always well-marked. Plus, some drivers aren't as conscious of pedestrians as they should be. So I always take extra care when traveling on foot.
If there is some sort of accident, luckily Puerto Vallarta does have quality medical care at local clinics and hospitals, including emergency care.
Puerto Vallarta overall is a safe place, where you can enjoy fun in the sun, if you take a few simple precautions.

Video: What It's Really Like to Live In Puerto Vallarta, Mexico
Mark and Kirsten Raccuia have spent the last 6 months in Puerto Vallarta and in this video, they show you what it's like to live there as an expat.
Visit the Beautiful Beaches of Puerto Vallarta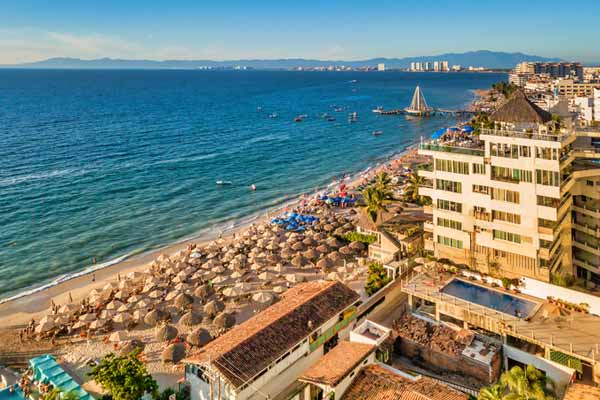 Written by Marcia Gage
Puerto Vallarta, which sits surrounded by the Sierra Madres on the breathtaking Banderas Bay, continues to grow in popularity with both expats and international tourists. Millions of warm-weather seekers flock to Vallarta every year with hundreds of thousands of those individuals coming off cruise ships.
These vacationers come to escape winter, for the savory food offerings, the cold cervezas and colorful margaritas, and the vibrant culture. But, perhaps the biggest draw to this tropical paradise lies in its wide variety of beaches.
As the fifth-largest bay in the world, Bahia de Banderas boasts no shortages of beaches. Many of these carved out spots for sun-worshipping and water fun exist right in Puerto Vallarta and nearby areas. And no matter what you're looking for in a beach-based vacation, Puerto Vallarta boasts the perfect beach for you.
Beaches Right in Town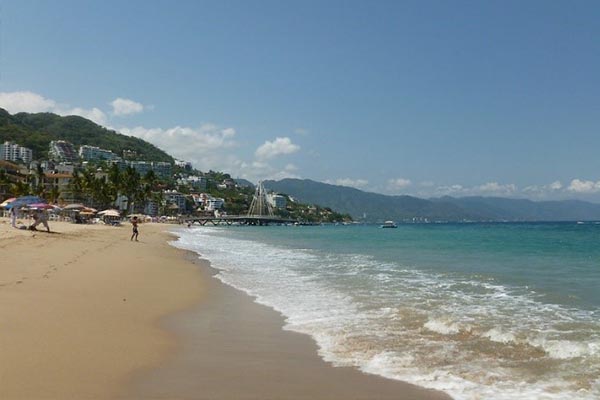 If you're on a relatively short holiday or perhaps a limited time to enjoy Puerto Vallarta as a port-of-call from your cruise ship, you may want to stay away from cabs, buses, and other vehicles as much as possible. You don't need to travel far for an enjoyable beach experience right in the heart of PV.
Playa Los Muertos:
Los Muertos Beach represents one of the most iconic spots in Puerto Vallarta. Located in Old Town or 'Zona Romantica,' it starts at the show-stopping Muelle Pier on Francisco Rodriguez Street. It continues for about a mile north down the statue-lined malecon. The location represents a short Uber or taxi ride from the cruise ships. With beachfront hotels like San Marino and Los Arcos (both with all-inclusive options), it represents an excellent spot for a romantic getaway or a family vacation.
Playa Los Muertos translates to 'Beach of the Dead' and the history and rumors claiming the area as an indigenous burial ground gives some credence to that name.
But, ironically, this beach overflows with life. Whether you opt for a chair right on the beach or find a seat at one of the restaurants that line the famous malecon, this area represents an excellent place for people-watching.
All your senses may experience overload with strolling vendors selling everything from local art to huge mangos carved into flowers optionally seasoned with chili and lime. Aromas of fresh fish and grilled shrimp waft from the restaurants while native dancers and mariachis make their rounds up and down the malecon. If you're not in the market for a handwoven rug or spicy shrimp on a stick, make sure your smile and 'no gracias' follow the presentation. Remember, the vendors make their living there. Also, come prepared with some change or small bills to tip entertainers. Even as little as 10 pesos shows your appreciation.
But no matter how busy and energized Los Muertos Beach seems, the real stars of the show involve Banderas Bay itself and the Sierra Madres that frame the beautiful scene. Many find it joyful to watch the antics of the pelicans and frigate birds. And, if you're lucky, you may spot a pod of humpbacks in the distance.
Playa Camarones:
If you keep wandering north on the malecon, you will eventually reach the square that surrounds the church of Our Lady of Guadalupe. You've undoubtedly seen this landmark with its lace-looking dome in pictures and films. This location marks the unofficial beginning of the Centro or 5 de diciembre neighborhood. Not far from the church, you will find a much quieter and serene beach. Playa Camarones or Shrimp Beach represents a peaceful alternative for those looking for total relaxation.
Fewer vendors and tourists translate to not as many restaurants and other attractions. A couple of popular gathering spots for both visitors and residents, however, include Barracuda's and Layla's.
Though the people-watching may not represent the diverse show you'll see at the neighboring Los Muertos; some say, whale breaches may occur more frequently. Very nice swimming areas still exist on Camarones, and other water sports take place as well.
Traveling South from the City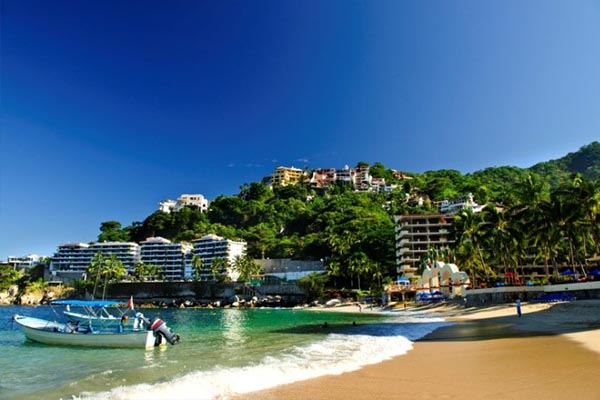 If you're looking for a significant drop in blood pressure, head toward one of the beaches just south of the city. Depending on your physical capabilities, you may reach these fantasy-type beaches via car, taxi, bus, tour, or water taxi. If you don't care to drive a rental car, private drivers charge reasonable rates to assist in your perfect beach day. Check out some of these favorites of the locals and tourists alike:
Conchas Chinas:
For those in reasonably good shape, if you continue walking past the southern tip of Los Muertos, winding trails and a bit of a climb will land you at Conchas Chinas. Also, an inexpensive taxi ride from the Amapas neighborhood will get you there. This beach shows off luxurious soft sand and dramatic cliff-filled vistas. Considerably less crowded, it supports fewer vendors and quite possibly more sightings of whales and other wildlife.
Punta Negra and Mismaloya:
As you keep traveling south along the bay, you'll get at least a glimpse of the famous bird sanctuary Los Arcos from the road and a better view by boat. Your trip to the southern beaches includes rocky coasts with crashing waves and endless shades of bougainvillea spilling out of rocks and window boxes.
You'll reach Punta Negra first, but know that the bus hardly leaves you right at the bay. It's a challenging walk, so if you're looking for relaxation rather than adventure, take a cab, Uber, or water taxi. The gorgeous sands and brilliant water make it worth the trip.
Mismaloya, while much quieter than the city beaches, represents an option that's a bit more accessible than some of the southern beaches. It's only about a 30-minute bus ride. Both of these beaches still offer quaint restaurants and eateries. You may also experience adventures from snorkeling to horseback riding, to tequila tastings.
Quimixto:
If you're a true nature lover, keep traveling south. Quimixto beach represents a true getaway for residents who want a break from bustling Vallarta. Fewer tourists and people, in general, mean fewer entertainment and dining options. Visitors flock to the one hotel or one established restaurant, Los Cocos. But, Nature's show highlighted by the dramatic waterfall more than makes up for the lack of restaurants and other diversions.
Las Gemelas and Las Animas:
Keep going toward the charming and authentic towns of El Tuito and Cabo Corrientes to experience the glorious sands and crystal waters of Las Gemelas and Las Animas. The dramatic waves invite you to bring your surfboard, and the unspoiled waters make it a perfect spot for snorkeling. Fewer people generally means more wildlife. You'll see more whales and sea turtles but fewer pigeons.
No matter what beach you choose, the Mexican sun deserves respect. Make sure to bring adequate sunscreen protection and insect repellent. And, while inviting, the Pacific Ocean also calls for attentiveness for everything from wading to boating.
This list represents just a sampling of the beaches of Puerto Vallarta. Come for a visit, and you might decide to stay.

Get Your Free Mexico Report Here:
Learn more about Mexico and other countries in our daily postcard e-letter. Simply enter your email address below and we'll send you a free special report - Why Millions of Americans Are Moving to Mexico.
This special guide covers real estate, retirement and more in Mexico and is yours free when you sign up for our postcards below.
How to Choose the Best Time to Visit Puerto Vallarta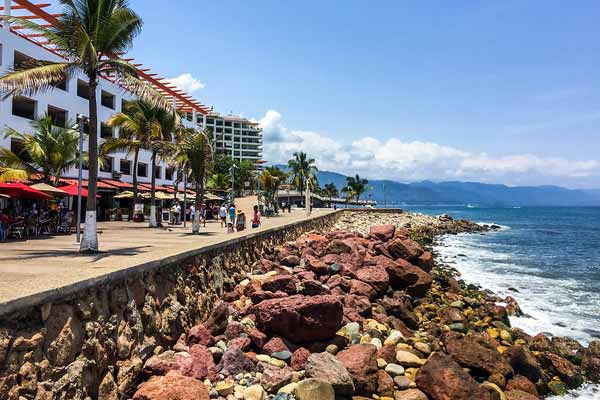 Written by Marcia Gage
Puerto Vallarta, though known as a popular resort destination, also constitutes a real Mexican city with a variety of cultural offerings.
Tourists flock to Puerto Vallarta for its beautiful beaches. Many people come to enjoy looking at the sea and mountain views while they sip margaritas. Others, take full advantage of the bay and ocean by indulging in water sports, and athletic types head for the mountains for hiking adventures.
If your plans include special activities that require your ideal weather forecast, consider the following:
Mid-November through May
For nearly seven months out of the year, Puerto Vallarta boasts what many would consider perfect weather. The daytime highs range between 78 F and 86 F and the lows range from about 55 F to 62 F making for ideal sleeping weather. Additionally, the humidity remains low, and rain rarely appears.
June
June represents a transitional month. The temperatures begin to rise, and so does the stickiness. Some people love June because the city becomes substantially quieter. You won't experience much of a problem getting a spot at the beach, but you might need to turn on the air-conditioning in the hotel room. June usually marks the beginning of the rainy season. As the humidity builds, so does the longing for the dramatic and cooling rains.
And, speaking of the rainy season, if you book a week's vacation in the summer months, don't despair if the forecast shows rain every day. Usually, it rains in the evening or early in the morning, lasting about an hour or so. If you're out and about, you will want to prepare for a sudden downpour. But, people who live here welcome the rains. The storms present a beautiful display of lightning bolts and spectacular skies as it brings down the humidity.
July through mid-October
If heat and humidity don't appeal to you, these months don't represent the best time to visit Puerto Vallarta. The highs climb into the low 90s F, and the lows don't drop below 70 F. The dramatic rains help with the humidity, but if you spend more than a few minutes away from air-conditioning, you will sweat. You should keep track of the hurricane forecasts, but due to the protection from the bay and mountains, Puerto Vallarta rarely gets hit hard. Heavy rains, however, do account for some street flooding during this time.
So, if you thrive on humidity and higher temperatures, don't shy away from a summer getaway in Puerto Vallarta. Many restaurants and hotels offer very reliable air-conditioning and special pricing.
Festivals and Events in Puerto Vallarta
You can't travel too far in Puerto Vallarta without experiencing the vibrant culture. In addition to the show Mother Nature provides, you will see everything from major galleries to individual vendors offering various art forms. Music, dance, and theater also present themselves throughout the city.
In addition to the ongoing activities, many other festivities take place throughout the year:
December through mid-March means its whale-watching season. The Orcas make a brief appearance, but the majestic humpbacks and their babies hang around until the second week of March. If you've never experienced these creatures, you need to put it on your bucket list. If you've gone whale-watching, you most likely can't wait to go again.
Puerto Vallarta represents a very romantic Valentine's Day destination. But, make sure to reserve your dinner spot. February 14th also celebrates friendship in Mexico with El Dia del Amor y Amistad.
Usually occurring in April, Semana Santa (Holy Week) and Semana Pascua (Resurrection Week) represent the busiest time of the year. If you like dramatic religious processions, cannons, crowds, and late-night parties, you may want to book a trip. But make sure you book early and verify your reservations.
Puerto Vallarta is one of the most popular LGBTQ destinations in Mexico. Its 'live and let live atmosphere' welcomes everyone. The city celebrates Gay Pride the third week of May with festivals, parties, and the Drag Derby.
Restaurant Week begins the second week of May and ends the first week of June. The better restaurants show off their best fare with three and four-course specials.
December through May means it's time to release the baby turtles. These events get scheduled sporadically, so if this represents one of your goals, make sure and check it out ahead of time.
September 14th through September 16th finds Mexicans celebrating their independence. On September 14th, the Charra parade takes place in PV in the center of town, complete with dancing horses, elaborate costumes, and Mexican marching bands. On September 15th and 16th, parties and fireworks galore take place. And, make sure you try Chili de Nogada. This dish displays the colors of the Mexican flag and it's only available around the Independence anniversary.
October 31st through November 2nd makes for a magical time in Puerto Vallarta. The kids dress up and trick or treat on the malecon for Halloween. On November 1st and 2nd, they celebrate Dia de Los Muertos. Ofrendas (or altars) and Catrinas take over the town. Make sure you make it to the Lady of Guadalupe Square and the cemetery to get the most out of this cultural experience. It's an excellent time for kids and 'Coco' fans to visit. But, bring allergy meds if you're allergic to marigolds.
The Mexicans start celebrating the Christmas holidays on December 1st. The Guadalupe processionals and parades complete with music, dancers, and floats take place through the 12th of the month. December 16th through the 24th represents Christmas Week brimming with gatherings, celebrations, and cannons. The holidays conclude with a fabulous fireworks display on the Malecon for NYE. If you don't like congestion, try to rent a place overlooking the bay.
The Vallarta Botanical Gardens also offers something special every month in addition to their incredible flora and fauna displays and exquisite restaurant.
Puerto Vallarta also does a terrific job of catering to expat holidays, not a part of Mexican tradition such as Canadian and American Thanksgiving.
The friendliness and helpfulness of Puerto Vallarta's people represent the best reason to visit. They welcome you any time of the year.

Get Your Free Mexico Report Here:
Learn more about Mexico and other countries in our daily postcard e-letter. Simply enter your email address below and we'll send you a free special report - Why Millions of Americans Are Moving to Mexico.
This special guide covers real estate, retirement and more in Mexico and is yours free when you sign up for our postcards below.
Where to Buy in, and Around, Puerto Vallarta
By Jason Holland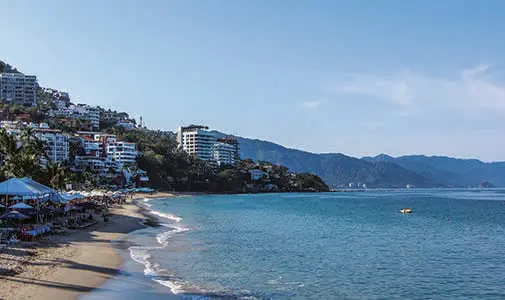 Before the 1960s, Puerto Vallarta was a simple port town, accessible only by boat or plane during rainy season, when the one road in over the mountains washed out.
Then Hollywood came to town. Director John Huston decided to film The Night of the Iguana in the undeveloped beach area of Mismaloya, just to the south of town. Puerto Vallarta was the only place with accommodation. The film's stars: Deborah Kerr, Ava Gardner, and Richard Burton took up residence. Soon, Burton invited Elizabeth Taylor down to stay. Their affair was the Hollywood scandal of the day, which lured the paparazzi and tabloid press.
Thus, the beautiful beaches, jungle-covered mountains, and charming old town of Puerto Vallarta were introduced to the world. The Mexican government, sensing opportunity, built a proper airport and roads. The rest, as they say, is history.
Nowadays, it's a resort town ready-made for fun vacations, whether you're looking to have everything taken care of for you at an all-inclusive; stay in an Airbnb in town and explore its little shops, margarita bars, and street taco stands; catch a show; play golf; go fishing, or hike in the jungle. It's all in Puerto Vallarta (or PV, as locals call it).
Even during the pandemic, PV stayed pretty busy. After a brief shutdown in early summer 2020, Mexico reopened to all with no quarantine or testing requirements.
As part of my latest trip, I was in town checking out a deal recently launched to members of Real Estate Trend Alert, as well as scouting out the sites of potential deals on the horizon.
But I also headed north, along the stretch of coast known as the Riviera Nayarit, to explore a string of cool little beach towns. All of them are within an hour or two of Puerto Vallarta, and offer a more relaxed experience than the buzzing "big city."
Puerto Vallarta
To this day, one of the most desirable neighborhoods in PV is the Zona Romantica, where Taylor and Burton lived all those years ago. This is where tourists and expats like to hang out, day and night.
Of course, it's led to this area having some of the priciest real estate, with two-bedroom condos with ocean views close to the beach going for $400,000…$500,000…$600,000 or more. Same with the Conchas Chinas district, nearby and up the hill.
Granted, these places are nice—full-on luxury, the views are stellar, and the location is ideal. But there are more affordable options that are still close to the beach.
The Centro neighborhood, for example, is right next to the Zona Romantica, a few minutes' walk along the malecón or through town. A lot of locals live here, and it's a more "practical" place as a result, with supermarkets, pharmacies, department stores, locksmiths, and the like. But it's an up-and-coming place, drawing visitors with art galleries, cool restaurants, hip cafés, and other interesting businesses.
And real estate here is more reasonable, although even in Centro it is tough to find two-bedroom condos for under $300,000. (But thanks to contacts with long-time local developers and group buying power, Real Estate Trend Alert members were able to get huge discounts in the heart of Centro. This was a preconstruction deal back in September 2021, with two-bedroom ocean-view condos available for $259,000.)
But my favorite discovery on my last trip was the Versalles neighborhood. Set back from the main road that runs from the airport through Centro and on to the Zona Romantica, this is a mostly residential neighborhood. Versalles is close to everything: the marina, the airport, the Zona Romantica, the beach. Yet, it's quiet.
For a long time, Versalles had simple homes and was popular with Mexican families. In recent years, developers have been putting up small condo buildings, six or so levels, with amenities like those you might find in the Zona Romantica: rooftop terraces with infinity pools, fitness centers, and the like. Two-bedroom units start in the mid $100,000s and run into the mid-$200,000s.
Some buildings are completed already, others are still being built, which means pre-construction opportunities. A two-bedroom condo, move-in ready, walking distance to all the fun in the neighborhood is listed at $160,000. Another two-bedroom condo, pre-construction, in a building planned to have a rooftop terrace and infinity pool, is available for $205,530.
Versalles has higher-end options too, like a penthouse condo, already built, for $399,000. It has two bedrooms and just over 2,400 square feet, with a large terrace that has a private dipping pool.
Aside from lower-cost condos, what's also brought a lot of buzz to this area is the restaurant and nightlife scene. Innovative chefs and retailers, forced out of the Zona Romantica by increasingly costly commercial leases, are setting up shop in Versalles. It's the hottest restaurant scene in town.
And there's great nightlife here too. But instead of booming clubs and rock bars like in the heart of town, it runs more to craft cocktails and jazz trios.
Nuevo Vallarta
Nuevo Vallarta is a massive master-planned community to the north of the airport. Along the beach, you have large resorts, as well as timeshares and condo buildings. Inland, gated communities offer a mix of townhomes, single-family homes, and condos. Some have full-on luxury mansions. It's quite self-contained, with a hospital, golf courses, fitness centers, marina, shopping plazas, restaurants, doctor's and dentist's offices, and shops.
Multi-million mansions to sub-$200,000 condos.
There is quite a range of price points, from multi-million mansions to sub-$200,000 one-bedroom condos. A two-bedroom unit, in a gated community within the El Tigre Golf and Country Club comes furnished and lists for $254,000. The community has its own pool and tropical garden areas, and residents get access to the El Tigre Beach Club and Sport Club, which has a fitness center, pools, and tennis courts. Also in El Tigre is a three-bedroom penthouse condo for $349,500. It comes furnished.
Bucerias
Go past the airport, past Nuevo Vallarta, and soon enough you hit Bucerias, a mid-sized seaside town.
The main north-south highway in the region runs right through it, and either side is the main commercial district, with shops, little restaurants, medical clinics, and other businesses. Large big box stores and supermarkets sit on the outskirts.
The beach here isn't the most attractive, in my opinion. And the main part of town is a mish-mash of architectural styles. Still, it has its fans. It's especially popular with Canadians, many of whom come as snowbirds.
There has been something of a building boom in Bucerias as of late, with 1990s-era condos being supplanted by new construction. You'll find pre-construction two-bedroom condos in the range of $250,000 to $300,000. That rises to $400,000 to $500,000 for penthouse units or something right on the beach.
A luxury three-bedroom condo, in a high-end community right on the beach with two pools, gym, and underground parking, is listed at $450,000. That's almost Puerto Vallarta pricing, but without the same level of restaurants, shopping, or entertainment options.
Go with older construction, and you can find more affordable options. On the southern side of town, in a small complex, is a three-bedroom condo, with a somewhat dated interior (and the common areas could use a facelift), for $205,000. It has a community pool, and you can walk to the beach.
For details on properties in Puerto Vallarta, Nuevo Vallarta, and Bucerias, go to: Cblacosta.com
Sayulita
Pioneering surfers were the first expats in Sayulita, starting in the '60s and '70s. They came in search of the perfect wave and found it in the gracefully arching bay.
Sayulita, although it's definitely not a budget destination anymore, retains its bohemian vibe. Buskers playing music for tips at outdoor restaurants. Chic boutiques selling home décor and flowing beach wear. Yoga and wellness spas. Cool little restaurants. And surfing is still huge. It still attracts the backpackers and the hippies. But that shaggy haired surfer walking through town barefoot could very well be a tech executive from Silicon Valley.
Homes, those on the hillside surrounding the bay with panoramic views, go for $700,000 and up. The closer to the beach and the better the view, the higher the price. These tend to be traditional Mexican-styled, yet high-end villas—often with cute names like Casa Sol Bonito.
Nevertheless, there are bargains here and there. A three-bedroom fixer-upper in the hills five minutes from the beach, in definite need of renovation, recently sold for $250,000.
There aren't many condos in town, and those that come up for sale go quickly.
One recent listing is a two-bedroom condo close to the beach and a 15-minute walk to "downtown" Sayulita available for $465,000. It comes fully furnished and features an ocean view—the sellers are throwing in a golf cart, which is a popular way to get around town. The community has a pool and tennis court.
San Pancho
Next door to Sayulita is San Pancho (officially San Francisco), which is quite similar. It's definitely a low-key bohemian beach village. Small-town vibe—check. Great surfing beach—check. No big resorts, no big hotels—check.
The main drag is lined with cool little restaurants, cafés, and hip boutique shops. San Pancho is definitely not a party town. Think vegan restaurants and juice bars, not karaoke joints.
Like Sayulita, there aren't many condos here. San Pancho was once considered the lower-cost alternative to its freewheelin' neighbor, but no more.
One new condo development on the beach, just completed, stirred up controversy among the San Pancho old guard. With its modern styling, they felt it was not in keeping with the town's bohemian character. But it had plenty of takers.
During my recent visit there was only one two-bedroom, ground-floor condo left. It comes fully furnished and features a terrace right on the beach. One interesting feature: the bathtub in the master bedroom has an ocean-view.
(Sayulita-based real estate firm Mexhome.com is a go-to for properties there and in San Pancho.)
Right now, it's a bit tough to get to Sayulita, and San Pancho next door. A long-awaited road project is planned to replace the current road with a modern highway that will cut through the mountainous terrain with a series of bridges and tunnels. It could be a great boon to those who have vacation rentals in this region.