Puerto Vallarta, Mexico
It's a dramatic sight. Condo buildings hug the shoreline, towering above the yellow-sand beach, and brilliant blue Pacific. The foothills of the Sierra Madre Mountains loom above, the hillsides covered in white and brick buildings where it's not lush jungle. Thanks to the curve of the vast Bay of Banderas, one of the world's largest, you can see development far down the coast.
Set on Mexico's central Pacific coast, Puerto Vallarta first gained fame in the 1960s, when it served as the setting for the classic film, Night of the Iguana, starring Elizabeth Taylor and Richard Burton. In the decades since then this once quiet fishing village has grown exponentially into the world-class and world-famous vacation destination it is today, attracting travelers from around the world, as well as a large contingent of retirees and other expats—most from the U.S. and Canada. The heart of PV is the Zona Romantica, also known as Old Town. It's a pedestrian friendly zone of narrow streets and historic buildings mixed in with modern construction. Here you can find shops, bakeries, cafes, restaurants, condo buildings, and more within a stone's throw of the water.
The outskirts of the town are modern, with large shopping malls, big box, stores, marinas, and large housing developments, including the showpiece Nuevo Vallarta residential and resort complex.
Retire in Puerto Vallarta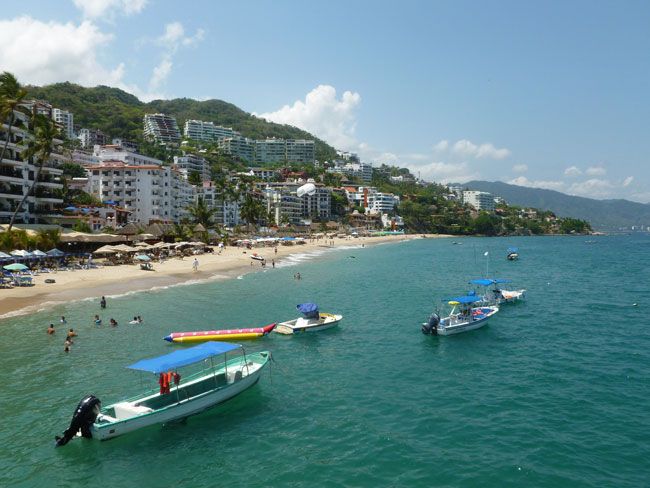 A big attraction for many retirees is that it's never cold in Puerto Vallarta. Granted it can get quite warm and humid, especially in summer time, with the height in August and September. But in North American winter and early spring—December to April roughly—it's very comfortable with low humidity—temps in the lower 80s F. That's when many "snowbirds," especially from Canada and the northern United States, fill PV and it can be hard to get a restaurant reservation.
Among these part-timers, many rent. There are one or two-bedroom condos within walking distance of the beach and the entertainment district, Zona Romantica, starting at $600 to $700.
Of course, there are plenty of full-time expats in Puerto Vallarta as well. Many of them buy property. Condos within walking distance of the beach (condos are the most popular and common housing option) start at around $109,000 and include amenities like 24-hour security and a community pool.
Living in Puerto Vallarta is convenient for retirees. You can find any convenience you might need. You have a large international airport with plenty of direct flights from multiple cities in Canada and the U.S. That makes it easy to make trips back to your hometown or to welcome visitors to your new home.
The medical care is top notch, with several world-class private hospitals and clinics, including specialist care. Doctor visits are generally about $40. For many full-time retirees in PV who become residents, they take advantage of Mexico's public healthcare system and pay a small premium for quality care. There is low cost dental care as well–even major dental work is a fraction of the cost in the U.S. and Canada.
Plus, local shops offer any item you need, including many imported products you'll recognize from home.
Lifestyle in Puerto Vallarta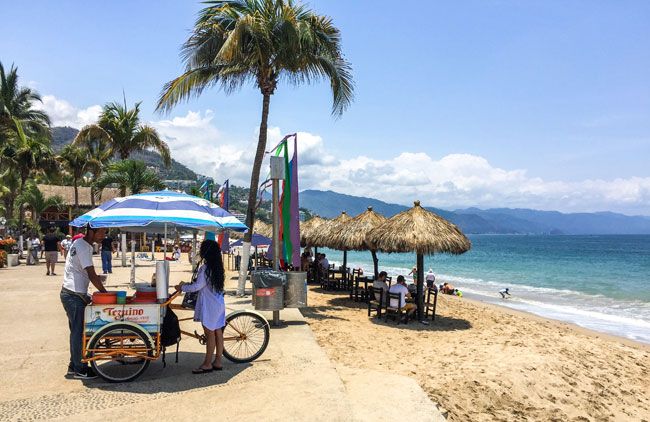 There's always something going on in Puerto Vallarta. As a tourism destination, there are plenty of entertainment options, as well as great dining and other activities.
You'll find plenty of bars and restaurants with an ocean view on the malecon, a miles-long boardwalk. They offer any cuisine you might think of: Italian, sushi, Argentinian, pub grub, fresh seafood, Mexican (from every region of the country), and much more. There are casual places and fine dining options there, and in the popular Zona Romantica district too. You eat well in Puerto Vallarta.
A favorite activity of expats and vacationers alike is to enjoy a meal on Los Muertos beach, which has several eateries right on the sand. You can enjoy breakfast, brunch, lunch, or dinner…or sunset drinks overlooking the Pacific.
There are also plenty of options for live music and more, including a new theater and piano bar called Incanto, a new venue in town. There, and at other establishments, you can see jazz, classical, rock, acoustic guitar, and many other genres. And ticket prices are much lower than you'd find in the U.S. or Europe, even though this is professional level entertainment.
If you come to live in Puerto Vallarta it helps to like the beach. It's a hub of activity, especially in the winter months. Beach umbrellas and loungers for rent line the beachfront and there are plenty of places to order a cold drink—the waiters come to you. You can go parasailing or just lounge and watch the water.
The expat community is very active, with plenty of get-togethers, dinner parties, beach days, brunches, and more. Expats are also active in volunteering in the local community and hosting fundraisers for charities.
Of course, a lot of the fun in this seaside town is on the water. If you're a boater, you can find a slip at the marina on the north edge of town, near the airport, or in Nuevo Vallarta, a planned community and resort area about 30 minutes north of the town center. The Bay of Banderas is a great place for a day out sailing. You can go sport fishing or whale watching. Many expats with boats head to small seaside villages up the coast…places like Yelapa, where you can anchor offshore and wander in to enjoy lunch and a relaxing day on an uncrowded beach
Cost of Living in Puerto Vallarta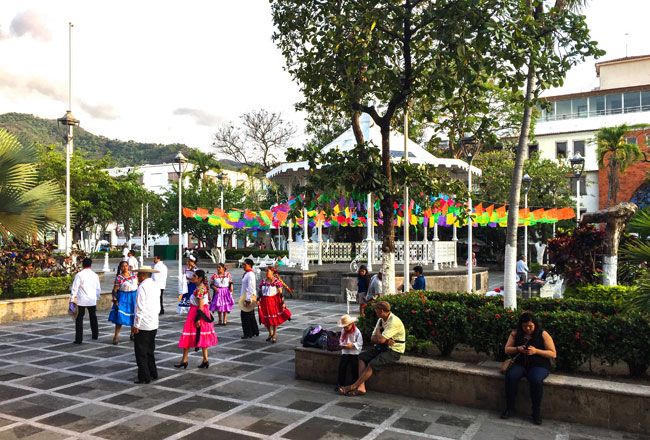 Mexico in general offers a lower cost of living and even though Puerto Vallarta is a tourist spot, it does as well. You can live well for less in this beautiful seaside town. A typical retired couple should budget under $3,000 for a month's expenses—all in.
Here's an example of a monthly budget and typical prices for a couple living in Puerto Vallarta:
| | |
| --- | --- |
|  Expense |  U.S. $ |
| Rent (two-bedroom apartment) | $900 |
|  Electricity |  $150 |
|  Gas & Water |  $30 |
|  Cell Phones (2) |  $40 |
|  Groceries & Household Items |  $300 |
|  Insurance |  $100 |
|  Internet |  $60 |
|  Streaming Media Accounts |  $45 |
|  Property Tax |  $44 |
|  Dining Out |  $300 |
|  Taxis, Buses |  $80 |
|  Total |  $2,049 |
Things to Do in Puerto Vallarta
By Jason Holland
Seventy years ago Puerto Vallarta was a sleepy seaside village on Mexico's central Pacific coast. Then in the 1950s, 1960s, and 1970s Hollywood and the international jet-set, and then mainstream tourists, discovered its charms and it grew into one of the world's best-loved beach destinations.
Picture jungle covered hills dotted with condos and homes cascading down to the coast. A pedestrian friendly, frenetic centro and condo towers lining the sand. A busy beach lined with beach chairs, with plenty of restaurants and bars offering cold drinks and snacks. A world-class dining and nightlife scene.
The current population is about 250,000 in the metro area. And a good number of those folks are full-time or part-time expats, mostly from the U.S. and Canada. Many visited Puerto Vallarta on vacation and decided that the lifestyle suited them.
With all the benefits afforded to those living in Puerto Vallarta, it's no surprise. It's not all vacation fun. There are also plenty of features that make it comfortable for long-term living.
There's a major international airport with plenty of direct flights north. There are high quality hospitals and clinics. Big box stores and traditional markets make shopping easy. Modern conveniences like high-speed internet, and cell phone service are reliable. The weather is warm year-round, although for some the heat and humidity of summer can be stifling. And, like the rest of Mexico, the cost of living is low.
January to April is "high season" in Puerto Vallarta, when many snowbirds flock here to escape the winter weather back in the U.S. This is also when P.V. has the coolest weather (averaging in the mid-80s F) and the least humidity. The bump in population is quite noticeable, so make those restaurant reservations early.
1. The Beach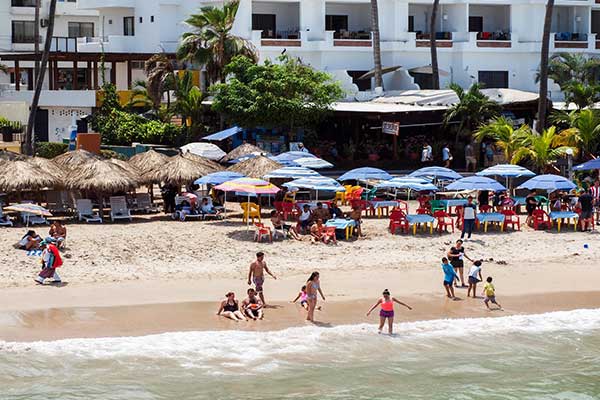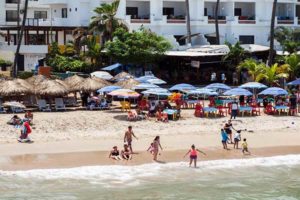 Set on the Bahia de Banderas, which stretches 62 miles from end to end, Puerto Vallarta has many beaches to choose from. Perhaps the most famous is Playa Los Muertos, which is right in the heart of the town. It can be crowded, with the sand lined with restaurants and bars, many of which rent chairs and umbrellas (or offer them free if you order food and drink). This is an active beach with vendors strolling by selling crafts and grilled shrimp. If you want to parasail there is plenty of that, too.
To the north of the main city are the quieter Playa de Oro and Playa los Tules which is known for its sea turtle rescue station, which helps protect nests and get baby turtles safely to sea. There are also some large resorts here.
For a bit of adventure, you can take a water taxi tour 40 minutes south to Yelapa, which is a small fishing village turned day trip spot, with a pristine beach and a few restaurants.
2. Dining Out and Nightlife

As a vacation destination which is popular with visitors from around the world, there is no shortage of restaurants with every type of cuisine. Everything from street corner taco stands to gourmet fine dining is available. For expats, dining out with friends is a popular activity any night of the week. Often the evening starts with sunset happy hour drinks on the water, or up on the hill with a view.
If you want a water view try a place on the malecon, a miles-long seaside promenade in the heart of town. You can even find restaurants with tables right on the sand, especially in Playa Los Muertos.  Other go-to dining districts include the Zona Romantica, also known as Emiliano Zapata. You'll even find craft microbreweries in this area. Meals for two, including wine and dessert, rarely go above $40.
3. Entertainment and Cultural Events

© diegograndi/iStock.com
Gypsy jazz, classic rock, singer-songwriter, mariachi, salsa, blues, opera, classical…any type of live music you can think of…is probably playing in one of Puerto Vallarta's venues, which include theaters, piano bars, restaurants, and bars. There are also theaters, karaoke, open mic nights, and dance clubs.
Entertainers could be locals or brought in by venue owners from North America and Europe. These are professional performers that put on a show. One place to check out is Incanto, which has a full calendar of music and other live performances; they even do a bingo night with a funny host.
Although Puerto Vallarta, being such a tourism hotspot, does have many foreign influences, it's still very much a Mexican town. So you can expect big parades and other public celebrations throughout the year.
Dia de Muertos (Day of the Dead) is traditionally a time for Mexican families to honor their deceased loved ones, taking place on Nov. 1 and 2. But it has turned into kind of a party, with locals and expats alike painting their faces as catrins or catrinas (skeletons) and hitting the town.
Other major holidays include Mexican independence day on Sept. 16 and the pilgrimages and parades celebrating Puerto Vallarta's patron saint, the Virgin of Guadalupe, in the first part of December.
The municipal government puts on frequent performances of folkloric dancing and music at the amphitheater downtown, on the malecon. And you also have music festivals, art festivals, gourmet food festivals, and more at various spots in and around town.
4. Watersports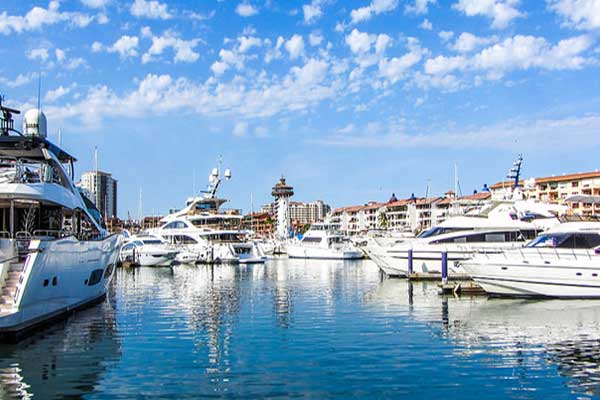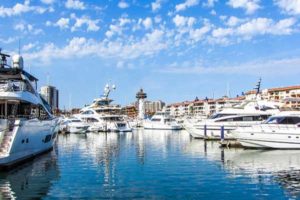 A favorite activity amongst tourists and expats alike is a day out on the water. The vast Bahia de Banderas provides the ultimate setting for boating.
Some expats have their own boat at the large, full-service marina to the north of town, near the airport. You can also hire a charter or join a tour. There are sunset sails, trips up and down the coast to unspoiled beaches you can only get to by boat, and stops for lunch at small fishing villages. From December to March, you can hope to catch a glimpse of migrating humpback whales. Of course, you can also go fishing and hope to catch marlin, sailfish, and tuna
For surfers the towns of Sayulita and San Francisco (popularly known as San Pancho) about a one-hour drive to the north, offer world-class waves. When the water is calm standup paddle boarding is the go-to. 
The Takeaway
For fun in the sun, you can't beat Puerto Vallarta. There is no shortage of things to do whether you're in the water, at the beach, or in town. And with so many activities and free or low cost entertainment, you can indulge whenever you want.
Is Puerto Vallarta Safe?
By Jason Holland
With more than 3 million visitors in 2017, Puerto Vallarta is one of Mexico's most popular beach destinations. The growth of this city on the Bay of Banderas on the Pacific coast has been significant in recent years as far as hotels, condos, resorts, restaurants, shops, and other tourist development, as has the population of residents who've come in search of sought-after tourism industry jobs.
The current population is approximately 250,000. And the town's expat population swells during winter, which is when snowbirds arrive. During Semana Santa (Easter week) and between Christmas and New Year's Mexicans from all over the country come in great numbers as well.
It's a far cry from the small fishing village that first drew Elizabeth Taylor and Richard Burton here for the classic film Night of the Iguana. But it's still a fun place to be with beautiful beaches, warm weather year-round, and great entertainment.
Crime in Puerto Vallarta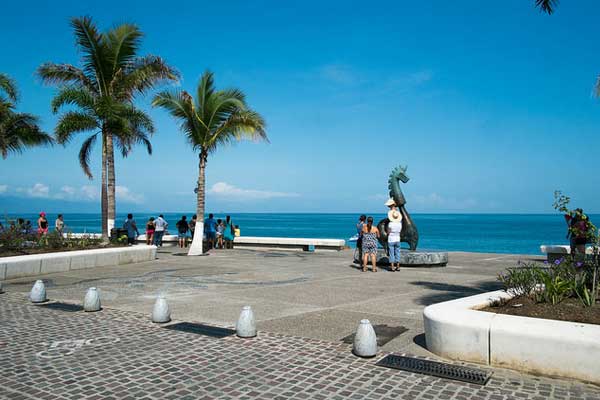 With any city of this size there is crime. But thankfully, Puerto Vallarta continues to be one of the safest and friendliest cities in Mexico for international visitors, national tourists, and expats alike. Part of that is the result of a heavy police and military presence. In short, the government knows that this area brings in a lot of tourist dollars and wants to keep it secure.
Evening strolls along the waterfront malecon, restaurant-hopping in Old Town, and late night bar hopping—no problem, although as you would in any city, you should keep aware of your surroundings and take care not to imbibe too much lest you get lost on the way home.
In general though, few tourists or expats are victims of crime, especially considering how many there are in town. And there is a low level of violent crime.
What you will find here is petty crime…crimes of opportunity. It's something you see in tourist spots all over the world.
Take care not to leave a purse on a table when you go to the bathroom. Don't leave valuables on your towel at the beach when you head out for a swim. Be sure to not leave valuables in your car either. And use the safe in your hotel room or get one if you live in a condo or home to store cash, jewelry, passports, and other important items.
Is it Safe to Walk Around Puerto Vallarta?
One thing I am always cautious of in Puerto Vallarta, and all over Mexico and Latin America, is paying attention while walking around. Sidewalks aren't always well-maintained, with holes or loose tiles. And construction zones aren't always well-marked. Plus, some drivers aren't as conscious of pedestrians as they should be. So I always take extra care when traveling on foot.
If there is some sort of accident, luckily Puerto Vallarta does have quality medical care at local clinics and hospitals, including emergency care.
Puerto Vallarta overall is a safe place, where you can enjoy fun in the sun, if you take a few simple precautions.