Baja California Sur, Mexico: Cost of Living, Safety and Retirement Info
By Melissa Heisler
A mountainous desert surrounded by the Pacific Ocean and the Sea of Cortez, the peninsula of Baja California is a draw for fishermen, surfers, and those who just want to get away from it all. Baja California has always had a mystic appeal that draws adventure seekers. Due to the comparative isolation of the peninsula to the rest of the country, colonization never took hold. Missionaries were the first outsiders to make the peninsula their home and their 18th-century architecture is still prevalent.
It wasn't until 1974, when the lower portion of the state finally had a large enough population to become a state of its own, that the state of Baja California broke into two territories, Baja California and Baja California Sur (BCS). Today more than 800,000 people live in BCS, most living in La Paz and Los Cabos in the south of the state. BCS is the second-smallest state in Mexico by population but the ninth largest in terms of area, providing elbowroom and exploration space for all those who live here. A two-day drive, over 550 miles of winding roads through the mountains, will take you the length of the state from Guerrero Negro to Cabo San Lucas.
One of the main draws of Baja California Sur is the ocean. BCS has the longest coastline of any of the Mexican states with an impressive 1,243 miles. The beaches draw surfers, fishermen, snorkelers, and scuba divers. Jacque Cousteau called the Cabo Pulmo Marine Preserve "the world's aquarium." The waters are also the winter destination of pods of gray and humpback whales. December through April these majestic animals can be seen with their new calves, some jumping 40 feet in the air.
The ocean is not the only natural lure to Baja California Sur. Long stretches of desert and mountains are an attraction for hikers, bikers, and desert racers. Every November the famous Baja 1000 off-road motorsport race begins in northern Baja and finishes in La Paz, BCS. Also inland, many tourists visit the amazing cave paintings left by the original prehistoric indigenous tribes of the Pericú and Guaycura.
What BCS is most known for these days though is not the ocean or the mountains, but the tourist towns of San José del Cabo and Cabo San Lucas, together known as Los Cabos. At the very bottom tip of the peninsula, at Land's End, two sleepy fishing villages have become ever-expanding tourist and retirement communities. These cities came to life in the last 50 years and offer expat comforts and conveniences. Plus, a short drive up either coast lands the traveler back into sleepy, oceanfront Mexican villages.
The other major city and the largest in BCS is La Paz. Located midway through the state, it is the state capital. Although a center of commerce, this city has an impressive malécon and beaches of its own. Between La Paz and Los Cabos is the city of Todos Santos on the Pacific Ocean, and a group of cities on the Sea of Cortez known as the East Cape. These areas are quainter and less commercialized than the larger cities. To get away even more, visit Loreto and Mulegé to the north of La Paz and have a true Mexican experience.
Major airports can be found at both San José del Cabo and La Paz. Smaller airports and airfields can also be found near the other towns. In the past, only the small planes made it down the Baja and their airfields are still maintained.
Retire in Baja California Sur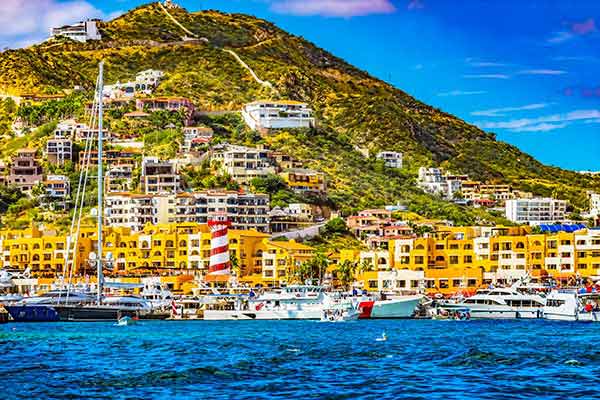 Maintaining an active lifestyle in Baja California Sur is easy. Learn to surf in Cerritos, stand-up paddle board (SUP) in Los Cabos, or kite surf in Los Barriles. Golf at one of the world-class courses designed by Jack Nicklaus, Tom Fazio, and Greg Norman. Play pickleball in Los Barriles. Hike or bike the mountains of El Tezal. Swim in the natural hot springs in Miraflores or with the whale sharks in La Paz. Or just relax and enjoy the natural splendor of the ocean and/or mountains available in every town.
Attend the weekly art walk in San Jose. Centered around Plaza Mijares, every Thursday night individuals walk the narrow streets from gallery to gallery to experience, and perhaps purchase, paintings, sculptures, and other unique pieces of art. Even if you are not interested in purchasing, it is fun to stroll the streets and perhaps stop in one of the local restaurants for a bite to eat. Todos Santos, long an artists' retreat, also offers some impressive galleries and local art.
Farm-to-table can be found sprouting up around Los Cabos. Flora Farms in the foothills of the Sierra de la Laguna mountains was the first in 1996. More than a farm and a restaurant, Flora Farms is also an experience for the whole family. Sign up for cooking or art classes. Buy something special at the unique shops or relax at their spa. Flora Farms even offers residential housing in the area, providing a haven for upscale, environmentally conscious individuals.
It is hard to be in the tourist areas of Baja California Sur and not hear the Eagles' song "Hotel California". You can visit the Hotel California in Todos Santos. Controversy arose years ago when the band made it official that this was not the hotel in their song, but I don't think we care. It is still fun to visit this hotel, restaurant, and gift shop imagining it as the lyrics describe.
Baja California Sur is much more than the tourist areas of Los Cabos. Check out the Tropic of Cancer monument noting the 23.5˚parallel of latitude, one of the five major circles of latitude around the earth. Check out the Ojo de Agua hot springs in San Bartolo. Visit the small town of El Triunfo, an old mining community which offers rustic tours of abandoned mine trails.
Oh, and did I mention fishing? Professional fishermen come from around the world for a chance to hook a marlin in the abundant Baja waters. Cabo is one of the premier fishing tournament cities in the world, hosting the famous multimillion-dollar Bisbee marlin tournament, the Los Cabos Tuna Jackpot, and many other fishing competitions. The marina is filled with private fishing vessels from tiny pangas to 200-foot yachts, both privately owned and available for rent.
Lifestyle in Baja California Sur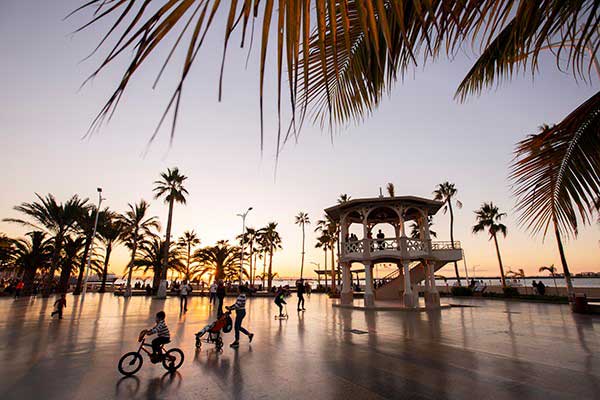 When looking at life overseas, language and climate are two key factors.
Most of the year, Baja California Sur is ideal with sunny skies and daytime temperatures in the 70s to 80s F. The summers bring hotter temperatures in the 90 F to 100 F range. Cities like Todos Santos and Guerrero Negro have slightly cooler temperatures due to the Pacific breezes, whereas San José del Cabo, La Paz, and cities to the north on the Sea of Cortez have warmer temperatures. Although surrounded by water, BCS is a desert which means hotter temperatures in the day and a nice cool-down most nights. The northern cities can get close to 32 F in the winters, while further south the coldest temperatures are usually around 50 F.
Inland cities in the mountains have the most days of rain, but that is only 40 to 50 days throughout the year. Coastal and southern cities may have only five to ten days of rain. The summer months, mostly August and September, also bring tropical storms and hurricanes. Mostly this affects the lower half of the state, but storms have been known to reach almost every city. Being a culture of "community first", information before storms is prevalent, locals and expats alike are willing to share their learnings to best prepare for a storm, and recovery from storms is usually quick because we all pitch in together.
If you are looking for an easy transition without having to learn the language, Los Cabos is the best bet. English is spoken by most and there are strong expat neighborhoods to help you get acclimatized. Surprisingly, Los Barriles is probably the second-best place for English. Although it is very rural, the area was founded by expats as a retirement destination and English is very common.
If you are looking for a more authentic Mexican experience, Todos Santos and La Paz are great entryways. English is spoken by some, but Spanish is more common. For a more immersive experience, check out the northern cities of Loreto and Mulegé.
Spanish is an easy language to learn, if you stay in the present tense. After a few months it should be easy to navigate restaurants, grocery stores, and gas stations. A few commonly used words in Spanish can go a long way to getting help from the locals.
Of course, the location, local culture, and type of home are also very important considerations. Baja California Sur offers it all, from multimillion-dollar mansions on the ocean to rustic, concrete block palapas. More developed areas like Los Cabos offer newer condominiums and housing developments. Many older homes throughout BCS have multiple levels which may be a challenge for some expats.
Baja California Sur also offers a variety of locations. You can choose mountains, ocean, desert, or a location that is surrounded by a variety of geographies. You can choose to be with expats and tourists as well as vacation attractions and Michelin-rated restaurants—it can be great to be in the midst of it all, but remember that November through March you'll be sharing your town with an onslaught of tourists. Or, you can choose a more traditional Mexican town to soak up the local culture and enjoy a tranquil life in the sun and surf.
Below are a few options for your new home in Baja California Sur. Starting from the top of the state and moving south.
Mulegé
When you are ready to check out from the bustle of the world and live simply, the small, quaint coastal town of Mulegé is a great option. You will not find local conveniences so you'll have to drive to Loreto or La Paz for major supplies, but you will also not have any tourist traffic here.
Loreto
Immerse yourself in this traditional Mexican fishing village. Less developed than other areas of Baja California Sur, this city offers relaxed living amid Mexican culture. Still an inexpensive Mexican village, Loreto is beginning to grow as many are leaving the cities to the south for this quieter location.
La Paz
La Paz is a city of commerce not tourism. La Paz is truly a Mexican city. With the exception of the Malecón area, be ready to use your Spanish skills. What is surprising about La Paz is that although it is a larger urban city, it is also the launchpad for ecotourism in the region. Just a short boat ride from La Paz is Isla del Espiritu Santo (the Island of the Holy Spirit), a UNESCO World Natural Heritage Site and national park, as well as many incredible beaches.
East Cape
The East Cape lies just an hour-and-a-half north of Cabo San Lucas on the Sea of Cortez. Three cities make up the East Cape: Los Barriles, La Ribera, and Buena Vista. The sleepy village of Los Barriles is a great place for retirees looking for an easy transition to Mexico. English is commonly spoken and most restaurants cater to American and Canadian tastes. La Ribera, also known as La Riviera, is currently transitioning from a traditional locals-only fishing village to a high-end destination featuring a newly created marina and Four Seasons resort. Buena Vista is the original resort town of the East Cape, featuring modest resorts constructed around 1976.
Todos Santos
Once the hidden treasure of fearless California surfers searching the Baja coast for the perfect break, Todos Santos still offers a low-key life by the beach in a charming small-town setting. Todos Santos is called "pueblo mágico" (magical town) and part of its mysticism may be that it was not easily reachable until the mid-1980s when the highway was paved between Cabo San Lucas and Todos Santos. Today, there is a sizeable expat community with people of all backgrounds, although they are primarily from the U.S. and Canada, including many retirees. Many snowbirds come for the winter months to escape the cold weather up north.
Los Cabos
Los Cabos refers to the very tip of the Baja California Peninsula. It consists of Cabo San Lucas on the far south end where the Pacific Ocean and the Sea of Cortez meet; San José del Cabo, a thriving city and home of the airport; and the 20 coastal miles between the two cities. What brought people to Land's End is still the reason they come today, world-class fishing. Besides the lure of catching the big one, many are drawn to the area for the incredible beaches, Michelin-rated restaurants, and amazing golf courses. Cruise ships can often be sighted in the bay just off the famous Médano beach. The nightlife is comparable to most metropolitan cities in the U.S. and bumping into a Hollywood celebrity is a normal occurrence in this Mexican hot spot.
San José del Cabo is more of a working city, a little less touristy, and, when it is not rush hour, slower paced than Cabo San Lucas. But don't be fooled, San José also has extensive beaches, golfing, shopping, and even its own estuary. San José del Cabo now also has its own marina, but it is more for private owners versus a tourist destination like the Cabo San Lucas marina.
Get Your Free Mexico Report Here:
Learn more about Mexico and other countries in our daily postcard e-letter. Simply enter your email address below and we'll send you a free special report - Why Millions of Americans Are Moving to Mexico.
This special guide covers real estate, retirement and more in Mexico and is yours free when you sign up for our postcards below.
Cost of Living in Baja California Sur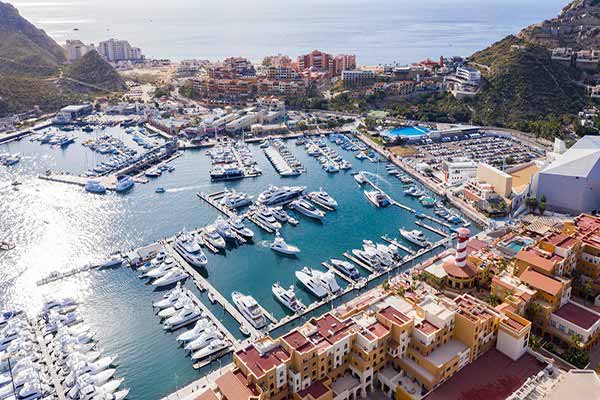 Baja California Sur offers something for every budget. Even in the more expensive cities, modest housing can be found for less than $100,000. Of course, those homes will not have the amenities and views many retirees seek but when cost is a factor there are options. Expect to pay $200,000 and up for a view and a more amenity-rich development.
The following monthly budget is based on the cost of living for a couple living in Cabo San Lucas. Being a popular holiday spot means rental prices are higher here than in other parts of Baja California Sur.
Here is a Breakdown of a Monthly Budget for a Couple Living in Cabo San Lucas:
| | |
| --- | --- |
| Expense | $USD |
| Housing (three-bedroom, gated rental) | $1,500 |
| Utilities | $75 |
| Groceries | $450 |
| Entertainment | $350 |
| Housekeeping (weekly) | $140 |
| Medical | $250 |
| Transport (public transport or car/gas/insurance) | $75 to $150 |
| Total: | $2,840 to $2,915 |
*Prices as of 2021
Is Baja California Sur Safe?
The short answer is yes. The longer answer depends on where you are in Baja California Sur (BCS) and at what time of day or night. Baja California Sur is a very large state that takes about two days to drive through and is home to 800,000 people. Many of the rural cities are quaint and very safe. When you get to larger cities like the capital, La Paz, or more tourist cities like Cabo San Lucas and San Jose, there are more people and therefore more issues. Yet even in those areas, one feels very safe because BCS is at the tip of a peninsula, which makes it more like an island, insulating it from easy access to criminals and making BCS one of the safest states in Mexico.
Crime in Baja California Sur
Unfortunately, crime is everywhere. However, compared to other places in Mexico, BCS has a much lower crime rate. Street smarts will usually keep you out of trouble. Do not leave your belongings unattended, especially in tourist areas. If you want to find trouble, it is most likely found later in the night and early morning around clubs and the casinos.
It is normal to see National Guard or other military vehicles driving around with personnel ready for combat. Do not be alarmed. As tourism is very important, especially in Los Cabos, this show of force is used to deter certain groups from thinking BCS is a good place to set up camp. Plus, the local government believes the presence of these vehicles helps locals and those visiting feel safe and protected.
Is it Safe to Walk Around Baja California Sur?
One does not need to be as cautious of other walkers in Baja California Sur, as much as being cautious of what is being walked on. Most sidewalks in BCS are a hodgepodge of construction which have been maintained to differing degrees of efficiency. Keep an eye out for cracks in the concrete and abrupt changes in height. BCS is safe to walk if you think of it as more like taking a hike. Some of the newer and more developed areas are better constructed but it is always a good idea to keep your eyes open.
Many of the larger cities have done much to accommodate special needs like wheelchairs at intersections. Unfortunately, much of the time, it is a beautiful thought but not well executed. Ramps can be at varying pitches and widths, and sometimes it is easier to navigate the ramp than the sidewalk itself. Most cities try to be accommodating and, especially in the new areas, it is easier to get around than it used to be.
Is it Safe to Drive in Baja California Sur?
Driving in Baja California Sur is safe but challenging. BCS has literally no rules of the road or driving schools. People learn to drive from their parents and friends. This means two things.
1) If you get pulled over, unless there is a sign saying you can't do what you did, you may be able to talk your way out of it.
2) Drivers don't adhere to what we would normally consider the rules of the road. Below are some hints and tips to drive like a local.
Go With the Flow: This is the main guideline. Especially in Los Cabos, traffic mirrors a school of fish, swimming together and not getting in each other's way. Making a complete stop at a stop sign disrupts the flow. Rolling stops are more the rule.
Give Way: Most of the time, drivers take turns at corners, merging, etc. If you have ever seen Mexican children at a piñata, you will know how patient and allowing the culture is. By allowing others their turn, it keeps the flow going. You may see the hand gesture of an upturned palm–this is a sign that the other driver is letting you go. Feel free to take the right of way and be ready to give it as well. Because way is given, you will notice that horns are not often used.
Topes: Topes are speedbumps and are everywhere. Because drivers don't stop at stop signs, topes are put in to slow us down–although some cars fly over them as well. Take your time. Some topes can bottom out your car. Also, be cautious when approaching a small town built along the highway. Topes will be at the start of the town to slow entering traffic down. They will also be at the end of the town. Drivers coming from the other way may drive into oncoming traffic to avoid the tope, so most topes are built across both lanes.
Turn Signals: A left turn signal may mean the car is turning to the left, it may mean you can pass them on the left if they are going slow, or it may mean they forgot their turn signal is on. Use caution.
Hazards: Hazard lights may not mean the car in front of you is going slow but that something is happening in front of them. It is like the driver is saying, "Hey, I'm not mucking up the works. There is something crazy up ahead." This practice is much more prevalent when you head out on the two-lane highways where there may be cows crossing the road.
"Roads": Some roads are paved. Some roads are dirt. Some roads are marked, and others are not. If you see more than one car headed somewhere, you can probably drive there. Keep your eyes open. Some streets are one-way and are not marked as such.
Stay to the Right: People drive fast. They will ride your bumper. If you are not in a hurry, stay on the right unless you are passing cars.
Doubles/Triples: At many stoplights, people may make a left turn from the left lane, or from the lane next to the left lane, or from the lane next to the lane next to the left lane. Keep your eyes open.
No Right on Red: This is an unwritten but "real" rule. You will see many people doing it, but it is not legal. This is a ticket you cannot talk your way out of.
Featured Image Copyright: ©Guillermo Gonzalez/iStock