Ask anyone about Los Cabos and they will mention Sammy Hagar's Cabo Wabo or a host of celebrity visitors from Jennifer Aniston to George Clooney. It is hard to imagine that about 60 years ago, Los Cabos was a tuna cannery, a few local families living in Cabo San Lucas, and a small city built off the remnants of 1700s missionaries and the rebelling indigenous called San José del Cabo.
In the 1950s, the only visitors to the end of the Baja California Peninsula were wealthy fishermen who could fly down on their private jets landing on dirt airstrips or boat down on their motor yachts all in the pursuit of catching a big marlin.
The 1960s brought the first major hotels in Cabo San Lucas as the government decided to develop the town for tourism instead of commercial fishing. The historic settlement town of San José del Cabo also received its first hotels around the same time including the famous One & Only Palmilla Hotel.
Are you interested in retiring abroad? Yes | Not Sure Yet
In the mid-1970s, the peninsula highway was built connecting southern California with
Baja California Sur (BCS)
, Mexico. Caravans of fishermen in RV's drove through the desert with a desire to catch their fill in the plentiful waters of the Sea of Cortez. During this time, the Cabo San Lucas marina was dredged, creating the platform not only for fishing, but the tourist mecca the town is today.
In the 1980s, the international airport positioned Los Cabos on the map as the place for sun, fun, and fishing. Since that time, what used to be a remote outpost for the adventurous has become an easily accessible, dream paradise for tourists and retirees alike.
Los Cabos Today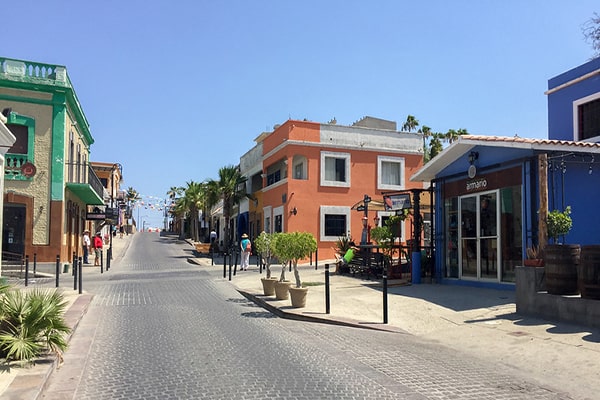 Los Cabos refers to the very tip of the Baja California Peninsula. It consists of Cabo San Lucas on the far south end where the Pacific Ocean and the Sea of Cortez meet, San José del Cabo a thriving city and home of the airport, and the twenty coastal miles between the two cities.
Talk to an old-timer and they will share when there was only one phone for all of Cabo San Lucas and everyone would take their turn to use it. Today, Los Cabos has all the modern luxuries from well-known grocery stores to high-end luxury brands at the mall. Modest Mexican architecture is now interspersed with an array of luxury hotels, condominium developments, and breathtaking beachfront homes.
What brought people to Lands' End is still the reason they come today—world-class fishing. Besides the lure of catching the big one, many are drawn to the area for the incredible beaches, Michelin-rated restaurants, and amazing golf courses.
The 20 miles between San José del Cabo and Cabo San Lucas can be traveled on a paved four-lane highway (commonly referred to as the corridor) snugged between mountains, the Sea of Cortez, and an ever-expanding list of hotels. Or take the new toll road through the mountains to gain a different view of Los Cabos, and to avoid local traffic. Although physically close, the two cities of Cabo San Lucas and San José offer different experiences.
The city of Cabo San Lucas is the more populated city complete countless restaurants, boutique shops, and an ultra-modern shopping mall situated alongside the famous fishing marina. Cruise ships can often be sighted in the bay just of the famous Médano beach. Jump on one of the many pangas (small boats) ready to take you to the arch or across the marina to your hotel. Don't forget to try the affordable bicycle taxis that can be flagged down on every corner. They are very convenient for winding through the traffic in backstreets and around the marina.
Cabo San Lucas offers a variety of home options from the original ultra-mansions built on the cliffs of Pedregal to the latest one-story condominiums popping up on the waterfront or the mountain's edge.
The nightlife is comparable to most metropolitan cities in the U.S. and bumping into a Hollywood celebrity is a normal occurrence in this Mexican hot spot. Cameron Diaz, Justin Timberlake, and Gwyneth Paltrow are frequent visitors. Restaurants are abundant throughout the city and offer something for every taste and budget. Enjoy street tacos for 20 pesos ($1) or a sumptuous meal by chef de cuisine Abisai Sanchez at Manta restaurant featured at The Cape, A Thompson Hotel. Choose hundreds of restaurants that offer everything from sushi, Italian, Chinese, Indian, vegan, and of course, Mexican.
San José del Cabo is more of a working city, a little less touristy, and, when it is not rush hour, slower-paced than Cabo San Lucas. But don't be fooled, San José also has extensive beaches, golfing, shopping, and even its own estuary. The weekly art walk is not to be missed. San José del Cabo now also has its own marina but it is more for private owners versus a tourist destination like the Cabo San Lucas marina.
Get Your Free Mexico Report Here:
Learn more about Mexico and other countries in our daily postcard e-letter. Simply enter your email address below and we'll send you a free special report - Why Millions of Americans Are Moving to Mexico.
This special guide covers real estate, retirement and more in Mexico and is yours free when you sign up for our postcards below.
Fun in the Sun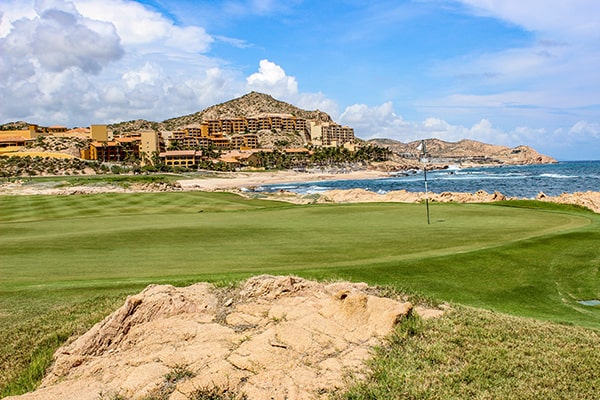 Fishing is what founded Los Cabos and is still the main draw. Avid fishermen come from around the world for a chance to catch a marlin. Many come in October for the "Bisbee Black and Blue" fishing tournament billed as the richest fishing tournament in the world. With over 250 entrants and a three-day event, there is great excitement as the crowds wait for the giants to come into the harbor for the official weigh-in. Since the fish are biting all summer long, others try their hand at the Pelagic Triple Crown of Fishing in June, the Los Cabos Bill Fish Tournament in October, or the always fun Los Cabos Tuna Jackpot in November. Whether you enter a tournament or just try your hand at fishing for the first time, the waters off Los Cabos do not disappoint.
Another major attraction that brings thousands of visitors to Los Cabos is world-class golfing. Famous golfers like Jack Nicklaus, Arnold Palmer, Greg Norman, and Tiger Woods have designed magnificent layouts that visitors will truly enjoy. Most courses are built right along the seashore and the views of the coastline and the towering mountains behind, make for a golfing adventure that is one of the most desirable in the world. Green fees can be pricey in the high season. Check out the locals Cabo San Lucas Country Club near Walmart for a wonderful course at more reasonable prices. There is never a better time to enjoy the golf in Los Cabos, than to be finishing your round when the breathtaking sunsets start to glimmer with multicolored clouds and that shimmering blue/green ocean.
As Los Cabos grows, so do the international events including the annual Los Cabos International Film Festival, Mifel Tennis Open (Abierto de Tenis), and the IRONMAN 70.3 Los Cabos.
Things to Do in Los Cabos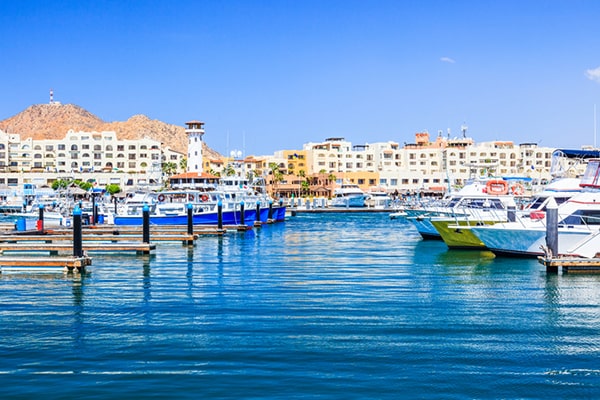 November through June the weather is ideal. The arid desert humidity combines with mild temperatures with highs in the 70s F and 80s F.
Here is just a sample of the other fun and exciting things to do to keep everyone's vacation time exciting:
Whale Watching: During the months of October through March, the humpback and grey whales make their way down from the north to frolic in the warm waters off the tip of Baja. Watch them off your beachfront hotel or take a tour to get that up-close photo.
ATV Tours: Rent an ATV with others and explore the many beaches and mountain trails.
Water Taxi to the famous Arch and Lovers Beach.
Sunset cruises: A favorite among visitors. Rent a boat and bring all your family and friends, or book one of a variety of boats which offer from a full dinner to more of a party/nightclub atmosphere. No matter how you get there, the sunsets are amazing.
Snorkeling/ Diving at Cabo Pulmo: For all you underwater enthusiasts, this is a must. Under two hours from San José on the Sea of Cortez is the only living coral reef in North America, with its age estimated at 25,000 years old. Jacques Cousteau called the Sea of Cortez the largest aquarium in the world. You will be amazed at the clarity and the many species of coral and sea life.
Day Trips: No matter which direction you choose, you are sure to find somewhere fun to explore. Check out Pueblo Magico, the magical city of Todos Santos less than one hour up the Pacific coast where you can learn to surf or check out the local street artists. Continue up Highway 19 to visit the capital of Baja California Sur, La Paz, and stroll the malecón. Traveling up the east coast and highway 1 provides amazing views through the wandering mountains with pleasant stops of the Tropic of Cancer, Los Barriles, El Triunfo, and more.
The Takeaway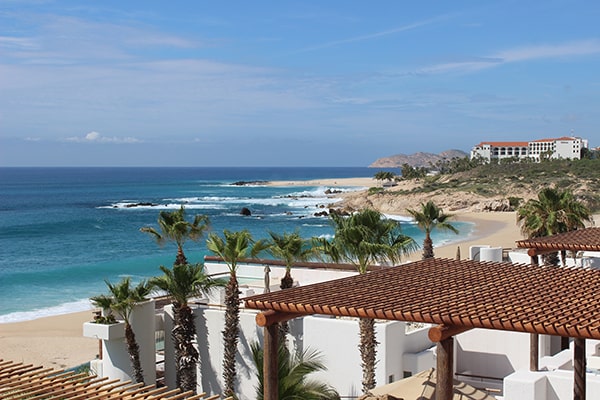 If you are looking for fun in the sun, look no further than Los Cabos. Snorkel, dive, and swim in the warm Sea of Cortez. Surf on the Pacific Ocean. Experience the excitement of catching a record marlin or a tasty tuna you can have prepared right at the dock. Shoot a round of golf surrounded by beautiful mountains and marine life. The hotels are 5-star, the nightlife is addicting, and if you are a true foodie, you just might discover what all the fuss is about. Chances are you just might return to this wonderful playground again and again.
Get Your Free Mexico Report Here:
Learn more about Mexico and other countries in our daily postcard e-letter. Simply enter your email address below and we'll send you a free special report - Why Millions of Americans Are Moving to Mexico.
This special guide covers real estate, retirement and more in Mexico and is yours free when you sign up for our postcards below.
Related Articles
Is It Safe to Travel in Mexico?
5 Places to Live in Mexico…and 3 to Avoid
Upcoming Conferences
Live Better, Spend Less, Retire Sooner
IL's Retire Overseas Bootcamp
October 21-23, 2022 in Atlanta, GA

In safe, warm, welcoming communities abroad, as little as $1,700 a month can bankroll a good life... this fall, our experts will show you where—and how.
Details Here IL's Retire Overseas Bootcamp
---
"Online Income Engine" Masterclass October 15
An Online "Participate from Anywhere" Event
We'd like to show you how you can upgrade your life and live richer using an Online Income Engine.
Best of all, you needn't leave your home to see how you could make this happen.
Popular Articles You May Also Like