Todos Santos, Mexico: Quaint Living and Miles of Beautiful Beaches
Before we moved to Cabo San Lucas, Mexico, we had visited Baja California Sur frequently. One drive which we used to make as tourists was to the town of Todos Santos. The 45-minute drive between the mecca of Cabo to the tranquil Todos Santos was filled only with breathtaking scenery of the mountains and the Pacific coast. My latest trip to Todos Santos was a bit different.
First, I was able to bypass Cabo traffic by jumping on the new tollway through the mountains connecting to highway 19 toward Todos Santos. It may not have cut much time off my drive, but it certainly made it less frantic as there are significantly fewer cars on the road.
Second, the scenery has changed. There are still amazing views of the ocean and mountains, with the occasional ranch, home, or RTV attraction, but now development on either side of the trip has increased. Leaving Cabo, mega-hotels and residential developments spot the road. Toward the end of the trip, just before Cerritos, 20 minutes before Todos Santos, a flurry of construction is also occurring.
In the past, Cerritos was a beach more than a town. It was a quiet beach where one could surf or watch surfers from the only restaurant on the waterfront. Today, it is a flourish of activities with the addition of multiple hotels, developments, and single-family homes. New restaurants and surf shops are also popping up. The feel is still that of an exclusive surf spot, not a commercialized tourist attraction, but there is definitely more action down the dirt roads than there used to be.
Between Cerritos and Todos Santos is the blip of a city called Pescadero. Along the 19 highway, Mexican and gringo restaurants have popped up along with small shops, bodegas for food, and gas stations.
The next stop up the road is Todos Santos. Highway 19 splits to continue on to La Paz or empty into the downtown of Todos Santos. Once the hidden treasure of fearless California surfers searching the Baja coast for the perfect break, Todos Santos still offers a low-key life by the beach in a charming small-town setting. After the surfers, artists, and other bohemians stumbled upon the town. Todos Santos is called Pueblo Mágico (Magical Town) and part of this mystic may be that it was not easily reachable until the mid-1980s when the highway was paved between Cabo San Lucas and Todos Santos.
Today, there is a sizeable expat community, with people of all backgrounds, although they are primarily from the U.S. and Canada, including many retirees. Many snowbirds come for the winter months to escape the cold weather up north.
Retire in Todos Santos, Mexico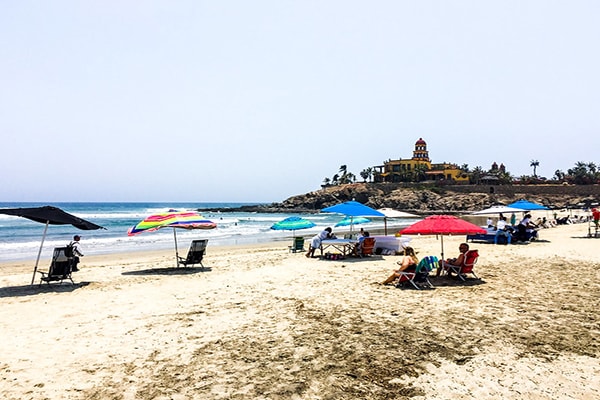 Downtown Todos Santos is still a quaint, Mexican city center. Because of its centuries-old history, the heart of the sunbaked town center is made up of brightly painted buildings in a rainbow of colors or brick historic buildings, often with bougainvillea spilling over walls and abundant cactus. Most structures have been restored and turned into art galleries, boutiques, shops, restaurants, and small hotels. A few new buildings have been built but they are low-rise and mesh well with the original architecture made of traditional brick and mortar.
The main downtown attraction is still Hotel California, famed as the one from the Eagles' song, although it is not. Controversy arose years ago when the band made it official that this was not the hotel in their song, but I don't think we care. It is still fun to visit this hotel, restaurant, and gift shop, imagining it as the lyrics describe.
Across the street from the Hotel California, Tequila's Sunrise Bar & Grill is the place for amazing margaritas and a long presentation by the restaurant's owner as to how they make the margaritas and why they are the best. Tequila's used to be one of the only offerings in town but many new restaurants have popped up in the area including Docecuarenta Casa de Café, DŪM Local Mediterranean Cuisine, and Jazamango serving farm-to-table.
What Todos Santos is known for is its art. From street artists to local crafters to unique galleries, Todos Santos has always provided original paintings, jewelry, and other items for purchase. Alongside these stores and open-air markets, are now also trendy fashion stores and even a bicycle shop.
Downtown Todos Santos has expanded the number of blocks with restaurants and stores, but it is still very walkable. Visit the main square which now features a skate park or walk a few blocks north to the cinema and cultural center. Stay downtown in one of the boutique hotels or quaint remodeled apartments. Most tourists do not make it past the downtown, but there is much more to Todos Santos.
On the north side of the city, down some paved and some dirt roads is the growing community of Las Tunas. What used to be the secluded surf beaches of Las Playitas and Playa Los Mangos, is now a developing community of mid- to high-end homes. Miles of undeveloped beach are available to build your custom beachfront or beach-view home.
There is some development in Todos Santos, but nothing close to the boom that is happening in Los Cabos. For the most part, the city is historic buildings, ultra-luxurious homes, small condo complexes, and small hotels. This makes the vibe low-key and laidback, but that may change due to the development of Cerritos, which is now a hub of construction, from major hotels to condominiums and single-family homes. What Cerritos does not have is a city structure, sending many of these residents to Todos Santos for their groceries and nightlife.
Lifestyle in Todos Santos, Mexico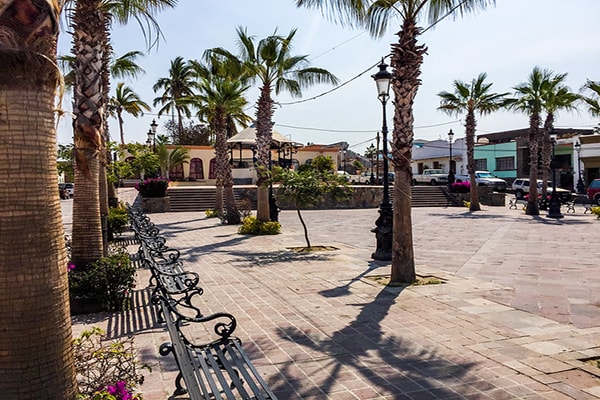 Although Todos Santos does receive a daily tour bus or two, it is not the bustling tourist center that Los Cabos is. You will not be greeted by any timeshare agents or whale watching guides. Enjoy a leisurely walk through the town and step into a store or two to explore handmade, one-of-a-kind items.
One of the trade-offs of Todos Santos' small-town feel is limited shopping and services. Expect to shop at supermini's, corner grocery stores mostly stocked with rice, beans, and tortillas, or drive downtown to Bodega Lizarraga which has fresh fruit and meat. One huge advantage to Todos Santos is that it and the surrounding area are a center for organic farming, and pop-up fruit and vegetable stands can be found off the main roads. If you want a modern shopping experience, head down to Cabo San Lucas or up to La Paz and visit Walmart or the local supermarkets like La Comer and Soriana. Friends of mine that live in Pescadera, that tiny city between Todos Santos and Cerritos, make monthly stock-up trips to Cabo San Lucas to visit Costco, Home Depot, and other chain stores.
Todos Santos has miles and miles of beaches, but beware, not all are swimmable. Don't expect government signs to tell you which beaches are safe; not all are marked. The crashing waves will give you an idea of when a beach is more for walking than swimming. If you see locals or surfers, they will be more than happy to tell you about that beach or one that is more suited for a dip. Punta Lobos is the first swimmable beach on the south side of the city. The problem here is not the strong waves, although they are there too. The challenge is that this is a common launch area for local fisherman and therefore boats, not waves, may be your biggest obstacle. Also, be aware that the water rapidly deepens. If you are looking for a more accessible beach, drive further south to Cerritos beach. On the north end of the city is Playa La Pastora, a favorite of surfers. It is swimmable but has a rocky, not sandy bottom.
The climate here, like much of the peninsula, is arid and warm year-round. July to October highs are in the upper 80s and low 90s F, dropping 10 degrees at night. Todos Santos does have the gift of Pacific breezes so it can feel cooler than Los Cabos. Although the area does not experience much rainfall, these summer months may experience tropical storms. The other part of the year receives perfect 70 to 80 F highs, with nighttime temps around 60 F.
With the addition of the new St. Jude's Medical Center, healthcare options have greatly improved in the city. A few other small clinics and pharmacies are also available. In Los Cabos, you'll find several hospitals and clinics with top-notch facilities and doctors of every specialty.
The nearest international airport is in San Jose del Cabo and features several direct flights from cities in the U.S. and Canada, as well as Europe. The tollway off highway 19 that takes you to Cabo San Lucas can also be taken directly to the San Jose del Cabo airport. The route is on a well-constructed and well-maintained highway through the mountains. Because it serves a large tourism market, flights are frequent and affordable. Perfect for your visits back home…and for having friends and family visit you.
Cost of Living in Todos Santos, Mexico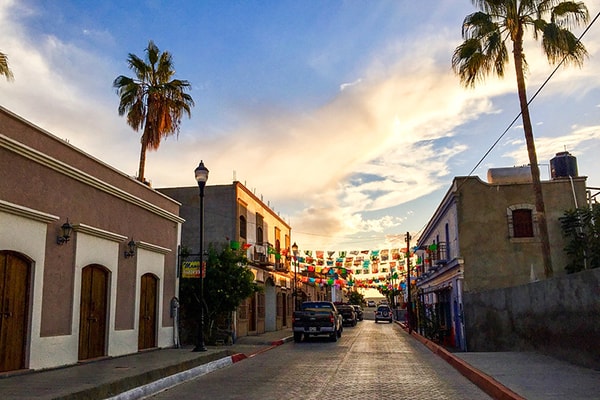 Many expats live in a neighborhood on the outskirts of town and close to the water, with some homes featuring ocean views. Others are set back a few blocks but still a quick walk or bike ride to the water. The roads are dirt and sand. In the coastal expat neighborhoods and new construction downtown, it is becoming more difficult to find homes under the $200,000 range. Many multimillion-dollar homes are beginning to occupy the prime beach areas.
If you want to try before you buy, you will find a small number of long-term rentals. But act fast as many snowbirds raise prices and take up supply in the winter months. The key to finding the most affordable rentals is to ask around in-person or in online forums. And if you find a home you like, be sure to reserve early or you risk missing out.
Because of relatively high rental prices, you will see a bump in the cost of living in Todos Santos compared to some other destinations in Mexico. Another factor is the heavy use of air conditioning, especially during the summer months. Plus, you must always consider how many imported items you buy at the store and where and how often you go out to dinner—some of the restaurants in town can be considered gourmet with prices lower than the U.S. but high for Mexico.
As with many things, the overall cost of living is very dependent on lifestyle.
| | |
| --- | --- |
| Item | U.S. $ |
| Rent (furnished, two-bedroom apartment) | $2,000 |
| Utilities (including phone, electric, water, internet, and cable TV) | $200 |
| Groceries | $300 |
| Dining out and entertainment/hobbies | $300 |
| Healthcare | $80 |
| Car/Transportation (optional) | $150 |
| Maid service (four half-days per month) | $100 |
| Total | $3,130 |