Todos Santos, Mexico
Written by Jason Holland
From the northern border with the United States all the way south (about 20 hour's drive) to its tip, Mexico's Baja California peninsula has many popular destinations for retirees and other expats.
If you're looking for a low-key life by the beach in a charming small town, Todos Santos is worth a closer look. About 45 minutes north of the popular cruise and resort destination of Cabo San Lucas on the Pacific coast, through rolling hills and mountains covered in saguaro cactus, Todos Santos was first re-discovered by intrepid California surfers road tripping up and down Baja decades ago searching for the perfect break. Later artists and other bohemians stumbled upon it. Today, there is a sizeable expat community, with people of all backgrounds, although they are primarily from the U.S. and Canada, including many retirees. There are a good amount of snowbirds who come for the winter months to escape the cold weather up north.
The town itself is historic, founded in 1732 by Jesuit priests looking to establish an outpost among the local indigenous tribes. Over the years, it served as a center of sugarcane farming until drought destroyed the industry.
Retire in Todos Santos, Mexico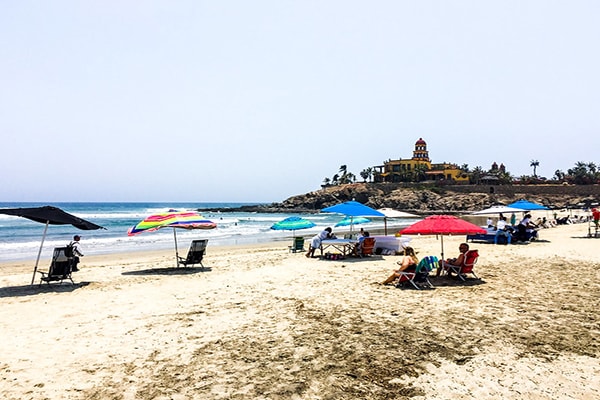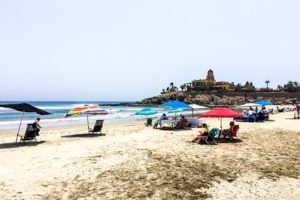 Because of its centuries-old history, the heart of the sunbaked town center is made up of brightly painted in a rainbow of colors or brick historic buildings, often with bougainvillea spilling over walls and cactus abundant. Most structures have been restored and turned into art galleries, boutiques, shops, restaurants (with everything from traditional Mexican cuisine to sushi), cafes, smoothie places, and small hotels. It's very walkable…and it's a lot of fun to just wander the downtown and pop your head into a doorway to see what treasures might be inside.
A quick misconception to clear up. Although there is a so-called Hotel California in town, and local tourism boosters claim it is what inspired the classic Eagles song, it's just not the case. One place definitely worth a stop is La, which is on the edge of downtown. It's an open-air restaurant and craft brewery offering up India Pale Ales and espresso alongside fresh fruit smoothies, salads, vegetarian, and other healthy food menu options. It's one of the prime gathering spots for local expats. Also popular is the Australian-run Todos Santos Brewing, a nanobrewery in the heart of town.
There is no large-scale development in Todos Santos, even at the beach areas, which do have small hotels and condo complexes. This makes the vibe low-key and laidback, a start contrast to the frenetic and touristy feel of Los Cabos. But the good thing is that while shopping and services are somewhat limited in Todos Santos because it is such a small town, you can find everything you might need in much larger Los Cabos, which features the towns of Cabo San Lucas and San Jose del Cabo and all the development that has grown up between them over the past several years as this area has grown in popularity. Familiar brands like Walmart, Home Depot, and Costco are here and are filled with familiar products from the U.S. and Europe. You will pay U.S. prices or more for imported products. You even have small shops selling organic brands from the U.S., as well as gluten-free and other options.
Lifestyle in Todos Santos, Mexico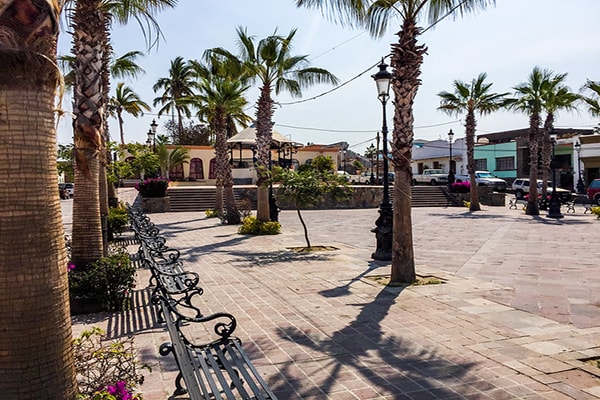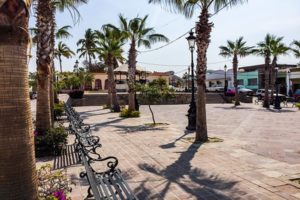 In Los Cabos you also have multiple championship-level world-class golf courses, high-end restaurants, nightlife, and more. Of note, are the marinas—the largest of which is in the heart of Cabo San Lucas. If you're a boater or fisherman, you'll be in heaven. Sport fishing for record-setting marlin is very popular, with many charter boats available. If you want to eat what you catch—tuna, for example—it's abundant as well.
Of course, this whole area is very frequented by tourists and has many multiple cruise ships come calling throughout the week, so many expats in Todos Santos don't stick around too long. They shop and then head home. In fact, a good portion of Todos Santos residents used to live in Los Cabos but fled when development got to be too much for them.
One huge advantage to Todos Santos is that it and the surrounding area are a center for organic farming and it's still a working fishing village. So you can get snapper, tuna, and more for a few bucks a pound right off the boat…and enjoy home delivery of a wide variety of organic produce.
The nearest beach to Todos Santos, called Cerritos, is about 10 minutes' drive south along the coast. It's a surfing beach, with boards for rent and lessons on offer for anyone ready to brave the chilly waters. Something to keep in mind when swimming is that currents can be strong when the waves are high. Check with locals and ask about conditions before you jump in the water. Of course, you can always just relax on the sand and watch the water. There is restaurant/bar right on the sand that often features live music…and top-shelf margaritas. And you can never go wrong with a cold beer with a heaping bowl of ceviche.
The climate here, like much of the peninsula is arid and warm year-round. Temperatures stay above 90 F during the day from June to October, dipping into the 80s F and 70s F at night. In the winter months, you're look at highs in the 70s F and 80s F, with nighttime temps in the 50s F and 60s F. It's basically the desert, after all. That means virtually no rainfall. But the temperatures are tempered somewhat by the sea breezes.
For healthcare, you won't find much in Todos Santos itself other than small clinics and pharmacies. But in Los Cabos, you'll find several hospitals and clinics with top-notch facilities and doctors of every specialty. Because it's somewhat rural, emergency medical services definitely leave something to be desired.
The nearest international airport is in San Jose del Cabo and features several direct flights from cities in the U.S. and Canada, as well as Europe. The route is on a well-constructed and well-maintained highway through the mountains. Because it serves a large tourism market, flights are frequent and affordable. Perfect for your visits back home…and to having friends and family visit you.
Cost of Living in Todos Santos, Mexico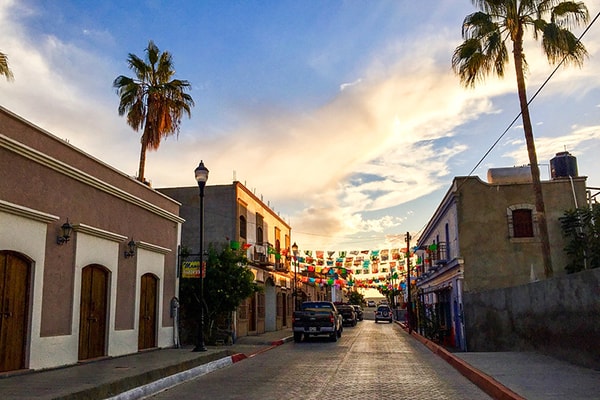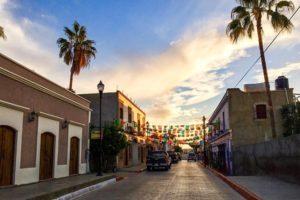 Many expats live in a neighborhood on the outskirts of town and close to the water, with some homes featuring ocean views. Others are set back a few blocks but still a quick walk or bike ride to the water. The roads out here are dirt and sand. Obviously, the farther from the ocean, the lower the prices for homes and lots, which is another popular option for those looking to build their dream home from the ground up; it's much more affordable in Mexico thanks to lower labor costs. You'll find some $1 million+ homes here; and plenty in the half-million-dollar range. But there are plenty of affordable options too. A two-bedroom off-grid home with distant ocean views is available for $179,000. For buy and build, you'll find plenty of half-acre lots with easy beach access starting under $100,000.
If you want to try before you buy, you will find a small amount of long-term rentals as many tend to be seasonal. Homes fill up in winter when the snowbirds arrive; prices are higher at this time of year as well. One long-term option is a two-bedroom home with an ocean view a reasonable walk—or bike ride—to the beach for which will run you $900 in the off season. The rest of the year (and holiday weeks like Easter, it's $1,200 a month. The key to finding the most affordable rentals is to ask around in-person or in online forums. And if you find a home you like, be sure to reserve early or you risk missing out.
Because of relatively high rental prices, you will see a bump in cost of living in Todos Santos compared to some other destinations in Mexico. Another factor is the heavy use of air conditioning, especially during the summer months. Plus, you must always consider how many imported items you buy at the store and where and how often you go out to dinner—some of the restaurants in town can be considered gourmet with prices lower than the U.S. but high for Mexico.
As with many things, overall cost of living is very dependent on lifestyle. Still a retired couple can live well in Todos Santos on less than $2,000 per month.
| | |
| --- | --- |
| Item | U.S. $ |
| Rent (furnished, two-bedroom apartment) | $1,000 |
| Utilities (including phone, electric, water, internet, and cable TV) | $200 |
| Groceries | $300 |
| Dining out and entertainment/hobbies | $200 |
| Healthcare | $80 |
| Car/Transportation (optional) | $150 |
| Maid service (four half-days per month) | $50 |
| Total | $1,980 |