A couple of decades ago, Tulum Beach wasn't yet a destination. The beach road was an unpaved bumpy strip with a dozen or so hotels facing the ocean. Few tourists bothered to visit. Even fewer saw any real estate potential. It was off the beaten track, undiscovered, a little Caribbean outpost.
Then, gradually, things started to change. Road access got better. Word crept out about Tulum's stunning powder-sand beaches. New boutique hotels popped up, followed by gourmet restaurants, organic cafés, and healing spas…even a bikini boot camp. New York's fashion crowd began to visit…followed by a slew of celebrities…and the Instagram set of beautiful people (Tulum's a great backdrop for swimsuit shots).
Today, it's a place where hipsters line up to eat shrimp in white wine sauce…splurge $12 on a fancy cocktail…or $305 on a botanical body exfoliation. This fashionista crowd will also splash out hundreds of dollars a night to stay in a rustic-chic hotel like Azulik, which has no electricity, hot water, WiFi, or TV.
And, while Tulum Beach changed significantly in the last couple of decades, Tulum Town changed beyond recognition. In 2007, it was home to a few run-down hostels, dirt streets, broken-down cars, and stray cats. Now it's one of the fastest growing towns in Mexico. Development is booming. You'll find cute places to eat, sleek boutique hotels to stay in, cool spots to bar hop, and party in the evenings.
Tourist numbers have soared too. And many of the growing number of tourists coming to Tulum don't want the off-grid experience. They want a comfortable place to stay that won't break the bank. That's why owners of two-bed, two-bath condos are making gross rental income of $31,000 and $33,000 a year in Tulum…
And, you can expect strong capital gains on your Tulum real estate, too, if you buy the right deal at the right price.
Real estate in Tulum costs a fraction of the price you'd pay in other Caribbean locales. You have a wide choice of real estate, too, with comfortable and affordable condos, luxurious villas, and everything in between on offer. Here's what you need to know about buying property in Tulum.
Get Your Free Real Estate Report Now
Sign up for our free daily Postcard e-letter and get a valuable free report on the The 5 Best Places to Buy Real Estate In 2023.
Where to Buy Riviera Maya Real Estate
The Riviera Maya extends along 80 miles of Caribbean coast south of Cancun, and there are many options for places to buy real estate at surprisingly affordable prices. However, there are three main locations that we particularly rate as top spots. Those three places are Playa del Carmen, Akumal, and Tulum.
Here's why you should put Tulum on your real estate shortlist:
Tulum
When International Living founder Bill Bonner visited Tulum in 1981, he described it as "an exotic, offbeat, beautiful, and very inexpensive place to stay." He found a low-key, hippie-chic beach destination for a "new crop of flower children" who listened to The Grateful Dead on the radio, stayed in cabins on the beach, and swam naked in the surf.
Today, there are fewer naked swimmers, but that hippie-chic vibe has not only survived, it's prospered, transforming Tulum into a destination for a new breed of travelers looking to slow down, relax, and recharge their spiritual batteries.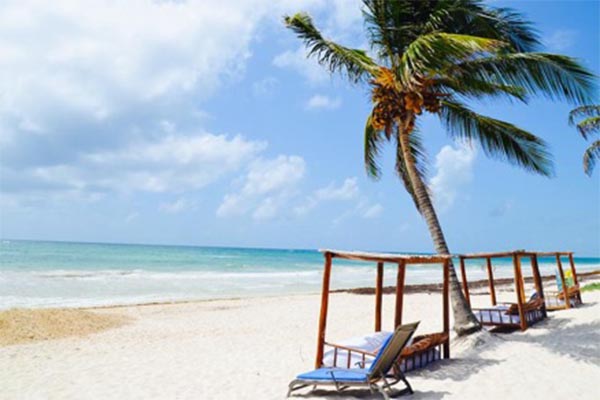 Then, of course, there are the Maya ruins on the edge of town, among the most famous in Mexico. Add those to the chilled-out atmosphere, incredible eateries, and the exceptional white-sand beaches flanked by palm trees, and you have the recipe for a seriously desirable Caribbean destination.
Back in the 1960s, this Caribbean coast was almost deserted, other than some humble fishing villages and coconut plantations. But the Mexican government rightly figured that the rise of cheap jet travel would send global tourist numbers rocketing. And, there would be money to be made from those tourists. They wanted some of the action…and pinpointed the coast around Cancun as a potential tourist mecca. It boasted gorgeous beaches and warm turquoise sea, along with proximity to major markets in North America.
The government got to work, building an international airport, putting in roads and streets and utilities, and persuading resort groups to set up shop. Then they set out to woo potential tourists.
The hard work paid off. Cancun is now a modern city with big malls, marinas, golf courses, and thousands of hotel rooms. Last year, 25 million passengers traveled through Cancun international airport. Many are heading south of Cancun, along the Riviera Maya.
The development that kicked off in Cancun spilled south along the Riviera Maya. It transformed the town of Playa del Carmen from a rustic fishermen's village to a hip beach city. And, turned Tulum from a forgotten outpost to a boho-chic beach destination.
But the development could go no farther…thanks to the Sian Ka'an biosphere, a huge protected area covering more than a million acres, just south of Tulum. And, with protected Maya ruins on the north side of town…and fringed by the Caribbean Sea…developable land is limited in Tulum. That's good news for real estate investors.
Surprisingly, though Tulum's cachet is increasing all the time with celebrities seeking a place in the sun that nourishes the soul, Tulum still offers some extremely affordable real estate options.
Property Samples in Tulum:
A solar-powered three-bed home in five acres of jungle with a swimming pool. The home is two lots away from the clubhouse, communal swimming pool and garden beds for growing herbs, fruits and vegetables. The home has an open floorplan, a master bedroom with its own bathroom, walk-in closet, and access to a wrap-around terrace. The two guest bedrooms share a bathroom. There is also a laundry and powder room, and the living area opens onto a screened porch. Price: $299,000.
A condo between Tulum Town and Tulum Beach in an upscale community. The two-bed, two-bath condo has two terraces. List price: $200,000.
A half-acre lot priced at $45,000, in a community with security, bike trails, green space, and underground electricity. You could build a comfortable home on this lot for $100,000 to $150,000.
What You Need to Know About Buying Real Estate in Tulum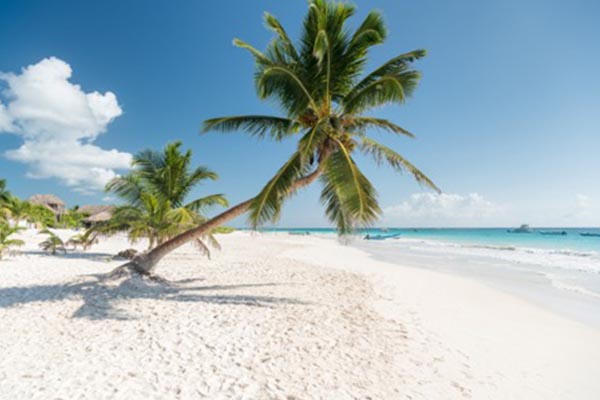 Buying Tulúm real estate can be easier and more affordable than you might have imagined; a slice of Caribbean paradise could be yours for a fraction of what you'd pay for a second home on many Caribbean islands.
Still, there are a couple of things you should keep in mind if you're considering buying in Tulum.
Get Your Free Real Estate Report Now
Sign up for our free daily Postcard e-letter and get a valuable free report on the The 5 Best Places to Buy Real Estate In 2023.
Title Issues—Make Sure You Can Own That Beachfront Property
The right piece of beachfront land may sound like a great buy. But be careful that you can actually own it. Most countries overseas have a section of the beach related to the high-water mark where you cannot legally own a property.
In Mexico, all residential property purchased by foreigners that is located within 62 miles from any international border, or 31 miles from any coastline, will need to be acquired through either a Mexican corporation or a fideicomiso (also known as a Real Estate Bank Trust).
The fideicomiso creates a trust agreement for the benefit of the foreign buyer, and the bank takes on a fiduciary obligation to the owner. The owner retains all the benefits of ownership and has the legal right to lease the property, sell the property, and will the property to their heirs.
The one-time cost for establishing a trust is around $2,000. There is also an annual bank fee for the maintenance of the trust. The annual fee is based upon a percentage of the value of the home—$500 to $550 approximately.
There is little consistency with regard to what banks charge for this fee, so it is a good idea to shop around. A home in the $200,000 range will have a yearly fee of approximately $550 per year.
Trusts are currently 50-year documents and they can be renewed at the end of the 50-year term for an additional 50 years. There is no limit to the number of times the trust can be renewed. The renewal fee is currently approximately $900.
In the Tulum Beach zone, land is often untitled, with lack of clear ownership (and lots of ownership disputes) and not zoned for residential development. Plus, it's off grid (no electricity). So, don't get too carried away when you see a beachfront house for sale. Instead, get an attorney on board before you commit to buying or handing any money to the seller.
Additionally, in Mexico, if land was formerly ejido (indigenous-owned) land, tread carefully. This can be a potential landmine, as someone may be able to lay claim to your property in the future. Ejido land can be titled but it's a complicated process and your attorney will have to do extra checks to make sure that the title is clear, and everything was done correctly. There is a lot of ejido and former ejido land in and around Tulum.
Once you have these issues checked out, you can start enjoying your Tulum real estate…and your holding costs will be low. Though property taxes vary by municipalities, on a $265,000 Tulum home, you can expect to pay about $400 per yearin property taxes.
Condo fees vary from community to community but are generally much lower than what you would pay at home.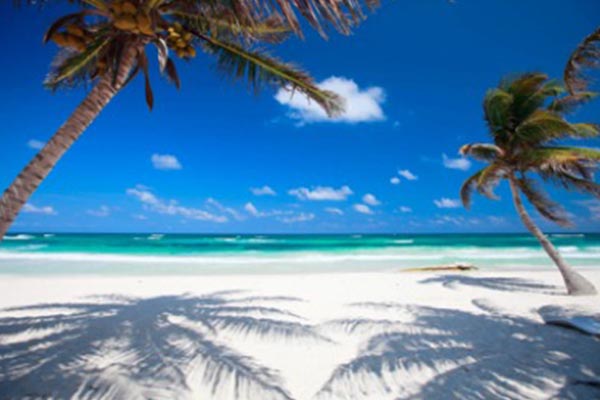 There are some great real estate bargains to be had in Tulum—but they get even better when you follow the expert's recommendations.
Ronan McMahon, who is director of Pangea, International Living's preferred real estate advertiser, has identified some strong moneymaking opportunities in Tulum for members of his Real Estate Trend Alert group.
Ronan recommended condos in Tulum in October 2017 where members could buy premium condos for $230,556.  In June 2019, a premium condo in the project was listed for $449,000. That's a whopping $218,444 in gains—and similar condos rent for $31,000 to $35,000 gross a year.
In 2019, members could buy luxury condos in the closest master planned community to Tulum Beach—from only $175,000.Ronan predicted the condos would be worth $269,000 within five years. That's $94,000 profit from capital appreciation alone. On top of this, owners would have the chance to collect as much as $33,000 per year in rental income.
That's how profitable the right real estate deal in Tulum can be…