Tulúm is a charming and growing resort town on the southern end of Mexico's famed Riviera Maya. With a palpable Bohemian vibe and a plentiful scattering of yoga practitioners and therapeutic massage businesses, this growing community retains its backpacker roots. Some say they can feel the presence of the ancient Maya culture which dominated this region over 1,000 years ago. The adjacent and spectacular archeological site of the same name is a prominent and impressive testament to this once dominant civilization. At its peak between the 13th and 15th century, this ruin was a bustling trade and cultural center, and is now a frequent stop for tourists
The town of Tulúm, bisected by the coastal highway, is a stone's throw from the sparkling sand and warm waters of the Caribbean Sea. About 80 miles and two hours south of Cancún, the town is no longer the hidden gem it once was, but is now well into the development phase with construction of homes and condos on the rise to keep up with those wishing to claim their slice of paradise.
Living in the central town area will not require you to own a car, and walking and bicycling are both quite popular. In fact, it seems there are often as many bikes on the road as there are motorized vehicles. Motor scooters are also quite popular for those who would rather not pedal around town.
Tulúm's reputation as a spectacular vacation destination and a growing expat community is well-deserved. With a tropical climate—temperatures averaging in the 80s F—Tulúm offers a Caribbean lifestyle without the need to travel to and from an island. Residents enjoy warm, turquoise Caribbean waters, a sparkling, perfect beach, and an offshore reef which provides plentiful opportunities for fishing, scuba diving, and snorkeling.
With the introduction of new, modern homes and condos, the population is thought to be well over 20,000, and continues to rise as more people seek an affordable Caribbean lifestyle a bit off the beaten path.
Retire in Tulúm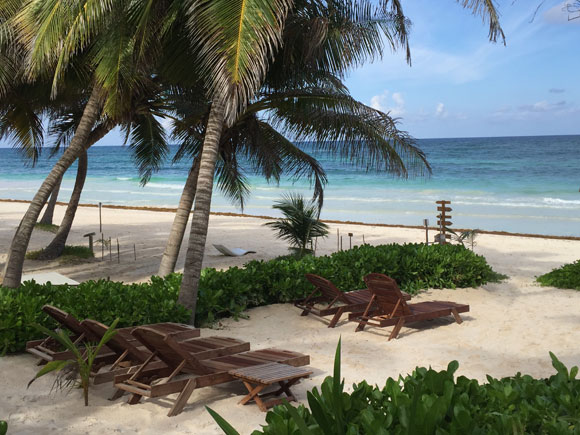 Some folks who have vacationed in Tulúm have returned, wanting to permanently claim the relaxing, low-stress lifestyle that seeps through the warm, tropical sands, into your soul.
You can live a relaxing life in Tulúm. Simply sitting on the beach and wiggling your toes in the sand isn't a bad way to spend an afternoon. Or you could explore the nearby jungle trails. If you crave more activity, you can spend time snorkeling the reef, or paddling your kayak though the surf. Cooking a fish that you pulled from the sea only an hour before is a good reason to invite some friends over and host a dinner party. Many enjoy exploring numerous, stalactite-filled cenotes (underground caves filled with sparkling fresh water), and riding bikes through the jungle. If you like photography, you'll find colorful tropical birds, large Iguanas, and monkeys seemingly posing for you to get the perfect shot.
Healthcare in Tulúm is provided by several small clinics and one small, primary hospital. The Hospital de Tulúm offers 24-hour emergency care. It has a small operating room and a few beds for extended stays. It's a good choice for minor to moderate medical needs. Playa del Carmen (an hour north) and Cancún (two hours north) both offer larger hospitals and a more complete menu of medical services.
Getting to and from Tulúm is easy. The international airport in Cancún offers connections from all major airlines to major hubs across the globe. The highway to Cancún is direct and paved.
Those wanting to retire to Tulúm will require a Mexico Residence Visa. Application must be made before entering the country, at you nearest Mexican consulate. The process is simple and straightforward, particularly if you apply for a retirement (pensionado) visa. Simply provide proof of income with your passport, marriage certificate (if appropriate) and a few other basic documents and retirement visas are often issued the same day. (Migration policies are always subject to change.)
Lifestyle in Tulúm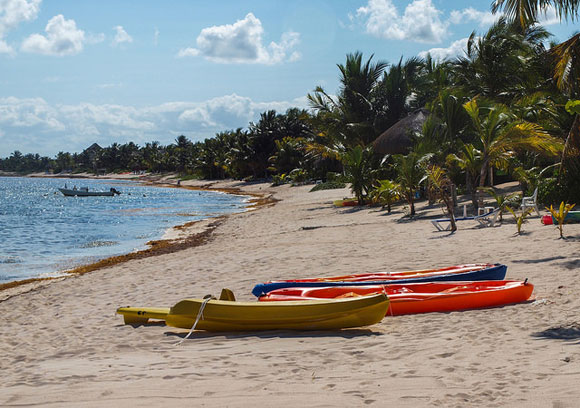 Discovering great restaurants is always fun and Tulúm offers plenty. If you just want a small meal, sidewalk vendors can provide everything from hot dogs to tacos including a cold drink for as little as a dollar. On the other end of the spectrum, you can find fresh seafood restaurants, Italian restaurants, and Mexican fusion restaurants offering all sorts of creative ways to prepare steak, chicken, and seafood. And like all good restaurants throughout Mexico, there will be plenty of fresh limes for squeezing and an abundant variety of spicy salsas available.
The town of Tulúm doesn't sit directly on the coast, but is only a short distance away. However, the archeological ruins sit atop a 40-foot cliff overlooking the beach. In fact, it is believed to be the only Maya ruin with its own beach. Visitors to the site often bring their swim suits to make for a complete day.
The Yucatán Peninsula, home to Tulúm and the Riviera Maya, is among the safest regions in all of Mexico. It is easy to explore by bus or car. Dotted with small villages as well as the major cities of Cancún and Mérida, and medium-size cities like Playa del Carmen and Valladolid (Bah-yah-doe-leed), you can generally find anything you need. There are Sam's Clubs, Walmarts, Costco, and Sears in all the larger cities and towns. The closest international airport is Cancún. Other airports are located in Cozumel and Mérida.
Cost of Living in Tulúm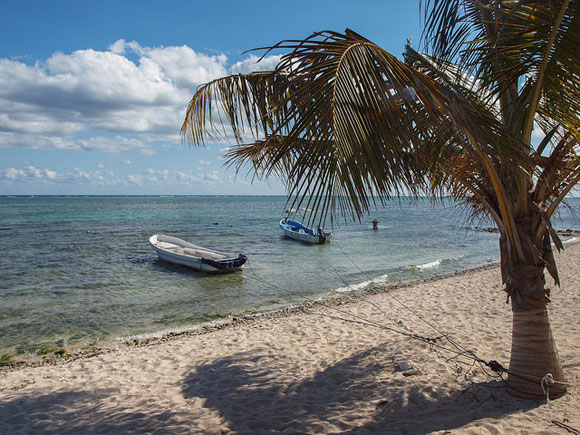 Mexico offers a significantly reduced cost of living when compared to the U.S., and Tulúm falls in line with that expectation, with the exception of rent. Given Tulum's growth in popularity as a vacation destination and the rise in short term rentals,  you should expect to pay above average rent in Tulum than in other areas of Mexico. To buy a 1,200-square-foot home, you'll spend about $125,000 and rent for a two-bedroom apartment will run about $1,500 to $2,500 a month.
Utilities will run about $70 a month, which includes electric, water, trash collection, and phone. A local beer will cost about $2, and an inexpensive meal will set you back 80 pesos, which is about $4. A nice dinner for two in a mid-range restaurant will cost 450 pesos (about $23).
On the southern end of Mexico's Riviera Maya is the up-and-coming expat destination of Tulúm. This small but lively beach community offers a warm tropical climate year-round, as well as white-sand beaches and vibrant turquoise Caribbean waters. Good value condos and homes means retirees and other expats live by the beach for less. And an active expat community, great restaurants, and plenty of modern amenities and services make for a great lifestyle.
Here's an example of a monthly budget for a couple living in Tulúm:
Expense
U.S. $
 Housing (rental of a furnished, two-bedroom home)
 $2000
 Utilities (electricity, gas, water, phone, cable TV, internet)
 $70
 Groceries
 $350
 Entertainment (dining out and other activities)
 $250
 Healthcare (IMSS or Seguro Popular for two people,
plus $80 in extra expenses)
 $140
 Maid: Three times a week
 $140
 Gardener: Once a week
 $75
 Incidentals
 $150
 Monthly total
 $3,175
Photographs of Tulúm, Mexico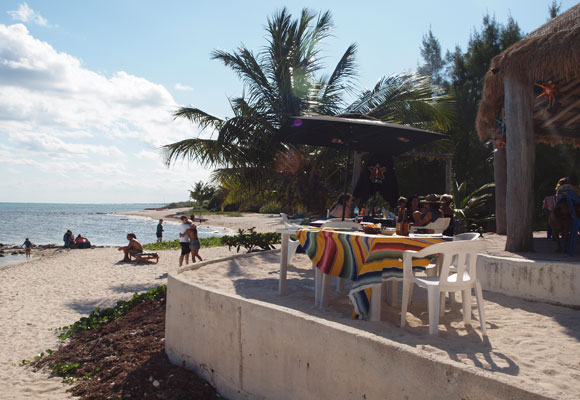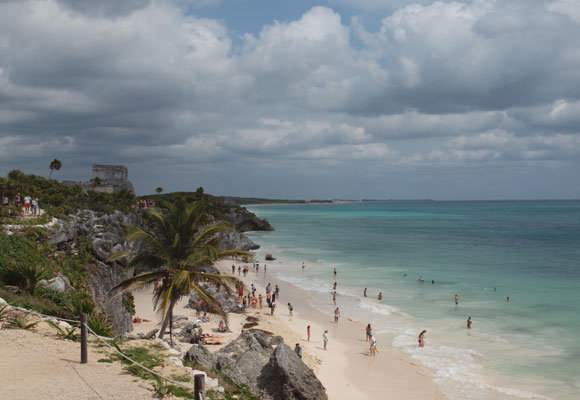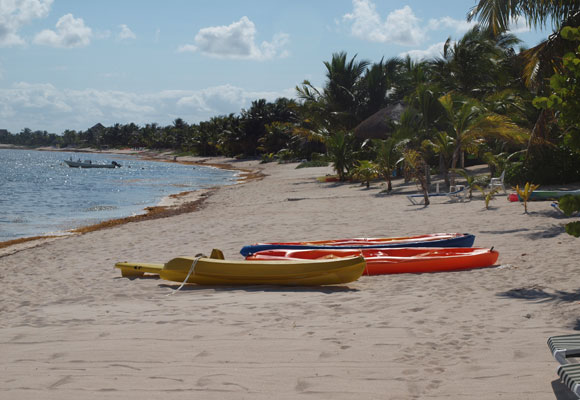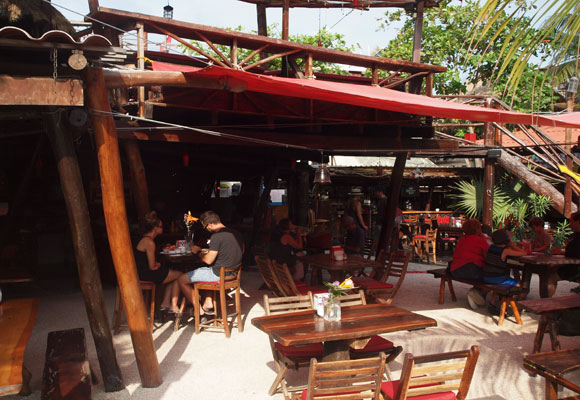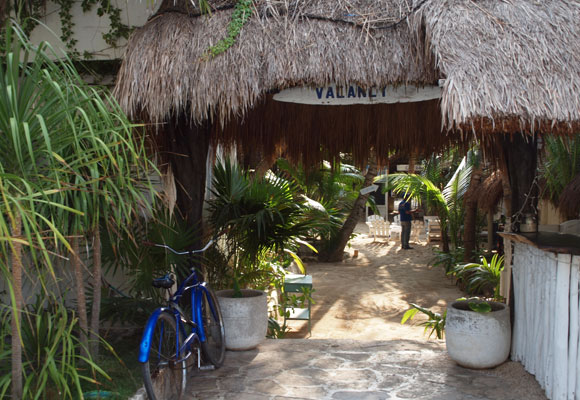 On the "main drag" on Tulúm's beach side you'll find many restaurants. This one, Mateo's, has to-die-for fish tacos. Try the chipotle hot sauce.