Top 10 Reasons to Move to Mexico
By Don Murray
There are many reasons for moving to Mexico: the people are welcoming, the cost of living is low, and buying real estate in Mexico is safe and easy. Mexico's climate is generally warm and can, in fact, get downright hot in the summer. Tequila and guacamole are both plentiful (so survival is assured) and can accompany the many delicious regional foods throughout the country. Oh, and many of the beaches are world-class destinations and a casual wardrobe is all you will need for nearly every occasion.
All this can be had for costs that can be half or less than life north of the border. In fact, many report a lifestyle that is greatly enhanced while their cost of living has significantly decreased. One more thing…the medical care is good to excellent and costs pennies on the dollar compared to prices north of the border. That goes for medications too (which rarely need a doctor´s prescription).
Proximity to the U.S. is also a bonus when considering a move to Mexico—especially for those who have friends and family there or travel back and forth for business. Those who spend only part of their time living in Mexico find the proximity to be a nice benefit. Several airlines have direct flights between many Mexican and U.S. cities and some even choose to drive across the border in both directions.
If your move to Mexico involves retirement, Mexico's process is direct and uncomplicated. Retirement visas are granted liberally and one can achieve Permanent Resident status without transitioning through the Temporary Residency process. The visa application process begins at the Mexican embassy/consulate in your home state or province. Complete a basic application, provide proof of financial solvency sufficient to obtain the visa you seek, present copies of your marriage license if appropriate, and a quick interview with a Consulate Officer should almost do it. Consulate web sites will provide a complete list of required documents. And, retirees can apply for a discount card that facilitates discounts up to 20% on a variety of goods and services.
Because Mexico is a large country and geographically diverse, it offers all kinds of climates and spectacular sceneries. Whether your dream involves gentle waves rolling onto the Caribbean shore, the majesty of the cliff-infused Pacific Coast, or the tranquility of the Gulf of Mexico, an affordable beachy life in Mexico is attainable for most. ­­
Or maybe you would prefer the splendor of cool mountains, the reflections of sunrise on a calm lake, or the lush greenery of the jungle. Mexico has it all including untold numbers of ancient Maya ruins that would be the envy of Indiana Jones.
Are you a fan of big city life? Mexico City or Guadalajara can easily fill the bill with plentiful fine dining, world-class shopping, stunning architecture, and vibrant historic centers, art museums, symphonies, universities, modern medical centers, and pro sports teams. And of course, there is the crush of the crowd and tons of vehicle traffic to remind you you're in a mega-city.
And for those seeking a less crowded option, there are countless small towns, medium-size cities, and tiny villages scattered throughout this beautiful country. The hard part is making a decision where to settle. The food and the people are wonderful, everywhere.
Mexico offers the perfect mix of centuries-old traditions and contemporary lifestyles. Most metro areas will have all of the amenities you grew accustomed to in North America: cable TV, high-speed Internet, and modern hospitals and up-to-date home appliances. And, if you prefer, you can even bring all of your favorite things with you without paying import taxes.
Everyone seems to agree: your quality of life improves in Mexico. Goods and services cost less, so you can afford the kinds of luxuries only the very wealthy enjoy up north: a maid, a cook, and a gardener, for example. Then you have time to read, volunteer, golf in the mornings, relax on the beach…time to savor life.
Be honest with yourself before committing to move to Mexico. Do heat and humidity bother you? Are you prepared to live in a place where English is not the first language and could you commit to learning a bit of Spanish yourself? Will you be able to adapt to a different culture? If you are ready for a change and looking to enjoy a more relaxed, affordable lifestyle, then Mexico may just be for you.
---
How to Move Out of the U.S.
(and Where to Escape to)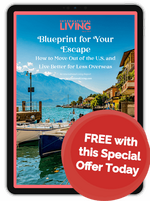 In lots of safe, warm, friendly spots abroad, a couple can live well for around $2,000 a month. Hundreds of thousands of Americans have already escaped—and you could, too. International Living shows you—step-by-step—how (and where) to go. You may be stuck at home right now—but it's the ideal time to put your escape plan in place.
Subscribe to International Living with this special discount offer today—and we'll give you a blueprint for your own escape.
Claim Your FREE copy of this Special Report now when you subscribe to International Living
---
The Review- Top Ten Reasons
It's close to the U.S. Easy and inexpensive to travel between countries. In fact, you can even drive your own car.
Low cost of living. Overall, including housing, medical care, food, and utilities, most folks say they save between 50% to 65% over their expenses in the U.S. This permits more money for things like housekeepers, cooks, gardeners, and travel. Simply put, Mexico just costs less, period.
Affordable housing can be found everywhere. Naturally, beach properties cost the most but even those are a fraction of similar properties north of the border. Whether you rent or buy or even build your own home, you can afford to live in Mexico. And the property taxes are silly cheap, sometimes only a few hundred dollars per year.
Excellent healthcare is one of the biggest benefits to a life in Mexico. At the time of this writing, the country is engaging a new healthcare system that will provide improved care for all, regardless of ability to pay or any pre-existing conditions. It is a good system now but is destined to improve.
Beautiful beaches. I mean, world-class, jaw dropping aquamarine water kissing sugar sand beaches. Check out the Riviera Maya along the Caribbean Coast or slide over to the Pacific Coast to visit Puerto Vallarta for a treat. And the Gulf of Mexico washes the west side and northern tip of the Yucatan Peninsula. Beaches? We got them.
Mexico's rich, vibrant culture blends several indigenous populations with the Mexican people and that is all flavored by a huge Spanish influence left over from the conquistadors. Spanish architecture blends with ancient Maya and Aztec. A walk down any metropolitan street will display many different kinds of traditional attire and architecture.
Expat Havens or strongholds can be found in several areas of the country. The Lake Chapala area just south of Guadalajara holds the largest number of U.S. and Canadian expats in Mexico with numbers thought to be around 20,000 and swelling to about 40,000 during the winter when snowbirds flock to the area. San Miguel de Allende, Guanajuato, and Puerta Vallarta also hold large numbers of expats which can be comforting, especially for new arrivals.
Laidback lifestyles are the norm in Mexico. In fact, it is almost mandatory. Local businesses often close for a couple of hours in the afternoon, during the heat of the day. Siestas are a real thing and just because you are in a hurry does not mean you can hurry the culture. Mexico teaches patience.
Friendly people are everywhere. The locals in every area would like to talk to you and may have questions about your lives before moving to Mexico. But, you must learn to speak the language of your new country. Learning a bit of Spanish truly makes life much easier and makes socializing and learning about your neighbors possible. Always remember, you are a guest in Mexico and it is your obligation to learn the language.
And finally…food. Mexico has seven different regions when it comes to cuisine and each of them is as different as you might expect. After all, New Orleans food is significantly different than the food in Kansas, New York City, or Los Angeles. Mexico's regions offer diversity in the ways food is prepared.
Local seasonings such as chiles can be included while cooking or be served on the side, for example. The types of seafood on the various coasts are treated differently. The Yucatan Peninsula is heavy with Maya influences and corn is often served, in one form or another, with every meal. If you really want to have some fun, plan a food tour of Mexico and hit all of the seven regions: North, North Pacific, the Bajio Plateau, South Pacific, South, the Gulf and Central Mexico, the Pico region.
Why I Moved to Mexico
By Jason Holland
Video Transcript:
Hi, this is Jason Holland, and in this video, I am going to be telling you why I moved to Mexico.
In my role as International Living's Roving Latin America Editor, I get to travel all over the Caribbean, Central, and South America, which is a lot of fun. But I am based in Mexico, San Miguel de Allende to be exact, which is a colonial city of about 140,000 people in the mountains of central Mexico.
San Miguel de Allende is about four hours north of Mexico City. My family and I have lived here since 2017 and previous to that, we lived in the small seaside town of Akumal in the Riviera Maya. We were about midway between Playa del Carmen to the north and Tulum to the south.
So going back to the beginning, why did we choose Mexico as a place to live?
I think many of my fellow expats here have a lot of the same reasons for moving to and living in Mexico, and why we consider it to be such a special place. Now, let me first say that there are about a million expats from the U.S. and about half a million Canadians living in Mexico full-time or part-time. So it's a very popular place.
Climate
One of the main determining factors for us was that Mexico is a pretty large country. It's about three times the size of Texas and within that territory, you have a tremendous variety of landscapes, lifestyles, and climates. For example, I mentioned the Riviera Maya. That is Mexico's Caribbean coast and with white-sand beaches, palm trees, and clear blue Caribbean waters, it offers the ultimate beach lifestyle. Now, it can be a little bit hot and humid for some people, but it has that fun beach vacation lifestyle that a lot of people are looking for.
Here in San Miguel, and in other towns and cities in the colonial highlands of Mexico, you have a totally different ballgame. We're at an elevation of about 6,200 feet in San Miguel. Other Highlands cities range from between 5,000 to 6,000 feet as well. So what we get is a nice temperate climate where it's really never too hot, never too cold for most of the year, although we do get some cold nights in winter and some hot days in summer. But for the most part, it's going out during the day in t-shirt weather. And you'll be very comfortable in a light sweater or a light jacket in the cooler evening hours.
If you go over to the Pacific Coast to places like Puerto Vallarta and Zihuatanejo, you are going to have a warm and humid climate pretty much year-round, although in the winter months it does get a bit cooler and the high temperatures are tempered somewhat by the sea breezes.
Head over to Baja California and the southern portion, you have a very dry, arid desert climate where it can be quite warm. And then in northern Baja, in places like Ensenada and Rosarito that are very close to the U.S. border, you have a very southern California-like climate year-round.
In Mexico, you have mountains, rain forests, ancient ruins, colonial cities, and massive modern cities. You have small towns and villages. You have vast agricultural areas and tropical beaches. We love that variety of landscape—and the lifestyles that go with it.
Cost of Living
Another big benefit of living in Mexico is the lower cost of living. You can get by here on much less money than you would in the U.S. We have a much bigger house than we would have been able to afford at home. We enjoy having great meals out and not paying about half to maybe a third of what we pay for a similar meal in the U.S. So that makes date nights very doable in Mexico.
Culture
We also enjoy the rich culture in Mexico. Mexico's heritage stretches back thousands of years with the indigenous peoples that live throughout Mexico. There are dozens of indigenous groups throughout the country that exist to this day. So those traditions from these indigenous people, thousands and hundreds of years ago, festivals, holidays, celebrations, and other aspects of the culture, they're still very much practiced today in Mexico. And of course, after the Spanish came and colonized Mexico, they blended that European Spanish culture with the indigenous traditions, as well as Roman Catholicism with indigenous religions. So you have this great mash-up of cultures and traditions in Mexico with holidays like Day of the Dead, which actually is an outgrowth of an indigenous celebration. It's a day when people celebrate their ancestors and deceased loved ones, bringing them back from the afterlife to our world, and being able to visit with them for at least one day a year. Day of the Dead is now one of Mexico's biggest holidays.
Infrastructure
Now, we also like that Mexico is still very much a modern country and its first world in many ways. The infrastructure is good, the nationwide highway system is good there, and there are international airports throughout the country that offer flights around the world, especially to the U.S. and Canada, because there are so many tourists that come from those countries. So you have multiple ways of getting back and forth from your home country. You can even drive to Mexico because it is so close, of course, which is what my family and I did. We've driven all over Mexico and driven back and forth to the U.S. many times now.
Mexico also has high-speed internet. We have great 3G and 4G cell phone service throughout the country. You will notice that when you come to Mexico you're going to find stores and brands that you have in the U.S. and Canada. Things like Office Depot, Home Depot, Wal-Mart, Costco, and Sam's Club. And when you go into the stores, you're also going to find plenty of brands from the U.S. and Canada as well. So it makes the transition a bit easier.
But of course, that rich Mexican culture shines through in everyday life. While you do have the option to shop at a big box store, you can also still go to the weekly market, the weekly farmer's market, and get all the vegetables you need for the week for a couple of bucks. So that's another aspect that we like, is that blending of the traditional culture and the modern conveniences.
One thing that many people may not consider is that you can drive to Mexico. So instead of getting a flight to Mexico, if you're a tourist, or you are a temporary resident, you can actually drive the car in, which makes it tremendously convenient. You don't have to buy one locally. You can just bring your car in and it stays in Mexico legally for the length of your visa.
Language
The language barrier is another aspect of living in Mexico that I'm regularly asked about. I will address that concern really quickly. Of course, they speak Spanish in Mexico. But here's the thing, especially in areas visited by tourists, in areas where there are a lot of expats, and there are numerous areas like that's in Mexico, you can get by pretty much in English. Many locals do speak English because of tourism, because they work in that industry, or because they're in a town where there are so many expats. A lot of the local people have picked up at least some English. You can communicate just fine without speaking much Spanish. Of course, you do want to learn some Spanish because it's a polite thing to do.
It's a great way to get to know your neighbors, to make new friends, to know what's going on around you in your community, to be able to read the newspaper, or watch the news in Spanish and get to know what's going on in your town, the surrounding region, and even throughout the country. So learning a bit of Spanish is a good thing to do. People really appreciate it. And you don't have to become fluent. You probably won't. But if you learn some keywords and phrases, you are well equipped to navigate life in Mexico.
Safety
And another thing that people bring up with me a lot, and especially friends and family members, is safety. They're worried about safety because you watch the news in the U.S. when they talk about Mexico, they're talking about violence, about drug cartels, and things like that. And of course, those things are happening in Mexico in different areas throughout the country. But as I mentioned, there are about a million U.S. expats in Mexico, half a million Canadians, and millions of tourists come every year to Mexico. The vast majority of people will experience no issues. And most of the cartel violence and things like that is between the cartels or between the cartels and the governments. The expats and foreigners in the country are not involved. So you don't really have to worry about that too much. I mean, of course, my family and I, we are concerned about those things. We keep an eye on the news. We keep an eye on areas that are kind of no-go zones because of safety issues. But for the most part, we aren't concerned too much about violent crime or being victims of violent crime. I will tell people that I wouldn't live in Mexico if I didn't feel safe. I wouldn't have my kids here in Mexico. If I felt that they were in danger in any way, I would move.
So that's Mexico, kind of in a nutshell. And I was only able to touch on a few things here, but I would encourage you to explore the International Living website, because we have hundreds of articles about Mexico, about the climates, about different areas to go, how to get a residence visa, how to get your stuff to Mexico, the cost of living. Lots of examples, lots of stories of happy expats who live in Mexico. A lot of practical information, too.
So that's why I moved to Mexico. Thank you so much for sharing this time with me and I hope to see you in Mexico very soon.
---
How to Move Out of the U.S.
(and Where to Escape to)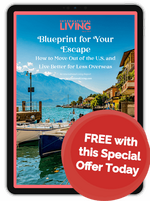 In lots of safe, warm, friendly spots abroad, a couple can live well for around $2,000 a month. Hundreds of thousands of Americans have already escaped—and you could, too. International Living shows you—step-by-step—how (and where) to go. You may be stuck at home right now—but it's the ideal time to put your escape plan in place.
Subscribe to International Living with this special discount offer today—and we'll give you a blueprint for your own escape.
Claim Your FREE copy of this Special Report now when you subscribe to International Living
---