Your Complete Guide to Cozumel, Mexico: Things To Do and Cost of Living
If you've ever imagined yourself lazing on a tropical island, cold drink in hand, and wriggling your toes in the warm, clear aquamarine waters of the Caribbean Sea, the island of Cozumel in Mexico could be perfect for you.
Just 12 miles off the coast of Playa del Carmen, along Mexico's famed Riviera Maya, Cozumel is a well-established, world class vacation destination. Especially known for its warm, tropical water, snorkelers and scuba divers from across the globe enjoy exploring the island's reef, teeming with aquatic life.
Average temperatures in the 80s F make for comfortable weather with breezes off the Caribbean providing some cool air during the hottest months—when temperatures can climb into the 90s F.
At 30 miles long and 10 miles wide, Cozumel is just the right size to get around on a bicycle or motor scooter, but taxis are abundant too. The island's largest town is San Miguel. With some 100,000 permanent residents, San Miguel is a lively tourist town. With hundreds of small gift stores, restaurants, night clubs, and bars attending to millions of tourists each year, San Miguel serves its purpose flawlessly.
Tourism provides the high-octane fuel for the island's economic engine.
The bustling port in San Miguel accommodates between 4 to 5 million cruise ship passengers annually.
Huge ships arrive each week (more during winter than summer), dropping their passengers into the central area of San Miguel, staying just long enough for passengers to enjoy the day, take an excursion, and rack up a few charges on their credit cards.
Cozumel also has a busy international airport and a regular ferry service from the mainland in Playa del Carmen. A small fleet of modern, fast catamaran shuttles charge $20 for a roundtrip ticket and the ride takes about 45 minutes each way.
Get Your Free Mexico Report Here:
Learn more about Mexico and other countries in our daily postcard e-letter. Simply enter your email address below and we'll send you a free special report - Why Millions of Americans Are Moving to Mexico.
This special guide covers real estate, retirement and more in Mexico and is yours free when you sign up for our postcards below.
Retire in Cozumel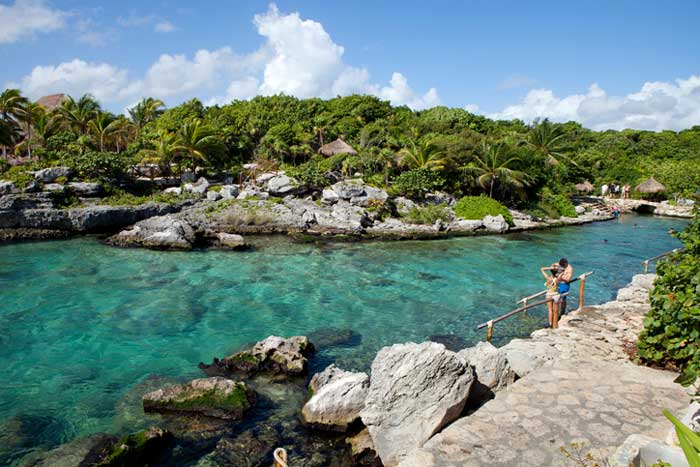 Those wanting to enjoy an active, lifestyle while also appreciating the pleasures of island life may wish to consider Cozumel for their retirement home.
In addition to unlimited water-born recreational opportunities such as boating, fishing, swimming, snorkeling, scuba diving, sailing, and kayaking, Cozumel also provides modern infrastructure with a stable electrical grid and high-speed internet.
Warm, tropical weather throughout the year is a draw for many people and Cozumel offers that in ample supply.
This is an area subject to hurricanes, however, and Cozumel took a couple of heavy hits in 2005 from hurricanes Emily and Wilma. And while they don't happen often, residents pay close attention to the weather during hurricane season.
Shopping opportunities are abundant with modern grocery stores offering a large variety of goods. Residents can enjoy the benefits of a thriving tourist community with ample selections of restaurants serving all kinds of food from around the world.
You can even catch a movie at a local theater, if you wish. As with all islands, prices for goods and services are higher than those on the mainland by some 20% to 30% on average.
Medical care on the island is provided by three hospitals and a number of clinics for routine care. And of course, the mainland is only 12 miles away, so access to larger hospitals in Playa del Carmen and Cancún is readily available, as well.
Lifestyle in Cozumel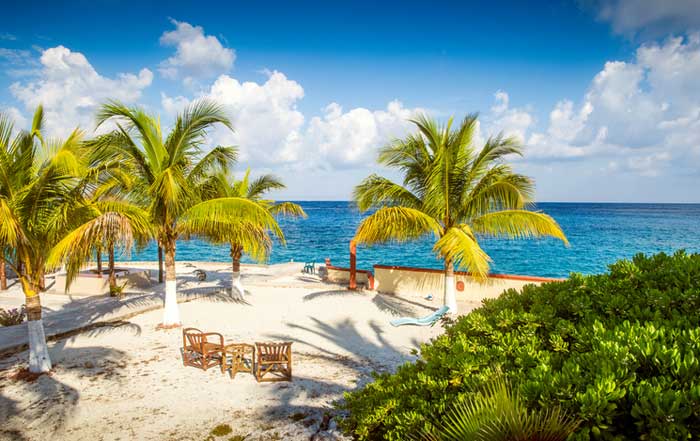 Cozumel is a great choice for expats looking for island-life.
It's large enough to offer many conveniences without going to the mainland, but its proximity also allows residents to quickly catch a ferry and spend some time in Playa del Carmen, Cancún, or even to explore the historic Yucatán Peninsula.
Permanent residents on Cozumel can choose to live in San Miguel or several smaller communities on the island.
Las Fincas, Kilómetro Cuatro y Medio, La Estrella, San Lorenzo, La Esperanza, and Huerto Familiar are all smaller villages primarily occupied by locals of Maya and Mexican ancestry.
Cozumel's primary draw is the surrounding, clear Caribbean water and the easy access to shallow reefs for divers and snorkelers.
The island offers a choice of many beaches. Some are rocky limestone, perfect for snorkelers, while others are covered in powdery white sand and are just right for lounging and reading a book.
Hundreds of dive boat operators compete for business in the harbor while several private access points along the shore permit divers and snorkelers to enter for a small fee. Public beaches, of course, have no fees.
If you're looking to get away from the water, plan a trip to the El Museo de la Isla de Cozumel (The Museum of the Island of Cozumel). It provides an insight into the history of the island and its ancient Maya inhabitants.
Afternoons allow time for catching a movie at the modern theater or even visiting the local library. The very active night scene offers live music and dancing in clubs and bars, as well as free performances in the central park.
Spanish is the official language; however, many restaurant and tour employees speak some English.

Cost of Living in Cozumel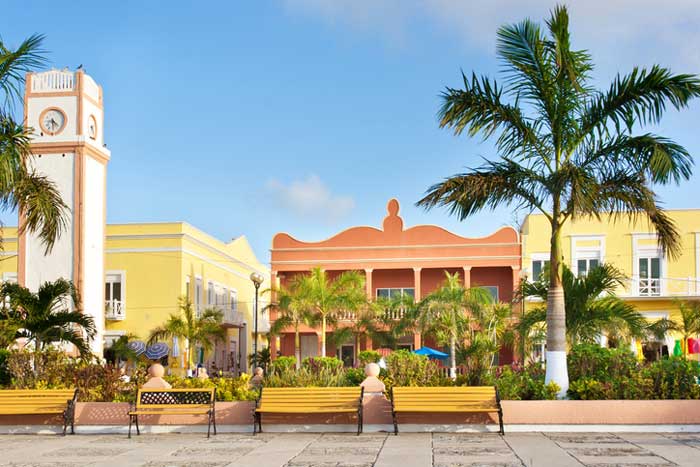 Cozumel offers good value for dollars spent, even when it comes to housing.
However, it can be hard to find an apartment as the market is geared toward short-term vacation stays.
You will most likely have to rent a place, short term, while you search for a long-term rental. Also, most long-term rental properties come unfurnished. Those advertised as "furnished" may be sparsely furnished, at best.
With limited land available, condos are the most popular housing option on Cozumel and good deals can be found in the range of $150,000 for one-bedroom units. Two-bedroom units can run upwards of $180,000.
Here are some examples of regular monthly expenses for a couple living in Cozumel:
| | |
| --- | --- |
| Expense | U.S. $ |
| Rent – one-bedroom condo | $450 to $700 |
| Rent – two-bedroom condo | $500 to $800 |
| Internet | $20 |
| Utilities | $70 |
| Lunch for two | $10 |
| Dinner for two – mid-range restaurant | $25 |
| Dinner for two – upscale restaurant | $65 |
The following budget gives you an idea of the expenses a couple might incur each month living comfortably in Mexico. We have included rent—but keep in mind that if you've bought your house outright, you won't have this expense (though you would want to include property taxes—rarely more than $200 per year—and regular maintenance).
| | |
| --- | --- |
|  Expense |  U.S. $ |
| Rent (furnished, two-bedroom home) |  $750 |
| Electricity |  $30 |
| Water |  $15 |
| Gas |  $30 |
| Household help (maid, three times a week) |  $135 |
|  Internet |  $20 |
|  Cellphone |  $10 |
| Cable/Pay TV |  $35 |
| Healthcare (IMSS or Seguro Popular for two people) |  $85 |
| Transportation (car maintenance/public transport) |  $30 |
| Groceries |  $350 |
| Entertainment (dining out and other activities) |  $250 |
| Miscellaneous/Incidentals |  $150 |
|  Monthly Total |  $1,890 |
Get Your Free Mexico Report Here:
Learn more about Mexico and other countries in our daily postcard e-letter. Simply enter your email address below and we'll send you a free special report - Why Millions of Americans Are Moving to Mexico.
This special guide covers real estate, retirement and more in Mexico and is yours free when you sign up for our postcards below.
Isla de Cozumel: Laidback Living with Amenities at Hand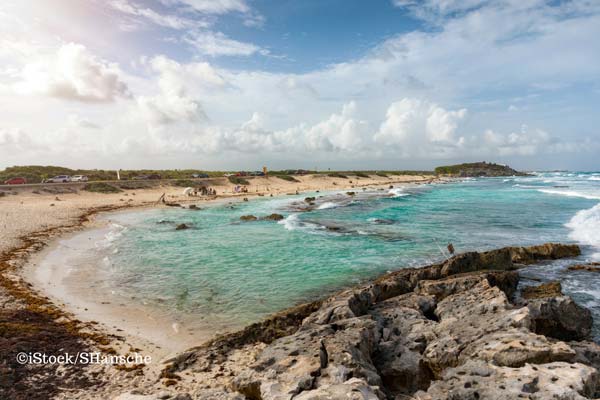 By Don Murray
Cozumel is a perfect blend of laidback island life with tons of activities to enjoy.
Here you can have as relaxed or active a retirement as you want.
You can park yourself on a perfect stretch of white-sand beach for the day, listening to the waves as you read the latest best-seller, or don a snorkel to explore the Chinchorro Reef, the world's second-largest reef system, just offshore.
Clear waters make it easy to see (and photograph) sea turtles, rays, and colorful clown fish. You can even make arrangements to swim with giant whale sharks.
Lying only 12 miles offshore from Playa del Carmen, about an hour south of Cancún, Cozumel is about 30 miles long and 10 miles wide. But this small space has a lot packed into it. With over 300 restaurants, delicious meals of all varieties are easy to find.
You can buy a couple of fish tacos for about $5 and wash them down with a $2 local brew, or splurge on an elegant steak and lobster dinner by the sea.
The bulk of Cozumel's population calls the city of San Miguel home.
There is a busy malecón, or main road, running along the shoreline near the ferry terminal and cruise ship docks. Arriving by boat, you'll find a vast array of tourist-oriented shops, restaurants, and bars.
A few blocks inland will put you into local neighborhoods, where small houses and apartments line the streets and groups of uniformed children walk to and from school.
Raise your eyes and you'll note luxury condo buildings along the horizon, offering all the contemporary amenities. Long-term rentals, while sometimes hard to find, can be had for $450 to $1,500 and more a month. The price depends on size, location, view, the condo's condition, and furnishings.
According to 15-year expat resident Luh McDevitt Madera, you don't need a car on Cozumel.
"Owning a car may be more of a problem than a convenience, due to crowded, narrow roads and parking issues," she says. "I have a car and a truck I use for our business, but they can be a pain sometimes."
Locals and tourists alike prefer motor scooters and various off-road vehicles to scurry around the island.
Aside from getting caught in the occasional rain shower, scooters are cheaper, easily parked, and (using appropriate safety gear) can be safe and fun. Walking and taking taxis are also options.
Cozumel's nightlife starts around 10 p.m. Local bars, discotheques, and stage shows deliver endless entertainment options, including traditional Mexican music and modern rock bands.
Señor Frog's is a 100% Mexican bar, nightclub and restaurant with great food, spontaneous choreographed dance performances by the staff, and a party atmosphere along with large, signature drinks.
Fat Tuesday's is another place that's always lively and serves great frozen cocktails.
You can find it right on the main square, close to the ferry terminal. Public stages offer such delights as Maya fire dancing exhibitions and live music.
For those wanting a tamer evening, cinemas offer movies in English and Spanish; some include subtitles. The Cinepolis in the Chedraui Plaza is a modern, seven-theater complex with stadium style seating and very reasonable prices ($3 to $5).
Cozumel offers world-class shopping, with everything from precious gems to handmade artisan clothing and pottery, as well as all your daily essentials. Most of the shopping can be found in Ave 5 and Ave 10 or the area around the Plaza del Sol.
This area, along the waterfront, is dense with small shops and some larger stores. (For good deals, go to Cinco Soles, an expansive store right on the waterfront with crafts from all over Mexico.
It also has a tequila bar for sampling from their large selection.) Food and all other consumables are shipped to the island (making them somewhat more expensive than on the mainland), and fresh water is provided by several desalination facilities.
Cozumel also has several good medical clinics and two small hospitals. For major emergencies, Cozumel Medical Center is the place to go.
Being an island, Cozumel is more expensive than many of Mexico's other retirement hubs, and you should budget accordingly if you plan to live here.
Luh and her husband Moisés believe that a couple can live a very nice, retired life on Cozumel for around $3,000 to $4,000 a month. But if your budget can stretch that far, you can enjoy a fantastic retirement here among a thriving expat community.
Get Your Free Mexico Report Here:
Learn more about Mexico and other countries in our daily postcard e-letter. Simply enter your email address below and we'll send you a free special report - Why Millions of Americans Are Moving to Mexico.
This special guide covers real estate, retirement and more in Mexico and is yours free when you sign up for our postcards below.
Things to do in Cozumel
By Gregory Michael Herman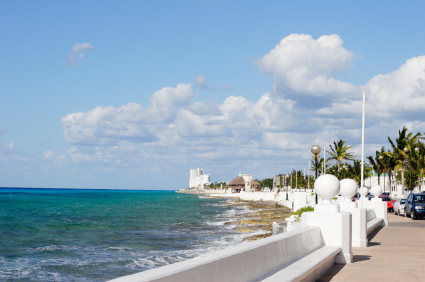 When I was visiting my relatives in the Cancun area last year, we were sitting around the dinner table and my uncle said that he had taken a 40 minute ferry ride across from Playa del Carmen (just south of Cancun) to one of his favorite spots to go diving.
He said that the island of Cozumel has the second largest reef system in the world, and that the island was made from the gigantic reef breaking off thousands of years ago and creating the island which eventually started growing vegetation.
I said that it sounded like a real nice trip and I would like to visit it one day.
He then began to tell me about the many different activities that bring the vacationers there, and when he got to the part that they had a Jack Nicklaus golf course…well, needless to say, we left the next day.
Cozumel is one of the most interesting places to visit if you like history, culture, and a warm tropical island feel. Situated just off mainland Mexico, you will be met with a coastline that is typical of your Caribbean-style islands.
Shortly before we arrived at the dock, the water was so clear, I could see all the reefs, rock formations, and to my amazement, the dozens of flying fish that seemed to be our personal welcome committee as we came up to the dock.
Can you imagine discovering this island hundreds or maybe thousands of years ago, before the roads and resorts? With only a machete in your hand, you would have to slash your way into the impenetrable jungle.
The Maya of Cozumel were the original inhabitants almost two thousand years ago and built villages, temples, and even a road system that we can still see today. Although the Maya left in the early 1600s, a small group of Christian Maya escaped certain death by the Spaniards in 1848 by resettling in Cozumel and created the oldest village on the island, El Cedral, which still stands next to one of the oldest Mayan ruins on the island.
Speaking of ruins, a must visit while you're in Cozumel is the ruins of San Gervasio, which were once the islands commercial and religious center.
The home of the village leader, temples, and even a building to house visitors were all located in the central plaza.
Every Maya woman was expected to visit San Gervasio once in her lifetime to pray to Ix Chel, the goddess of childbirth and medicine.
Rumor has it the infamous pirate, Jean Lafitte, had a spot in the northern part of the island when it was abandoned. Stories say that he left his personal treasure buried there, which many believe is still there.
Now that you have peered back in time to Cozumel's beginnings, let's move on to the more modern Cozumel.
Considered one of the busiest cruise ship destinations in the Caribbean, it is not uncommon to see a half dozen behemoths sitting at dock when you stroll down the malecon for that first cup of coffee at your favorite hangout.
No wonder when you first arrive at San Miguel de Cozumel, the main city on the island, you will notice an endless number of shops, restaurants, gift stores, and jewelry outlets. Names like Rolex, Tag Heuer, and Gucci line the streets.
I believe you could walk the many streets that crisscross each other for days and never see the same one.
The cruise ships are generally there for the day, and are capable of depositing thousands of visitors to browse for that special gift.
Without a doubt, the island tours are the most popular attraction for the day adventurer. You can take a guided jeep tour, jump into an air conditioned bus, or what is very popular, is to rent one of the gazillion scooters on the island and go explore on your own.
Going around the whole island (there is only one road) takes a couple of hours, but stopping for pictures or jumping into the turquoise water can make the trip as long as you want. Another popular day activity on the island are the Beach Clubs.
There are dozens situated all along the island, and these can be enjoyed by purchasing a day pass.
All food and drink is included and some are really posh. Rates go from $45 to $80 per person with transportation from your cruise ship or hotel included. I liked the Paradise and Baccanos Beach Clubs.
They have kayaks, snorkeling gear, and scuba tours as well.
I would like to recommend a nice hotel that is situated right in the middle of town, for those visitors that want to spend several days to get acquainted with this hidden jewel. The Marquesa is quiet, clean, and has a modest room rate of about $30.
With air conditioning, cable, daily maid service, and WiFi included, it's a steal. They also have scooter rental on the premises and the owner is great.
Across the street is the Machete restaurant. Excellent Mexican food along with great margaritas.
Dinner for two at $20 is a no brainer. The ferry terminal is close by if you're coming or going to the mainland.
Shop till you drop is the theme here, so bring your comfortable sneakers and enjoy Mexican crafts, Caribbean gifts, and trinkets that will let your friends back home know you were thinking of them. The t-shirts here are some of the best I have seen anywhere.
Last but not least, this island has a unique blend of Mexican and Caribbean culture.
There are people living here that have made this tropical island their home and have come from all parts of the world. They all love the slow pace of this gem of an island.
With the cost of living beyond reasonable and the happy smiles all around, it is no wonder visitors keep returning, and if you visit one day, maybe you will also.
Get Your Free Mexico Report Here:
Learn more about Mexico and other countries in our daily postcard e-letter. Simply enter your email address below and we'll send you a free special report - Why Millions of Americans Are Moving to Mexico.
This special guide covers real estate, retirement and more in Mexico and is yours free when you sign up for our postcards below.
Cruise to Cozumel: Mexico's Gateway to the Caribbean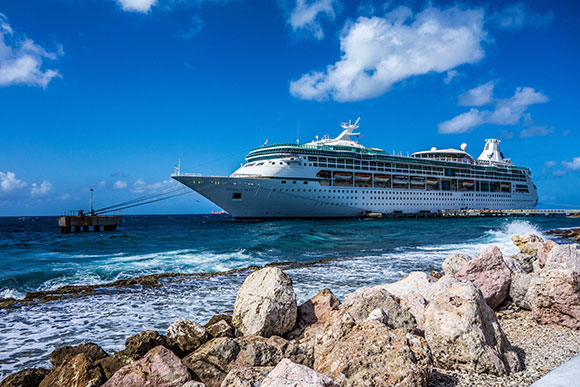 Never has there been a more important gateway to the vast islands of the Caribbean and beyond, than through the Mexican port of Cozumel.
Although Florida is by far the more popular starting point for most North American cruise enthusiasts, the Mexican island of Cozumel has taken the lion share of the quick trip cruisers. Most cruise lines make Cozumel their first port because of the incredible shops, restaurants, and of course the shopping.
From this magical island, the destinations are endless. Belize, Panama, the ABCs, and all the outer Antilles are the rage.
Maybe go through the Panama Canal and end up in such exotic ports such as Chile, Costa Rica, or maybe the Galapagos.
The 14 day cruises and more are very popular, but in the fast paced lifestyles of the North American travelers, it's no wonder that the three and four day getaway has proven to be the trend setter.
Miami and Ft. Lauderdale is just a night cruise away till you dock at Mexico's favorite island.
At any one time there can be a half dozen behemoths tied up snugly at the San Miguel de Cozumel docks, which is the main city of Cozumel. Most of the cruise lines have converted more desolate islands in the Bahamas chain to their own personal stopover.
Disney, Royal Caribbean, and Carnival all have their own personal islands that are just a half days journey from the Cozumel island. Cuba, Jamaica, and St Marteen are just a short trip away and can be a real eye catcher for the cruiser that has been everywhere.
There are three different piers that the ships will dock at depending on the ship size. The Punta Langosta pier is the most popular and the Puerta Maya located about three miles south, next to a large marina.
After you debark from your ship, you will be enticed by all the taxi stands, scooter rental booths, and of course the dozens of eateries within walking distance. The Punta Langosta mall is very popular to most visitors because of its proximity and the incredible array of shops and restaurants.
Familiar names like Carlos and Charlies, Fat Tuesdays, and of course the ever popular Hooters.
This is one of the best places to get gifts for friends back home, or maybe a piece of jewelry that will remind you of your time there.
Other names like Rolex and Gucci will lure you in to take a look and remember you get a great deal because of the "duty-free" discount. Go to one of the Beach Clubs that are truly fantastic because with your day pass, your food and drinks are all included.
I like the Paradise Beach Club because they have live entertainment along the white-sand beach and you have the crystal blue water calling your name to go swimming or maybe take advantage of the complimentary snorkel gear.
All said and done, this will undoubtedly be a great day at port in this beautiful Mexican island.
Most of the locals will tell you that on any given day, thousands and thousands of cruisers will spill onto the streets and beaches of Cozumel and enjoy their brief stay so much, that they return another time to spend an extended stay at one of the many luxury hotels. Maybe you will too.
Main Image: ©iStock.com/agustavop