One of the World's Premier Beach Destinations
Stretching from Cancún to Tulum, Mexico's Riviera Maya is one of the world's premier beach destinations thanks to its white sands, blue Caribbean waters, and warm weather year round. Plus, thanks to the region's prosperity and high level of investment from the government and the private sector, the feel is First World and modern when it comes to infrastructure, services, and amenities. And traditional Mexican culture, from music to food to cultural events, is still very much alive here.
Mexico is the most popular expat spot for Americans, with an estimated one million in the country. And the Riviera Maya has quickly become a favored area. There is something for everybody when it comes to a place to live on this coast, whether you want a seaside village, resort-style living, or a sophisticated city atmosphere. The Mexican government decided in the 1970s to make this region on the east coast of the Yucatán Peninsula a focal point of tourism. They subsidized the building of hotels on the island of Cancún, and that kicked off development up and down the coast, quickly turning it into a popular vacation spot for visitors from around the world. Soon after, retirees and other expats discovered the charms of living year round on the Riviera Maya.
Cancún, at the northernmost point of the Riviera, is home to a city of 400,000 on the mainland—the center of government and business in the region, as well as a "hotel zone" chock-full of all-inclusive resorts and shopping malls. Some expats live here, both in the hotel zone and in the mainland city. About 20 minutes south is Puerto Morelos, a working fishing village that has become a favorite among expats for its peace and quiet…as well as its beach lifestyle.
Playa del Carmen is a rapidly-growing seaside town well known for its vibrant nightlife, restaurant scene (everything from traditional Mexican to sushi to Italian gourmet favorites), and world-class shopping centered on the pedestrian-only La Avenida Quinta entertainment district. The cosmopolitan group of expats gives it a real international flavor.
Laidback Tulum is at the far south of the Riviera Maya. Once a stop on the backpacker's trail through Central America, the town has "grown up" and become a haven for retirees and other expats seeking all the advantages of the Riviera Maya without the crowds and development of the communities to the north. The feel is still bohemian.
Scuba diving and snorkeling, boating, fishing, swimming in freshwater cenotes, exploring the Maya ruins that dot this region…there's no shortage of things for the active expat to do on the Riviera Maya. And, of course, there are established expat communities you can join very easily and enjoy an active social life of dinner parties, happy hours by the beach, dinners out, and more. Plus, if you're into volunteering and working in the community there's plenty of opportunity for that, too.
Climate on the Riviera Maya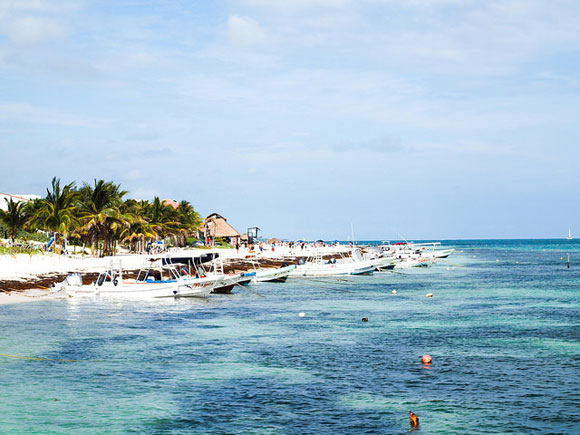 The Riviera Maya, located on the eastern coast of the Yucatán Peninsula, enjoys warm weather year-round thanks to its tropical climate. Temperatures range from highs up to 82 F to lows in the high 60s F in December to February, to highs in the mid and high 90s F in June and July. The cooler temperatures from November to April—thanks to steady ocean breezes—make that the tourist high season.
There is a rainy season that brings afternoon showers from May to October, with September and October being the rainiest months. The area is more humid this time of year. Ocean temperatures are pleasant, making for great swimming all year, ranging from the high 70s F to mid 80s F.
Tropical storms and hurricanes can be a concern in this region, as they can be for many coastal areas in the Caribbean; the season runs from June to October. Direct hits from hurricanes occur about every 10 to 12 years, although tropical storms happen more frequently. And even hurricanes that pass by can cause severe conditions. As a result, building codes account for severe weather, and there are emergency plans in place if need be.
Cost of Living on the Riviera Maya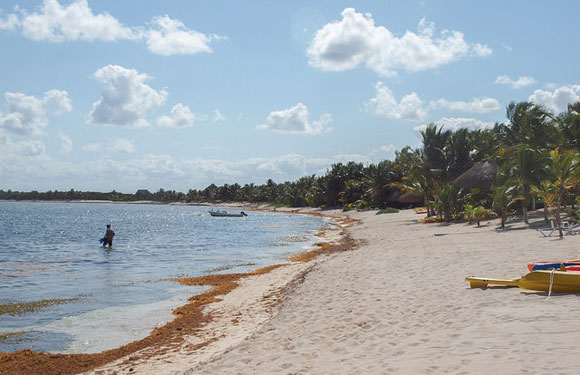 Though not the cheapest area of the country thanks to extensive tourism development, the Riviera Maya still offers an affordable cost of living where you can live well on much less than you'd spend in the U.S. Also, keep in mind that cost of living is very dependent on lifestyle. If you shop in local markets and don't make a habit of eating at high-end restaurants, which are plentiful in this region, you can save big time. And be aware that living right on the beach can be pricey to rent and buy…but head inland a few blocks (still only a few minutes' walk from the water) and you'll pay much less.
A sample monthly budget for two people:
| | |
| --- | --- |
| Expense | U.S. $ |
| Housing (rental of two-bedroom condo, on the beach) | $1,200 |
| Housing (rental of two-bedroom home or condo) | $900 |
| Utilities (electric, gas, water, phone, cable TV, high-speed internet) | $300 |
| Food/Groceries | $400 |
| Entertainment, including dining out | $300 |
| Maid (twice a week) | $120 |
| Gardener (once a week) | $100 |
Healthcare on the Riviera Maya
The Riviera Maya has excellent healthcare available throughout, so you'll be covered no matter where you settle. Cancun has nearly 20 hospitals and health clinics with major hospitals offering a wide variety of specialists. Cozumel–Mexico's largest island–has three hospitals and four other health facilities. Tulum has over ten. Even smaller cities like Playa del Carmen have four hospitals and many healthcare clinics.
Specialists are easily available with faster appointments and shorter waiting lists than in most countries. Pharmacies are in even the smallest towns and the best part is the price. An emergency appointment and quick doctors visit at Costamed is only $300 pesos, $15 USD. You can expect to pay about a third of the price for any medication. Although specialty medications may be a little higher they are still a lot cheaper than in the U.S.
Get Your Free Mexico Report Here:
Learn more about Mexico and other countries in our daily postcard e-letter. Simply enter your email address below and we'll send you a free special report - Why Millions of Americans Are Moving to Mexico.
This special guide covers real estate, retirement and more in Mexico and is yours free when you sign up for our postcards below.
Lifestyle on the Riviera Maya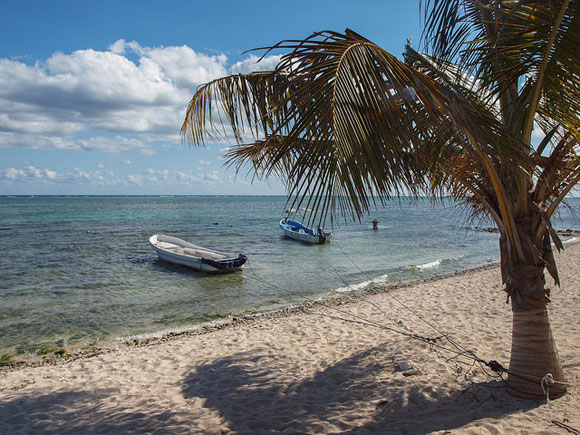 The Riviera Maya, encompassing the eastern coast of Mexico's Yucatán Peninsula from the resort area of Cancún south to the laidback beach town of Tulum, has a lot to offer expats. World class restaurants…quiet beach bars…live music…fishing…boating…white-sand beaches…and snorkeling and scuba diving in one of the largest and best reef systems in the world.
Because it is one of Mexico's top tourist destinations, the Riviera Maya has received a lot of investment from the government and private investors. And that means plenty of first-world services and amenities up and down the coast.
Even in such a small area, you have a lot of variety in lifestyle. Cancún is full of resorts but also has condos and other full-time housing—it's a perfect place for those seeking an "always on vacation" lifestyle. Playa del Carmen a half-hour south is more cosmopolitan and urban and features a lively entertainment district. La Quinta Avenida, or Fifth Avenue, which is a pedestrian only boulevard that runs parallel to the beach and is lined with restaurants, bars, boutiques, shops, and more. Tulum is more bohemian and low-key—a perfect haven for those looking for a quiet beach escape. It's about an hour-and-a-half drive from Cancún to Tulum.
Meanwhile, you have Puerto Morelos, a small fishing village just south of Cancún turned expat haven that is perhaps the closest you get to traditional Mexico in this region.
The great weather year round—it never gets cold—means a lot of time is spent outdoors. It's always a good time to go to the beach. Watersports, or just relaxing in a comfortable chair on the sand, are popular activities among expats.
The region is home to large numbers of retirees and other expats, and it's an active community. It's easy to make friends, and there are many opportunities to socialize. That means a lot of parties, dinners out, community groups, happy hours, clubs, sports, church organizations, and more. Expats say there's never a dull moment on the Riviera Maya. Also, they feel warmly welcomed by their Mexican neighbors.
While North Americans make up the bulk of the expat community, including many "snowbirds" who come down during the winter months to escape cold weather back home, there is also significant population of foreign residents from Argentina and other spots in Latin America, as well as Germany, France, Italy, and other European countries. It's quite an international cast of characters.
Where is the Riviera Maya?
Along Mexico's Caribbean coast, on the eastern shore of the Yucatán Peninsula, lies an 80-mile stretch of stunning, palm-studded, sugar-sand beach known as the Riviera Maya. Kissed by the warm, tropical waters of the Caribbean Sea, this stretch of paradise is teeming with sea life, attracting divers, snorkelers, and sport fishermen from across the globe. The world's second largest reef system provides shelter from tropical storms as well as offering a sustaining presence for the ecosystem and tons of recreational opportunities. In fact, my wife Diane and I recently took a semi-submersible boat ride along the reef where large, submerged windows provided unrestricted views of giant sea turtles and all manner of fish and coral formations only a few feet away.
You will also find an abundance of Maya ruins that are accessible to the public. Climb ancient pyramids and take a guided tour to learn the secrets of the Maya culture, like how they managed to construct giant limestone structures that have survived for thousands of years.
The Riviera Maya is not a precise location but rather a region or section of Mexico's Caribbean coastline framing the Yucatán Peninsula. Running from just south of Cancún on the north, down the coast to Punta Allen, this stretch of postcard-perfect beach includes the cities, towns, and villages of Cancún, Puerto Morelos, Playa del Carmen, Akumal, Tulum, and Punta Allen at the southernmost point.
Formerly known as the Cancún-Tulum Corridor, a local politician pushed for the renaming of this region to the Riviera Maya back in 1999, understanding the marketing appeal of such a name change. He was correct. The word "riviera" means a coastal region with a subtropical climate and vegetation, and the Riviera Maya is the perfect example of such a place. The name change also honors the indigenous Maya civilization which still has a prominent presence in this region.
Thanks to a large, efficient international airport in Cancún, a noteworthy public relations campaign, and the almost unbelievable, gorgeous beaches, the Riviera Maya has become the Caribbean's number one vacation destination with over 5 million tourists visiting each year.
The area hosts two popular islands. The small island of Isla Mujeres (just offshore of Cancún) is easily accessible by a fleet of modern ferries and is popular with tourists and locals alike for day trips. There is also a sizeable population of expats living on the island and even larger number of snowbirds who descend on the island in the winter, wanting to avoid the cold weather up north.
The much larger island of Cozumel, just offshore of Playa del Carmen, is a bustling cruise ship port and has its own international airport. Cozumel is also served by a fleet of modern ferries from Playa del Carmen and is a noted international dive destination.
The weather on the Riviera Maya is warm and tropical, with average annual temperatures of around 78 F and summer highs in the high 80s F and low 90s F, with ample humidity.
As an iconic vacation destination, the Riviera Maya may be best known for its abundance of luxurious, all-inclusive resorts. These opulent properties are found occupying much of the prime, oceanfront real estate with a smaller percentage of private residences and condos mixed in. While Mexican law dictates that all beaches are open to the public, access to these beaches is strictly controlled by the private, gated resorts and condo complexes. However, there are public access points and public beaches. Once on the sand, you are free to walk the length of the beach and utilize any portion that you wish.
Cancún, with its modern airport, is the most active transportation hub in the area. With an enormous fleet of taxis, buses, and mini-vans, you don't need to own a vehicle to live in Cancún. This is a modern city with a stable electric grid, high-speed internet, and a water and sewer system that keeps up with demands.
Well designed to serve the vibrant tourism industry, Cancún boasts over 700 restaurants, an estimated 500 hotels and resorts, dozens of clubs and nightspots, and modern shopping centers and theaters. Add in the numbers of similar businesses in Playa del Carmen, Puerto Morelos, and Tulum, and the total number of hospitality and restaurant businesses is well over 2,000, not counting the tour operators.
Those who live in Cancún are sometimes heard to say that it is not really Mexico, and as a resident I must agree. Cancún and much of the Riviera Maya is more of an international community with strong Mexican and Maya influences. English is frequently, if not perfectly, spoken, and those with U.S dollars to spend, rather than Mexican pesos, will be promptly served.
Map of the Riviera Maya
An Overview of the Beach Towns and Islands in the Region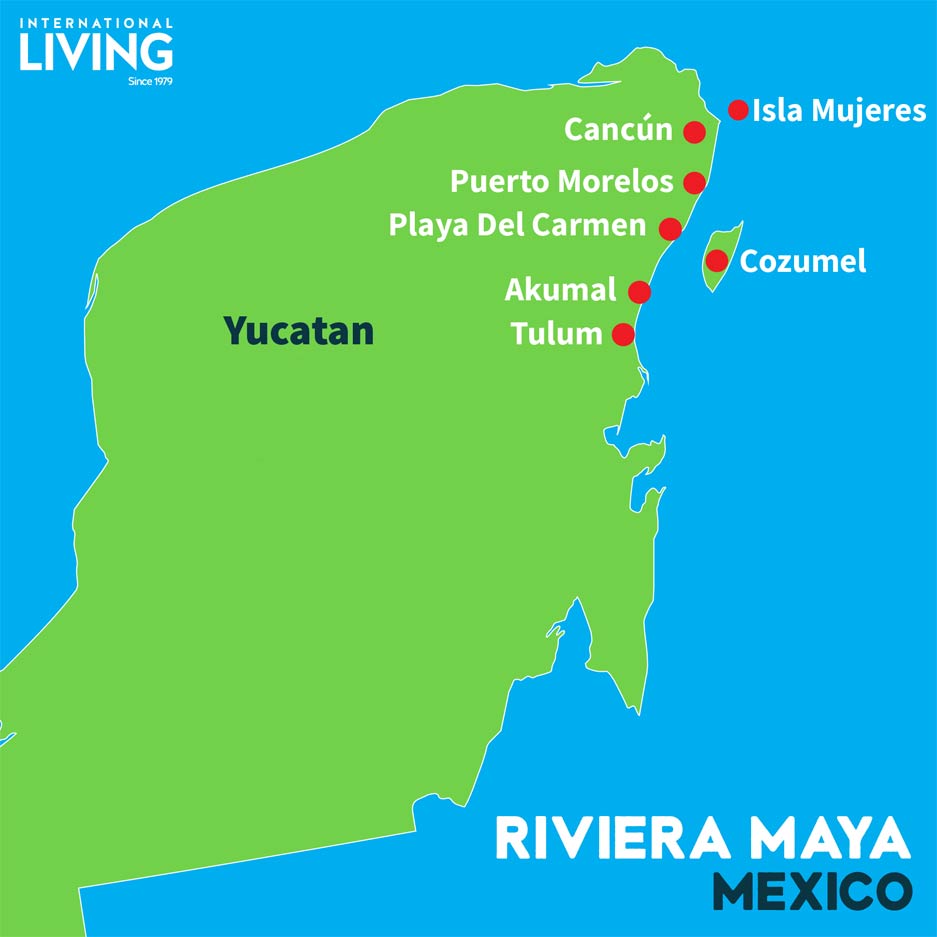 The fat thumb of the Yucatan Peninsula extends from Mexico's eastern seaboard into the warm currents of the Gulf of Mexico and the stunning turquoise, tropical waters of the Caribbean Sea. The shimmering, sugar sand beaches of the Riviera Maya stretch for 80 miles along the peninsula´s east coast from Cancun to Tulum, drawing millions of tourists each year to its perfect, palm studded beaches. With temperatures typically around 80 F and plenty of sunshine, the Riviera Maya draws not only tourists to its shores, but has also become home to a significant number of expats who have chosen this stretch of Caribbean paradise as home.
Cancun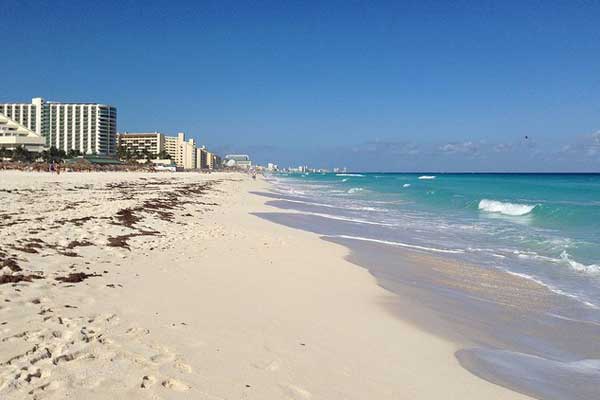 A bustling international airport assists Cancun in achieving its reputation, not only as a major vacation destination, but also the gateway for the entire Rivera Maya area. Positioned directly on the shores of the Caribbean Sea, Cancun is well known for its large number of all-inclusive resorts, drawing tourists from across the globe. Those wishing to spend their vacation/resort time seeking a suntan and a hangover will not be disappointed. However, those who restrict their visit to the confines of a resort, will never taste the true flavor of Mexico. In fact, those expats who live in Cancun often say that while Cancun isn't really Mexico, you can quickly get to Mexico from there as Cancun connects to all of the Yucatan Peninsula via a modern road system.
With a population topping 750,000, Cancun is a unique city in Mexico. It offers the first-world conveniences of modern, beautiful shopping centers, glitzy, sprawling resorts, big box stores, modern hospitals, name-brand retailers, and over 750 restaurants, which are contrasted by Maya ruins within the city and a traditional centro area with open markets and small retailers.
Cancun was deliberately constructed to serve the needs of pleasure-seeking, international travelers and has been very successful in this endeavor. The tourist area of the city, known as the Hotel Zone, fronts the Caribbean Sea, with sprawling resorts and posh condo complexes claiming this prized real estate.
Isla Mujeres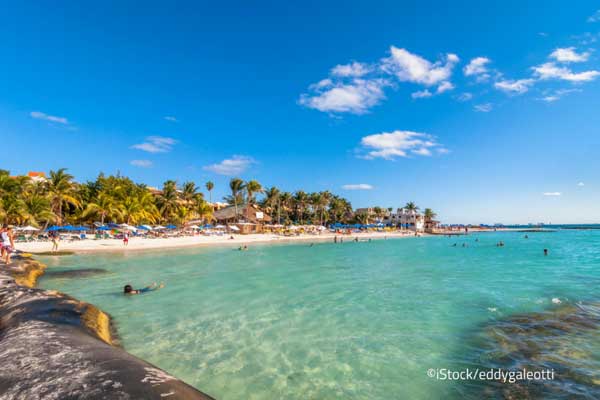 At only four miles long and about a half mile wide, the tiny Caribbean island of Isla Mujeres (eight miles off the coast of Cancun) has a strong number of supporters. With a rocky coast and a strong surf, Mujeres isn´t the typical sandy island retreat most would picture in their dreams, and yet, flocks of snow birds return to Isla Mujeres every winter to escape cold winters north of the border.
The island is driven by tourism, as well as a strong winter season. Ferry service runs about every 30 minutes from several terminals in Cancun, shuttling day-trippers for snorkeling and reef excursions. There are ample numbers of restaurants and naturally, seafood is always on every menu.
The waters surrounding Isla Mujeres are teeming with sea life and divers, snorkelers and fishers are rarely disappointed. Water recreation is a vital part of life on Isla Mujeres. Almost everything you may need can be found on Isla but for those other things, a quick ferry ride into Cancun can connect you with those things not easily found on the island.
Puerto Morelos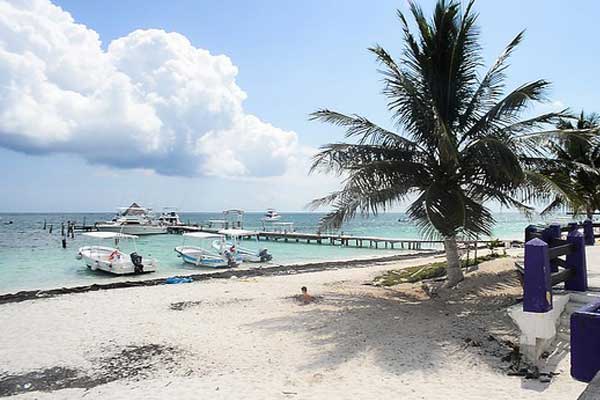 Head south from Cancun and about 30 minutes later, you´ll see the turnoff for the lovely beachfront village of Puerto Morelos. And while the central area is very much village-like in its appearance, Puerto Morelos is no longer the sleepy backpacker community it once was. It has been discovered and with that discovery has come some large resorts (tucked out of sight just north of town) as well as some condo developments. Best known as a popular snowbird escape during the winter months, Puerto Morelos has also nurtured the growth of a sizeable and growing full-time population of expats.
A collection of small, colorful fishing and diving boats rests a few yards off the beach and a couple of piers facilitate the loading and unloading of fishers and divers who enjoy the reef only a mile or so offshore. Seafood is the thing in Puerto Morelos and ample offerings can be found all along the street fronting the beach. Most restaurants are accessible from the beach side or the road side and casual attire (think swim wear) is customary. The village supports a number of touristy enterprises such as gift stores and diving/snorkeling tours, a few bed and breakfasts and a small hotel or two. You simply can´t go wrong with any of the seafood dishes in any restaurant.
Playa del Carmen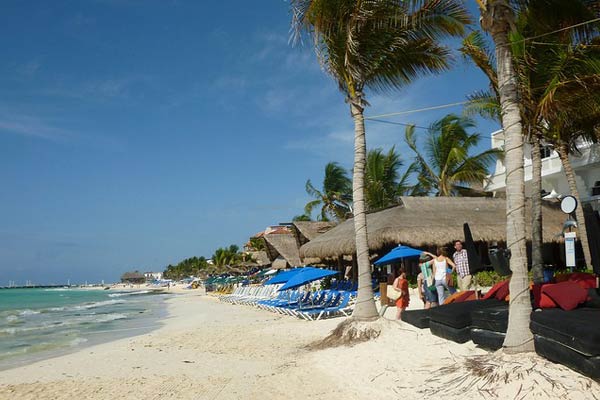 An hour south of Cancun lies the city of Playa del Carmen. Like all the communities along the Riviera Maya, Playa del Carmen or Playa as the locals call it, began life as a small fishing village. The neighboring island of Cozumel, just offshore, generated a need for ferry service to shuttle cruise passengers to the mainland and Playa del Carmen began its growth to cater to the needs of arriving cruise passengers as the ferries provided a non-stop stream of tourists with money to spend.
From those beginnings, Playa has emerged as a major expat stronghold. With ready access to the famed beaches as well as quick entry to the island of Cozumel, Playa del Carmen offers travelers and residents, alike, beautiful beaches and a stable infrastructure. Playa´s tourist offerings are a bit less ostentatious than those presented by its northern neighbor, Cancun, while retaining the same Caribbean feel. Perhaps best known for its pedestrian thoroughfare, Quinta Avenida (5th Avenue). This miles-long walkway is filled with hundreds of designer shops, boutique hotels, chic cafes, and dozens of great restaurants. Meandering along 5th Avenue is a great way to spend a warm, tropical evening.
With a few modern hospitals, ample doctors, and some nice malls, life in Playa del Carmen is Cancun Light, without the glitz.
Cozumel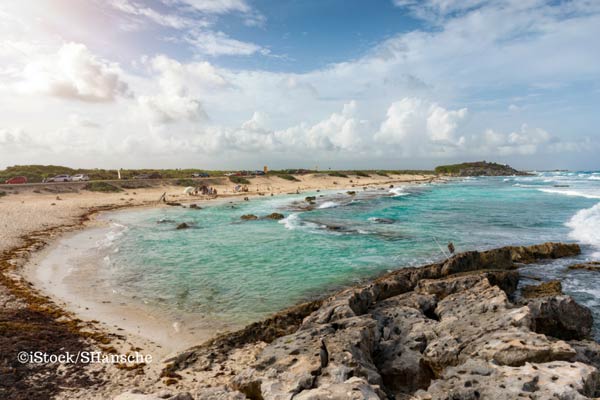 While technically not part of the Riviera Maya, the island of Cozumel, just offshore of Playa del Carmen, is close enough to count. Cozumel is best known as a cruise ship and world-class diving destination. Serving some 4 million cruise passengers annually along with nearly 650,000 air travelers, Cozumel, much like Cancun, relies on tourism to feed its economy.
With a resident population of approximately 110,000, Cozumel is about 30 miles long and 10 miles wide and sits about 12 miles off the coast of Playa del Carmen. Its location in the tropical Caribbean Sea is ideal to provide access to a nearby reef with numerous fishing and diving options available through hundreds of guide services.
San Miguel is the island´s largest city and the cruise ship center. This is where the action is. Island life, everywhere, is more expensive than life on the mainland but for those who long for life on an island, Cozumel may fit the bill.
Tulum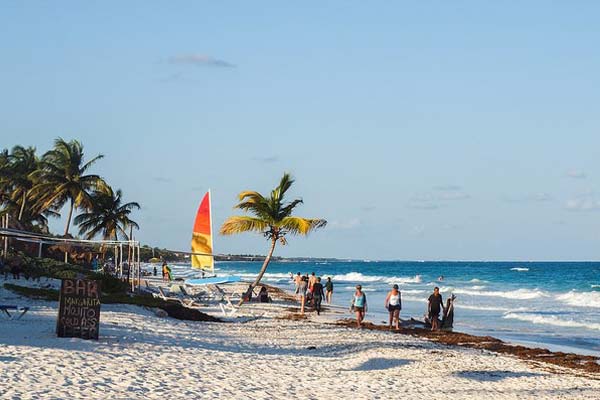 For first time visitors, Tulum can be confusing. In a rambling style it is sprawled from the highway to the beach in different sections. First you'll come across the popular Maya ruin of Tulum. Right on the beach, it's pretty cool and a major landmark. Next, a few miles away is the town of Tulum which is divided into two parts…or maybe three, collectively known as Tulum.
If you missed your hippie phase or want to relive it, Tulum is where you want to be. The New Age movement, complete with ample massage studios, yoga practitioners, shops selling crystals, spiritual guides, and all that goes with it are concentrated on the south beach road. Here, you´ll also find some vegetarian and vegan restaurants along with small shops displaying the latest in yoga wear and long bohemian dresses. Bicycles outnumber motorized vehicles and those seeking a Zen lifestyle will find ample company in Tulum.
Then, you will arrive at the beach section. A few miles off the main highway and close to the Maya ruin. This is where you'll find amazing hotels, plenty of restaurants, and an assortment of international cuisines. Its beachside charm has become very popular over the last couple of years so you'll find plenty of tour guides ready to take you to experience the natural beauty of the surrounding area that Tulum is famous for. Like all places along the Riviera Maya, developers are leaving their mark in this area. Many expats and snowbirds have been quick to realize this special environment, its natural beauty, and holistic view of locals.
Akumal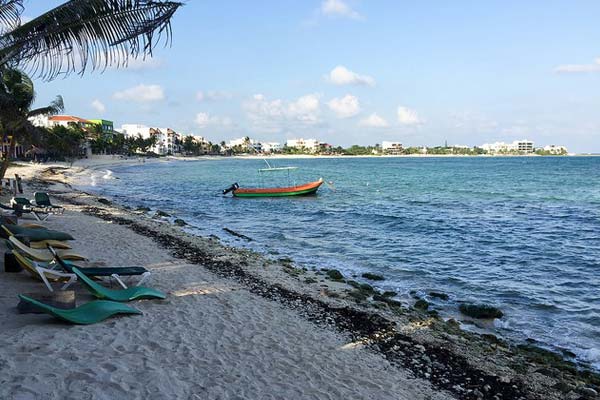 Founded in the late 50s by a handful of divers, Akumal is a tiny village totally tied to the diving and snorkeling occurring in Akumal Bay. This grass-bottom bay is home to a large number of sea turtles which has generated a niche industry, guiding divers and snorkelers in the bay. Unfortunately, without regulation, this bay and it´s hard-shell occupants have both suffered from serious environmental impact. Infrastructure in the community is improving but power and internet, as well as a regulated water supply, have some distance to go before one could say it was stable. The bay is a gorgeous environment, as is the surrounding scrub jungle. This environment, both in the bay and on the land, supports a large variety of birds and small wildlife. Developers have now discovered Akumal and condos are on the rise.
See below for a video of a typical day on the beach in sunny Akumal.
Get Your Free Mexico Report Here:
Learn more about Mexico and other countries in our daily postcard e-letter. Simply enter your email address below and we'll send you a free special report - Why Millions of Americans Are Moving to Mexico.
This special guide covers real estate, retirement and more in Mexico and is yours free when you sign up for our postcards below.
10 Best Things to Do on Mexico's Riviera Maya
By Bel Woodhouse
Postcard perfect, the Riviera Maya has been a top destination in Mexico for decades. Boasting 50 miles of fun in the sun right in the heart of the Mexican Caribbean, its sugary, white-sand beaches stretch along the Yucatan Peninsula from Cancún to Tulum.
Full of amazing food, water sports, stunning natural beauty, sleepy seaside towns, and friendly locals, the year-round warm weather is perfect for getting out and exploring. Here are some great things to see while you're there.
1. Enjoy Mayan Culture at Xcaret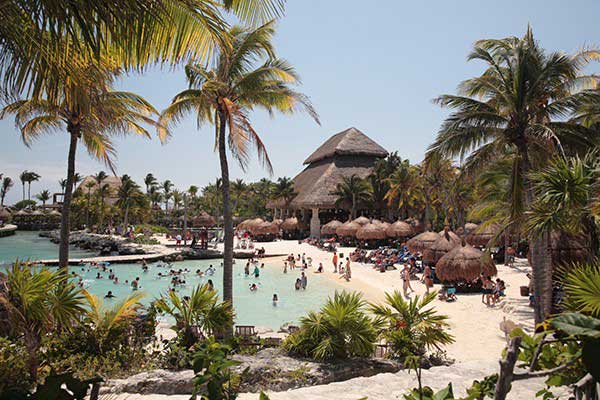 There is a lot to see and do at Xcaret. Watch the Papantla Flyers soar through the air while performing an ancient Mayan rain ceremony. Helmet dive, see exotic wildlife, swim with sea turtles, or float through an underground river. Then, top it off with dinner and show.
Well worth the $97 admission, be sure to get there early so you have time to see it all.
2. Swim in Cenotes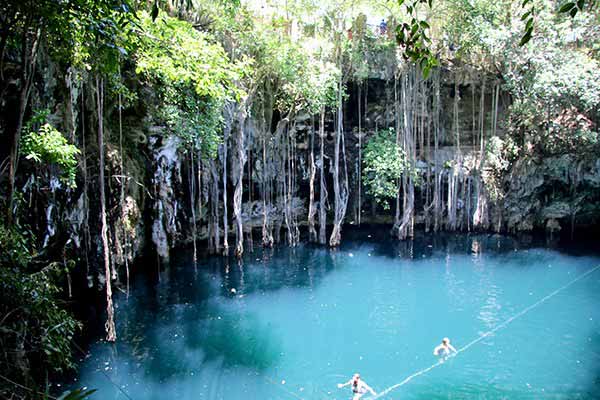 A wonder of the natural world, cenotes are natural sinkholes created when the limestone jungle floor collapses, opening up swimming holes of the clearest, cleanest water. The Maya believed them to be the entrance to the underworld.
Swim in the sunshine of an open cenote, scuba dive the underground river system, or enjoy a subterranean adventure snorkeling through caves dazzled by stalactites and stalagmites like Sac Actun.
With over 6,000 in the Yucatan, there's a cenote for every comfort level.
3. Have an Adventure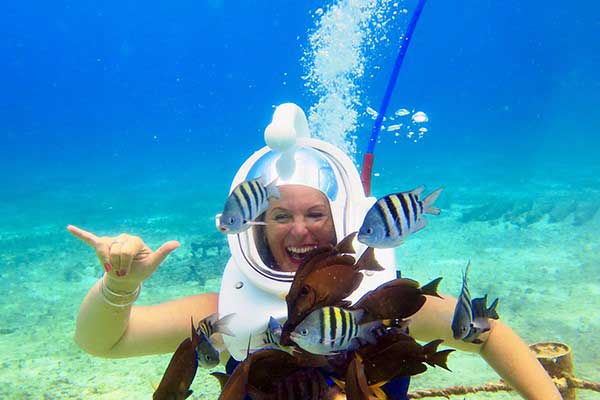 Jeep tours, ATV tours, ziplining, parasailing, horse riding, helmet diving, even SNUBA for those not scuba qualified—there are fun activities for every fitness level, interest, and budget. You'll find tour operators in every town, or you can head to an eco-park like Xcaret, Xplor, or Alltournative for your fun in the sun and to get your adrenaline flowing.
4. Explore the World's Second-Largest Barrier Reef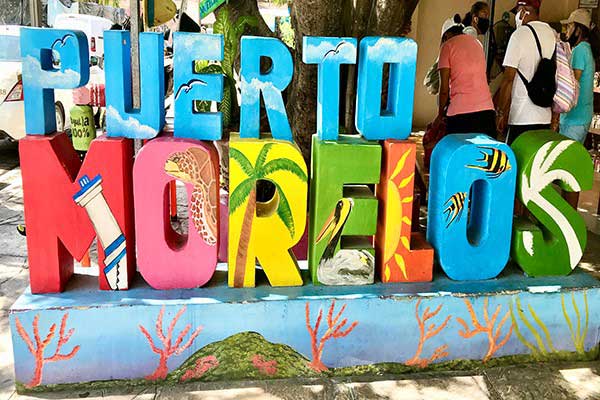 In the relaxed seaside town of Puerto Morelos, you can walk right into the Caribbean and easily swim to the reef just offshore. The northern end of the Belize Barrier Reef Reserve System, which is the second largest in the world, was taken off the World Heritage in Danger list in 2018. Swim, snorkel, or scuba dive amongst swaying sea fans and colorful, tropical fish.
In town, near the famous leaning lighthouse, you will find friendly, local tour operators that can get you out on the water in no time.
5. Visit Mayan Ruins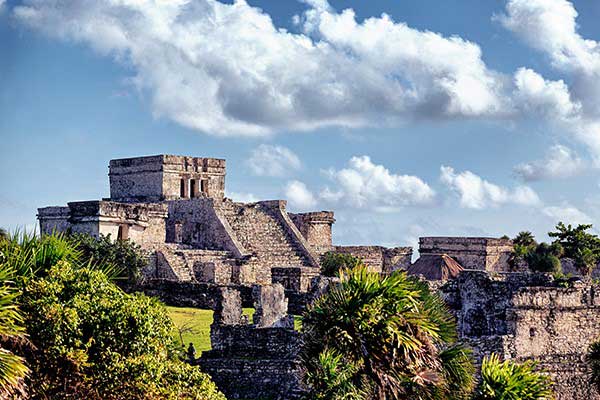 Chichén Itzá and Tulum are home to the two largest and most famous Mayan Ruins in the Riviera Maya. Historically significant Chichén Itzá was a major Mayan city from 600 A.D to 1200 A.D and Tulum was a major seaport for Mayan trade.
Stand before the giant pyramid of Chichén Itzá's El Castillo, with the feathered serpent head laying on the ground at your feet. Then marvel at how it projects a serpent on the equinox.
Tulum clifftop ruins will blow you away with views of the stunning Caribbean waters. After working up a sweat exploring, you can swim at the beach down below.
Both of these ruins are best explored with a local guide who will explain the rich history and archaeological importance of the Maya throughout the Yucatan.
6. Explore 3 of Mexico's Most Popular Islands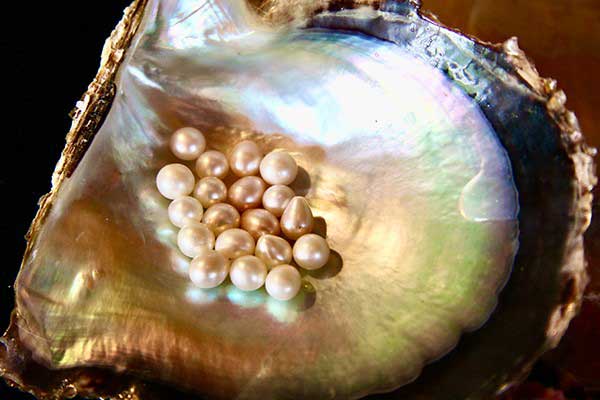 Cozumel, Mexico's largest island, is only a luxurious 35-minute ferry ride from Playa del Carmen. Full of fine dining options, shopping, and adventure activities, it's easy to spend a day or two exploring. It's also where you can find the rarest pearl on earth at the Caribbean's only operational pearl farm, Cozumel Pearl Farm.
Isla Mujeres is a quick 15-minute ferry ride from Cancún. People flock to the island to swim with whale sharks (May to August) as they migrate from South America to gorge themselves on plankton. Alternatively, relax beachside and explore the fun, colorful town, enjoying lunch at one of the many beach restaurants.
Holbox island is a 20-minute ferry ride from Cancún. A large portion of the island is part of the Yum Balam Nature Reserve. Kayak, paddleboard, go birdwatching, chill on the beach, or explore the safe town full of friendly locals.
7. Swim Around Sunken Statues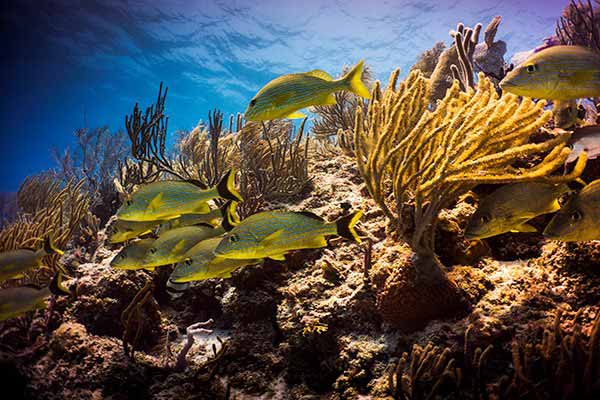 Hundreds of sunken statues at two sites make up the MUSA underwater museum. Enjoy a glass-bottomed boat ride or snorkel over 33 sculptures at Punta Nizuc. Located at the southern end of Cancún's hotel zone, and between two to four meters deep, they are clearly visible in the crystal-clear water.
Scuba divers will be thrilled exploring the 473 sculptures at the second site, Manchones, which is located off Punta Sur at the southern tip of Isla Mujeres. Only ten meters at its deepest point, most days there is great visibility here.
8. Visit a Golden City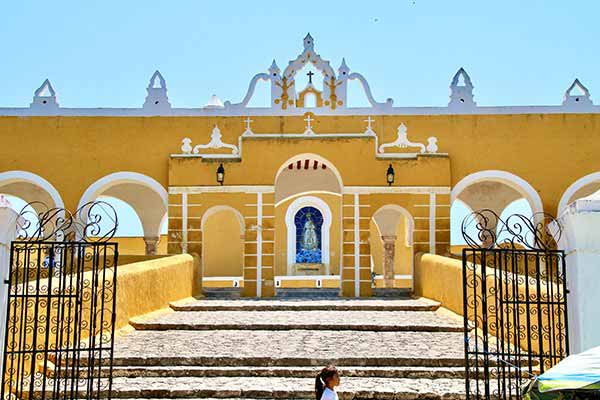 The golden city of Izamal is classed as one of Mexico's Pueblos Mágicos, or Magic Towns, because of its cultural, historical, and archaeological significance. As a place of pilgrimage, several statues of saints are said to perform miracles here.
It is also unique because the invading Spanish built this Spanish colonial town on top of a Mayan one in the 16th century. Strolling the streets, it is one of the few towns in the Yucatan where you will hear the Mayan language spoken as much as Spanish. There are more ruins nearby to climb for a fantastic view over the town.
9. Feast on Fajitas and Margaritas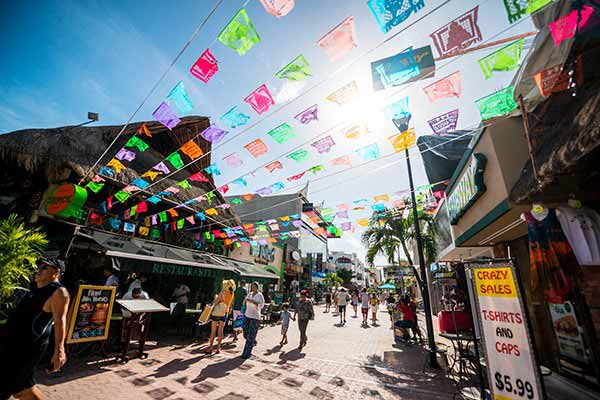 Eat, drink, relax, repeat. No matter where you are in the Riviera Maya there is a wealth of amazing cuisine from traditional Mexican to luxury fine dining. Bars, restaurants, even beachside shacks all serve delectable delights. Take a stroll down Quinta Avenida, Playa del Carmen's Fifth Avenue, and find hundreds of bars and dining options.
If you prefer something quieter, head to the nearest beach. Every beach town has some seaside dining options to enjoy with a Caribbean sunset.
10. See Mexico's Most Biodiverse Botanical Gardens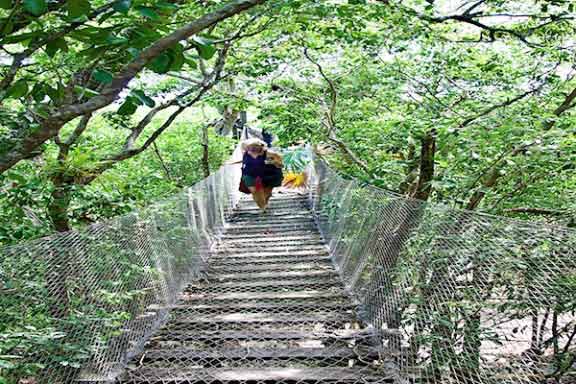 Jardin Botanico Dr. Alfredo Barrera Marín, the botanical gardens at Puerto Morelos, are said to be Mexico's most biodiverse. There is more to see and do than just plants. Delight in palms that were around with the dinosaurs, and walk mangrove boardwalks and treetop suspension bridges through the canopy. Step inside a traditional Mayan house to see how they lived. Or, climb to the top of the tower and enjoy an unobstructed 360-degree panorama out to the ocean. There's even a jungle camp where you can learn how they made bubble gum.