Playa del Carmen: The Riviera Maya's Seaside Jewel
Once a small, non-descript fishing village along Mexico's Caribbean coast, Playa del Carmen began its new and improved life as a major tourist destination back in the 70s. Playa (as the locals call it) was selected as the port to serve tens of thousands of tourists arriving, just offshore, on the island of Cozumel—a noted diving destination.
To the delight of many and the dismay of others, Playa del Carmen has experienced a period of huge growth over the past few years. In fact, economic indicators show that Playa del Carmen is easily the fastest growing city in Mexico and many suggest, all Latin America.
Best population estimates place Playa's number at around 250,000 in 2017 and still growing. This number represents nearly a 100% increase since 2005.
Bathed by the warm waters of the Caribbean Sea, along Mexico's Yucatan Peninsula, Playa del Carmen deserves its reputation as a popular vacation destination and growing expat stronghold. As the midway point between Cancún on the north end of the Riviera Maya, and Tulúm on the south, Playa del Carmen shares the same clear, tropical waters, palm-studded white sand, and favorable climate that draws some 5 million tourists to this area, each year. Temperatures remain anchored in the mid-80s F for most of the year with the hottest summer days easily exceeding 90 F under brilliant blue skies and a blazing sun. It's best to always have a cold drink handy.
Ready access to Playa del Carmen is through one of two nearby international airports in Cancun or Cozumel, each drive will take about an hour, including a ferry ride to Cozumel. Your flight to the States will take less than two hours.
Retire in Playa del Carmen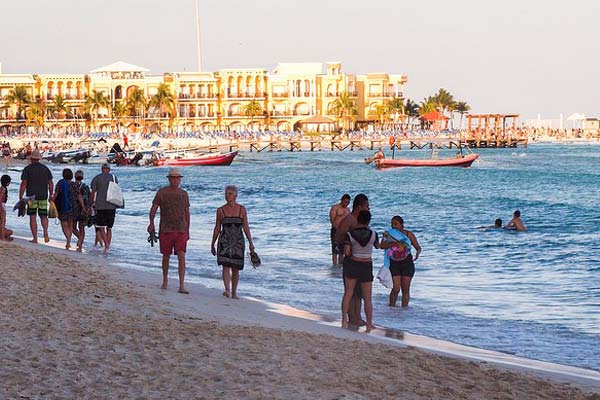 Mexico offers an easily obtainable retirement visa, providing for quick, permanent residency for those meeting the simple qualifications. The straight-forward process begins at the Mexican consulate in your home state. There, the consulate officer will verify your income based on the documents you provide, review a nominal number of other documents, and your completed application. After a short interview, if approved, you'll likely depart with your permanent residency visa affixed to the inside of your passport.
Those over the age of 60 qualify for a discount card from INAPAM (Instituto Nacional para las Personas Adultas Mayores) facilitating discounts on a wide variety of goods and services.
Public transportation is available throughout the city by utilizing a combination of taxis, buses, and small vans called colectivos. Prices are geared toward the local population and are more than reasonable, cheap in fact. Bus and colectivo fares run from 25 cents to 60 cents.
Several hospitals offer first class medical care at reasonable prices, usually about one third the cost of hospitals north of the border. Expat residents can qualify for Mexico's health insurance plan called Seguro Popular or the IMSS program. If needed, larger hospitals with all specialty areas covered, can be found in Cancun, an hour north. Nearly all medications can be purchased directly from the pharmacy without a prescription (narcotics and strong antibiotics are obvious exceptions) and cost only a fraction of prices north of the border.
Residents of Playa del Carmen also benefit from the Cancún International Airport being just a short drive north. You can travel to and from your home country or have friends and family visit you cheaply and easily thanks to many direct flights to the U.S. and Canada.
Lifestyle in Playa del Carmen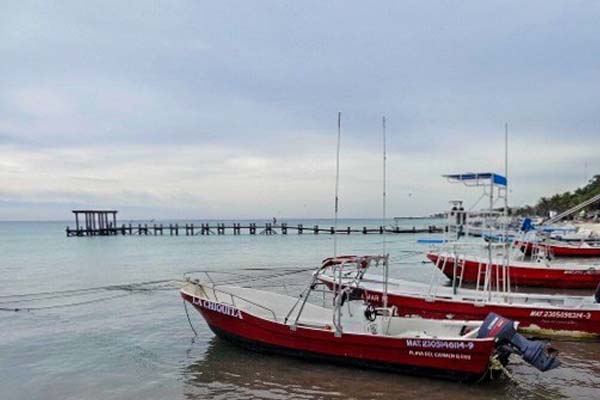 Life in Playa del Carmen needn't be boring. As a world-class vacation destination, Playa is well prepared to offer tons of recreational opportunities for visitors and residents, alike. Restaurants are abundant, and it seems like all nationalities are represented with a food offering, somewhere.
Just offshore lies the world's second largest reef system. Fishing, diving, boating, and snorkeling are widely available through many guides and tour operators, catering to all skill levels. Admittedly, Playa del Carmen and the entire Riviera Maya attract those who love the water and water activities, even if that means lazing around, wiggling your toes in the sand and sipping a tall, cold rum drink with skewered fruit hanging from the edge.
On days when the beach isn't on your schedule, there are modern theaters, malls, and access to the rest of the Yucatan Peninsula, if you wish. For a grand adventure, you can drive down the coast to the Belize border in a bit over four hours, catching the small and noteworthy town of Bacalar, with its gorgeous lake of seven colors, along the way. The beautiful city of Chetumal, capital city of Quintana Roo, sits on the border with Belize and is a good choice for a weekend away.
Tourists and those residents wanting to enjoy an evening out on the town can take advantage of Quinta Avenida, or Fifth Avenue, a walkable mall area, closed to vehicle traffic. Stretching some 40 blocks in length, this pedestrian walkway is only a couple of blocks inland from the beach. Here you'll find hundreds of quaint shops, trendy bars, and chic restaurants. Tucked into small side streets, you'll discover many small boutique hotels perfect for weekend get-a-ways.
The local expat community is active, with plenty of happy hour gatherings, dinners out, and parties at home to enjoy, as well as volunteer work, yoga classes, cultural events, and other things to do. It doesn't have to be a party all the time, by any means.
Socializing is easily accomplished through expat forums on Facebook. And as expats tend to be a friendly bunch, it's easy to strike up conversations in restaurants, the beach, or walking along Fifth Avenue. Include a bit of Spanish in your expat tool kit and you'll be better prepared to mix and mingle with the locals, as well.

Cost of Living in Playa del Carmen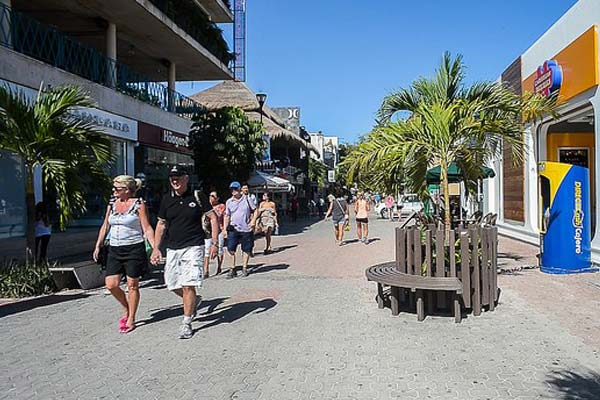 In general, Mexico offers a significantly reduced cost of living when compared to the U.S., and Playa del Carmen falls in line with that expectation. However, Playa del Carmen is a tropical city on the Caribbean Sea and that profile is not available anywhere in the U.S. That said, life in Playa del Carmen is affordable and provides excellent value for the money. Housing across the globe is more expensive on the shore and Playa, like its neighbor Cancun to the north is no exception. Seek housing a few blocks or a few miles off the beach for savings of 30% to 50%.
Condos are the most popular type of residential housing in Playa. To buy a 1,200-square-foot condo, you'll spend about $125,000 to $175,000. Tiny units can he had for less. Rent for a two-bedroom apartment will run about $1,000 to $1,500 a month. Homes and condos near the beach can run 30% to 50% more.
Electricity bills are delivered every other month and two months of service is generally less than $60. My high-speed, fiber optic internet comes bundled with our local telephone service (which we never use) and we pay a fixed rate of $21. A local beer will cost about $2, and an inexpensive meal will set you back about $4. A nice dinner for two in a mid-range restaurant will cost about $23. I happily buy from street vendors where a two-taco lunch will cost a bit over $2 and is often more than I can eat.
Here is a breakdown of a monthly budget for a couple living in Playa del Carmen:
| | |
| --- | --- |
| Expense | $USD |
| Housing | $1,200 |
| Utilities | $55 |
| Groceries | $350 |
| Entertainment | $250 |
| Housekeeping | $100 |
| Medical | $150 |
| Transport – Public Transport or Car/Gas/Insurance | $60 to $75 |
| Total: | $2,165 to $2,180 |
Get Your Free Mexico Report Here:
Learn more about Mexico and other countries in our daily postcard e-letter. Simply enter your email address below and we'll send you a free special report - Why Millions of Americans Are Moving to Mexico.
This special guide covers real estate, retirement and more in Mexico and is yours free when you sign up for our postcards below.
Video Tour of Playa del Carmen, Mexico: The Riviera Maya's Seaside Jewel
10 Things to Do in Playa del Carmen
By Don Murray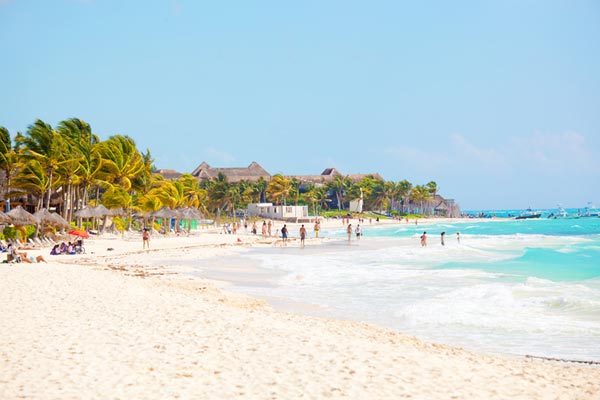 Popular with tourists, expats, and investors, Playa del Carmen is a primary seaside jewel along Mexico's Riviera Maya. An hour south of Cancun, Playa del Carmen is accessed via several exits from the primary highway, 307. You'll need to navigate the city traffic to find your way to the beach and all things, Caribbean, but it's a short drive. Pay attention for barely-marked one-way streets.
Smaller with much less of the Vegas feel that Cancun promotes and without the side-by-side mega resorts of Cancun's hotel zone, Playa del Carmen offers access to the same jade-blue Caribbean waters and the famed sugar-sand beaches of the area. Playa del Carmen feels more comfortable, with smaller resorts and a good number of very nice, boutique hotels. It feels more authentic than Cancun and it's packed with plenty of activities, day and night.
Here are 10 of my favorite things to do in and around Playa Del Carmen:
1. The beaches. All beaches in Mexico are free and open to the public. It is the access to the beaches that is often privately owned and restricted by the resorts or condos sitting on the frontage. Find your way to a public beach access point and you can walk up and down for miles on end without restriction. The community of Playacar may be my favorite beach followed closely by Parque Fundadores. There is a large, 50 ft. sculpture on the beach. Can't miss it. And if it's a party beach you want, go to Mamitas Beach for the loud music and booze. There are many others and it's fun to discover our own favorites.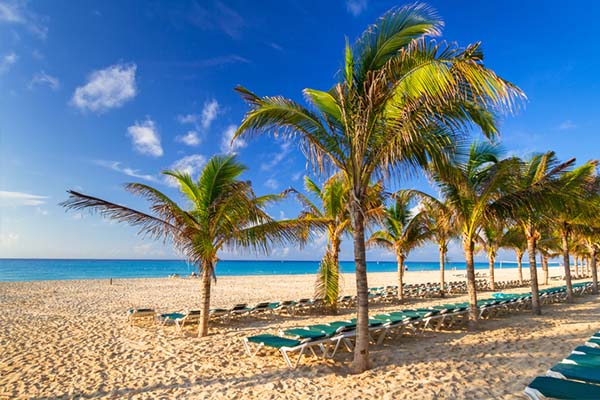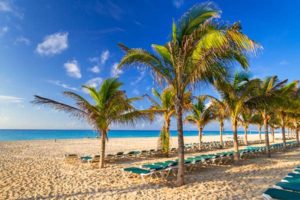 2. The famed 5th Avenue promenade (La Quinta) is a cobbled stretch of restaurants, bars, small hotels, galleries, and exclusive shops. No motor vehicles allowed so wear comfortable shoes. Only a few blocks off the beach, follow the sounds of live music for an evening to remember. Start out slow at any number of sidewalk cafes, and finish the night with a flare at Coco Bongos, where lavish nightclub meets Las Vegas showmanship and the drinks are free with the price of admission.
3. The tourist Mecca of Cozumel is just offshore of Playa del Carmen. Catch one of the two ferries that make the run. Fares are $7 to $10 depending on which of the two services you select. It takes 30 to 40 minutes in-transit. Cozumel now serves at least eight cruise ships daily through three separate terminals. The island literally crawls with tourists every day and has a very unique and fun vibe. Cozumel is a fun day trip or makes for an equally fun weekend get-a-way.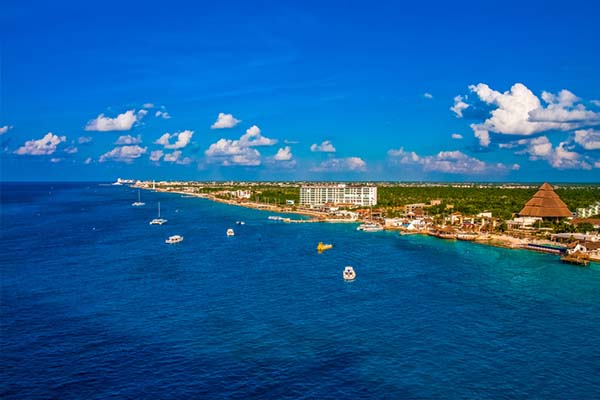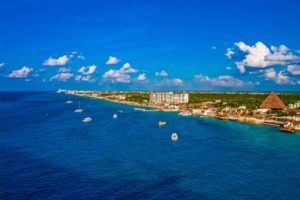 4. A cenote is a clear, fresh water, underground spring that is either open at the top or closed, with entrance through a cave. Cenotes on the Yucatan Peninsula are numerous and there are three that are close to Playa del Carmen, accessible and have clear water. Check out the Azul Cenote, El Jardin, and Cristolino. You won't be disappointed.
5. If you are drawn to Playa del Carmen, it's safe to assume you are drawn to the sea. Make the drive to Akumal about 30 minutes south and swim with docile sea turtles in Akumal Bay. The bay is calm and there is no charge, although you can opt to join a snorkel tour if you wish.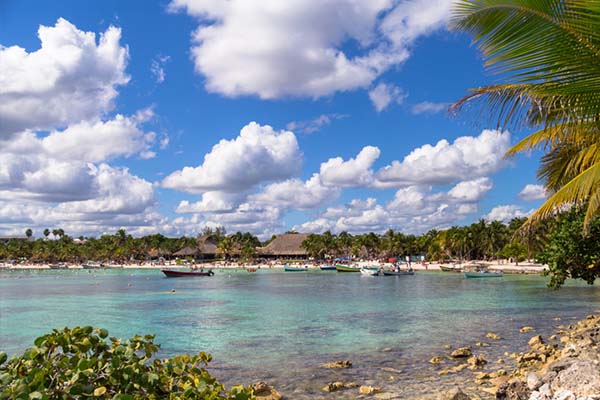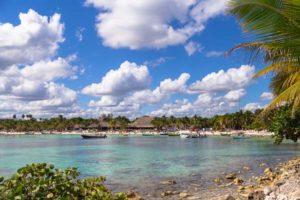 6. The Maya people settled this area thousands of years ago and still maintain a strong presence here. Their archeological ruins dot the area, one not far from Playa del Carmen. Head south to Tulum and explore the only Maya ruin directly on the beach. The ruins are walkable and sit upon a cliff overlooking the Caribbean. There is even a beautiful beach for working on your tan.
7. See Playa Del Carmen from the air in a parasail pulled aloft by a boat. Sail high above the beaches and shoreline while taking in the view from 200 feet. Be sure your camera has fresh batteries. The cost is normally $65 to $75 per person and you can find vendors along the beach.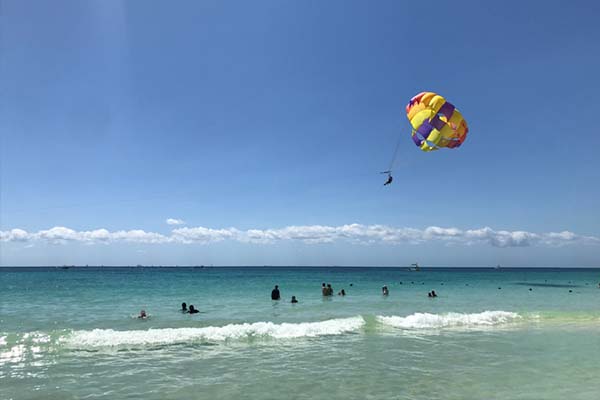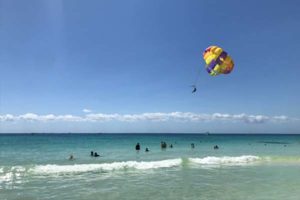 8. If it's Saturday night and you feel like dancing, check out Zenzi on the beach. Even if you aren't a dancer, you should go just to enjoy some great Margaritas, a live Salsa band, and the locals who have all the moves.
9. Drive 20 minutes south and discover the beautiful Xpu Ha beach. A sparkling white-sand beach with plenty of beach bars and restaurants make this beach an easy place to stay for a weekend.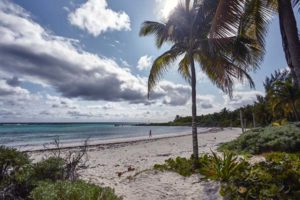 10. Perhaps the last listed here is the best of all. Alux restaurant is spectacular. Built inside a 10,000-year-old cave, this remarkable, upscale culinary experience is definitely worth your time. The menu is international and the food, paired with a unique environment, makes for a wonderful experience.
Playa del Carmen has undergone an explosive growth spurt in the last five years. It is the fastest growing community in Mexico. The lifestyle is definitely Caribbean casual and the costs are minimal for what you receive.
Medical care is excellent with two local hospitals and seven more just north in Cancun. Fresh foods are readily available and now you know…you'll never be bored.