Many people from the U.S. and Canada know the Riviera Maya well…from vacations to the all-inclusive resorts that line the coast, especially in the world-famous "hotel zone" in Cancún.
But head 45 minutes south on the Yucatán Peninsula, and you'll find another vacation destination, one that a large number of foreigners have made their permanent home. It's called Playa del Carmen. And they love this rapidly-growing city by the Caribbean Sea for the same reason tourists from around the world visit. Year-round warm weather; a plethora of white-sand and golden-sand beaches on turquoise Caribbean waters; modern conveniences like high-speed internet; great shopping and restaurants—including brands and cuisines you know from home; a variety of outdoor activities like snorkeling, scuba, boating, and fishing; the welcoming local population and active expat groups; and so much more.
Oh, and who could forget the tacos, tortas, ceviche, and other tasty Mexican cuisine that you'll have at your fingertips (all of it tasting so much better than what you find in the U.S.).
Retire in Playa del Carmen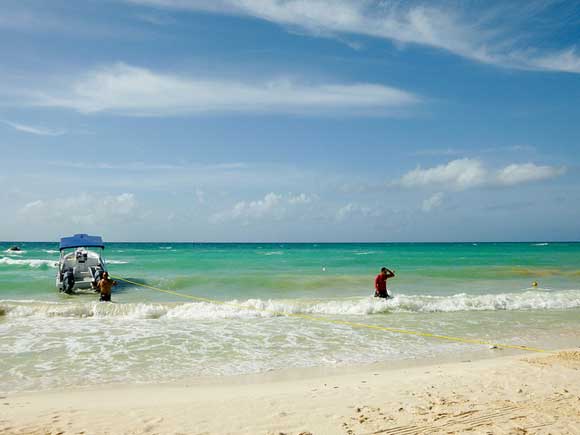 Playa del Carmen is already a popular haven for retirees, hosting a significant portion of the Americans who live in Mexico. There are also many "snowbirds," among them many Canadians who start coming down after Christmas and stay until about April.
The influence of tourism, and the large numbers of expats, means speaking Spanish is not strictly necessary if you live in the city, as many locals speak English. But learning Spanish and trying it out with your new neighbors, your landlord, local shopkeepers, and others will help you adapt and make your experience in this new culture much richer.
This city offers plenty of other benefits to retired expats too. Healthcare in Mexico is excellent and available at a low cost. That's certainly true in Playa del Carmen, which has several private hospitals that offer specialist care, diagnostic testing, emergency rooms, and even full service for surgeries and procedures. You can use insurance or pay cash—it's about $30 to $50 for a doctor's visit, for example, with even serious procedures costing a fraction of what it would in the U.S.
Mexico also makes it easy for retirees to set up official residence. The temporary resident permit requires about $2,000 a month in income—that covers the applicant and one dependent. Some expats simply live in Mexico with a tourist visa, which is valid for six months at a time and can be renewed indefinitely by leaving the country and re-entering.
Residents of Playa del Carmen also benefit from the Cancún International Airport being just a short drive north. You can travel to and from your home country or have friends and family visit you cheaply and easily thanks to many direct flights to the U.S. and Canada.
Lifestyle in Playa del Carmen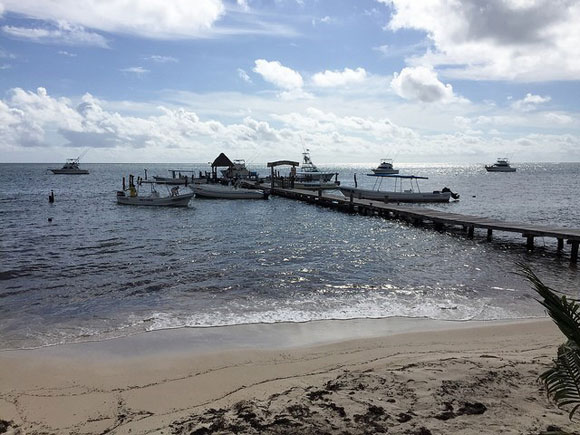 Playa (as the locals call it) has a sophisticated…jet-set…almost European feel. Stroll down the famed Quinta Avenida (5th Avenue), parallel to the beach, and you'll see why. Smart boutiques, outposts of luxury brands like Victoria's Secret, French bakeries, beach clubs that you might see in Ibiza or Miami…it's all there.
But don't fear.
It's still a casual life by the beach, where shorts and flip-flops are always acceptable attire. And you'll find plenty of local places with mismatched chairs but to-die-for tacos (less than a buck each)…and an ample selection of mescals and tequilas unknown outside of Mexico. There is also a bustling authentic Mexican town away from this high-end area where you can escape the tourists. (And don't worry, the Riviera Maya is one of the safest regions in Mexico.)
The local expat community is active, with plenty of happy hour gatherings, dinners out, and parties at home to enjoy, as well as volunteer work, yoga classes, cultural events, and other things to do. It doesn't have to be a party all the time, by any means.
The atmosphere is relaxed and fun, with plenty of time spent outdoors, whether it's people watching with a cappuccino at an outdoor café, relaxing at the beach in a lounger with a beer in hand, or heading offshore to see the underwater wonders at the second-largest coral reef system in the world. Scuba, snorkeling, boating, fishing, exploring Maya ruins…there's plenty of outdoor activities to keep you active in and around Playa del Carmen.
Cost of Living in Playa del Carmen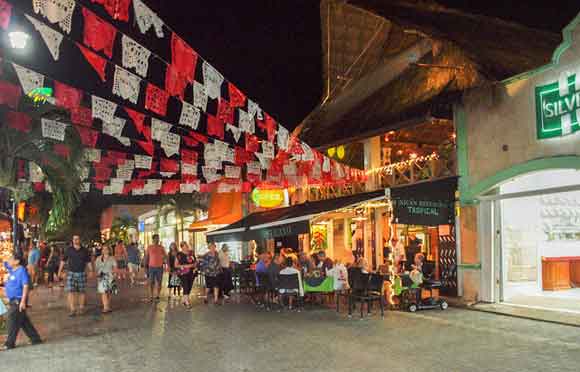 In recent years, American travelers and expats who draw an income from the U.S. have benefited greatly from the dollar to peso exchange rate. As of now it's hovering around 20 pesos to $1. And that translates into savings across the board.
You can live well for less.
One drawback to Playa del Carmen as far as costs go is that real estate to buy and homes and condos to rent can be pricey if you're in the "middle of the action" near the Quinta Avenida. Think $900 per month and up to rent a two-bedroom condo a five-minute walk from the beach. To buy a beachfront condo, you'll looking at above $200,000.
But if you're willing to walk 15 minutes to get to the heart of town or take a taxi for 10 to 15 minutes, you'll pay from $150,000 for a condo with a similar layout.
As far as daily costs, it really depends on lifestyle. Dinners out can range from 70-cent tacos to $20 a plate gourmet dinners. And local grocery stores stock imported fine foods (at premium prices) but also low-cost fresh produce.
Many retired couples average about $2,000 to $2,500 for their expenses for the month, all in. Another thing to watch out for is the electricity costs. It can be quite warm in Playa del Carmen, especially in the summer months. And when it's in the high 80s F in the heat of the day, you want to turn on that AC, which can lead to bills of over $100 per month…more if you have a larger place. But you can still save by turning it off in rooms you aren't in or turning it off when you're not at home.
Here is a breakdown of a monthly budget for a couple living in Playa del Carmen:
| | |
| --- | --- |
| Expense | U.S. $ |
| Rent (two-bedroom apartment) | $1,000 |
| Electricity | $100 |
| Utilities | $30 |
| Cell Phones (2) | $40 |
| Groceries & household Items | $370 |
| Insurance | $100 |
| Internet | $60 |
| Streaming media accounts | $45 |
| Property Tax | $22 |
| Eating Out | $200 |
| Transport | $40 |
| Total | $2,007 |