By Melissa Heisler
If you ask anyone about Cabo San Lucas, they will probably know about Sammy Hagar's Cabo Wabo, Jenifer Aniston and George Clooney's frequent visits, and Mango Deck's crazy spring breakers. But for me, Cabo is a small town where the locals have three, not six, degrees of separation. Cabo San Lucas is a city of diversity and dichotomies. It is a place to get away from it all—while being in the midst of it all.
Situated at the tip of the Baja California peninsula, Cabo San Lucas is snuggled between the Pacific Ocean and the Sea of Cortez. Originally a sleepy Mexican fishing village, Cabo has exploded into one of the premier vacation and retirement cities in Mexico. Over the last 40 years, this desert community has grown exponentially becoming the second largest city of the state of Baja California Sur with a surging population of 350,000, and yet it is still rural enough that I often see cows wandering the road outside my home.
Until the late 1970s, Cabo San Lucas, the Cape of Saint Luke, was occupied by only a handful of Mexican families. Today, due to the work opportunities, half of the Cabo San Lucas Mexican population have immigrated from states throughout Mexico. With them, they have brought their food and music resulting in a melting pot of Mexican culture. Foods range from traditional Guadalajaran tortas ahogadas, Michoacano carnitas, and Sinaloan aguachiles. On a single night, the guitar and trumpet sounds of western states mariachi mix with accordion-heavy conjunto norteño music from the northern states, and southern bandas recognized for the prevalence of the tuba.
Not only is the city a mix of Mexican cultures, but it is also a mix of Canadians and those from the U.S. happily spending the winter months or the full year in Cabo. Added to this is a variety of tourists who seem to double the city's population from November through March. In my neighborhood, we have also had families from the Netherlands and Russia.
Cabo San Lucas is a bustling city and a quaint Mexican village with historic town squares. It is a non-stop Spring Break party and a rustic quiet mountain rancho. Cabo cannot be described in one single way, which is one of the ways the city is so magical.
Retire in Cabo San Lucas
Sun, sand, mountains, and ocean. Cabo has it all. The busy winter months are a perfect 74 F with just enough clouds to allow for amazing sunsets. The summers warm up to the mid-80s for the ideal beach day. August and September temperatures reach mid to upper 90s and bring the much-needed rain that does not fall the rest of the year. Many expats find these months a little overbearing and use the time to travel back north to visit family.
The marina is the heart of the city. Completed in 1978, there are actually three marina developments within this man-made harbor. On one side of the harbor is Playa Grande or the locals' beach that leads to the famous Lands' End rock formation and the Pacific Ocean. On the other side, is Médano Beach lined with restaurants and tourist activities. The boardwalk edging the inside of the marina includes a variety of hotels, restaurants, a movie theatre, and shopping malls. The marina and the blocks surrounding are referred to as El Centro and bustle with restaurants and artisan shops including a hand-blown glass factory with daily demonstrations.
As the city grew, so did the retail available. We now boast a Super Walmart, Home Depot, and Costco making many American products available. The Mexican superstore La Comer offers less expensive domestic products, handmade tortillas, fresh ceviche, and authentic baked goods. A handful of organic markets occur weekly in the expat communities, and one can also find seasonal fruit and vegetables frequently sold out of trucks on street corners.
Average travel times point-to-point in Cabo are usually under 20 minutes, or a little longer during the 3 p.m. lunch and 6 p.m. after-work traffic. The city now sprawls from the new developments on the Pacific coast, down to the Beverly Hills of Cabo, Pedregal ("rocky") toward Lands' End. On the Sea of Cortez side, the community of Cabo Bello supplies ocean-front single-family homes, and further inland the exploding El Tezal area boasts homes built 50 years ago amongst a host of brand-new condominium developments. The common style of home in Cabo is multi-level which can be challenging for many retirees. However, many of the newer developments are single level and have elevators to each floor.
Inland from the coasts lies the heart of the working city. Although a spattering of expats can be found, the neighborhoods of Lomas del Faro, Brisas del Pacifico, Los Cangrejos, and Chula Vista are heavily populated with the local working-class due to the extensive bus service.
Healthcare has greatly improved in the area with the recent addition of the world-class H+ Hospital located an easy 30-minute drive from Cabo San Lucas. Closer to the city, the reputable AMC American Medical Center and Blue Net hospitals offer affordable and reliable emergency care. Locally purchased health insurance offers annual rates for the same amount most Americans pay monthly. An average doctor visit is about $60 and includes unlimited text follow-up directly with the doctor.
Lifestyle in Cabo San Lucas
With its pristine beaches and its active nightlife, Cabo San Lucas is a desired destination for spring break, winter snowbirds, and bachelor/bachelorette outings. Fun in the sun can be found on jet skis, parasailing, snorkeling, and dinner cruises. December through March is the ideal time to view migrating humpback and gray whales. A host of other marine life can also be viewed almost daily including manta rays, sea turtles, osprey, blue-footed boobies, and sea lions including the famous "Pancho."
With an abundance of tuna, wahoo, marlin, and dorado, Cabo San Lucas was founded on fishing. Today, Cabo is one of the premier fishing tournament cities in the world hosting the famous multimillion-dollar Bisbee marlin tournament, the Los Cabos Tuna Jackpot, and many other fishing competitions. The marina is filled with private fishing vessels from tiny pangas to 200-foot yachts, both privately-owned and available for rent.
Away from the water, adventure can be had on vacation activities like ziplines and camel or horseback rides. From Jack Nicholas golf resorts to city clubs, Cabo San Lucas offers challenging and breathtaking courses for every type of player. Throughout the Baja peninsula, off-road racing can be found including the Score International Off-Road Racing association Baja 500. Although the larger races do not make it to Cabo, the experience does as race-quality off-road vehicles can be rented for full- or half-day excursions.
After a busy day, many restaurants offer a quiet view of the sunset over the ocean including the local Baja Brewing with incredible views of the bay and arch. As the rich and famous often visit Cabo San Lucas, Michelin-starred restaurants are easy to find including Enrique Olvera's Manta at The Cape and Nobu Matsuhisa's sushi at his namesake hotel. Or you can while away quiet hours with other locals at Tiki Bar, an expat favorite for friendly service, great food, and a lovely view of the marina.
For many, the Cabo nightlife is not to be missed. One street in El Centro is lined with a string of dance clubs which are often open until 4 a.m. Stroll club to club and dance the night away. Or, if the late-night scene is not for you, driving through the gauntlet of clubs as they begin to open can be a feast for the eyes and the ears.
Cabo San Lucas is also host to annual events including the Los Cabos International Film Festival, IRONMAN Los Cabos, and Los Cabos Open Mexican tennis tournament.
If you want a break from the bustle of Cabo, many destinations are within an easy hour's drive. Head up the 19 highway with spectacular Pacific Ocean and mountain views to reach the city of Todos Santos which is a fun blending of traditional Mexican architecture with splashes of hippy expat culture. Near Todos Santos is the beach town of Pescadero known for its surfing. Or you can head up the 1 which hugs the Sea of Cortez. Stop at Santa Maria or Chileno bay for sun, sand, and snorkeling, or keep driving to reach San José which is a more laidback city than Cabo, and be sure not to miss the famous weekly art walk while you are there.
Cost of Living in Cabo San Lucas
Although it has a reputation as one of the most expensive cities in Mexico, Mexico still offers a significantly reduced cost of living when compared to the U.S. Since Cabo is located at the tip of a peninsula, almost like living on an island, delivery of goods like furniture can be more costly. The other reason for the slightly higher cost of living is the influx of foreigners who desire high-end restaurants and luxuries. However, for most expats, the cost of living is still much more affordable than they found back in the U.S.
In 2018, My husband and I purchased a modest three-bedroom, two-and-a-half bathroom duplex in Tezal with a view of the ocean for under $200,000. The gated development boasts three pools and a basketball court for the low homeowners' fee of $113 (2250 pesos) a month. Our annual taxes are under $200 and if we pay in January, we receive 20% off. We found purchasing more economical than renting. It is important to note that mortgages are not available in Mexico although there is some development or seller financing available.
For the two of us, we live for about $1,000 a month including twice a month housekeeping and monthly landscaping. If you live like a local, it is possible to live less expensive than that. Or if you prefer a more luxurious life, multi-million-dollar homes are available along the coastlines. For most Americans renting a three-bedroom home in a gated community, it is easy to live for under $3,000 a month.
Here is a breakdown of a monthly budget for a couple living in Cabo San Lucas:
| | |
| --- | --- |
| Expense | U.S. $ |
| Rent (three-bedroom duplex) | $1,500 |
| Utilities | $75 |
| Groceries | $450 |
| Entertainment | $350 |
| Housekeeping (weekly) | $140 |
| Medical | $250 |
| Transport – Public Transport or Car/Gas/Insurance | $75 to $150 |
| Monthly total: | $2,840 to $2,915 |
Top 10 Things to Do in Cabo San Lucas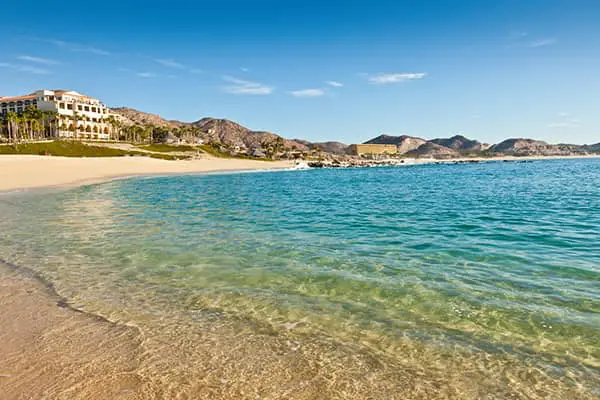 Cabo San Lucas offers so much to do that the question is not what you should do, but what don't you have time to do. Here are my Top 10 Things to Do in Cabo San Lucas.
1. Fishing
Cabo San Lucas began as a sleepy little fishing village. The waters are full of tuna, marlin, dorado (mahi-mahi), and a host of other fish. Fishing enthusiasts come from around the world for an opportunity to fish here. A variety of fishing experiences are available. The least expensive is renting a panga and fishing just offshore. The boat is small, 20 to 26- feet long, may have bathroom facilities, and usually does not have much shade from the sun. What these small boats offer is a lot of fun. Fish are easy to find and catch nearshore. A pleasant half-day can be spent catching around Lands' End.
To experience the excitement of deep-sea fishing, boats can be rented from local firms like RedRum or upgrade to a private fishing vessel. The costs can increase on private yachts but so do the amenities. Most charter firms provide box lunches. Private yachts can include a chef and steward to ensure your comfort throughout the trip. Either way, there are fish to be found and the local captains are passionate about making sure you catch your first marlin or tuna. Once back at the docks, most of the restaurants offer to cook your catch on the spot. Services are also available for mounting or shipping your catch home.
In the fall, the Tuna Tournament and Bisbee Fishing Tournament are held. Anyone can join, if they have the entry fee. Everyone is welcome to wait by the scales at the end of the day to see the prize-winning fish being weighed and to join in the excitement.
2. Whale Watching
Every year pods of whales travel from the frigid waters of Alaska to the Sea of Cortez to mate and give birth. Mid-December until mid-April it is easy to get up close to humpback and grey whales. After February is the best time to see the newly born calves. Mornings are best if you want a smooth time on the water. Later in the day, there is more whale activity, but also more waves.
3. Dinner/Sunset Cruise
For more fun on the water, check out the dinner and sunset cruises. Boats of every style will take you out to see the sun set over the Pacific and then take a leisurely lap around Lands' End to the Sea of Cortez inlet. Full dinners are offered on some excursions. Others have a party atmosphere and a generous bar.
4. Snorkeling/Scuba
Many of the sunset party boats will also take guests to the local beaches during the day where they can enjoy snorkeling and other water sports. If you are looking for the full diving experience, there are local dive companies who will teach you the basics and take you out for a unique deep-sea experience.
5. Beach
You are in paradise; do you really need to do anything? Enjoy a lazy day on the beach. Find yourself a reclining chair along Médano beach at one of the many restaurants. Take in the sand and surf as you work on your tan. If you get bored, jump on a jet ski or try out parasailing. Less than 30 minutes away you can also explore other less commercial beaches like Santa Maria and Chilano. El Tule and Costa Azul beaches are great to watch surfers or receive your first surf lesson.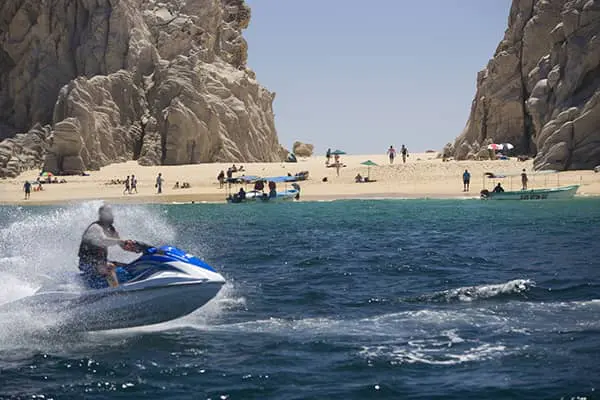 6. Desert Adventures Fun
Cabo San Lucas offers more than just fun on the water. Local companies will drive you less than one hour out of town to explore the desert by horseback, camel, or off-road vehicle.
7. Hiking/Biking
The mountains surrounding the El Tezal area of Cabo host miles of biking and hiking trails. Walk up to the Cerro de Las Antenas and view not only all of Cabo including Lands' End, but the gorgeous mountain ranges to the north.
8. Nightlife
At night, downtown Cabo comes alive. Many restaurants and bars have live music. The most well-known of these is musician Sammy Hagar's Cabo Wabo. Near the mouth of the marina, a series of dance clubs blast music and lights competing for the attention of the 20-somethings looking for a fun night out.
9. Shopping for Handcrafted Goods
Mexicans are proud of their handcrafted items and many can be found displayed in local shops. The Glass Factory allows viewing of their artisans crafting new pieces and includes an extensive shop to peruse. Baja Anklet creates one-of-a-kind stone jewelry on the spot. Silversmiths can also be found offering rings, bracelets, necklaces, and earrings predesigned or custom. For home goods, check out Artesanos, a warehouse full of glasses, plates, furniture, lighting fixtures, and more from around Mexico. Almost every day, an organic market is held somewhere in the city with locals sharing their woven goods as well as locally made treats.
10. Enjoy the Cuisine
From the local taco stand to 5-star restaurants, Cabo has something for everyone's palette. Mexican specialties from around the country can be found here along with local seafood. Hang with the late-night crowd at Gran Pastor, a storefront taqueria. Attend a cooking class that offers Spanish lessons along with make-your-own Mexican cuisine. Choose from one of many amazing restaurants with views of the marina or the sunset to end your day.
Bonus: Day Trips
Just beyond Cabo there are many other cities to explore. In two hours or less, you can visit many other locations in Baja California Sur. Read more about them here.
Best Day Trips From Cabo San Lucas
Cabo San Lucas has a lot to offer, including short day trips to other cities on the Baja California Sur peninsula. Cabo is at the very tip of the Baja allowing easy access to cities along both the Sea of Cortez and the Pacific Ocean.
Sea of Cortez
San Jose del Cabo
Traveling northeast from Cabo, the closest city to Cabo San Lucas is San Jose del Cabo. San Jose hosts the international airport and is where most tourists first set foot in Mexico. Although only 30 minutes from Cabo, San Jose is a different city. It is more relaxed and higher-end than Cabo. San Jose has a quaint downtown shopping district that hosts art walks once a week. Stroll in and out of local galleries to explore local photography, sculpture, and paintings. Although there was a marina added to the city a few years back, it is not lined with shops and restaurants like Cabo. One can take a leisurely stroll around the marina and enjoy a stop at the Container restaurant for a nice meal with a beautiful view. Closer to town is a new strip across from most of the hotels hosting luxury restaurants and retail shops.
Miraflores
About an hour north of Cabo and the first stop from San Jose del Cabo is Miraflores. A quiet rustic town with an authentic Mexican flare. Stop for local cuisine and locally made leather, furniture, and other crafts.
Tropic of Cancer
Fifteen minutes north of Miraflores is the Tropic of Cancer monument noting the 23.5 degree parallel of latitude, one of the five major circles of latitude around the earth. Make a quick stop. Light a candle for Mary, take a picture with the globe showing the Tropic, and if you are lucky, visit some of the vendors if their stores are open.
Santiago
Between the Tropic of Cancer and the East Cape lies Santiago which hosts natural hot springs and a small zoo. The zoo is more of an animal rescue. There are not a lot of animals housed here, but it is free and there is some beautiful foliage to view as well.
Best to do a little research before heading to Santiago as finding the springs can be a bit of an adventure. The springs are definitely off the beaten path, but finding the hot springs are half of the fun of going there. The springs themselves are beautiful and very rustic.
Five different springs are in the mountains. Some with amenities and overnight camping for a small fee. Some are open and free. The water in lower pools runs about 70 F and is full of fish and the occasional water snake. Don't worry, the snakes are more interested in the fish. The top pools can be 80 F to 100 F the closer you get to the spring. Waterfalls are also found in this area.
East Cape
The next stop on the Sea of Cortez side and about an hour and a half from Cabo is the growing East Cape cities of La Ribiera, Buena Vista, and Los Barriles. The East Cape is an expat retreat where English is commonly spoken. Miles of beach welcomes you. Take a stroll on the beach and watch or try kite surfing. Enjoy a slower pace of life and a break from the crowds found in Cabo San Lucas and San Jose del Cabo.
Cabo Pulmo
To get even further away from it all, head back South about 30 minutes down the coast to arrive at Cabo Pulmo, home of a national park. Swim with the whale sharks, snorkel, kite surf, or hike the trails. Rent eco-friendly accommodations and relax in this natural sanctuary.
San Bartolo
Twenty minutes north of Los Barriles on Highway 1 is San Bartolo. San Bartolo offers easier to find and access hot springs. Look for the Ojo de Agua (eye of water) signs. This hot spring has been made into a swimming pool and is lined with food stands. A family favorite, this attraction is not open every day or year-round.
El Triunfo
Drive north of San Bartolo to visit El Triunfo. This small town hosts a music museum and a new cultural center to be opening soon. This mining community was booming in the early 1900s and today you can explore some of the abandoned mine trails and smokestacks. We spent a few hours here touring the sites and then enjoy local specialties at a Sunday farmer's market.
Pacific Ocean
Pescadero
If you had headed up highway 19, there is a beautiful drive nestled between the Pacific Ocean and the mountains. Most of the desert fun activities are a short drive up the Pacific coast heading northwest from Cabo San Lucas. Although more roadside restaurants and stores are popping up every day, the first city of note from Cabo is Pescadero. Pescadero is the home of Cerritos Beach known for some of the best surfing waves in the area.
Todos Santos
The main stop on the west coast is Todos Santos. Developments are popping up in and around Todos Santos, but they have kept the quaint artsy hippy feel of the downtown intact. Check out the Hotel California and decide for yourself if it is the one the song is all about. Check out some local crafts and artists. Stop by a local farm-to-table restaurant. Todos Santos is a wonderful city to walk and explore.
La Paz
Highway 1 on the Sea of Cortez side and Highway 19 on the Pacific side meet up in La Paz. Driving along the Sea of Cortex side takes just over three hours. Coming back the Pacific side is only two hours. The difference is that traveling on the Pacific side is a more direct route.  If you want to only visit La Paz, head up the 19 through Todos Santos for a more direct and less scenic drive. If you want more of an adventure through winding mountain roads, the 1 through San Jose is for you.
La Paz is worth a weekend trip if you really want to take it in. Spend a day walking the malecón and exploring the old town. Drive to the east and visit a series of nine beaches. Schedule a trip to the Isla del Espiritu Santo or a swim with the whale sharks.
Whichever road you take from Cabo, you are sure to find a new adventure.
Things to Consider When Buying in Cabo San Lucas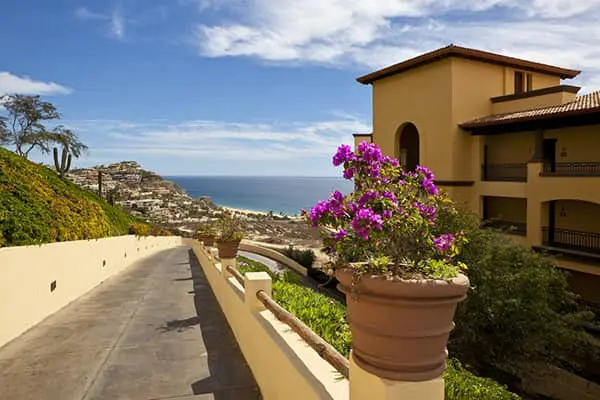 When we purchased a home in Cabo San Lucas five years ago, we looked in many different areas and at many different home types before we found one that met our needs. Besides the normal considerations when buying a home, there are some special things to keep in mind when buying in Cabo.
Home Type
Are you looking to have a stand-alone home or a condominium? Many of the older homes and even condominiums in Cabo tend to have multiple floors. They are beautiful and well-laid-out, but the stairs may be challenging for some people. When making your wish list, be sure to note if you want a single story or multiple floors. If you are open to multiple levels, decide if you want the bedrooms on the first or second floors. We prefer having the bedrooms on the first floor as it tends to be cooler at night and allows for terrific views from our living room on the second floor.
Community
Cabo San Lucas is a very diverse community. It is important to find the right mix of neighbors. Are you looking to be surrounded by other English-speaking retirees? Do you want full immersion into the Mexican culture? Are you looking for snowbirds (those who come down November to May) or to be with others who are in Mexico year-round? When we first moved to Cabo, we stayed with a friend in a development with mostly expatriates. It was helpful to be around English speakers who could show us the ropes. We decided to purchase in a mixed community of Mexicans and those from other countries, most are business owners living here all year, and it is the right fit for us.
Homeowners Association
Many homes are part of a homeowner's association. Being part of a community can help with utilities, resources, and security. These developments usually have pools and fitness centers. There is a fee for this, but at the right price, it can be a very useful benefit. The trade-off is that there may be rules with the association which are not ideal for you. Be sure you understand the rules and regulations before buying.
Location
Do you want to be near the tourist center of downtown? Maybe you are excited to be right down in all the action, but you will also have to contend with the traffic and nighttime noise. Are you looking for a more chill vibe in the mountainside of El Tezal where there are great views and prices, but it may take you extra travel time to go up the mountain roads? Are you looking to be in the affluent areas of Pedregal and the growing Pacific Coast?  Do you want to be in the mountains or on the beach? Do you want an established community or one that is just being developed? How close do you want to be to stores or local attractions? We looked in many different areas when searching to get an idea of the different communities and the logistical considerations of that area.
Water
Although Cabo San Lucas is surrounded by sea and ocean, it is a desert. Living in a desert means potable water can be a challenge. Find out if your community shares a cistern receiving water from the local utility, Oomsapas, or if you will rely on water delivery trucks, pipas. What size cistern is available at your home? When we bought our home had a 2,500-liter cistern. With only two people in the house and conscious use, we were usually ok, but not always. We have since invested invest in having a 10,000-liter cistern installed and we do not have any daily concerns. The larger cistern also provides us with a nice cushion in case there are any glitches in delivery.
Rains
Most of the year, Cabo has enviable weather—sunny, dry, and in the 70's F to 80's F. The summer months can be challenging due to the heat and occasional storms. Hurricane season is officially mid-May through November with most storms arriving July through September. Storms can bring heavy rainfall and/or wind. Hurricane shutters are a good investment. Making sure the home has adequate drainage and waterproofing is important.
Roads
A benefit of living in Mexico is the very low property taxes compared to the U.S., but that also means there is not a lot of money for city infrastructure. The main roads are paved and maintained. Some developments build and maintain the surrounding roads. Some roads are dirt and sand. During the dry months, some of the more rustic roads can be a bit more like off-roading. When it rains, these roads may be washed out. It is good to be aware of the condition and maintenance of the roads leading to your dream home.
Security
Like any city, there can be some crime here, although we have not personally had any issues. If you plan to stay in your home only part of the year, buying in a development with security measures can be a worthwhile investment.
Time
When we closed on our home it took six months for the paperwork to be completed before moving in. If you decide to buy a development that is under construction, be aware that even the best contractors may not be able to deliver on time. If you are purchasing land and constructing, that can add on time to research ownership of the land as well and design approval and construction time. Bottom line, once you have found your dream home be prepared with the patience to wait for it.
Can't Find What You Want?
If you know what you want but don't seem to be able to find it, expand your search. Mexican citizens and some developers do not post as part of the Multiple Listing Service (MLS). Do a Google search to find Mexican websites with real estate listings or to research developments directly. Don't forget to tap into the local community. Word of mouth is still the best form of communication in Cabo. Reach out on social media communities to see what you can uncover.
If you still can't find what you want and decide to build yourself, be sure to thoroughly investigate the developer and their right to build on those lands. Check out some of their other homes and talk to the owners to receive first-hand information on quality, timeliness, overruns, etc.
The Process
Transactions are different in Mexico. It does not matter how much property you have purchased in your home country, if this is your first time buying in Mexico you have a lot to learn. Your closing team will consist of your real estate agent, attorney, and a notary. Know that in most cases, you are not literally purchasing the property. A bank will hold the title to the land and you have access to it through a trust called fideicomiso. The bank holding your fideicomiso trust dictates the timing of the closing. Ours was a six-month paperwork process. Mexico has different closing costs than the U.S. and your attorney should detail these out for you. Be ready for surprises. Our final closing costs changed three times before the closing date, and then we were given a few hundred dollars back at closing.
Featured Image Copyright: ©iStock/ferrantraite