Real Estate & Property Information for Puerto Vallarta
Puerto Vallarta, on Mexico's Pacific coast, lies at the foot of the majestic Sierra Madre Mountains that sweep down to the Bay of Banderas. It's a warm and sunny spot with tropical beaches, fresh ocean breezes and temperatures that average 73F to 83F all year.
Puerto Vallarta's international airport makes it easy to get to. It receives direct flights from across the US and Canada. It's particularly good for west coast flights. It's only a 2.5-hour flight to Phoenix, Arizona; 3 hours to Los Angeles; and 4 hours to San Francisco.
Fame came to Vallarta in 1963 with John Huston's movie, "Night of the Iguana". Huston shot part of the movie in the town. The paparazzi showed up to follow the off-screen romance between Richard Burton (who starred in the movie) and Elizabeth Taylor.
The town…its colonial architecture, crown-topped church and sundrenched beaches…featured in newspapers, magazines and on television as a backdrop to the romance. All that publicity put Puerto Vallarta on the map.
The town's history is much older than the movie. It dates back to pre-Hispanic times. Hernan Cortes took control of the area in 1524. Vallarta's colorful past is a tale of fishermen, pearl divers, pirates and miners. But the movie really kick-started the town as a major tourist destination.
Today, the town's mile-long malecón, or boardwalk, winds its way along the beach, dotted with sculptures. Little stores line the boardwalk, offering pottery, leather goods, jewelry, textiles and hundreds of varieties of tequila. You can stop for gourmet ice-cream, eat lunch in a beachside café or party the night away in a cozy bar.
At the downtown farmers' market on Saturdays you can buy home-made organic treats such as yoghurt and honey, fresh-baked bread and brownies and good coffee.
The Sierra Madre Mountains that backdrop Vallarta give you the chance to hike, bike, or take a canopy tour.
Puerto Vallarta is a water-lover's paradise. As well as endless beaches, it boasts four marinas and a yacht club. You can take boat tours, go whale watching, parasailing, kayaking. Vallarta hosts sailing regattas and sport-fishing tournaments.
Golfers can choose from nine different courses.
The town has a rich cultural and arts scene, too. Teatro Vallarta hosts ballet, orchestras, opera. December through April, local art galleries host Art Walk. Annual festivals include jazz, photography, art, wine, and the renowned gourmet food festival. Vallarta itself is home to countless restaurants and cafes (Tripadvisor lists more than a thousand!). The town has also gained a reputation as one of the most L.G.B.T.-friendly destinations in Mexico.
For many North Americans, Puerto Vallarta is a place they come to year after year on vacation or to ride out the cold winters back home. And for some, it's home, with an estimated 50,000 North American expats living in town.
You can live a Southern California lifestyle in Vallarta…without breaking the bank. Moreover, there's a wide variety of real estate on the market, with something to suit most tastes and pocketbooks.
Real estate in Puerto Vallarta runs from swanky beachside condos with impressive views…to downtown pads that are a walk to the beach, shopping and entertainment…to lavish luxury homes. Here's what you need to know about buying property in Puerto Vallarta.
Get Your Free Real Estate Report Now
Sign up for our free daily Postcard e-letter and get a valuable free report on the The 5 Best Places to Buy Real Estate In 2023.
Top Four Neighborhoods in Vallarta
1. El Centro/Zona Romantica
I've put these two together as they're right next to each other, separated by the Rio Cuale, and offer some of the same benefits.
Centro's centerpiece is the Nuestra Señora de Guadalupe church, topped with a metal crown, that sits to one side of Plaza de Armas. The plaza is steps from the Los Arcos amphitheater and the malecón.
The malecón or boardwalk attracts locals, expats and tourists…for people watching, jogging, roller blading, dog walking…or simply enjoying a sunset cocktail.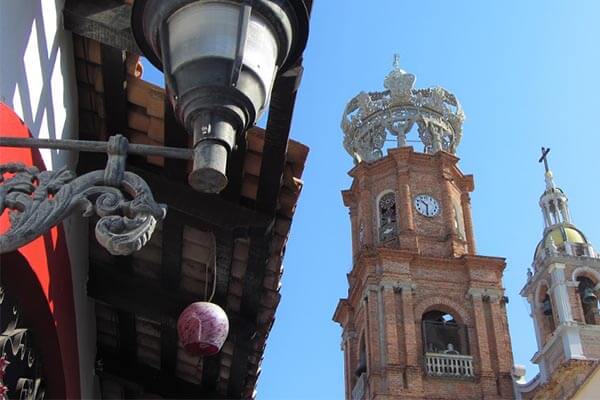 Centro is an entertainment hub, the kind of place where you never quite know what you'll find next. Sometimes it's a crazy street performance…a dignified religious procession…a gorgeous gallery behind a shabby-chic façade…art displays on the malecón. There's plenty of choice here when it comes to dining, partying, drinking, clubbing.
The Zona Romantica is home to quirky boutiques and trendy eateries. Los Muertos beach, one of the most famous in Vallarta, is here. The Zona Romantica is the focus of the LGBT scene in Vallarta. On Saturday  mornings, the Zona plays host to a large farmer's market stocked with everything from fresh produce to beauty supplies to organic coffee to home-baked goods.
You could live in both of these neighborhoods without a car. You can walk to shopping, entertainment, the beach and malecón, and it's easy to find a taxi if you want to go farther afield.
Property Samples in Centro & Zona Romantica:
–A brand-new one-bed two-bath condo in the heart of the Zona Romantica. Building features include a lap pool, gym, and rooftop social area with jacuzzi tubs. The kitchen has granite countertops and stainless-steel appliances. The condo comes furnished. Price: $199,000.
–A house over 4 levels in Centro. The top floor could be converted to  a terrace. The house has four bedrooms and bathrooms plus a powder room. The lower floor could be a studio for rental income. The house is traditional style with tile floors. Price: $239,000.
–A house in Centro with a designer kitchen, interior courtyard with fountain, and a huge terrace with a dipping pool, sunning and bar area. The 4-bed 4.5-bath house covers more than 5,000 square feet. Price: $759,000.
2. Hotel Zone
It might seem counter-intuitive to purchase a home in the Zona Hotelera…but this location has a lot to offer.
It's smack in between Old Town and the Marina…so a short taxi ride to both. There are restaurants, shopping, movie theaters, bars and clubs in the Zona Hotelera…it backs onto nice wide beaches that are usually not crowded…and it feels a little more ordered and less chaotic than downtown. The buildings here are newer, many of them high rises. This is a "flat" neighborhood too, so easier for walking than the tight, winding streets of Centro.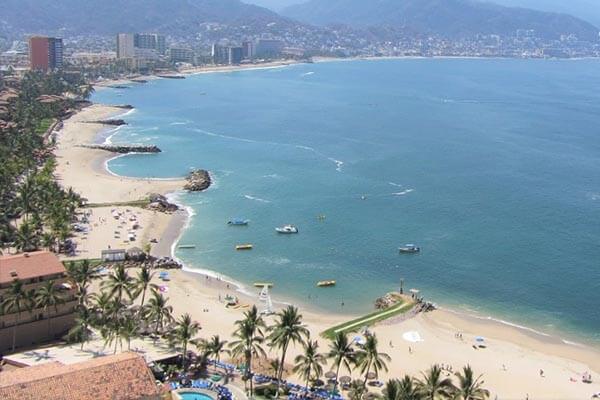 Parts of the Zona Hotelera, as the name implies, are zoned for hotels and tourist ventures only. But you'll also find some residential options, including new buildings with smaller units at very attractive prices.You can also get some amazing beachside and ocean-view condos.
Property Samples in Zona Hotelera:
—A two bed two bath condo in a new building.It's steps to the beach, commercial centers, restaurants and cafes. It's furnished and move-in ready. The building has underground parking, and a rooftop terrace with swimming pool. Price: $195,000.
—A large one-bed one-bath condo in a luxury building. The condo has city, beach and ocean views. The beachfront complex has top-notch amenities such as a fully equipped gym, over-sized swimming pools, gardens, and 24-hour security. It's being sold furnished. Price: $250,000.
–A large two-bed two-bath condo with city and beach views in a prestigious beachfront community. It's being sold furnished. The condo has high end finishes. The community offers a gym, spa, cinema, library, childcare, games room, business center and concierge service. Price: $449,000.
 3. Marina Vallarta
Easily identified by the giant whale sculpture at the entrance, Marina Vallarta is a great spot for lunch or dinner…with plenty of restaurants and cafes offering good food and water views. It gets busy in the evenings, when locals, expats and tourists come to eat, drink and relax. Some spots offer live entertainment in the evenings.
The marina promenade is nice to walk around. There are 450 boat slips in the marina, surrounded by eateries, stores, and condo buildings. There is also an 18-hole golf course alongside the marina.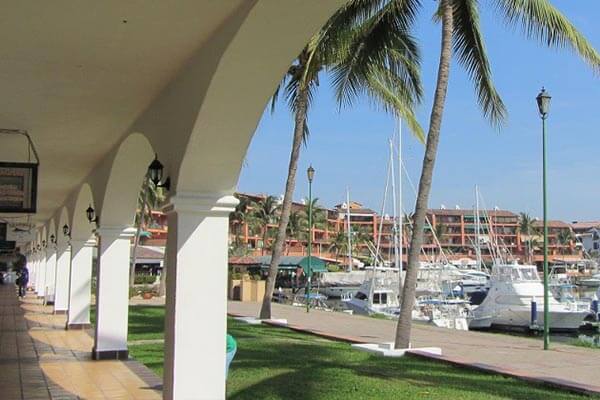 The marina hosts seasonal markets on Thursdays with the water and boats as a backdrop, and dozens of stalls selling local art and handcrafts, and gourmet food. There's usually music, too. The markets are fun to visit in the evenings.
Marina Vallarta has easy access to beaches, shopping, dining and Centro.
Property Samples in Marina Vallarta:
–A 3-bed 3-bath condo. It's an older condo but has had a remodel and is in a great location with marina views from the terrace. Common areas include landscaped grounds, a big swimming pool and jacuzzi. Price: $285,000.
–A 4-bed 4-bath townhouse in a gated community a 10-minute walk to the marina. It's also only a block to the beach. The home has an open-plan living area and is part furnished. Price: $299,000.
–An oceanfront remodeled two-level residence steps to the marina. It's got 4 bedrooms, there bathrooms plus a guest bathroom, a study/office and a large terrace with ocean views. It has three thousand square feet of construction and nice finishes. It's fully furnished and equipped. Price: $785,000.
4. Conchas Chinas
This neighborhood is on the southern side of Vallarta. It's very appealing, with pretty beaches and lush vegetation. It's sandwiched between downtown and the Sierra Madre Mountains, and some homes here have amazing views.
The ocean water in Conchas Chinas is clear and great for swimming. There are hidden sandy coves to explore and lots of postcard-worthy views.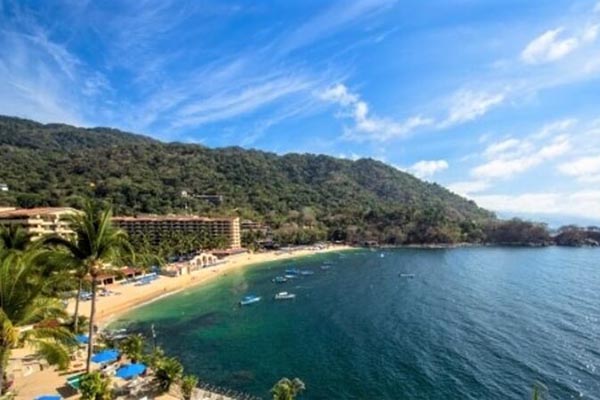 You're still close to restaurants and stores, yet it feels tranquil and exclusive. Conchas Chinas is next to the Zona Romantica, a neighborhood with many restaurants, galleries, coffee shops and other attractions.
With many expansive luxury homes, Conchas Chinas is known as the Beverly Hills of Puerto Vallarta.
Property Samples in Conchas Chinas:
–A 2-bed 2-bath condo with marble floors. It's sold furnished. The open plan living area leads to a spacious terrace with gorgeous ocean views and plenty of room for alfresco dining. The master bedroom also features an ocean view terrace. The building has a common swimming pool and social area. The condo covers almost 1700 square feet. Price: $415,000.
–A 2-bed 2-bath condo in a small complex of only 9 units. Building amenities include a pool and beachfront deck. This is laid out as two master suites, one with beachfront views. There are also views from the living area/terrace. Price: $649,000.
–A huge villa with almost 6,000 square feet of construction. This home combines traditional features with modern comforts. There are 3 bedrooms, 4.5 bathrooms, a huge terrace and pool, and lovely ocean views. It's furnished. Price: $2.2 million.
Get Your Free Real Estate Report Now
Sign up for our free daily Postcard e-letter and get a valuable free report on the The 5 Best Places to Buy Real Estate In 2023.
What You Need to Know About Buying Real Estate in Puerto Vallarta
Buying real estate in Puerto Vallarta can be easier and more affordable than you might have imagined. There are properties to suit most tastes and budgets.
Still, there are a couple of things you should keep in mind if you're considering buying in Vallarta.
The Buying Process
The first step is making an offer on the property. Always do your research, so you have a very good idea of the fair market value of the property. Never go in at full list price. If you don't like haggling, ask your real estate agent to do this on your behalf.
Make sure that the property you're buying has good, clean title (fee simple), without any liens, mortgages or restrictions. Also check that the seller is indeed the registered legal owner of the property.
Once you've agreed a price, your attorney will draw up a Promesa de Compraventa, or promissory purchase agreement. This outlines the terms and conditions of the sale, including any penalties. It should have a clear close date when the title transfers to you.
At this stage it is typical to pay a deposit to the seller. Normally, the agreement calls for a penalty if either party backs out. This means forfeiting your deposit and any additional stage payments you've made if you back out—so ask that the seller faces an equal penalty if they back out.
No matter how you plan to buy property in Mexico, you'll need to get an approval from the Ministry of Foreign Affairs for the purchase. Your attorney or the notary (see below) will apply for the permit on your behalf before the closing. This is more a matter of formality than anything else and usually doesn't take much time or carry a high cost.
You will need the services of a notario (notary) to help with the closing. The notary will check that everything is in order with the transaction and present all the relevant documents to the public registry. Do follow up though and ensure that all steps have been taken to register the title in your name—don't assume that this will happen without you pushing to get it done.
It's important to talk with your attorney in Mexico and your tax advisor back home to figure out the best way to hold the property. In Vallarta, this will likely be done through either a local corporation or a fideicomiso bank trust.
In Mexico, all residential property purchased by foreigners that is located within 100 kilometers from any international border, or 50 kilometers from any coastline, will need to be acquired through either a Mexican corporation or a bank trust called a fideicomiso.
The fideicomiso creates a trust agreement for the benefit of the foreign buyer, and the bank takes on a fiduciary obligation to the owner. The owner retains all the benefits of ownership and has the legal right to lease the property, sell the property, and will the property to their heirs.
The one-time cost for establishing a trust is around $2,000. There is also an annual bank fee for the maintenance of the trust. The annual fee is based upon a percentage of the value of the home—$500 to $550 approximately.
There is little consistency with regard to what banks charge for this fee, so it is a good idea to shop around. A home in the $200,000 range will have a yearly fee of approximately $550 per year.
Trusts are currently 50-year documents and they can be renewed at the end of the 50-year term for an additional 50 years. There is no limit to the number of times the trust can be renewed. The renewal fee is currently approximately $900.
You should also check if the property was formerly ejido (indigenous-owned) land. This can be a potential landmine, as someone may be able to lay claim to your property in the future. Ejido land can be titled but it's a complicated process and your attorney will have to do extra checks to make sure that the title is clear, and the privatization was done correctly.
Once you have these issues checked out, you can start enjoying your Vallarta real estate…and your holding costs will be low. Though property taxes (called predial) vary by municipalities, on a $300,000 home, you can expect to pay about $500 per year in property taxes. There are usually discounts (of 15% in 2020) if you pay the full annual fee upfront in January.
Condo fees vary from community to community but are generally much lower than what you would pay at home.