Lake Chapala, Mexico
Lake Chapala is Mexico's largest lake, and the surrounding area is also home to the largest concentration of expats in the world. Located in west-central Mexico, about an hour south of Guadalajara, the Lake Chapala region sustains approximately 20,000 expats, most from the U.S. and Canada, and the vast majority are retired. That number roughly doubles during the cold Canadian winter months, when thousands more migrate to the area for about six months each year.
Two quaint towns, Chapala and Ajijic (ah-hee-heek) support most of the expat population, with Ajijic holding the edge when it comes to numbers. Both communities are nestled along the lake's shoreline and separated by only a few miles.
Lake Chapala itself is actually a volcanic crater lake or caldera. Geothermal activity still provides plenty of steam and hot water which has been accessed by a large, commercial bath and spa located on the shore between the two communities. Numbers of pools of hot water, naturally heated by the geothermal activity, provide for natural relaxation against a stunning outdoor backdrop of mountains on one side and Lake Chapala on the other.
The enormous appeal of this area is easy to understand. In addition to the overall affordability, the area also boasts the second-best climate on the planet; daily temperatures are almost always 75 F to 78 F, under bright blue sky and sunshine. Rain, when it happens, is usually at night. The areas elevation, at about 5,000 feet above sea level, assists with the stability of the climate.
Although separated by only a few miles, there are some notable differences between the towns of Chapala and Ajijic. While both towns share a charming town square, a walkable central area with small shops and great restaurants, Ajijic has a much larger population of English speaking expats than Chapala. Chapala has a more "Mexican" feel with fewer organized expat activities. As a result, homes are a bit cheaper in Chapala than Ajijic, as are rental prices.
Although the area does offer affordable housing, it also has a nice mix of magnificent homes with award-winning architectural designs. Those interested in something a bit more upscale will have no problem finding spectacular homes set on one of the local hillsides, with a breathtaking, panoramic view. This area has been providing weekend and summer retreats for the wealthy of Guadalajara for generations and there are always a number of those homes on the market for far less than a comparable home north of the border.
There are ample restaurants as well as modern theaters, garden clubs, Spanish classes, art exhibits, book clubs, dancing classes, chess clubs, and practically any kind of activity you might want, nearly all based in Ajijic. A gorgeous tennis club and golf course in Ajijic offer top-notch recreation as well.
Medical care is handled by local clinics and the cost is reasonable. For serious issues, you can access several large hospitals in Guadalajara, about an hour north. Every day shopping is easily handled with local markets and, if you like, Walmart. And if you simply can't find what you need in Chapala or Ajijic, and want to access world class shopping, Guadalajara can provide that, as well.
Bus service runs between Ajijic and Chapala about every 30 minutes so it's easy to get the best of both worlds, regardless of where you live.
The Lake Chapala Society, a non-profit organization, is the hub of activity for expats. Through their efforts, you can access bus tours, wine tastings, lectures, lessons, card tournaments, fitness classes, yoga, line dancing, cooking classes, and an almost unlimited number of other activities.
Life in the Lake Chapala area can be as active or as laidback as you wish. A full and active lifestyle can be had for around $1,500 per month, all in.
Great-Value Real Estate in Lake Chapala: Mexico's Welcoming Expat Haven
Views don't come much better than this. Friends back home are wrapping up for the winter. But I'm relaxing on a sun-drenched balcony, taking in the splendor of a vast, blue lake stretching into the distance, framed by imposing green mountains. The sky overhead is perfectly bright, heralding yet another clear, warm day.
Here you can spend it canoeing or kicking back with the many expat friends you've made around town. And the stunning lake-view retreat you call home can cost less than $200,000.
This is Lake Chapala…a snowbird's paradise that is home to a large and welcoming expat community. And that's not all. In my opinion, Lake Chapala has the best-value real estate you'll find in any of this country's expat hubs.
Sitting at an altitude of 5,000 feet in west-central Mexico, Lake Chapala (the country's largest freshwater lake) boasts one of the best climates in the world. Expect daily temperatures between 75 F and 78 F. Even when it does rain, it does so courteously: normally at night. Those lake views aren't too shabby, either.
With an amazing network of organized activities geared toward the large expat population, Lake Chapala offers an affordable lakeside lifestyle (figure $1,500 a month all in). No wonder as many as 15,000 or so expats choose to live here full or part-time. The combination of scenic lake views; warm weather; low-cost, convenient living; a flourishing expat community; and great-value real estate is something you won't find anywhere else in Mexico.
Lying along the lake's north shore and only a few miles apart, the two small towns of Chapala and Ajijic (a-hee-heek), known collectively as "Lakeside" by the locals, are the area's main retirement hubs.
The Lakeside area has grown a lot in recent years and shows no signs of slowing. New construction continues as expats keep coming. Ongoing development is gradually closing the distance between the two towns, but Ajijic still has more expats and higher property values. This is because Ajijic has long been a getaway for wealthy city folks from nearby Guadalajara, who are looking for hillside vacation homes overlooking the lake; these are harder to find in Chapala. The larger expat presence in Ajijic has also increased property prices here. But real estate in both communities remains very affordable. In Chapala, expect to pay rent of $500 to $850 a month for a comfortable two-bedroom, two-bath house. Similar properties in Ajijic may cost an additional $100 or more per month.
Prices in the most popular areas in Ajijic have held steady for the past five to eight years, despite the global economic downturn. Less popular (but still attractive) lakeside areas have seen prices fall by perhaps 10% to 20%, and the entire market is in the process of a steady recovery. Factoring in the strong U.S. dollar (the strongest in more than a decade) and weak peso makes this the right time to make a move. If you know where to look, you'll find centrally located homes in this area for as little as $45,000. For that, you'll get to live in a sunny and affordable haven as the snows pile up back home.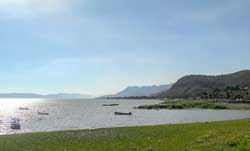 Buying here makes sense from an investment standpoint, too. The growing number of expats has provided a solid base of buyers and renters that won't disappear any time soon. Snowbirds fleeing the cold North American winters flock to Lake Chapala, nearly doubling the normal population during those months.
All these expats need a place to live or stay. So if you're after an investment property, put Lake Chapala on your radar. Resident expats report that you're almost guaranteed 100% occupancy. Year-round rentals are also in high demand—and not just from expats. Rising home prices in Guadalajara, and the presence of large multinationals in the area, are leading many Mexicans to relocate here. So even if you're just in the market for personal use, you'll have buyers and renters aplenty if you move on.
One of the great-value properties to be found here is located in the Villa Nova community just west of Ajijic town center. Here $95,000 buys you a two-bedroom, two-bath house with a backyard and garden area, modern kitchen with wooden cabinetry, modern bathrooms, and a carport with parking for two cars. This home could easily rent for $750 a month, giving you a gross yield of 9.5%.
Rental properties close to the village centers are very popular with snowbirds, as most will not have cars and so have to get around on foot or use public transport. In Chapala, I found a basic home in need of only a little TLC going for just $45,000. This two-bedroom, one-and-a-half-bathroom home is right at the heart of town, an easy walk to everything you would need. It has a Mexican colonial kitchen, separate laundry room, and ceiling fans throughout, as well as a railed balcony on the second level. It's the kind of place I would feel comfortable living in. This would make a great rental property or would also be perfect as a second home if you're after a snowbird lifestyle. If you were to rent this for a year at $500 a month, you'd generate a handsome gross yield of 13.3%.
Another great investment choice is the San Antonio neighborhood, situated about midway between Chapala and Ajijic. San Antonio straddles the highway, with the southern half near the lake and the other half climbing up the hillside. Choose the lakeside half if you're after an investment property, as seasonal renters will want to be closer to the bus route. Residents of this area can reach all the shops and eateries they need with a 10-minute walk.
Here, for $99,000, you could buy a modern two-bedroom, two-bath, second-floor condo with a relaxing view of the pool and garden. A light evening breeze ensures you won't need A/C. This home would make any snowbird happy, and would be wonderful for a full-time residence, too. You could expect an annual gross yield of 9.1% if you were to rent it for $750 a month. The owners say they might even throw in their Nissan vehicle to sweeten the deal.
If you'd rather rent in Ajijic, then a cozy option can be found in the Chula Vista neighborhood. This two-bedroom, two-bath rental has lovely landscaping with shaped shrubbery and a small yard. It has an open feel created by numerous large windows, which let in plenty of light. The house is furnished and comes with a beautiful brick fireplace and a separate laundry room, all for $850 a month.
Properties with lake views are highly prized but still readily available. For just under $300,000, you could own a magnificent 3,000-square-foot, two-bedroom, two-bath house in a gated community in Ajijic, complete with a large open terrace and a wet bar. You'll have stunning views over the blue expanse of Lake Chapala on one side and serene mountains on the other. If you have set your heart on a permanent relocation to this area, this home would be a perfect option.
Another home with great lake views is located in the Chula Vista North community. This two-bedroom, two-bath home comes with a private garden and a deep Jacuzzi tub.
All told, you'll have 2,000 square feet of living space with beautiful bóveda ceilings in the open living area. It can be yours for $185,000; it's been reduced from $192,000, as the owner wants a quick sale. If you're after a lake-view property for under $200,000 to call home in retirement, look no further.