Mexico's City of Angels
By Jen Phillips April
Retire in Puebla
Puebla is a thriving Old-World city of 2.5 million people with roots that date back to 1531. Rich in architectural style, from Baroque, Renaissance, and Classical, strolling through the narrow streets of Puebla is a pure pleasure. Pink, burgundy, yellow, and pale blue buildings, with Juliet balconies overlook the narrow, cobblestone streets. Some have exterior walls covered in intricate tiles while others have stucco designs, or both.
Like most ancient cities, there's a historic city plaza where the city gathers. It's presided over by the Puebla Cathedral and the Museo Amparo, which are housed in two colonial-era buildings. The museum exhibits work that traces Mexico's history and features a rooftop café with panoramic views of the city. Culture vultures will revel in the sheer number and depth of collections in the Puebla museum.
At the center of the plaza sits a beautiful fountain which serves as a meeting place for young and old.  At night, the buildings are lit in a spectacular fashion providing a stunning backdrop for people-watching from a park bench or one of the surrounding cafes.
As you wander the city streets, you'll catch glimpses of the snow-capped live volcano, Popocatépetl, in the distance, which adds a sense of grandeur to the city.
The temperate climate is perfect for long walks and museum hopping. Daytime temperatures reach the mid-80's F in the summer months, with January daytime temperatures on average around 75 F.  Nighttime temperatures in winter are typically in the 60's F.
Puebla has 35 universities, and only Mexico City (two hours away) has more institutions of higher learning. There are also dozens of language schools here if you'd like to enroll in Spanish classes, though knowing Spanish isn't a requirement for daily life in Puebla.
Puebla offers high-quality healthcare. Medical training is just as rigorous in Mexico as it is in the U.S. and Canada. In fact, many doctors have received their training in the U.S. The price for a doctors' visit can vary but usually starts at around $30. Additionally, many pharmacies have a doctor in residence perfect for minor concerns for around $3.
Besides art, architecture, and education, Puebla is also known for its food. Mole poblano is a thick and rich savory sauce coating the smoky-flavored poblano pepper. Creating mole takes hours of painstaking work roasting and grinding spices by hand. Chiles en Nogada, seasonal in late summer, is a room-temperature walnut based cream sauce with pomegranate seeds and parsley that coats the poblano pepper.
There are festivals throughout the year in Puebla, including a large Día de Muertos  (Day of the Dead) Festival which draws people from all over Mexico, and Festival of Puebla in early May, a State fair with concerts, bullfights, and other entertainment.
Cost of Living in Puebla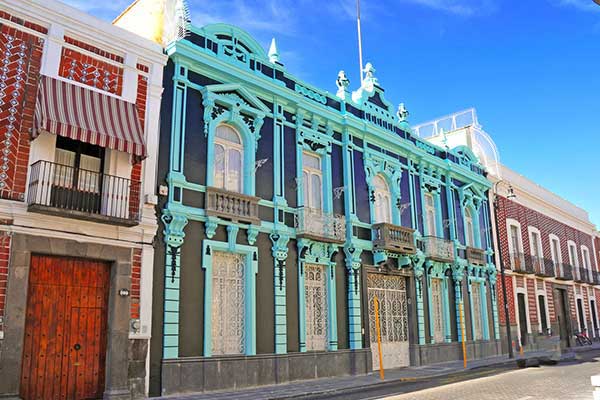 The cost of living in Puebla is low. Spacious apartments are available in town at moderate prices and some have private courtyards. It's possible to find a two-bedroom home outside of the historic district for as low as $500 a month. A two-bedroom, two-bathroom apartment close to the centro costs around $700 to $800.
Local markets provide plenty of local fruits, vegetables, and meats at affordable prices. Retirees can stock up on meat, vegetables, fruits, eggs, and cheese for about $25 a week. Supermarkets offer imported items but even buying those won't add more than $10 to $15 per week to your food bill. Due to the mild climate, there's also no need for air conditioning which keeps electric bills low.
When you want to go out, there are plenty of choices. Eat at local "menu of the day" places for a traditional large lunch and you'll spend $3 to $4 per person. Go out to a nice dinner with cocktails and wine and your bill may be $30 to $40 for two people.
Here's a sample monthly budget for a couple living in Puebla:
| | |
| --- | --- |
| Expenses | U.S. $ |
| Rent (two-bedroom apartment) | $650 |
| Electricity | $20 |
| Gas & Water | $30 |
| Groceries and Household Items | $450 |
| Insurance | $100 |
| Internet | $30 |
| Streaming Media | $16 |
| Dining Out (four times a month) | $250 |
| Taxis/Buses | $40 |
| Total | $1,586 |
Get Your Free Mexico Report Here:
Learn more about Mexico and other countries in our daily postcard e-letter. Simply enter your email address below and we'll send you a free special report - Why Millions of Americans Are Moving to Mexico.
This special guide covers real estate, retirement and more in Mexico and is yours free when you sign up for our postcards below.
Things to Do and See in Puebla
Puebla is a culturally-rich Mexican city where you can feast on traditional foods, meet friendly locals, take in stunning colonial architecture, and enjoy plenty of city amenities. Located less than two hours from Mexico City, this UNESCO World Heritage Site is often recommended as a day trip from the nation's capital, but don't be fooled, this city has much more to offer.
Nicknamed the "City of Angels" due to its estimated 365 places of worship, there's no doubt that Puebla has deep religious roots. Founded in 1531, it's said, that the Spaniards were looking for a resting spot between the port of Veracruz, and Mexico City, with angels appearing to the Bishop indicating the spot. The Spanish took to building Catholic churches all over the area, with the oldest being the Puebla Cathedral which was started in 1575 and completed in 1690. It's soaring interior includes a tremendous altar dedicated to the Virgin Mary. Both it and Capilla del Rosario (Chapel of the Rosary) are adorned in gold decoration, while the bright-yellow Templo de San Francisco, the resting place of a saint, features a more solemn interior.
In addition to an array of churches, Puebla also has an abundance of museums. Three museums of note are The International Museum of Baroque, The Amparo Museum, and the Museum of Talavera.
The International Museum of Baroque was opened by the Guggenheim in 2016, and unlike the Baroque style which you may surmise is comprised of an extravagant approach, the exterior of this building has a modern design with softly undulating walls. The exhibits detail the history of the Baroque design as it played out across a century of art and architecture.
The Amparo Museum was founded by a father and daughter in 1991, to preserve and educate visitors on Mexican art from Pre-Hispanic to Contemporary times. Besides offering a premier art collection, the Amparo also offers a diverse range of educational programs.
The Museum of Talavera is devoted to the preservation and education of the vibrant ceramic tradition seen throughout Mexico, that originates here in Puebla. Talavera ceramics are used as sink basins, kitchenware, and even tiles on the sides of buildings throughout Mexico. They're still hand-made in the traditional way, and you can find workshops of craftspeople shaping the iconic pottery throughout the city.
Puebla is a city where you can enjoy a cappuccino overlooking the historic "zocalo," the town plaza, that's served as the city's social center since the 1700's. A marketplace for many years, it now features the Palacio Municipal (town hall) at one end with shops and restaurants surrounding the lovely tree-lined square on the other three sides. For context of the city, tour guides give walking tours through the well-preserved colonial center and the streets are laid out in a grid, so it's easy to get around. Puebla isn't simply a well-preserved time capsule, it also has a modern component and industry, like the headquarters for the car manufacturers Audi and Volkswagen.
Unlike Mexico's tropical coastlines that are hot and humid, the interior of Mexico is cool and Puebla's weather hovers in the 60's F and 70's F in the summer months, and dips to lows in the 30's F in the winter.
Where to Eat in Puebla
The city of Puebla lays claim to multiple national dishes including the famed Mole Poblano. This thick, savory chocolate-with-a-hint-of spice-based sauce, offers a special decadence to whatever it covers, and leaves you wondering why you haven't been eating this all your life.
The mild-flavored poblano pepper originates in Puebla too, so you'll find it in other dishes including the seasonal Chiles en Nogada, a poblano served with a creamy walnut sauce. Other tasty delights include Chalupas a snack-sized corn tortilla topped with shredded pork, red onion, and chili sauce. Arabian tacos which are tacos with spit-roasted pork served in pita bread instead of tortillas and slathered with hummus, is a contribution to Mexican culinary tradition brought by the Lebanese immigrant population.
You can even combine a visit to a Talavera workshop with breakfast or lunch at Talavera Celia.
Sweets lovers will flock to Calle 6 Oriente, or Calle de Los Dulces, nicknamed Candy Street, where you'll find plenty of locally-owned candy shops specializing in candied citrus rinds and other local sweets.
Puebla is growing which means it's attracting well-heeled inhabitants and visitors. To accommodate them, boutique hotels are opening including the Rosewood Puebla which features Talavera tile work and luxurious rooms.
A Short-Day Trip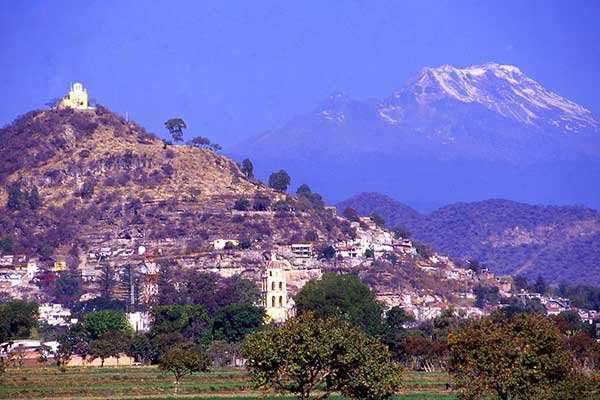 Just outside of town, you'll find the Great Pyramid of Cholula. While not as well-known as the Maya Chichen Itza in the Yucatan, this pyramid is considered the largest in the world. Built by the Aztecs over 2000 years ago, parts of this pyramid have been covered by dirt and grass. Legend has it that the Spanish thought it was a hill and built a church on it.
You probably never considered Mexico as a site for an African Safari but outside Puebla is Africam Safari, a zoo with a Safari-like approach. Visitors ride the grounds in buses or Land Rovers as they see giraffes, elephants, lions, and other African creatures. Adventurous hikers also appreciate the hiking trails around the live volcano Popocatepetl, so called after the Aztec words for "Smoke" and "Mountain."
The Takeaway
Puebla is an impressive city with stunning colonial architecture, vibrant culture, and terrific food, within easy reach of the U.S. and Canada.