Mazatlán: The "Pearl of the Pacific"
By Janet Blaser
With a long history of welcoming immigrants, this mid-size city on Mexico's west coast offers visitors more than the standard "golden trio" of great weather, reasonable prices, and a stunningly beautiful location. Mazatlán is one of Mexico's few colonial towns actually on the coast, with miles of beautiful beaches, a thriving year-round cultural scene, fantastic fresh seafood, and a friendly community of local people and expats.
Recent renovations of the city have made it even more attractive, with two elegant oceanfront parks, a completely re-done Centro Historico, an easier-to-navigate path and glass-floored lookout at El Faro (the highest lighthouse in the world), and a beautified malecon, the five-mile boardwalk along the glittering Pacific Ocean that now features Mazatlán's first bicycle path.
Mazatlán also offers "user-friendly" healthcare, with two modern and fully-equipped hospitals as well as many smaller neighborhood clinics. Most doctors and dentists speak English, and the cost for a standard office visit is about $25. You'll also find banks everywhere, along with familiar stores like Home Depot and Walmart (as well as a plethora of small neighborhood tiendas) and a myriad of flights operating year-round to the U.S., Canada, and elsewhere from the recently expanded Mazatlán International Airport.
The city is justifiably proud of its status of one of the biggest shrimping ports in the world, and that means you can buy fresh wild and farmed shrimp at incredible prices—and find them in omelets, burritos, pasta dishes, tacos, salads, and more. Fresh-caught tuna, marlin, swordfish, mahi-mahi, and snapper are abundant here too, and the local markets are full of a mind-boggling array of fresh tropical fruits and vegetables, including mango, papaya, pineapple, and avocado.
The majority of expats live along the coastline, within easy walking distance to long stretches of beach. Each part of the city has its own style, and whether you're looking for a stand-alone house on a shady tree-lined street, a high-rise condo with sweeping views of the ocean and mountains, a modern home in a gated community with an award-winning golf course, or a simpler apartment or casita in a more Mexican neighborhood, Mazatlán truly has something for everyone.
Retire in Mazatlán
Yes, the beaches are beautiful, the weather is perfect most of the year, and the cost of living is low, low, low. But what makes Mazatlán really stand out as a retirement destination is the cultural scene: a refined, ever-changing, and exciting tapestry of entertainment, events, and fun things to do—many of them free.
An internationally known dance and music school in the Plaza Machado guarantees a constant stream of young energy and performances, and the Angela Peralta Theater, a gorgeous, 1,200-seat theater built at the turn-of-the-century, is home to a smorgasbord of dance, theater, music, and other events. These include the annual eight-week Cultural Festival (hundreds of free and ticketed events throughout the city), Dia de la Musica (10 stages set up in the streets of the Centro Historico with free music), and the José Limón Dance Festival (a week of contemporary dance from around the world). The Day of the Dead (Dia de los Muertos) is celebrated for two days with family-friendly parades, theater events and costumes, and bystanders are encouraged to dress up, paint their faces like catrinas, and join in the fun.
The oceanfront malecon, or boardwalk, hosts marathons that attract international runners, as does the annual Ciclotour, a week of on-and off-road bicycle races. And of course there's the annual Carnaval—the third biggest in the world—another week of parades, fireworks, live music, and more. Admission is always reasonable, with the most expensive tickets hovering around $15.
Sitting peacefully off the coast are Deer, Bird, and Wolf islands; all are environmentally protected and home to a variety of birds and reptiles. Visitors are permitted to hike and relax on the quiet shores, which afford a different perspective of the city's coastline. Whales and dolphins migrate through these waters, and boat excursions are particularly popular (and almost always yield amazing photos). If you're really lucky and it's the right time of year, you may be fortunate enough to witness manta rays leaping out of the water during their annual mating ritual.
The big, vibrant expat community is welcoming and full of opportunities for volunteering, out-of-town excursions, and special events like the seasonal farmer's market, Comedy Club, and music festivals on the beach. Of special note are the Mazatlán Tourist Aide Volunteers, or "blue shirts" as they're known, who set up in busy areas of the city to give information to the thousands of cruise ship passengers and other tourists who come to Mazatlán each week.
There's so much to do—but if you'd rather just relax under a palapa with a cold cerveza and a couple of shrimp tacos, Mazatlán's got you covered there too.
Get Your Free Mexico Report Here:
Learn more about Mexico and other countries in our daily postcard e-letter. Simply enter your email address below and we'll send you a free special report - Why Millions of Americans Are Moving to Mexico.
This special guide covers real estate, retirement and more in Mexico and is yours free when you sign up for our postcards below.
Lifestyle in Mazatlán
Mazatlán has several distinctive parts of town where most expats live, each with many neighborhoods and different flavors (but all boast beautiful sunsets). Centro Historico and Olas Altas front a small bay with a sweet beach and feature more than a dozen blocks of gorgeous colonial homes, tree-shaded plazas, and a bustling cultural and culinary scene; this is where the Angela Peralta Theater is, and also where the annual Cultural and Music Festivals take place, as well as Carnaval. You can walk to everything: restaurants, the central market, the beach. Most homes were built at the turn-of-the-century and have a New Orleans-flair: charming interior courtyards, original tiled floors, and high wood-beamed ceilings.
Going north along the oceanfront malecon, next up is the tourist-filled hotel zone, with all the trappings—and noise—you'd expect. But go inland a couple blocks and you're in tree-filled neighborhoods like Lomas and Sabalo Country, where houses, duplexes, and condos have yards and driveways. Sidewalks lead to parks, churches, and small tiendas (stores), and charming coffee shops and taquerias. The beach, with Mazatlán's trio of islands just offshore, is a short walk away, as are a plethora of restaurants, bars, and nightlife. Major shopping—Home Depot, WalMart, Sam's Club—is less than a 10-minute drive or bus ride, as is the biggest hospital in town.
Cerritos and the Marina areas are at the far north end of Mazatlán. The long stretch of beach, although lined with condos and hotels, is still quiet and home to a great surf spot. The marina is billed as Latin America's biggest; shopping is easy with the new Galerias Mall, which flaunts a state-of-the-art movie theater and lots of U.S. stores; WalMart is across the street, and the new Marina Hospital puts doctors and medical services at your fingertips. Condos, houses of all sizes, and more affordable duplexes in gated communities offer choices for every budget. It's a favorite area for families, too, with private schools, gyms and athletic fields, and more new restaurants and services cropping up as more people move here.
Cost of Living in Mazatlán
While costs are less in Mexico, and in Mazatlán in particular, as time passes this is changing. Like anywhere else, you'll pay more for beachfront property or a fantastic ocean view; that said, homes and condos can still be found in the $200,000 range, with newer construction prices going up from there. Depending on the part of town, a furnished, two-bedroom apartment or small house might cost $800-$1,000 a month to rent, plus utilities.
It's true that beer is cheaper than water, and a massage only costs about $30. An in-home visit from a vet costs about $20; a plumber or electrician a little more. Things like eyeglasses, lab tests, and taxis are so much less than in the U.S. it can be unbelievable, and if you've reached age 60 you can register for an INAPAM card, which gives seniors discounts at a myriad of places, including half-price for long-distance bus travel within Mexico.
Meals at restaurants run the gamut of $2 for a fresh shrimp taco at a neighborhood café to $25 to $30 for an elegant meal at an upscale, fine-dining restaurant where you'll be expected to dress up. (That means closed shoes and no shorts) An average lunch for two costs about $15 at any number of small restaurants, cafés, or palapa restaurants on the beach. Delicious whole roast chickens, a Sunday tradition, can be bought at small rotisserie shops for about $6, with rice, beans, tortillas, and salsa included.
Here's an example of a monthly budget for a couple living in Mazatlán:
| | |
| --- | --- |
| Expense | US$ |
| Housing (two-bedroom apartment) | $800 to $1,000 |
| Utilities (electric, water, gas, internet) | $50 to $60 |
| Groceries | $300 |
| Entertainment (massages, theater, live events) | $100 |
| Housekeeping | $60 |
| Transport/Public | $40 |
| Total: | $1,350 to $1,560 |
Get Your Free Mexico Report Here:
Learn more about Mexico and other countries in our daily postcard e-letter. Simply enter your email address below and we'll send you a free special report - Why Millions of Americans Are Moving to Mexico.
This special guide covers real estate, retirement and more in Mexico and is yours free when you sign up for our postcards below.
10 Things to Do in Mazatlán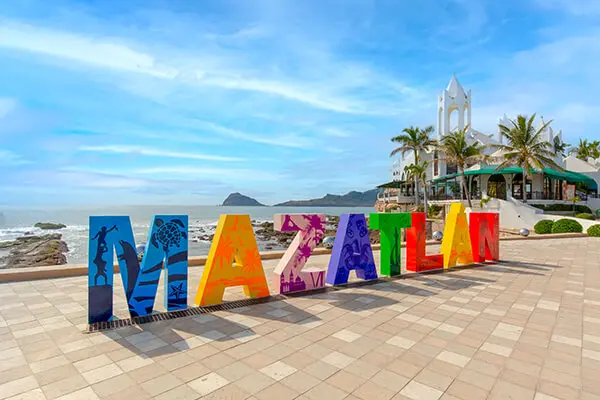 1. Experience Centro Historico
Cobblestone streets, beautiful turn-of-the-century colonial buildings (both renovated and in ruins), quiet plazas, and a lively mix of restaurants, shops, and bars make Mazatlán's Centro Historico a must-see. Don't miss El Presidio/Casa Garcia, a contemporary restaurant/bar set in an old hacienda, and Casa Etnika, a store selling upscale artisan crafts, art, clothing, and more from all over Mexico. If you can, go to a show—any show—in the Angela Peralta Theater, a gorgeous renovated 1800s building with a year-round calendar of performances.
2. Watch a Sunset (or Two or Three…)
There's a reason so many people say sunsets here are some of the best in the world—because it's true! Is it because Mazatlán is on the Tropic of Cancer, or because of the three islands offshore framing the sun as it disappears in a riot of colors? (See #6.) Whatever the case, make a point to catch the sunset. In Centro, the top of the Freeman Hotel in Olas Altas offers an amazing bird's-eye view; in the Golden Zone and Cerritos, any beach will put you front-and-center for a spectacular sunset panorama.
3. Eat at a Taco Stand
Mazatlán is home to a plethora of restaurants catering to every style, taste, and budget. But do save one night for dinner at a taco stand! How to find a good one? Ask at your hotel or, better yet, get a recommendation (and maybe a ride!) from a taxi driver. Most set up around 7 p.m., and the best ones will be crowded with locals. Carne asada tacos and papas locas–fire-baked potatoes split and stuffed with grilled meat, sour cream, butter, salsa, and guacamole, eaten with fresh-made corn tortillas—are local specialties.
4. Relax on Stone Island
Looking for a quiet, peaceful beach with no high-rise towers or traffic noise? Head to Stone Island (Isla de la Piedra)—not really an island, just the southern coast of Mazatlán. No need to book an expensive excursion; a water taxi from either of two docks in Playa Sur ($1.50 round-trip) gets you there, and after a one-minute walk you'll see the beach stretching ahead of you for miles. Choose any of the 20 or so simple restaurants lining the beach, settle in under a palapa, and relax. The ocean here is calm and great for swimming, seafood is fresh as can be, and beer is cold and plentiful.
5. Take a City Tour in a Pulmonilla
Mazatlán's signature taxis are pulmonillas, sort of souped-up golf carts, often with huge sound systems, that happily transport you anywhere you want to go. After your first few days on the beach—when your sunburn needs a break—a city tour is a great option. You'll learn about Mazatlán, see every part of town, and have a delirious fun time too. Most drivers speak English (some better than others); flag one down on any street, and be sure to negotiate a price before you get in.
6. Go to the Three Islands
Just offshore, three small islands dot the horizon. The environmentally protected Deer, Wolf, and Bird islands are blessedly undeveloped, with natural flora and fauna. The central, and biggest, island has a spacious beach and rustic "facilities;" bring your own water, food, and anything else you might need. Relax on the beach, swim in the calm, clear water, or hike the hills. How to get there? Hire a jet ski to take you out and pick you up, rent a kayak or paddleboard and make your own way, or take a day tour on a catamaran.
7. Eat More Shrimp Than You've Ever Imagined
Mazatlán is one of the biggest shrimping ports in the world; it behooves you to take advantage of that while you're visiting. You'll find shrimp in everything, such as omelets, burgers, pastas, sushi, burritos, and crepes, as well as Mazatlan's iconic duo, aguachile and ceviche. And they're inexpensive, so go for it! If you want to cook them yourself, head to "las changueras," Mazatlan's iconic "shrimp ladies," in Centro Historico. A dozen or so stands crowd the street selling all sizes and kinds of shrimp. (Best to go early in the morning before it gets too hot.) Frozen Sinaloa shrimp is also available in the airport, packaged to take home.
8. Get Some Exercise
Need to burn off those vacation calories? Mazatlán has lots of ways to do that. Walk to the top of El Faro, the world's tallest lighthouse, and get a breathtaking view of the city as well as a great workout. (Hint: In late afternoon, the sun is on the opposite side of the hill from the walking path.) The city's five-mile malecon, or beachfront boardwalk, is perfect for running, skating, or bicycling, and full of interesting sites along the way, like cliff divers, more than a dozen statues, and enough coconut vendors to keep you well hydrated. In Cerritos, a new bike path runs to the end of the road in the central, shady, tree-lined median.
9. Shop at the Mercado
No visit to Mexico is complete without a trip to the local market, or mercado. There are several in Mazatlán, but the Pino Suarez Market is the biggest and oldest, operating since 1900. The two-story building is open on the sides with stands crowding the aisles all the way to the busy sidewalk. Almost 100 vendors sell everything you can imagine in a cacophony of sights, smells, and sounds. Fruits, vegetables, nuts and dried fruits, cheeses, meats, seafood, baked goods, bulk beans, grains, spices and chilies, paper goods and cleaning supplies, plus souvenirs of every kind: toys, t-shirts, beachwear, etc. Upstairs, cafés afford a bird's-eye view of the surrounding streets and the hustle and bustle below.
10. Get Outta Town
After a few days of lazing on the beach, you might want to take an excursion. El Quelite is a "Pueblo Magico"—Magical Town—about an hour north of Mazatlán, known for its colorful houses, vibrant bougainvillea, and delicious traditional foods. Locals go for leisurely brunch at El Mesón de Los Laureanos, specializing in regional dishes from Sinaloa. Then, take a walk or donkey ride through the cobbled streets of the tiny town. Los Osuna Tequila Farm, also north of town, is a 100+-year-old, family-run tequila farm, and tours include (ahem) samples. Nearby are the Huana Coa zip lines, running through the treetops in the mountain forest.
Safety in Mazatlán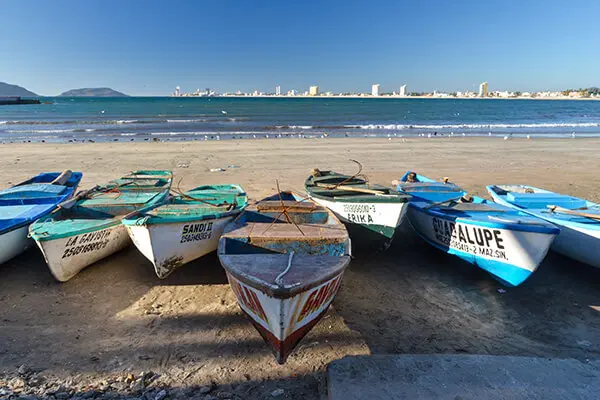 Is Mazatlán safe? I'm asked that all the time, and my answer is a simple "yes."
Is Sinaloa the home of the cartel? Yes.
Do they care what you or I are doing? No.
Think of the cartel as the huge, multinational organized business it is, intent on doing its work (criminal as that may be). Local wisdom says if you're not "involved" with the cartel and its activities, you're fine. Do state and local governments have some sort of "arrangement" to keep cartel activities out of the tourist areas? Maybe. Whatever the case, you'll be absolutely fine during your visit to Mazatlán. Just don't do drugs or engage in any illegal activities while you're there.
Like any other city of 650,000+, of course Mazatlán has its fair share of petty crime: robberies, break-ins, etc. As a single woman, I take precautions just like I would in any big city anywhere in the world: I don't walk alone late at night, wear flashy jewelry, or get fall-down drunk in public. I keep my purse or wallet close to my body and avoid "sketchy" areas—the same as I would in New York City, London, or Vancouver.
After 15 years living in Mazatlán full time, I'm more nervous about safety when I visit family in the U.S. Here there are no "active shooter" warnings, no "concealed carry," and the average person doesn't own—or want to own—a gun. I never, ever worry about being shot at Walmart, at church, or at a concert. Those kinds of things just don't happen in Mazatlán.
The U.S. media likes to paint the entire country of Mexico as a lawless, corrupt, out-of-control place. But that's just not the case. Millions of regular people lead peaceful, normal lives. Yes, there are pockets of violence you need to be aware of. (Again, like any country in the world.) Border towns are a kind of scary category of their own—but not likely where you're going on vacation. So, do your due diligence, research where you're going, follow local laws, stay on the straight-and-narrow, and you'll be just fine.
Featured Image Copyright: ©iStock.com/jmoor17