A Guide to Sayulita, Mexico – Cost of Living, Best Things To Do & More
By Bonnie W. Hayman
When you read articles about Mexican beach towns, most of them sound identical—sprawling beaches, glimmering ultramarine blue waters, and a pace of life you could only envy in the U.S.
And it's true, Sayulita does tick all of these boxes—great surfing spots, dining on all sorts of fresh seafood and fish, lounging on the beach all day with an ice-cold margarita or Pacifico beer, and enjoying live music and modern DJs until the late hours of the morning. This beach paradise is accompanied by a myriad of upscale beach clothing stores, surf shops, art and elegant home décor galleries, and day tours to dozens of places.
But Sayulita is so much more than meets the eye—it's got a soul that sets it sternly apart from your run-of-the-mill Mexican coast town. Sayulita has what I can simply describe as "the vibe." This is something intangible, ethereal, something you can't quite describe but can simply feel.
Are you interested in retiring abroad? Yes | Not Sure Yet
Designated as a "Pueblo Mágico" (Magic Town) by the Mexican government in 2015, this compact three-mile beach town possesses an unparalleled identity. The "magic" lies not just in the place, but in the sense of self-discovery that accompanies your visit and lingers even after you depart. Many find themselves longing to extend their stay.
Sayulita stands out because it defies the conventional pattern in most Mexican beach towns, where half the year retirees arrive and during the other half, the crowds leave, the live music disappears and most of the activities and restaurants close. Even the style of tourism is different in Sayulita. This tiny town draws a diverse global crowd of all ages, not just retirees, infusing the town with vibrant energy. This dynamic backdrop provides an endless stream of activities, live music, culinary options, lifestyle choices, and an overall richness.
History of Sayulita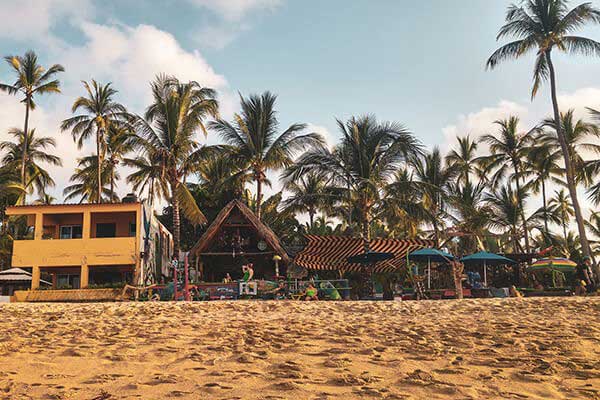 The name "Sayulita" came from Don Lauro Gonzalez Guerra, who named it after his hometown of Sayula in Jalisco. Around 1920, he managed the Jaltemba Hacienda in Sayulita, situated at what locals now refer to as the main plaza. Contrary to common belief that Sayulita began as a fishing village, it was the production of coconut oil at this hacienda that initially brought it recognition. The term "Sayulita" originates from the Nahuatl word "tzaulan." Despite the fact that it means "a place where flies abound," don't let that discourage you from exploring this charming town, which has a permanent population of roughly 2500.
From the 1940s to the present day, fishing has persisted as a key industry in Sayulita, allowing visitors to indulge in a variety of seafood dishes at numerous restaurants around town. You can enjoy red snapper, grouper, dorado (mahi-mahi), sailfish, bonita, marlin, tuna, and rooster fish, as well as shrimp, oysters, crab, and lobster almost any day of the week.
In the early 60s, surfers discovered that Sayulita had a variety of beaches with consistent waves, providing excellent surf conditions for all skill levels. Sayulita's tourism received a significant boost in 1965 with the construction of the Varas-Vallarta highway. The increased traffic made the government realize that Sayulita could become a prominent tourist destination on its own, especially given the global surge in surfing. Thanks to the great surfing conditions year-round, Sayulita quickly gained even more traction among surfers, largely through word-of-mouth.
Get Your Free Mexico Report Here:
Learn more about Mexico and other countries in our daily postcard e-letter. Simply enter your email address below and we'll send you a free special report - Why Millions of Americans Are Moving to Mexico.
This special guide covers real estate, retirement and more in Mexico and is yours free when you sign up for our postcards below.
Getting to Sayulita & Transport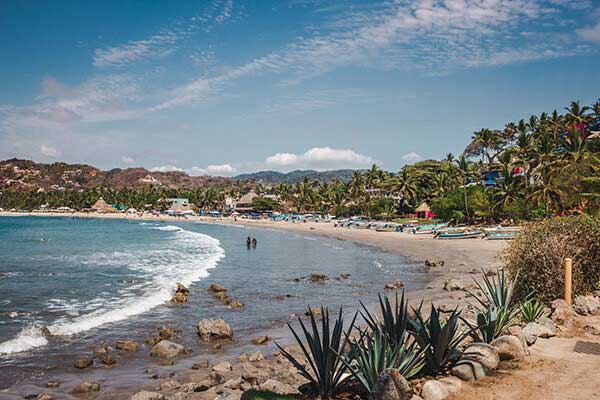 Thanks to the immense popularity with expats, traveling to Sayulita is a breeze. Direct flights come and go to Puerto Vallarta a half-dozen times a day from various American cities, and lines of taxis and a public bus get you to Sayulita in around an hour.
I recommend the public bus, as it only costs $2.50 compared to the $75 taxi, but if you don't want to deal with a five-minute walk from the airport over the pedestrian bridge to the bus stop, jump in a cab. If you do want to take the bus, withdraw some pesos from the airport ATM, walk out of the airport to the convenience store Oxxo and buy a Mexican coke to break the big bill, and then grab a window seat next to a local and brush up on your Spanish during the ride. It's a more authentic introduction to Mexico, and if you're lucky, you may be invited to eat at that local's uncle's restaurant during your visit.
Retire in Sayulita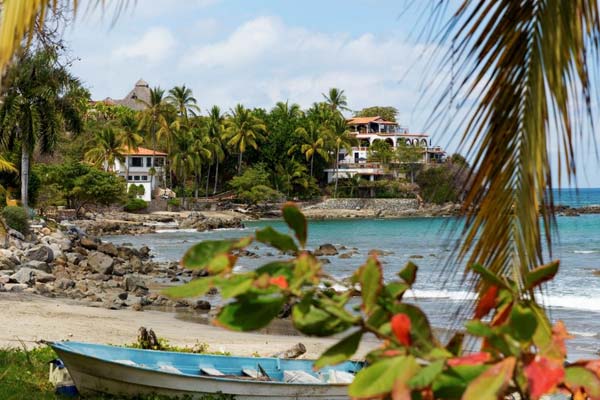 While Sayulita has traditionally been known as a haven for young individuals rather than a major retirement destination, a growing number of expats have quietly made this charming town their home for several years, remaining under the radar. Over the past decade, an increasing number of middle-aged digital nomads and retirees have been drawn to its appeal, either purchasing homes or opting for long-term hotel/condo arrangements.
In Mexico, property ownership is accessible to anyone, including tourists. If purchasing property is a serious consideration, obtaining temporary or permanent residency is highly advisable, a notably straightforward process in Mexico. The type of residency you're eligible for is determined by the amount of funds you can demonstrate from your home country (source: https://www.mexperience.com/financial-criteria-for-residency-in-mexico/.
Cristina (53) and Diego (58), both digital nomads (she is an MD and he is a Day Trader), moved to Sayulita from Virginia, USA, about two years ago. According to Cristina, they were looking for a place with a small-town feel, Mexican culture, beach/surf town, mountain-to-beach views, walkable (no car necessary), and good public transportation to other cities with more amenities if needed/desired. There are no big box stores, but close to good medical care and an airport (1 hour). They rented first and now have just decided to purchase a home. After careful (and long) searching, they found what they wanted. Fantastic ocean view, a "Mexican feel" to the house, a pool, and enough bedrooms and bathrooms for their kids and their families.
As they were searching, Cristina remarked about buying or renting a house: "In general, prices for rentals and purchases are lower than in the U.S. However, it's higher than many other non-tourist towns/cities in Mexico. Sayulita's costs are higher than most small towns in Mexico. A two-bedroom apartment is about ½ the cost of the U.S. A typical Mexican house may be one-half or one-third of U.S. prices.  However, many people live in remote, non-tourist towns for much less. Our expenses are probably about ½ of what they were in the U.S., maybe less, as we don't eat out often and tend to shop local."
Cristina felt that it was pretty difficult looking for a long-term rental because owners prefer to do short-term vacation rentals. After all, they make more money that way. She added, "especially if you want to be close to town/beach or have a view. But it is easier (and more economical) to accept living a few blocks away from the center of town and in a more traditional home not geared to foreign tourists if you want to find a better price."
Cristina had advice for someone who wanted to retire to Sayulita: "Visit for an extended period first, and in both high and low season. For example, my husband does not like the noise from the square in high season. We have rented places where he could not sleep at night due to the sounds from the bars echoing up from the square, even a couple of blocks away. Carefully design your wish list to determine if it will be the right fit. It is important to realize that residency is much different than a vacation. Do your homework, and you can be very happy living in Sayulita."
Having traveled and lived in many places in Mexico, I can attest that Sayulita is more costly than most places to rent. A contemporary, two-bedroom, two-bathroom condo in areas where foreigners live generally demands a monthly rent price of at least $2,000. Opting for amenities such as a pool or an ocean view would naturally increase the price, possibly by $1000 to $2000.
Many expats gravitate toward the North side of the town, settling into homes similar to those in the U.S. and Canada. These foreign-owned homes command higher prices. Renting a three-bedroom house with a pool in this area can cost $3,000 monthly.
In my case, Sayulita serves as my "home base." I prefer to invest in traveling over a lavish residence. I've chosen to reside in an entirely Mexican neighborhood. I pay $1,350 per month for a two-bedroom, two-bathroom apartment with a one-room kitchen/living/dining area, and outdoor balcony in a long-term hotel called Sayulita Suites. This amount covers rent, electricity, water (both drinking and bathing), WIFI, and a weekly cleaning service. Additionally, the hotel will wash my laundry for a nominal fee of $2.50 USD per load. My walk to town is five minutes, and it's a mere eight minutes to the beach, so I do not need a vehicle. I spend no more than $2,000 per month to live in Sayulita. Others with fancier lifestyles pay $3,000 to $5,000 per month, which is still cheaper than California, but more expensive than many other beach towns in Mexico.
Get Your Free Mexico Report Here:
Learn more about Mexico and other countries in our daily postcard e-letter. Simply enter your email address below and we'll send you a free special report - Why Millions of Americans Are Moving to Mexico.
This special guide covers real estate, retirement and more in Mexico and is yours free when you sign up for our postcards below.
Lifestyle in Sayulita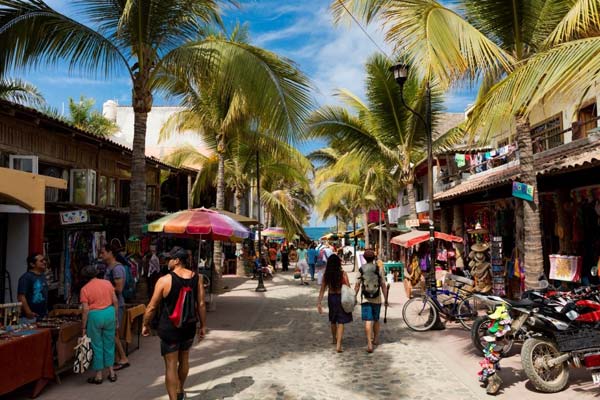 Sayulita's social culture and "vibe" is interesting, young, vibrant, fun, and often delightfully unconventional. While known as a "party town," this is true only if you actively seek that out. For those yearning for a more serene ambiance, many tranquil bars and upscale dining establishments await, providing ideal places to meet friends and sidestep the cacophony of the town's main square on weekend evenings.
A number of beaches skirt Sayulita, each possessing its unique charm, though accessing the more remote, untouched stretches might mean renting a golf cart. Taxi service to these pristine shores can be erratic and somewhat pricey. Golf cart rentals typically go for around $50 a day. Noteworthy beaches beckon, alongside hiking trails and an array of activities that await exploration.
Sayulita is a spiritual town home to alternative lifestylers, hippies, surfers, digital nomads, retirees, and everyone in between. Another unusual selling point lies in Sayulita's extensive offering of classes and events. Regardless of the season, you can engage in dozens of yoga classes (Hatha, restorative, flow, Kundalini, Bikram, and more), experience healing sound baths, breathwork sessions, reiki practices or workshops, T'ai Chi, ecstatic dance sessions, and artistic pursuits like ceramics, painting, macramé, and eco-art.
You won't find supermarkets, big-box stores, or even a central marketplace for purchasing produce in Sayulita. Instead, you navigate through the labyrinth of streets to find your favorite Mom-and-Pop shops, where an array of fresh produce, meat, fish, dry goods, and groceries await your discovery. If you need the familiar conveniences of home, Sayulita may not be the place for you.
Sayulita has a great reputation for safety. In my personal experience, it stands as one of the safest places I have ever lived. The nightlife rhythm starts fashionably late, typically around 10 p.m. or even later in certain locales. Remarkably, I feel entirely secure walking home alone at the wee hours of two or three a.m.—something I never would have done when I lived in San Diego!
Cost of Living in Sayulita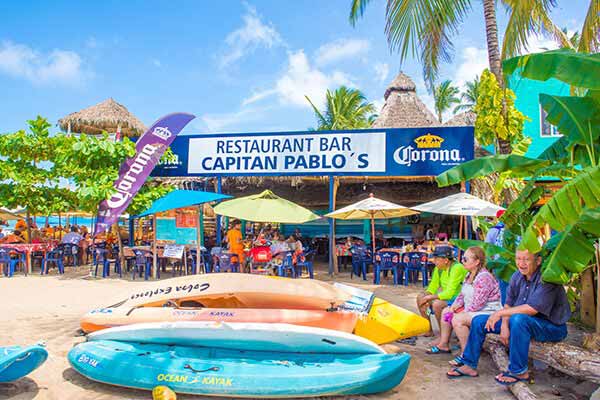 Despite its small size, Sayulita isn't typically thought of as one of the most budget-friendly places to live in Mexico. However, this assessment is relative. If you hail from California, New York City, or another major urban center in the U.S. or Canada, Sayulita could offer a much more economical lifestyle than your hometown. Conversely, Sayulita might cost the same or more if you're accustomed to prices in the Midwest or smaller towns on the East Coast.
Expenses per month
$
Rent (furnished two-bedroom, two-bathroom home)
$1350 – $5,000
Electricity (for two months)
$118 – $652

 

Water (city water-free, but charges applied in high season)
$24

 

Water (if you pay your own water)
$60

 

Gas
$18
Household Help (3 times a week)
$60
Internet
$53
Cellphone
$20 – $60 depending on plan
Private Healthcare (for two people)
$3,400 with $5,000
IMSS (Mexican) per person per month
$63-93 (age dependent)
Golf cart (to purchase)
$10,000
Public Transport (Bus to Puerto Vallarta)
$2.50
Taxi (lowest price to ride 5 minutes)
$4.15

 

Groceries       
$400
Entertainment (dining out and other activities)
$200
Get Your Free Mexico Report Here:
Learn more about Mexico and other countries in our daily postcard e-letter. Simply enter your email address below and we'll send you a free special report - Why Millions of Americans Are Moving to Mexico.
This special guide covers real estate, retirement and more in Mexico and is yours free when you sign up for our postcards below.
Best Things To Do in Sayulita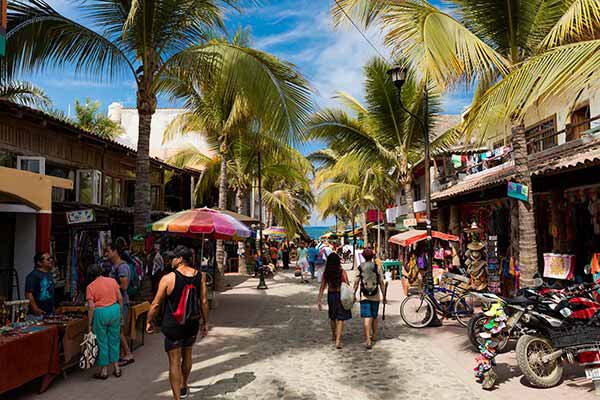 Visit the Beaches: Sayulita boasts several fine beaches and is renowned for its great surfing. Try Los Muertos beach for family gatherings and easy swimming. Virgin Malpaso Beach for hardy swimmers. La Lancha for surfing. Many people surf on Sayulita's main beach; however, many articles and posts say not to use this beach due to contamination.
Grab a Bite: While not necessarily considered a "foodie" town by people who travel the world looking for the best places to eat, Sayulita does have some places that delight the palate. If you like tacos, Sayulita is the place to go and specializes in this basic Mexican dish. Try birria, cochinita pibil, carnitas, or lengua (tongue). For starters, visit El Pastor, tucked in the corner of the main square; Mary's, where communal tables enhance the dining adventure; and Taqueria Los Reyes for shrimp tacos.
For those with a more sophisticated palate, try the lobster or mussel dishes, ceviche, braised artichokes, and olive tapenade at Don Pedro's on the main beach, the grasshopper chasers at Xochi's in the plaza, Emiliano's for expertly grilled seafood, Tiburon's delectable, seared tuna on a bed of cauliflower purée and Zingaro's wild boar pasta. Achara provides a unique take on Thai cuisine. For the best barbeque ribs, head to Mr. Ribs. Savor sushi at San Sushi in the plaza or at Tierra Viva on Calle Marlin #10. Additionally, Sayulita abounds with healthy, gluten-free, and vegetarian selections, ensuring there's a culinary delight for every visitor.
Quench Your Thirst: There's no lack of bars and live music in Sayulita. In fact, check out Atico restaurant/bar for a variety of live music, every night of the week starting at 9:30 pm. Cava makes killer mezcal drinks and has a rock/ballad guitarist who sings in English and Spanish on Thursday nights. Go to Sayulita Wine Company on Wednesday afternoons to try tequila or mezcal flights while sitting outside listening to rock, jazz, and more. Selina's Hostel has Wednesday night Salsa night, with a free dance class at 9:15 pm before the live salsa music keeps you going all night. And for Karaoke lovers, don't miss Cocos on Thursday nights at 10:00 p.m. and Mucho Bueno on Thursdays and Saturdays at the same time.
Enjoy the Art Galleries and Markets: Souvenirs, art, and crafts are not cheap in Sayulita. However, they have some of the most unique items you will ever see. So if you are looking for an unusual gift for someone, a fabulous bathing suit, incredible hand-made wall hangings and other house adornments, gorgeous beach clothing – both casual and fancy, just walk around town, particularly in the streets near the beach, and you are sure to find that one thing "you just can't live without." The Huichol, descendants of the Aztec culture, inhabited the mountainous areas around Sayulita before it was settled by the Mexicans. Today, Huichol families continue to live in this vibrant town, selling their colorful, intricate yarn and bead art. Don't miss the Galaria Tanana/Huichol Center on Avenida Revolucion #22 where you can admire and purchase exquisite Huichol yarn and bead artwork.
Sayulita has its own Artisan Craft Market alongside the river right next to the foot bridge. Open daily, this is the place to buy hand-crafted souvenirs. You'll find jewelry, baskets, purses, woven goods, ceramics, wood products, and much more. Even if you don't want to buy anything, a walk through this colorful, authentic market is a sight to behold.
The Friday Market mixes an organic market with locally-made crafts. Beach clothing, baskets, home décor, jewelry, health serums, kombucha, ginger beer, organically grown vegetables, fresh coconut yogurt, natural hide pet food, sauces, honey, ghee, locally made whiskey, homemade soap, meats and sausages, ready-made food like quiche, lasagna, tacos, burritos and other interesting products draw people to Sayulita from the end of October through May every Friday from 9:30 to 2:00 pm.
Wellness: Embrace the town's holistic side by participating in yoga classes or enjoying wellness treatments offered by various centers. Google Selina's Hostel for their array of health, dance and art classes. My Sister's House also offers many breathwork, yoga, Tarot, cacao ceremonies, spiritual and art classes year-round. Dulce Abejita offers sound healing and yoga and has a vegan restaurant downstairs where people gather to talk about health and wellness. Various chiropractors, Reiki healers, acupuncturists and plant medicine ceremonies support people in their wellness journey.
Take a Hike: Hike and explore the lush jungle surrounding Sayulita and enjoy the panoramic beach views, interesting flora and fauna, and bird watching. The most popular hikes that begin in Sayulita lead to fascinating vistas and beaches, including:  Monkey Mountain (Cerro de Mono), Playa Malpaso, San Francisco (San Pancho), Playa Las Cuevas (Cave Beach), Patzcuarito, and Playa Carricitos.
Day-Trips: Don't be worried about being bored in Sayulita. Several tour operators are ready and waiting to take you on trips and tours to enhance your vacation. Deep sea fishing and whale watching tours (December through March) top the list.
Marieta Islands: A group of uninhabited islands protected by the government where all types of fish abound, making a great snorkeling setting. You can also see "Lover's Beach" (also called hidden beach), a secluded place that you can only get to by boat. This tour is highly regulated and only a certain number of people can visit each day, so make plans at the beginning of your visit to Sayulita if you want to see this beautiful area.
Yalapa: Visit this charming town that seemingly time has forgotten. And that makes it the perfect destination for people who want to get away from it all. Founded by four indigenous families that still live there with a total population of about 1,800, you can relax, snorkel, swim, explore the pristine beach, eat fabulous food and have the time of your life!
Featured Image Copyright: ©iStock/Jodi Jacobson