A Guide to Sayulita, Mexico – How to Get There and Best Things to Do
Anyone who has endured a long, cold winter deserves to celebrate the first signs of spring. Magnolia trees transforming from a frosty white to a glorious purple are a most welcomed sight. The sound of robins filling the morning silence is everyone's favorite song. And that extra hour of daylight means we can feel less guilty about that glass of wine at sunset. Spring gives everyone hope that a brighter future is on the horizon. But we're not out of the woods yet. Early spring is notorious for blindsiding us with soul-crushing cold snaps and weeks of gray skies. For those of you who have been forced to begrudgingly crawl back into your dark den, I'm here to tell you that there's another way. It's south, in the town of Sayulita, and it's always sunny and seventy degrees.
What to Expect in Sayulita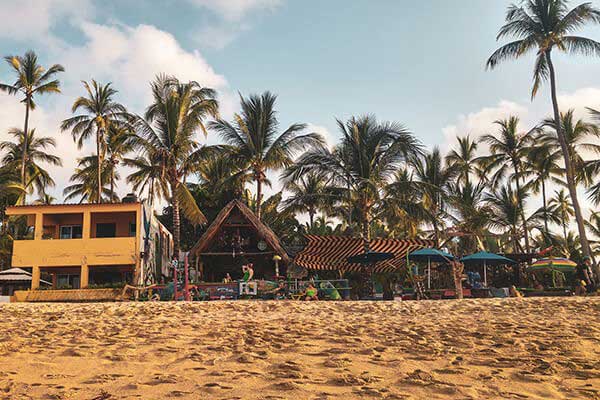 If you haven't heard, Sayulita is the secret bohemian Mexican beach destination that everyone has now heard about. Fifteen years ago, this place consisted of only dirt roads, free-range chickens, and surfers-in-the-know. Go back 30 years and it was a sleepy little fishing town that rarely made it onto a map. But oh, how things have changed. Stepping out of your taxi in the town center, you'll scratch your head and wonder how you missed the border crossing back into the States. Aside from a few taco stands, a margarita cart on the sidewalk, and half a dozen stray dogs barking at motorcycles, you'll think you were in a more tropical version of Southern California—the demographic is nearly 100% American.
Traffic is dominated by golf carts driven by retirees with their pet dogs riding shotgun. Younger couples with babies strapped to their chests stroll on the sidewalk with bags of groceries swinging by their sides. Blonde children wearing backpacks zip by on bicycles on their way home from school. Barefoot surfers, their hair dripping with salty water, strap their boards to scooters and putter up the hill back to their apartments. Campervans line the avenue, covered in dust from the long drive from Alberta, the drivers drinking beer, celebrating the end of the journey. License plates from Oregon, California, Colorado, and Montana seem to outnumber the ones from Nayarit. And except for the woman singing in Spanish as she fries churros, all you hear is English. Is this even Mexico?
"You'll think you were in a more tropical version of Southern California."
One of the best parts of travel is experiencing a new culture and, so far, Sayulita sounds nothing like a culture trip. So why bother traveling across the border when San Diego or the Florida Keys overflow with sunshine and a salty breeze? Well, for starters, even in a place dominated by expats, Mexico is incredibly cheap. I found a one-bedroom apartment five minutes from the beach with a private terrace for $70 a night (B. Turquesa; Airbnb). A meal at an authentic Mexican restaurant costs only $5—$10 if you tack on a couple of beers or a mojito. And a lounge chair with an umbrella on the beach is free all day if you order a fresh coconut and a skewer of barbeque shrimp now and again. In the Keys, just inquiring about a chair costs $5, and a room in San Diego with a terrace overlooking the Pacific? I get queasy even thinking about it. What you would spend in a week on the beach in the States can get you a month in Sayulita, maybe more, and that's going out for every meal, drinking a coconut a day on the beach, and buying a giant sombrero, if you're into that sort of thing.
Getting to Sayulita & Transport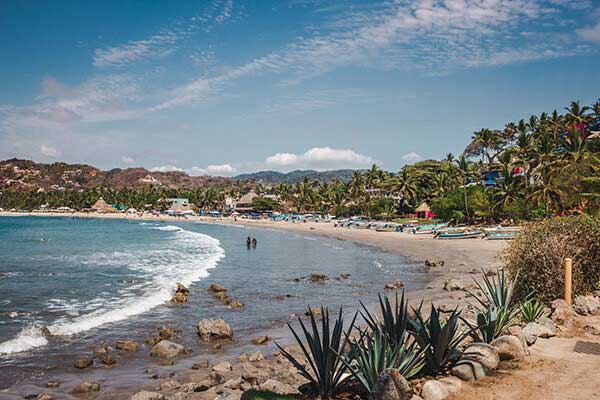 If I made getting to Sayulita sound difficult in comparison to domestic travel, I meant only along the lines of the rigamarole of customs and the required negative COVID-19 test necessary for re-entry into the States. Otherwise, thanks to the immense popularity with expats, traveling to Sayulita is a breeze. Direct flights come and go to Puerto Vallarta a half-dozen times a day from various American cities, and lines of taxis and a public bus get you to Sayulita in around an hour.
I recommend the public bus, as it only costs $2.50 compared to the $75 taxi, but if you don't want to deal with a five-minute walk from the airport over the pedestrian bridge to the bus stop, jump in a cab. If you do want to take the bus, withdraw some pesos from the airport ATM, walk out of the airport to the convenience store Oxxo and buy a Mexican coke to break the big bill, and then grab a window seat next to a local and brush up on your Spanish during the ride. It's a more authentic introduction to Mexico, and if you're lucky, you may be invited to eat at that local's uncle's restaurant during your visit.
Get Your Free Mexico Report Here:
Learn more about Mexico and other countries in our daily postcard e-letter. Simply enter your email address below and we'll send you a free special report - Why Millions of Americans Are Moving to Mexico.
This special guide covers real estate, retirement and more in Mexico and is yours free when you sign up for our postcards below.
Best Things to Do in Sayulita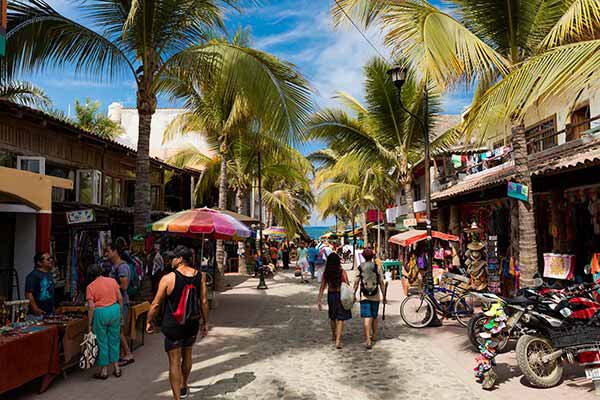 Once you're in Sayulita, it's pretty easy to get your bearings, as it isn't a big town. A taxi will drop you in the main square; from there it's no more than a five-minute walk anywhere. If you take the bus, you'll be a short walk from the square. Use this opportunity to eat your first one-dollar street taco at Takora (I recommend the pibil: shredded, seasoned pork) and wash it down with a mango agua fresca, then take a pleasant stroll along the main avenue, scoping out places to eat for dinner.
When you reach the square, take a seat on a park bench and soak in the scene: The street is busy. A steady stream of people come and go in every direction. Golf carts, motorcycles, Volkswagen Beetles, and bicycles coast unhurriedly along the cobblestone. Families eat ice cream and chocolate-covered churros. Cafes and cantinas full of chatty groups or solitary readers look to be the only business in town. Couples walk a step ahead of their miniature Pomeranians, poodles, and chihuahuas. A wine bar patio is packed and singing along to a gray-haired band covering a Doobie Brothers song. After five minutes your bewildered brain remembers that you are in Mexico, but the only proof is the hundreds of Mexican grackles whistling in the dense canopy above.
After putting your bag down in your apartment (hopefully you rented a place on the quieter north side of town) and drinking in the view from your rooftop terrace, get down to the beach to secure a lounge chair for sunset. You can either walk back into the busy center and join the crowds at the main beach, or walk a little further north up Avenida del Palmar and find a part of the beach that you'll be sharing with only a dozen people. Along the way you'll pass El Jakal, Pizza Venezia, Tropical House, Chaman Creative Kitchen, and finally Le Camion. Each will tempt you to stop in for a bite and a cocktail, and I can't blame you if you do, but there are options on the beach too, and you've been waiting all day to put your toes in the sand.
Sitting back in your chair now with a Pacifico beer in hand, the balmy sea breeze carries you to a place you forgot existed, and the sound of the waves crashing relaxes you to the point of no return. The only thing that could make this any better would be a professional masseuse kneading the deep tissue hibernating in your back. Oh, hey, what do you know? Underneath a white canopy are three empty massage tables calling your name. Twenty bucks for an hour. Is it wrong to get two in one day? Essential oils and two experienced hands now join the scene, and as the last rays of sunlight stream through the jungle and bounce off the sea into your hut, you wonder why you weren't doing this in January.
Where to Eat (and Drink) in Sayulita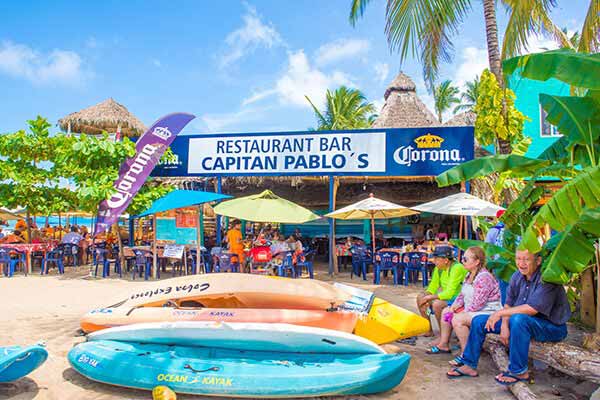 An article about Mexico wouldn't be complete without a full description of the food scene. I mentioned street tacos already, and even though one could comfortably exist on the myriad taco options (shrimp, grilled fish, steak, pastor, creamed corn, and peppers), it's a better idea to branch out, especially considering Sayulita's reputation as being a foodie city. Fifteen years ago, aside from tacos, charcoal-grilled chicken, and seafood, restaurants were in short supply. Today, thanks to the expat influence, you can get pretty much anything you want.
A French bakery was my go-to breakfast spot, with a fresh chocolate or almond croissant to complement my espresso. For something a little healthier, I would opt for an acai bowl and a fresh-squeezed orange juice. If I planned on taking an afternoon nap on the beach, huevos rancheros or a chorizo burrito was on the menu. Fresh avocado seemed to make it into every meal, and mango, papaya, pineapple, and strawberries were staples. Every day as I lay with my book in the shade of a palm tree on the beach a woman walked by with chili powder-covered mangos and I never said no (a swim was always necessary afterwards to rinse off the juices that ran down my arms).
Lunch usually took place at a beachside cafe with a gourmet burger or a plate of grilled mahi-mahi with rice and beans and warm tortillas. Sometimes I washed it down with a coconut smoothie, other times with a beer (or both). Fresh guacamole or ceviche under an umbrella on a lounge chair filled in the hours between meals, or if I needed a break from the beach, I would grab a street taco and a craft beer in the town square and count chihuahuas.
Dinner was always a difficult decision. Should I go back to my apartment, put on a nice shirt, and eat seared tuna or a steak with a bottle of red wine and watch the tiki torches dance in the sea breeze at Don Pedros? Or, if I was feeling fancy, should I make reservations at Henshin Sushi and have the best sushi this side of the Pacific? Call me crazy, but even in Mexico I would get a hankering for Thai food; Achara and their jackfruit fried rice satisfied the craving. Oysters? Mussels? Lobster? Wood-fired pizza? Sayulita has it all. Or, hey, stay in your swimsuit and just eat street tacos for every meal. You're on vacation.
Insider Tip for Expats in Sayulita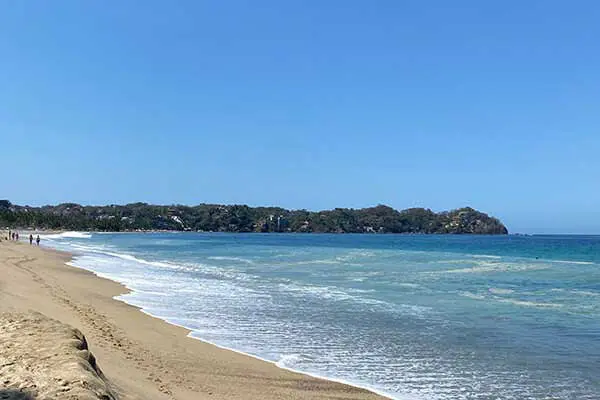 Besides spoiling yourself with food, drink, and sun, surfing is the main draw in Sayulita. If you plan on swimming, beware that the surf break can be a little intense and there is often a riptide. Consider walking south to the calm cove of Los Muertos for a day. The waves are clear and gentle, the beach is sandy and soft, and there's never more than a couple dozen people. There are also lounge chairs, umbrellas, and plenty of food and drink options, so you can spend the whole day swimming, reading, and napping.
Also, don't be fooled by the all-day perfect temperature of 70 F—the UV index is often dangerously high. Buy yourself a big hat and spend most of the afternoon in the shade or lathered in sunscreen, and drink plenty of coconut water. Also, think twice about slurping down the fresh oysters being sold by vendors on the beach. Better to wait until you're sitting down at a restaurant that has refrigeration.
Finally, next year, plan on staying for three months.
Featured Image Copyright: ©zstockphotos/iStock